If you've been waiting for an excuse to try our bagged wine collab; Bagnum, wait no longer. We're celebrating our final release with 25% off all 1.5Lt bags and free shipping when you spend $150 or more. Red, Rose, White and bundles are waiting to be the star of your next dinner party or BBQ, and we've got just the solution for all your wine-sipping needs.
This Summer we launched an easy-to-pour bagged wine called Bagnum — a collab between Built To Spill and Urban List, this joint venture was made in fermented grape heaven.
We took all the fun bits about the mighty silver pillow—aka the goon bag—and fancyfied (it's a real word, we promise) it up a notch: we made the bag eco-friendly because the planet is crying enough already, and we piped it with a smart nozzle to ensure your vino stays fresher for longer. How long, you ask? This baby can keep your adult grape juice tasty for 28 days (!!!).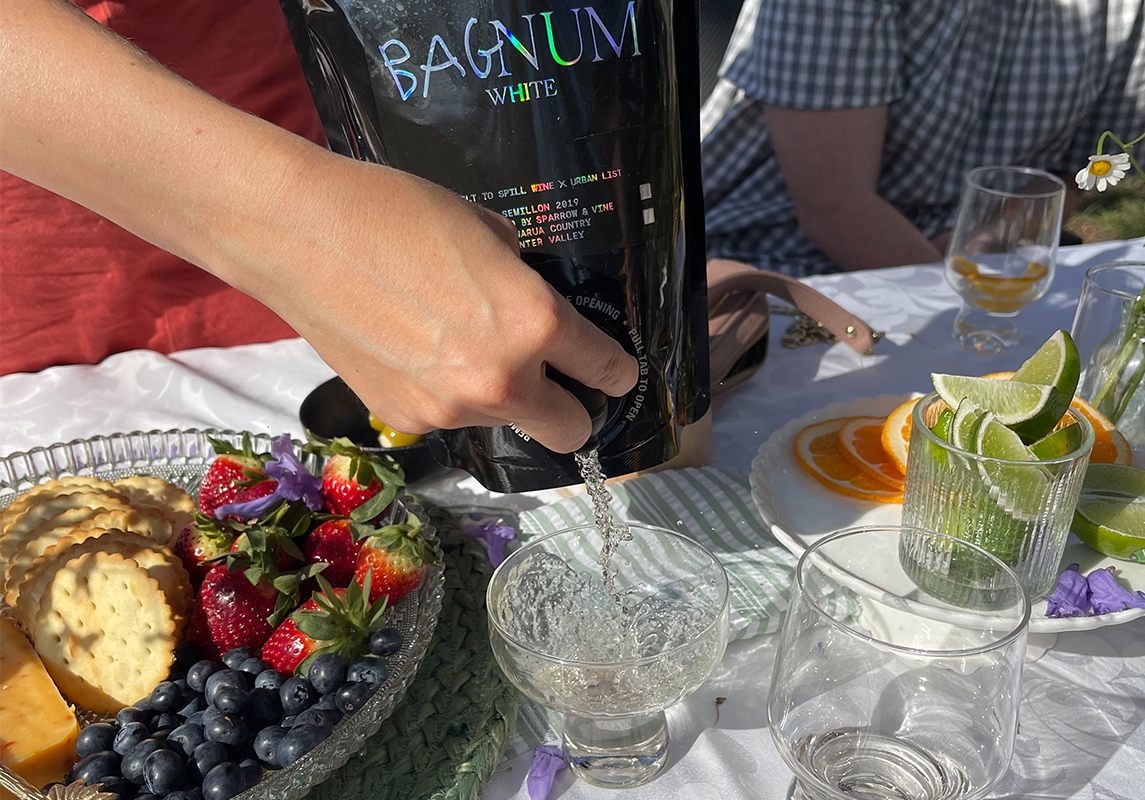 Each Bagnum holds 1.5L (two full bottles worth) of juicy Aussie wine from Sparrow & Vine with three varietals on offer: the crisp Sangiovese Rosé Bagnum, the citrusy Semillon White Bagnum and the Nero D'Avola Red Bagnum. They're lightweight, chill quickly and unbreakable, making them the perfect addition to your next picnic, dinner party or rowdy event.
So, take the guesswork out of your next event or snag a bag just for yourself here.
4.5L 3-Bag Bagnum Bundle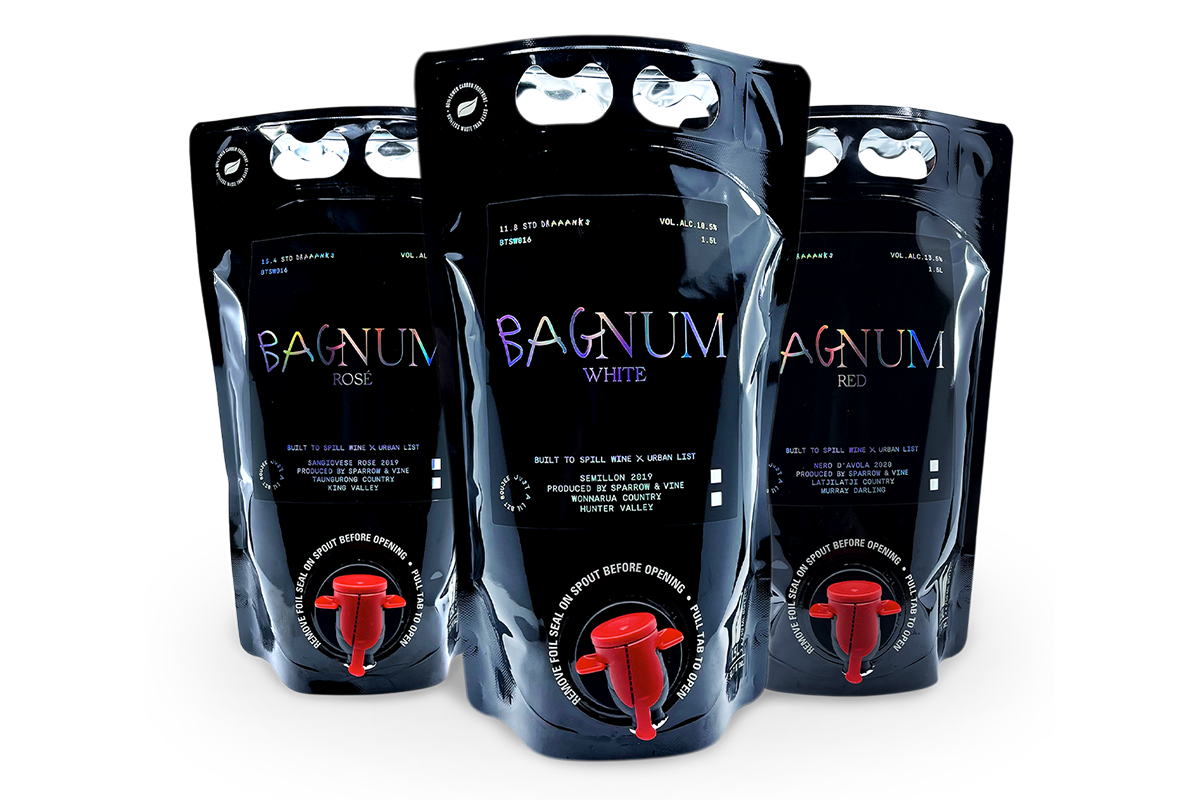 Ditch the decision-making and order a bangin' bundle of all three seriously juicy Bagnums and score FREE SHIPPING. Because bigger is truly better. You'll get a whopping 4.5L (that's six bottles worth) of premium Sparrow and Vine wine including the 1.5L Sangiovese Rose Bagnum, the 1.5L Nero D'Avola Red Bagnum and the 1.5L Semillon White Bagnum. Shop here.
1.5L Sangiovese Rosé Pink Bagnum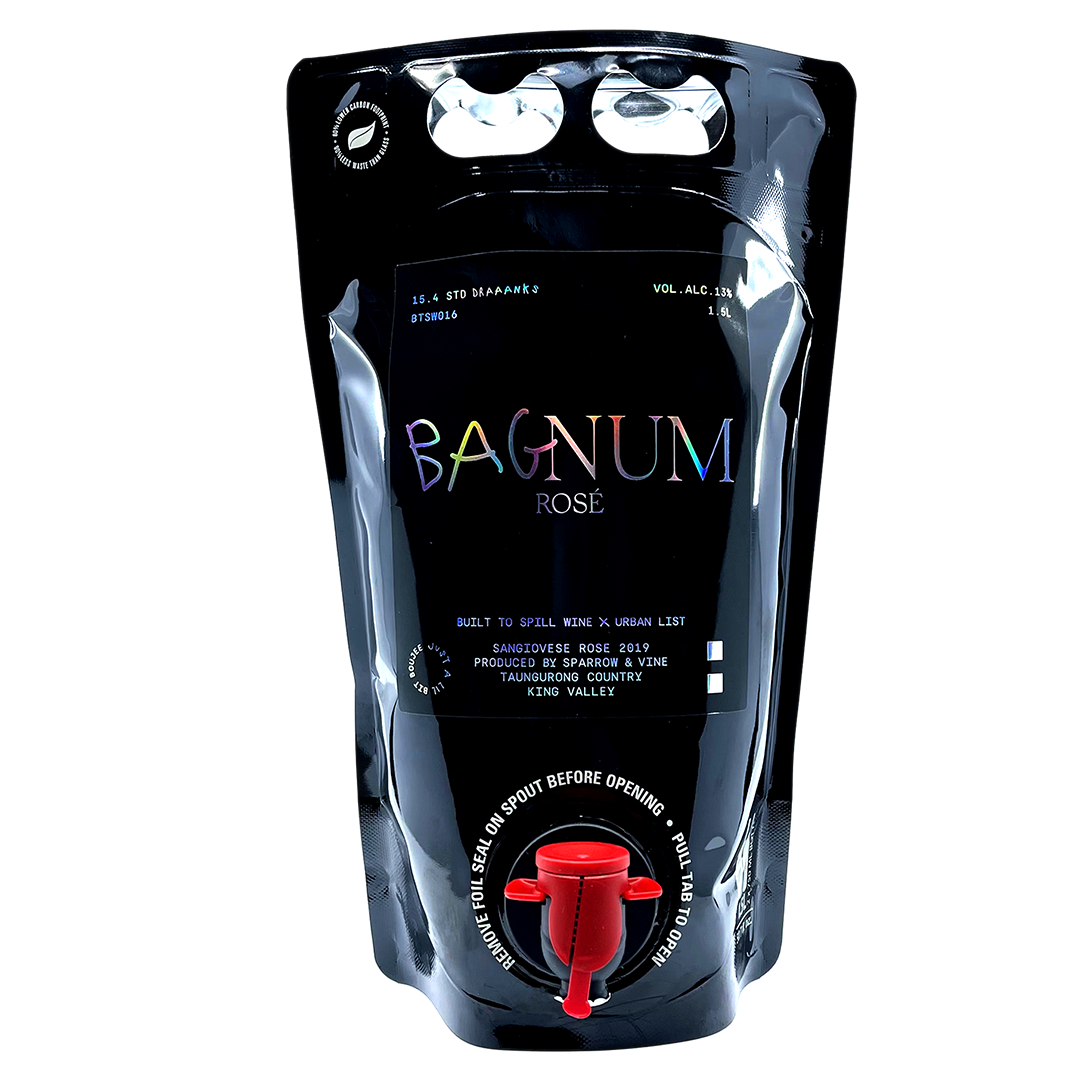 Have you ever poured Rosé from a bag? No? Well, you're about to start a new hobby this summer which will involve repeatedly reaching for the nozzle of our refreshing Bagnum Rosé. Filled with a full-flavoured but distinctly dry Sangiovese Rosé, the handpicked grapes in this wine produce a tangy cherry flavour and crunchy acidity, leaving a clean finish on the palate. Shop here.
1.5L Nero D'Avola Red Bagnum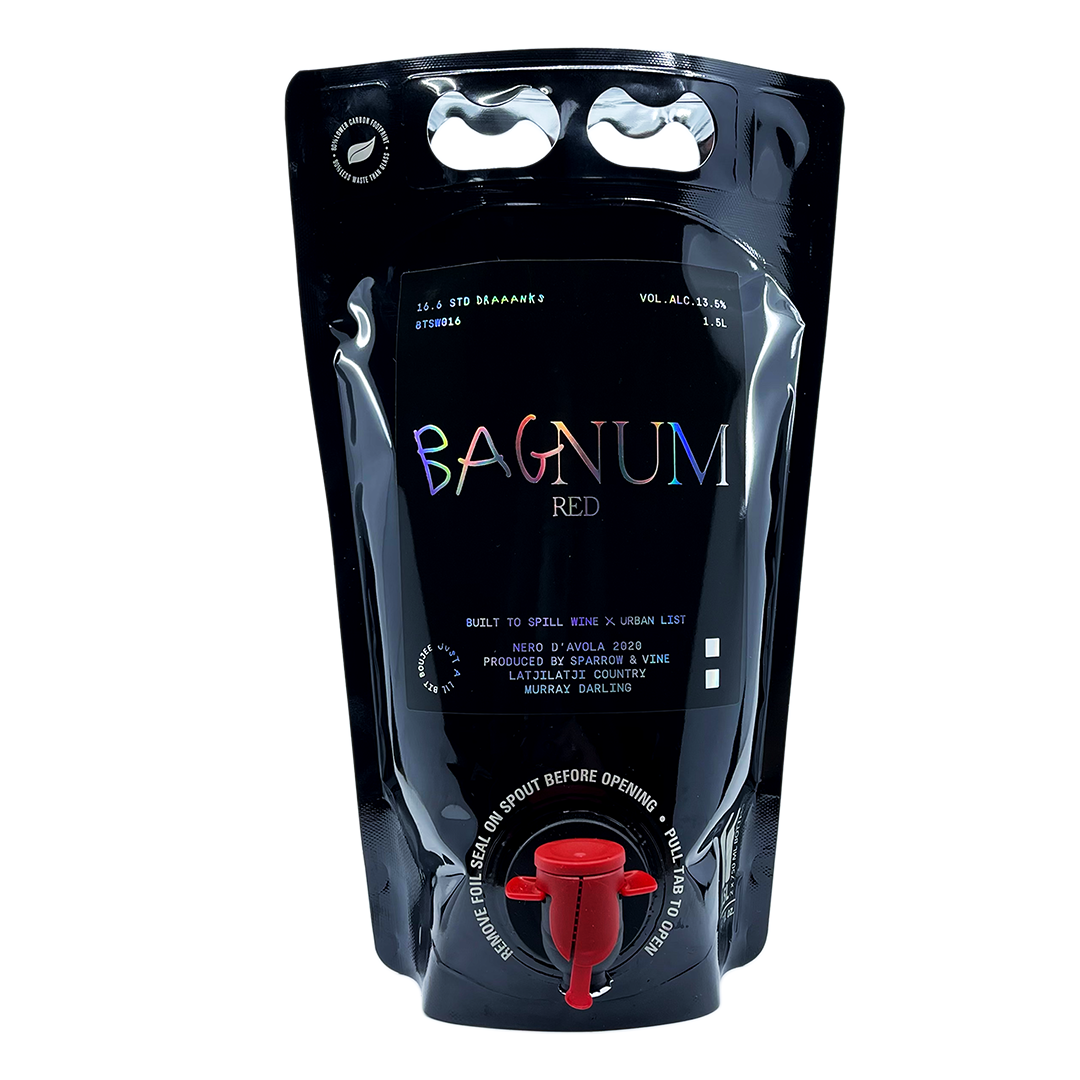 Think Euro summer vaycay with notes of 'Straya. Using Nero D'Avola vines imported from Sicily and grown in the Murray Darling near Mildura, comes a medium weight juicy red vino full of dark cherry and plum fruit. Tempered with a lil' spiciness and slightly chewy tannin (aka that deep, oaky taste), this bad boy is dangerously easy to drink. Shop here.
Semilon White Bagnum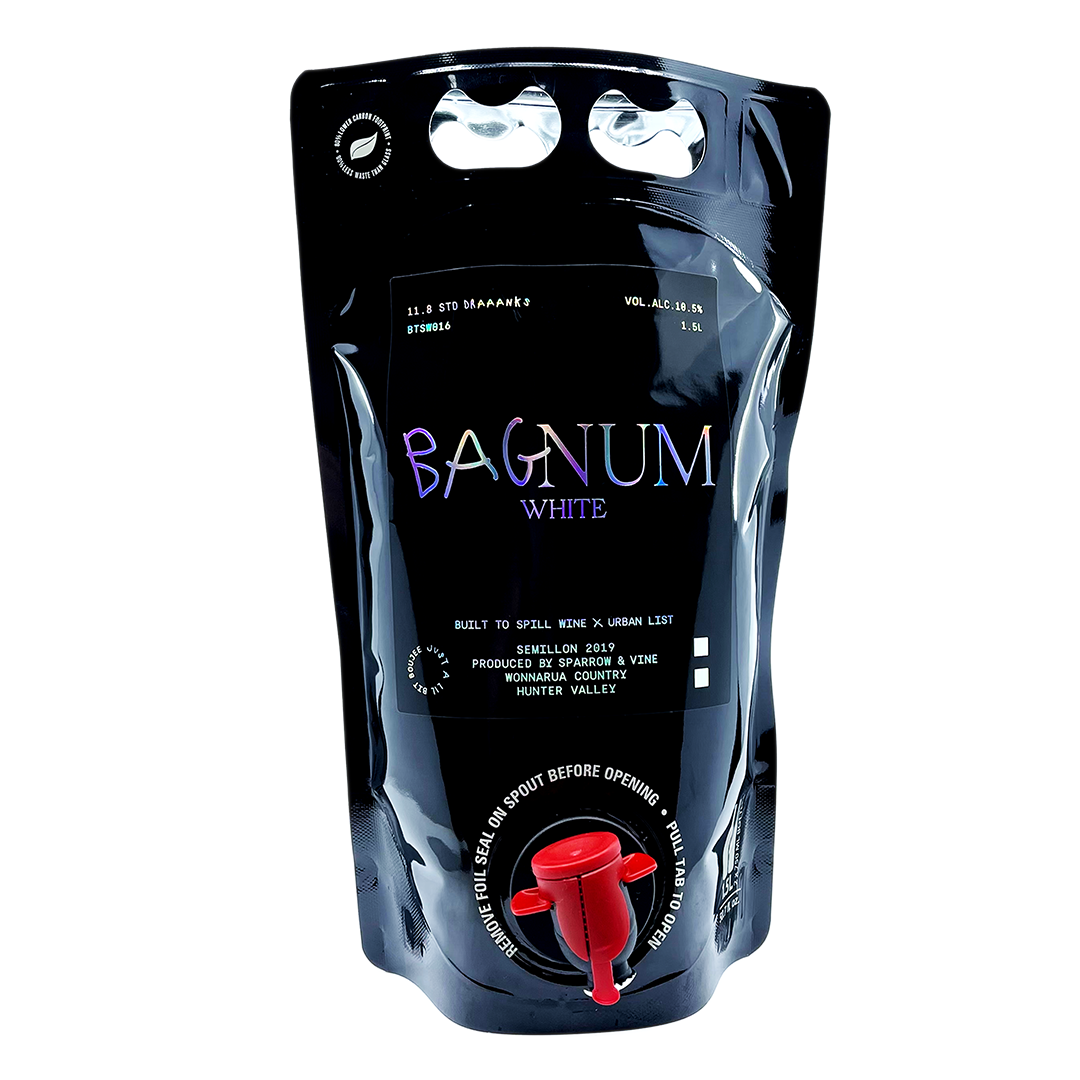 Our bag of white is filled with a citrus-tinged dry vino crafted from grapes grown in the Lower Hunter Valley region. It's super crisp, loaded with lemony scents and balanced out by tangy bursts of citrus and white nectarines.This Bagnum is perfectly paired with seafood, from fresh Sydney Rock Oysters to a basket of battered fish and chips (preferably enjoyed beachside, but you do you). Shop here.
Image credit: Susannah George, Kate Mason and Ranyhyn Laine