Bamboo sheets are quite literally life-changing, sheets have definitely seen their fair share of trends, from 1000-thread count to linen and the occasional flannel but at the moment it's all about that bamboo baby. The benefits of the bamboo sheet include increased breathability, allergy protection from dust and mould,and temperature regulation keeping you balanced through your rem. Along with their high-quality comfort and softness they've sparked a new sheet (and sleep) revolution.
So before it's time to change the bed check out the best bamboo sheets on offer:
Home Republic | Bamboo Cotton Eucalyptus
Now not only are these some of the most visually pleasing fabrics to wrap your bed in they're also an incredible level-up comfort-wise. The Home Republic's sheets are a blend of 600 thread count cotton and bamboo, these sheets are soft, silky, and most importantly breathable, allowing you to keep a steady temperature and not overheat throughout your slumber. They're also available in some of the most stunning colours with light pastels and earthy tones like this Eucalyptus number.
Ecosa | 100% Organic Bamboo Sheets
Ecosa has made serious moves in the mattress industry, now they're shaking up the sheet world with the same energy. Their 100% organic bamboo sheets are a godsend in the comfort department, and you can feel extra snug knowing that they're ethically produced. The Ecosa sheets also have some of the best bamboo sheet reviews we've ever seen, so you know they've been truly tried and tested.
Royal Comfort | Balmain Bamboo Cotton Sheets
Royal Comfort's Bamboo sheets are simple, classic, and timeless. The all the white sheets are ultra-breathable which helps with giving you a balanced nights rest so you'll wake up feeling refreshed. The simplistic design of the Royal Comfort sheets allows that price point to be a little more cost-effective, making that entry into the world of the best bamboo sheets that much easier.
Pillow Talk | 400-Thread Count Bamboo Sheets
The Pillow Talk bamboo sheets are incredibly soft to the touch, they've got a silky glimmer which makes them feel even more luxurious when you slip into bed. The colour range of the Pillow Talk sheets is second to none with light pastels including blush pink, and an incredibly aesthetic sand colourway. These sheets are completely eco-friendly, sustainable and free from chemicals and toxins so you can feel good about what you've got underneath you at night.
Ettitude | Sateen Bamboo Sheets
Now these might be on the expensive side but you truly get what you pay for. Ettitude is one of the best bamboo sheets brands and their trademark CleanBamboo™ fabric has been infused with organic anti-microbial material to make it one of the highest grades of bed sheets around, keeping your sheets cleaner and softer for longer. They're also sustainable using 500x less water to manufacture than regular bed sheets. They've got a bunch of different colours to suit any room - our pick's 'Ocean' a deep blue that'll provide plenty of mood to any bedroom.
1000-Thread Count Bamboo Sheets
If you're a snob for the thread count then these are the ones for you, these silky 1000 thread sheets combine the crisp structure of cotton with the silky flex of bamboo. The 60% bamboo and 40% cotton sheets come in this sleek silver colour, an understated addition to any bedroom with a high level of luxe.
Canton | 500-Thread Count
The timeless white top-grade Canton sheets will give you a long-lasting and reliable set for years to come. Their classically simple design means they'll stand the test of time and the high-grade thread count and softness of Canton have made them one of the best bamboo sheets to have for your bed. The price is up there, but if you think about how many knockout sleeps you'll have it's easy money.
Sleeping Beauty | 400-Thread Count
These Sleeping Beauty bamboo cotton blend sheets are a good entry point into the world of bamboo bedding, coming in at a cost-effective $125. The soft woven blend comes in four colours including an ultra-pale sky blue, and an earthy oyster tone, they're also available in an extra-deep Queen fit making them ultra stretchable over those pesky mattress corners.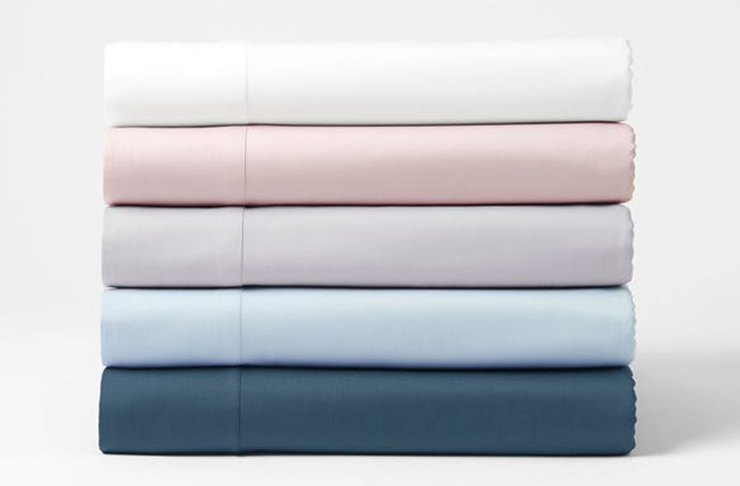 Need something to freshen up your place, check out these next-level scented candles.
Editor's note: Urban List editors independently select and write about stuff we love and think you'll like too. Urban List has affiliate partnerships, so we get revenue from your purchase.
Image credit: supplied