If there's one thing Australia does well, it's sun, surf and sand. When you think of Australian beaches, you're forgiven if the crashing waves of Bondi Beach or the aquamarine waters of the Whitsundays first spring to mind. We're about to change that. South Australia is blessed with seriously beautiful beaches—from tranquil stretches of coastline to bustling seaside hubs to idyllic hidden coves, our southern state spoils us for choice.
Pack the towels, slap on some sunscreen and leave the budgie smugglers behind—here are South Australia's best beaches.
Vivonne Bay
Previously voted Australia's best beach, there's no doubt Vivonne Bay has well and truly earned its reputation as a must-visit destination in South Australia. This six-kilometre long beach is famous for its sparkling clear waters, sugar-white sand and private location. There's not much at Vivonne Bay—except the beach itself and a small jetty—but the untouched, natural surroundings are what make this place so special. So what are you going to do at this island paradise? Aside from basking in its natural beauty (obviously)? Well, you're certainly spoilt for choice—it's the prime spot for a quick dip, a leisurely picnic, fishing or dolphin and seal spotting. This island paradise easily claims a spot as one of South Australia's best beaches.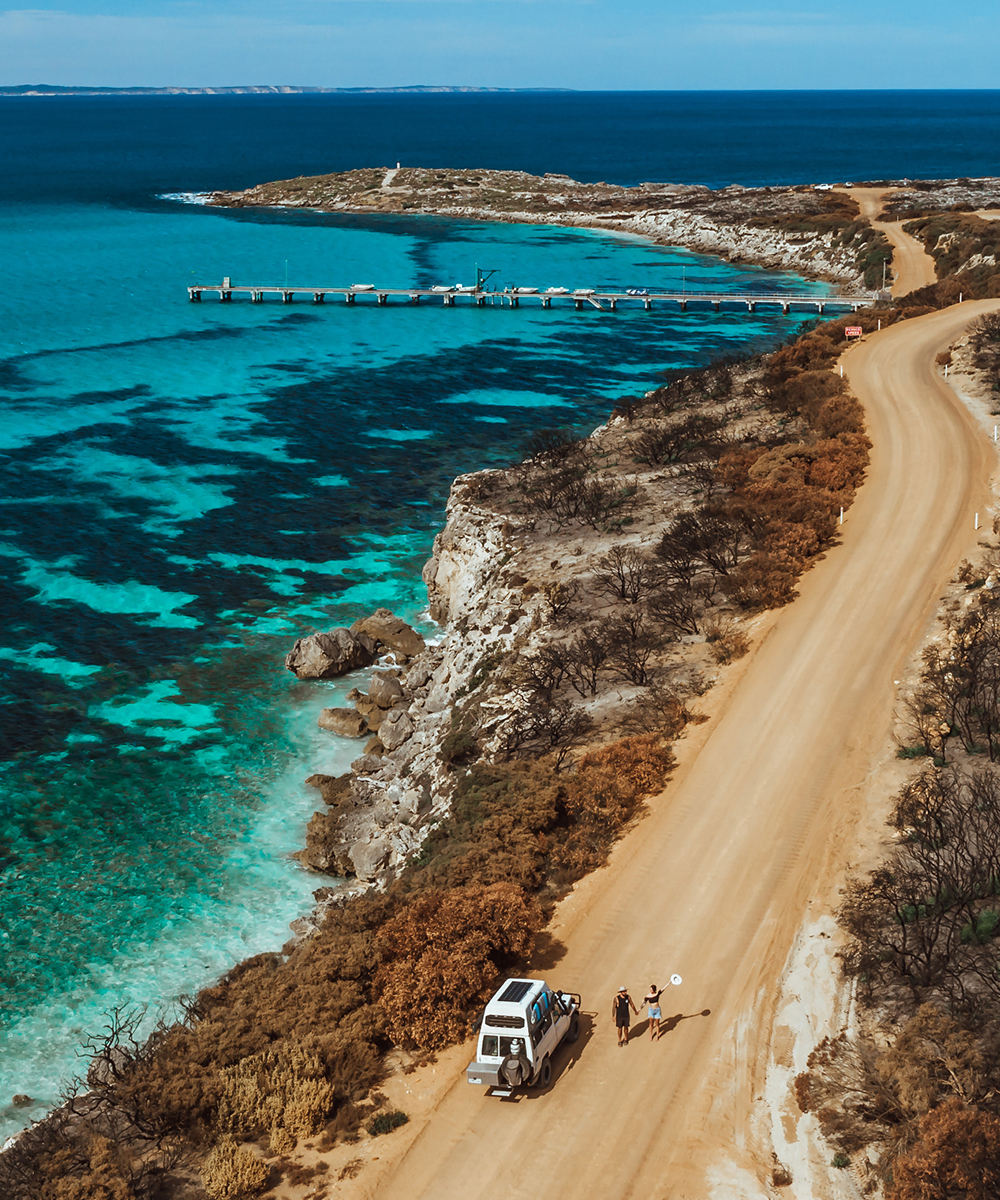 Hardwicke Bay
If you're looking for miles of picturesque white sand, stretching as far as the eye can see, then look no further than Hardwicke Bay. This slice of paradise is prime for those who like to escape bustling crowds and spend their lazy beach days in solitude. If fighting for a space to throw down your beach towel is your worst nightmare and sunbaking with hordes of tourists just ain't your thing, it's time you visited this secluded spot. Located on the Spencer Gulf side of the Yorke Peninsula, the sheltered bay creates a safe haven for dipping into the shallow waters, making it popular with young families. Stop your search for South Australia's best beach, because you've found a winner right here.
Glenelg Beach
You didn't really think we were going to write about South Australia's best beaches without including Adelaide's most popular beach, did you? Glenelg Beach boasts a bustling beachfront and rich heritage. Glenelg turns on the charm with its laid back yet buzzing vibe, feeling more like a faraway holiday destination than a suburb of Adelaide. For those who like to keep busy, you've found the perfect spot for swimming, sailing, kayaking and snorkelling, or if you're like us and enjoy taking things slow, you can spend the day (or a few) here simply basking in the sun and soaking up the holiday vibes. Of course, it's compulsory to purchase an ice cream from one of the many cute-as-a-button beachfront shops and grab a cold drink at Moseley's Beach Club.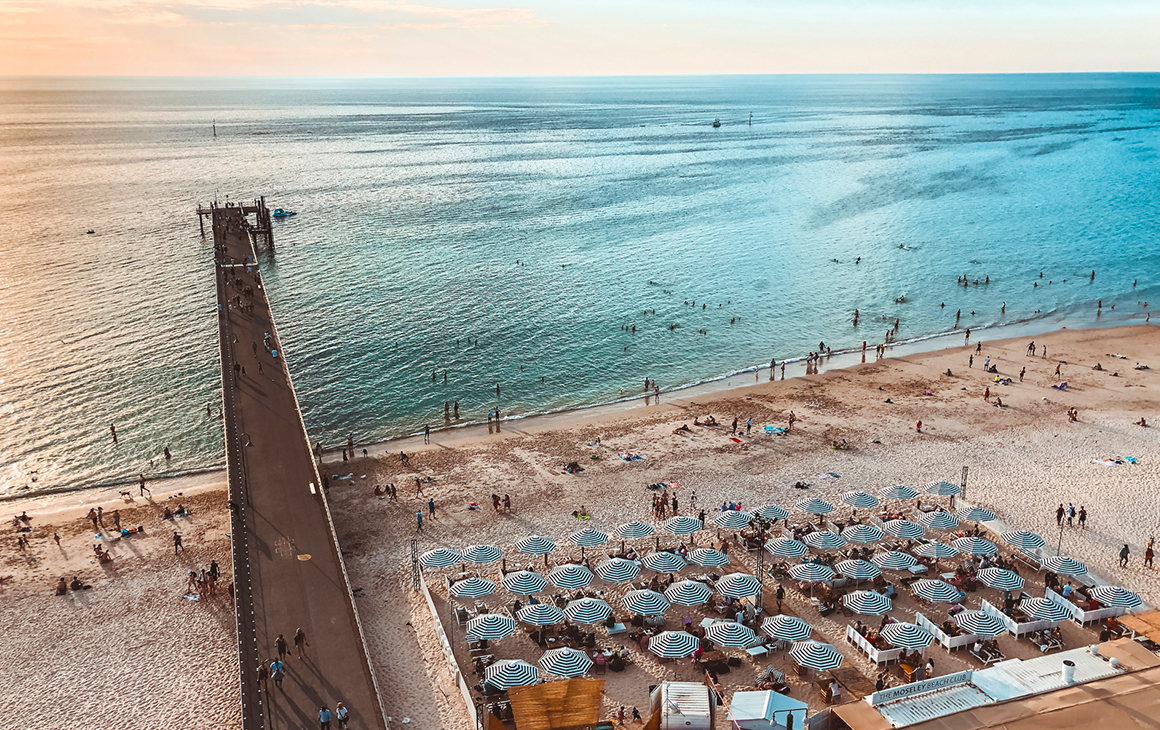 Maslin Beach
Fondly called 'Maslins' by locals, Maslin Beach is one of our top picks for South Australia's prettiest beach, and once you've seen this postcard-perfect spot, you'll definitely agree. Maintained in almost pristine condition, high cliffs overlook the expansive beach, providing a prime spot for a picnic or sunset watching. Maslin Beach is famous for being Australia's first legal nudist beach and nude sunbathing and swimming is still allowed in certain areas of the beach. Fun fact: the annual Pilwarren Maslin Nude Beach Games here. It's basically the Olympics but played nude and on the beach.
Dolphin Beach
Nestled away on the southern tip of the Yorke Peninsula, one of South Australia's best beaches awaits you. Picture this: 800 metres of unspoilt sand meets calm turquoise waters, fringed by dramatic, rugged cliffs. Yes, we are talking about Dolphin Beach. This picturesque bay is considered one of the safest spots to take a dip on the peninsula, and it's certainly one of the most beautiful. Spend a day lazing on the golden sand while spotting the dolphins playfully frolicking in the water and you might just think you're in paradise. Dolphin Beach is certainly ticking all the boxes as one of South Australia's best beaches.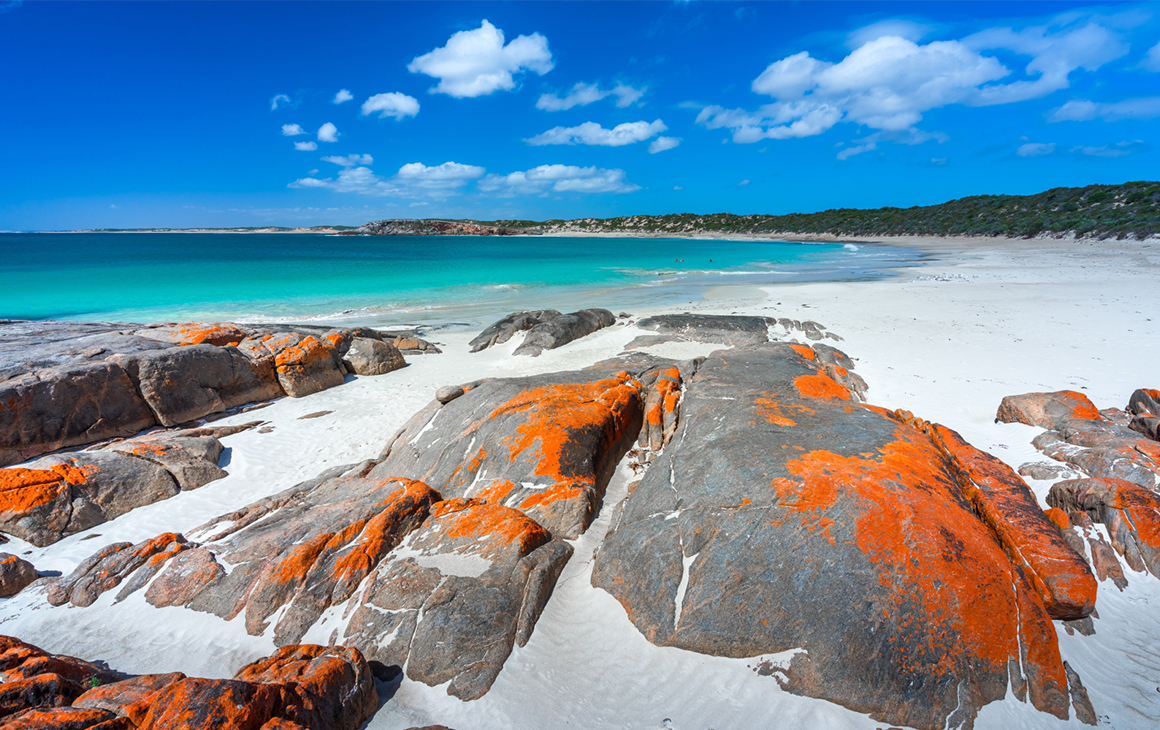 Memory Cove
Memory Cove is located on the tip of the picturesque Lincoln National Park, and as the name suggests, this special place is truly memorable. Another jewel in the Eyre Peninsula's crown of glorious beaches, Memory Cove secures its place in your memory with its glistening waters and stretches of white beach, fringed by native bushland teeming with wildlife. You can drive right onto the beach and spend a day basking in the sunshine, where you might be joined by some of the notoriously friendly local kangaroos. To maintain the untouched beauty of this area, access to Memory Cove is limited to 15 vehicles a day, so you're almost certainly going to enjoy this slice of paradise in serenity.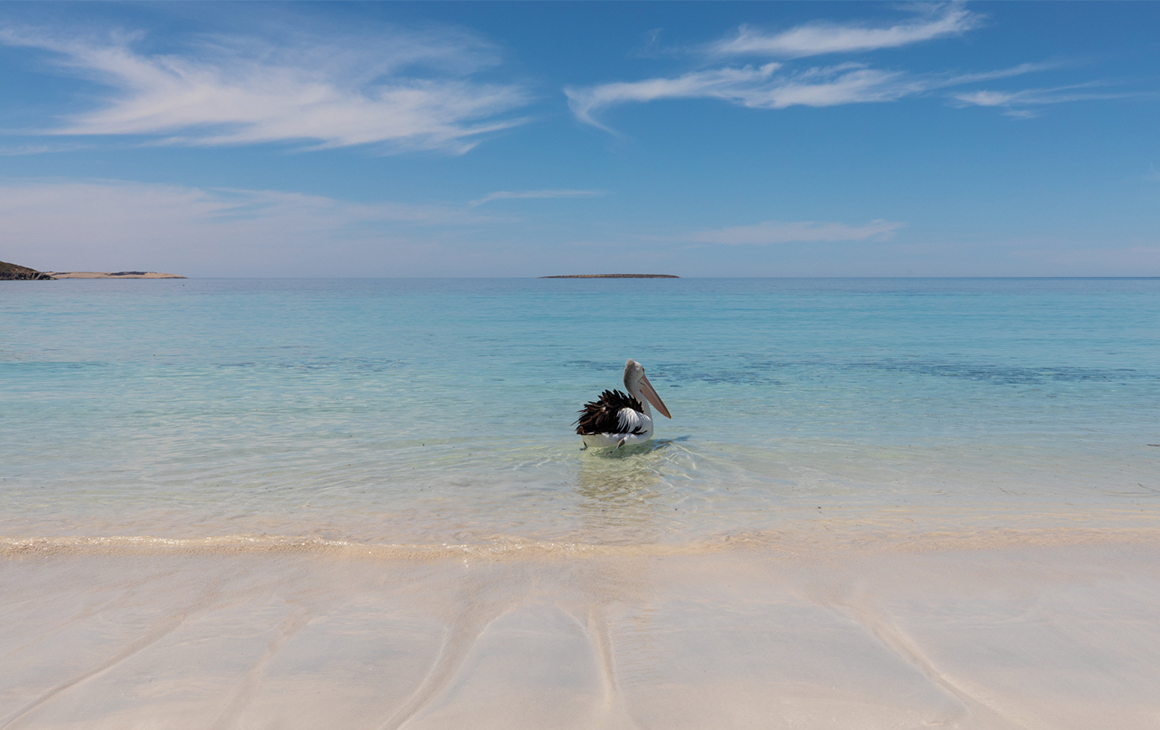 Almonta Beach
The Eyre Peninsula is brimming with beautiful beaches, but when we stumbled upon Almonta Beach in Coffin Bay National Park, we thought we might have found the most beautiful. Impossibly white sands starkly contrast calm, azure waters, fringed by rugged bushland, which is home to an array of native wildlife, including kangaroos, emus and goannas. Make sure to visit during low tide, when a lagoon forms and rock pools appear, creating the perfect snorkelling spot for exploring the underwater world. You can sample some of the ocean's treasures on a working oyster farm, where you'll be served freshly plucked Pacific Oysters with Coffin Bay Oyster Farm and Tasting Tours. Now that's what we call the quintessential Aussie beach holiday.
Horseshoe Bay
Beach paradise is within reach and you might just find it right here at Horseshoe Bay. One of South Australia's favourite beaches, this seaside haven is well patronised by tourists and locals alike. It doesn't get much more family-friendly than this—not only is Horseshoe Bay a top-notch swimming, snorkelling and diving spot but it also boasts a playground, a large picnic area and an abundance of fish and chip shops, just metres off the foreshore. Pack up the car, make sure to slap on some sunscreen and head to this picturesque slice of paradise for a glorious family day out.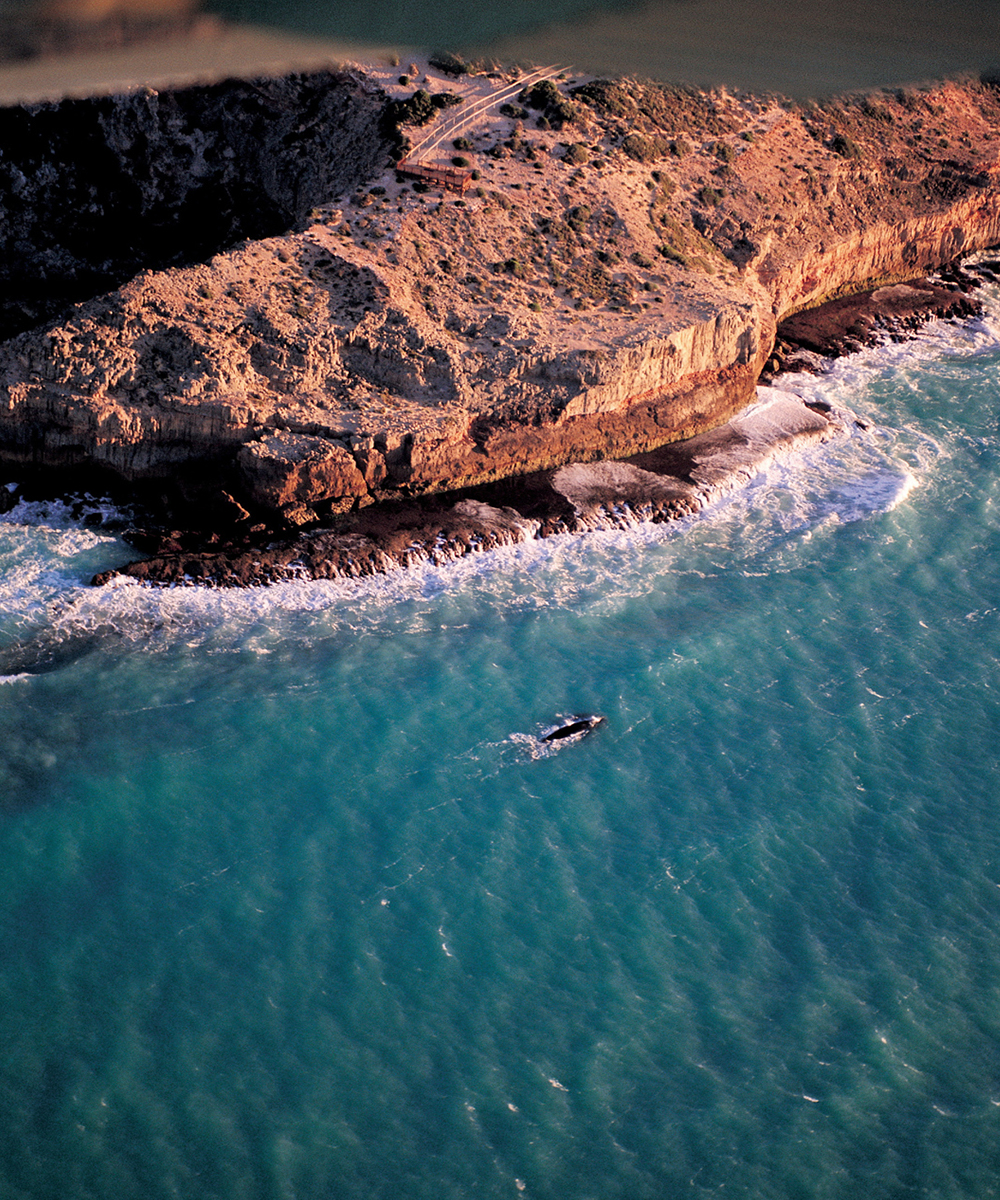 Second Valley Beach
We are all about Instagrammable locations and when we heard this spot was South Australia's most Instagrammed beach, well, we had to pay it a visit. Venture onto Second Valley Beach, sink your toes into the powder-white sand and you'll immediately see why. Stunning views of the coastline stretch in both directions and uniquely shaped boulders cluster along the beach. The towering cliffs which fringe the beach are often conquered by thrill-seekers who take the daring plunge into the ocean below. There's no doubt that Second Valley Beach is one of the best beaches in South Australia.
Merdayerrah Sand Patch
Merdayerrah Sand Patch is the westernmost beach in South Australia and is perched on the remote western end of the Nullarbor cliffs. If idyllic isolation is what you're after, you might have found your new favourite beach. Expect stunning cliff top views and a secluded sandy beach sitting at the bottom of the Bunda cliffs. Although Merdayerrah Sand Patch isn't prime for swimming, it boasts incredible surf breaks and attracts experienced surfers and hikers who want a breathtaking view. For all introverts or those who just want a break from people (*raises hand*), pack your bags and head to Merdayerrah Sand Patch.
If all this talk of glittering water and untouched sand has stirred up your beach wanderlust, don't worry, 'cause we've got just the thing for you. Satisfy all your sun, surf and sand cravings with our ultimate list of Australia's best surf beaches.
Image Credit: Dylan Alcock, Samantha Lodge, Adam Bruzzone, Hayley Hays, As We Wander.