Every paw-rent knows the struggle of buying dog food for your fur child. There's endless options of dry food, wet food, raw food, all-organic, high-protein—the list is endless. You love your dog very much, so it's time to put your money where your (or their) mouth is and feed them the good stuff, that also happens to be good for them.
Whether you've welcomed a new furry member to the family or if you're just levelling up your dog's diet, it's important you know what to feed your furry best friend to best optimise their health. Just like how what we eat dramatically affects our lifestyle, it's the same with your doggo. Fur parents, scroll on for the best dog foods of 2022 for all types of dog sizes, ages and needs.
Best Overall Dog Food
Petzyo Dog Food
Petzyo is about all-natural, grain-free dog food which will have even the fussiest doggo leaving an empty bowl. They offer three types of kibble; kangaroos and sweet potato, salmon and ocean fish and chicken and turkey as well as three types of raw wet food. Petzyo's raw food isn't just from a can—their frozen fresh patties are designed for optimum doggo nutrition and are filled with natural ingredients, such as coconut, kelp powder, chia seeds, flaxseed oil and turmeric. Your dog might just eat more gourmet than you do. We love their doggo lifestyle calculator which will serve you up an adjustable feeding guide specifically designed for your dog's lifestyle and dietary needs.
Best Dog Food For Large Breeds
Applaws
Applaws make delicious food for your furry mate, using grain-free, high-protein ingredients, so you can rest easy knowing that your best friend is eating well. Applaws hit the sweet spot between quality and price and it's also conveniently available in most major supermarkets so you don't need to travel to nourish your pooch. Their dry dog food is high in protein and includes loads of natural ingredients like blackberries, pumpkin and dried kelp which are essential for bigger doggos' healthy bones and joints.
Best Dog Food For Small Breeds
Ivory Coat
The team at Ivory Coat are no strangers to helping take care of your pooch and Ivory Coat is undoubtedly one of Australia's top-rated dog food brands. Ivory Coat's small breed range is full of smaller, triangular-shaped kibble which makes it easier for small dogs to eat and promotes dental health. Their grain-free kibble is gentle on your doggo's stomach and only uses quality protein so your little fur baby gets all the protein they need for lean muscle maintenance. It's also very affordable and available in most major retailers, so it's ticking all the boxes.
Best Dog Food For Senior Dogs
Wellness Core Senior
As your dog's muzzle begins to grey, you might find yourself asking, what's the best dog food for my senior dog? As dog's age, they generally require increased protein, lower calories and no high-risk additives. Our top pick for the best dog food for senior dogs is Wellness Core Senior Dog Food. Their grain-free, protein-rich dry dog food is packed with premium protein, omega fatty acids for skin and coat health, and nutritional supplements designed to support older dogs as they age. Wellness Core complements its dry food with an array of natural dog treats, toppers and wet food.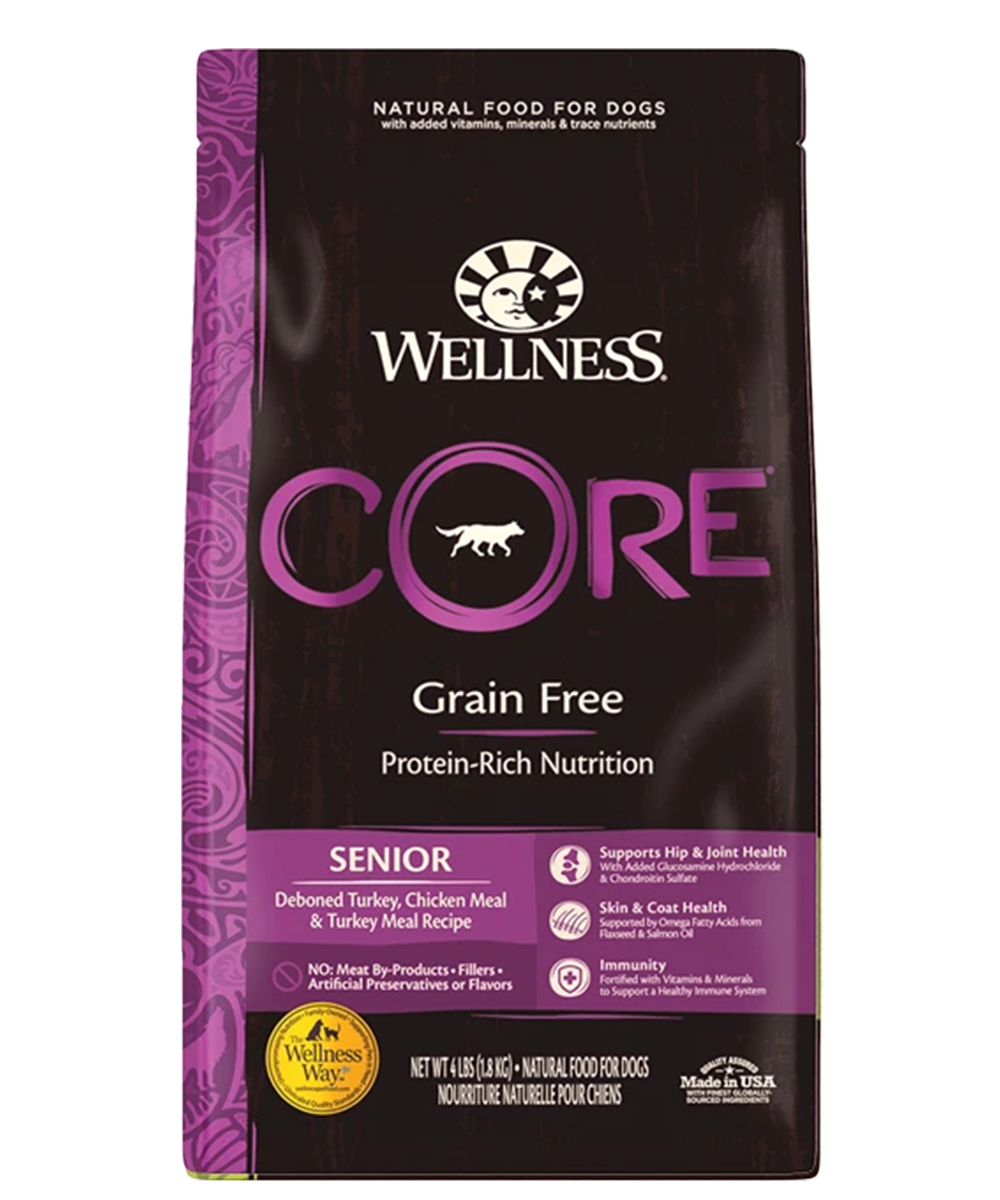 Best Dog Food For Puppies
Black Hawk
If you've ever owned a puppy you can attest to their cuteness, but also their boundless energy and seemingly bottomless stomachs. Black Hawk is certainly leading the way in puppy food which is designed to help your precious fur baby grow, while also satisfying their large appetites. They offer an extensive range of natural puppy food for a variety of breed sizes, which have been formulated by pet nutritionists and are packed with lean proteins and essential amino acids, like blueberries, cranberries and rosemary.
Best All-Natural Dog Food
Meals for Mutts
If you're anything like us, only the best will do for your fur child and that means nourishing them with all-natural, nutritionally balanced ingredients. Meal for Mutts is designed to be gentle for dogs with allergies, digestion problems, shedding, joint inflammation, weight fluctuations and a plethora of other health issues and has no hidden nasties. Their Australian-made extensive kibble range has gluten-free, grain-free and single meat protein options as well as hypoallergenic flavours for doggos with special dietary needs. Despite the name, Meals for Mutts also offers a cat and kitten kibble range so the whole fur family can dig in.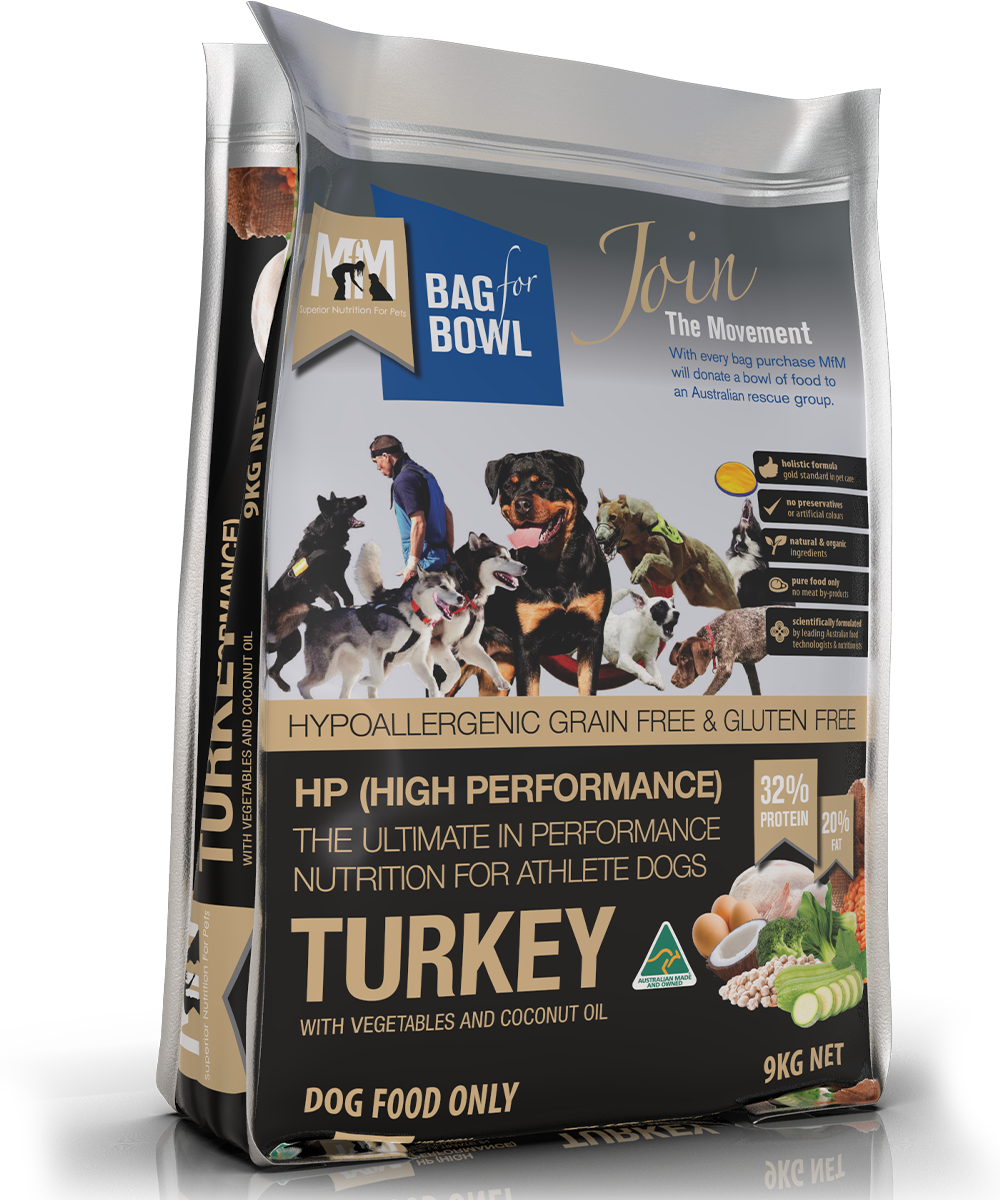 Best Dog Food For Weight Loss
Hill's Science Diet
It's easy for your furry friend to put on some extra kilograms here and there, however, they can quickly add up and overweight dogs are significantly more at risk for a plethora of health concerns. Hill's Science Diet's 'Adult Perfect Weight' dog food range is one of the top weight management dog foods, which promotes lean muscle development and long-lasting weight maintenance. The high protein, high fibre formula is enriched with goodies like coconut oil to help support dogs' metabolisms for healthy body weight.
Best Dog Food For Dogs With Allergies
Royal Canin
Hypoallergenic dog foods are specially formulated by using 'split' proteins that are less likely to induce an allergic reaction in your dog, and there's certainly a growing demand for this doggo-friendly dog food. Royal Canin hypoallergenic dry dog food is one of the top contenders and is designed to help maintain a balanced digestive system, promote healthy skin and ensure your fur baby doesn't suffer from any adverse food reactions. It's certainly not the cheapest option on the market, but it's a top contender for quality.
Now that your pooch is chowing down on the best dog food in the biz, their attire needs to match. Level up your doggo's style game with the coolest dog collars right now.
Image Credit: Wellness Core, Meals for Mutts & Supplied