2021 is the year of self-care—or at least we've decided it is. Some of us are really getting into yoga, others are learning to meditate for the first time, and just about everyone, after almost of a year of not wearing makeup, are finally getting a cracking skincare regime under way. The world of skincare and beauty used to be as simple as a three-step program before bed (that we learned from Justin Bieber's Proactiv ad) but these days there are more products and tools than you can poke your sanitised finger at.
Of course, because we're on top of all the trends, we are here at the forefront of this tsunami of beauty products to provide you with a list of the best skincare tools of 2021.
FOREO LUNA 3 Plus
If you're looking for the most hygenic and luxurious way to cleanse your face, the Foreo Luna 3 Plus is it. A handheld device covered in silicone brush touch-points that you can take into the shower with you, it massages and vibrates to get deep into your pores, washing away dirt, oil, sweat and make-up, leaving your skin polished to perfection. Take things up a notch by activating Thermo-Tech, which heats the device to the perfect temperature so you can get that blissed out spa-feeling at home. Once you're completely cleansed, turn the device over and make the most of the microcurrent treatments which target specific areas of your face so you'll never need another facial again. Get it here.
Facial Steamer
If you want to turn your daily 2021 skincare routine into a luxe at home spa treatment, then you need to get yourself a facial steamer. While most of us may be getting an accidental facial steam every time we cook some pasta, the benefits for your skin of actual steaming are limitless. From unclogging pores and removing dirt, oil, keratin and leftovers of makeup to promoting blood circulation and collagen regeneration, the humble steamer is a beauty powerhouse in its own right.
SLIP Silk Pillowcase
Do you ever stare at that one friend you have whose hair looks as sleek and shiny as your forehead does after a balmy day? Chances are they're using a SLIP silk pillowcase. Glorious hair aside, these magical pillowcases also work wonders for the complexion thanks to their anti-aging, anti-sleep crease super silky fabric. The slip pillowcase has been a dark horse in the beauty community for a while now and has quite the celeb following. Get one here and thank the lord for Afterpay.
Biologi Microfibre Cloths
Taking off your makeup using makeup wipes can not only be harsh on your skin but also pretty harsh on the environment. Scratch them off your shopping list for good and switch to an eco-friendly alternative that will save your skin, the environment and your wallet too: Biologi's Microfibre Cloths. These reusable babies can be washed and used again and again, and are pro at cleaning your skin of all makeup and residual dirt with just water. Your skin will thank you and so will the environment.
LED Light Therapy Mask
No, no this isn't one of those face shields that covid nurses have been wearing, it's a high-tech LED light mask. Red, blue and yellow lights shine from beneath this sleek dome (rave time!) to treat acne, regulate natural oil production, stimulate collagen and reduce redness and wrinkles—and you can do it all while you binge watch Netflix. You can't do that at your usual beauty salon, can you?
Face Roller & Gua Sha Set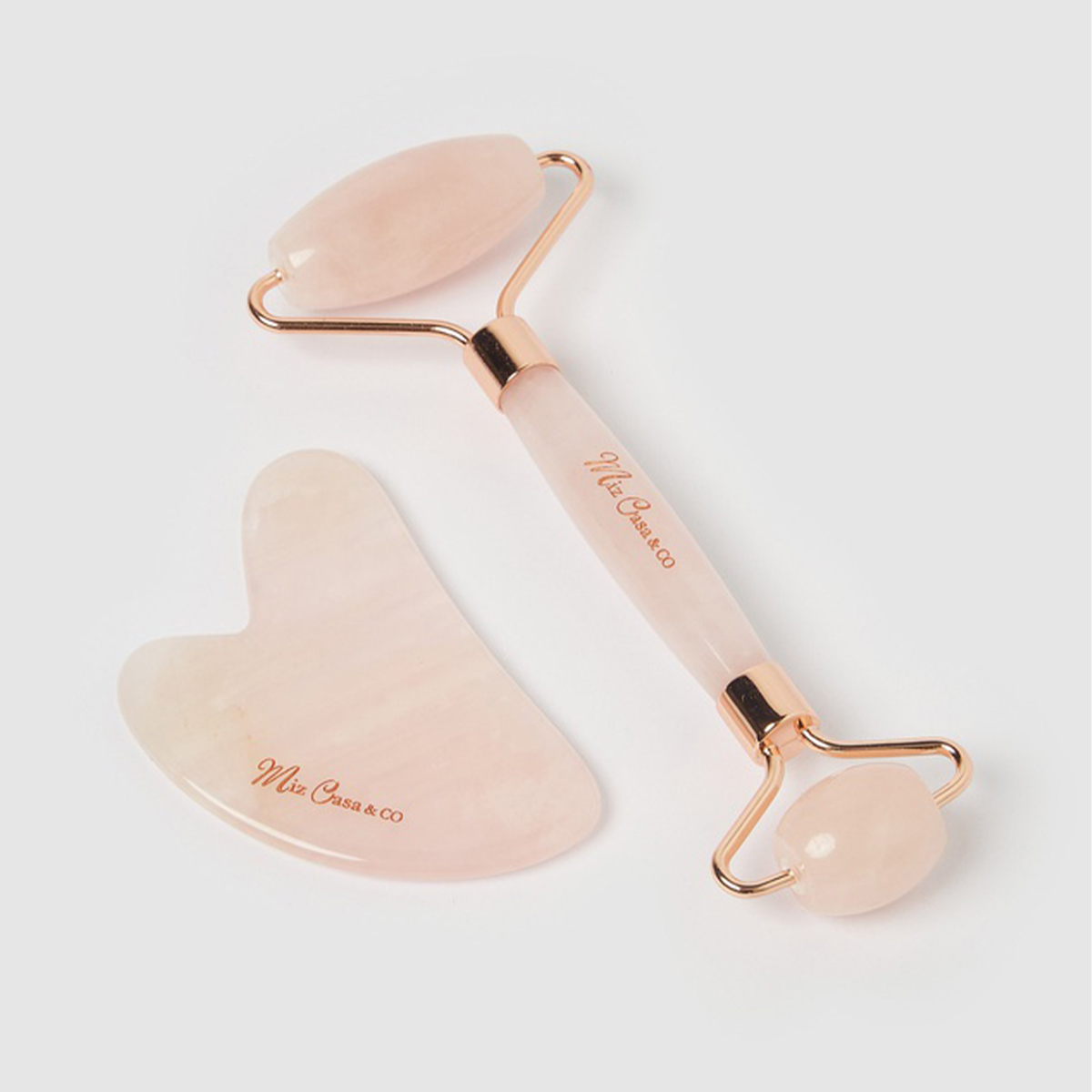 A rose quartz (you can also get it in jade) face roller and gua sha may seem like a humble addition to your beauty routine but this pretty little skincare tool has thousands of years of history behind it. A staple in traditional Chinese medicine, these tools are used to gently massage your skin (best used with a facial oil), relieving tension, puffiness and dark circles and boosting circulation. Bonus, it honestly just feels amazing, and is the perfect addition to your pre-bed routine for a relaxing wind down. Get yours here.
The Activator Microneedle Dermal Roller Set
Ok, needle-phobics there's no need to be scared, but warning: the next contender does look slightly like a weird BDSM toy. We are of course talking about dermal rollers, the skincare tool that has taken the world by storm despite the fact that involves rolling tiny needles across your face. As well as stimulating collagen production, microneedle rolling allows all those potions you got from The Ordinary to get good and deep into your skin. And for those at home, the needles on this at home kit are nowhere near as long or thick as the ones the professionals use, and it's not at all painful—just make sure that you're following all the instructions and thoroughly sanitising the rollers before use. Take the plunge and get yours here.
Looking to up your green game, as well as stock your bathroom with the best skincare tools of 2021? Check out these eco-friendly beauy products.
Design credit: Dom Lonsdale
Editor's note: Urban List editors independently select and write about stuff we love and think you'll like too. Urban List has affiliate partnerships, so we get revenue from your purchases.