As the mercury starts to drop, our hearts lust after a spicy meal to warm us up. Enter: Executive Chef Manuel Diaz and his spicy deep-fried avo taco recipe.
Manuel is the man behind some of Sydney's most beloved Mexican menus like Sonora, Carbon and Taquiza to name a few. So yeah, he knows a thing or two about good food, which is why we teamed up with Heinz® and asked him to create a restaurant-worthy dish that's easy enough for us to recreate at home.
Loaded with crispy, deep-fried avo, Heinz® Chilli Beanz Hot and fresh mango salsa—yep, this is the stuff of your culinary dreams. Get the recipe below.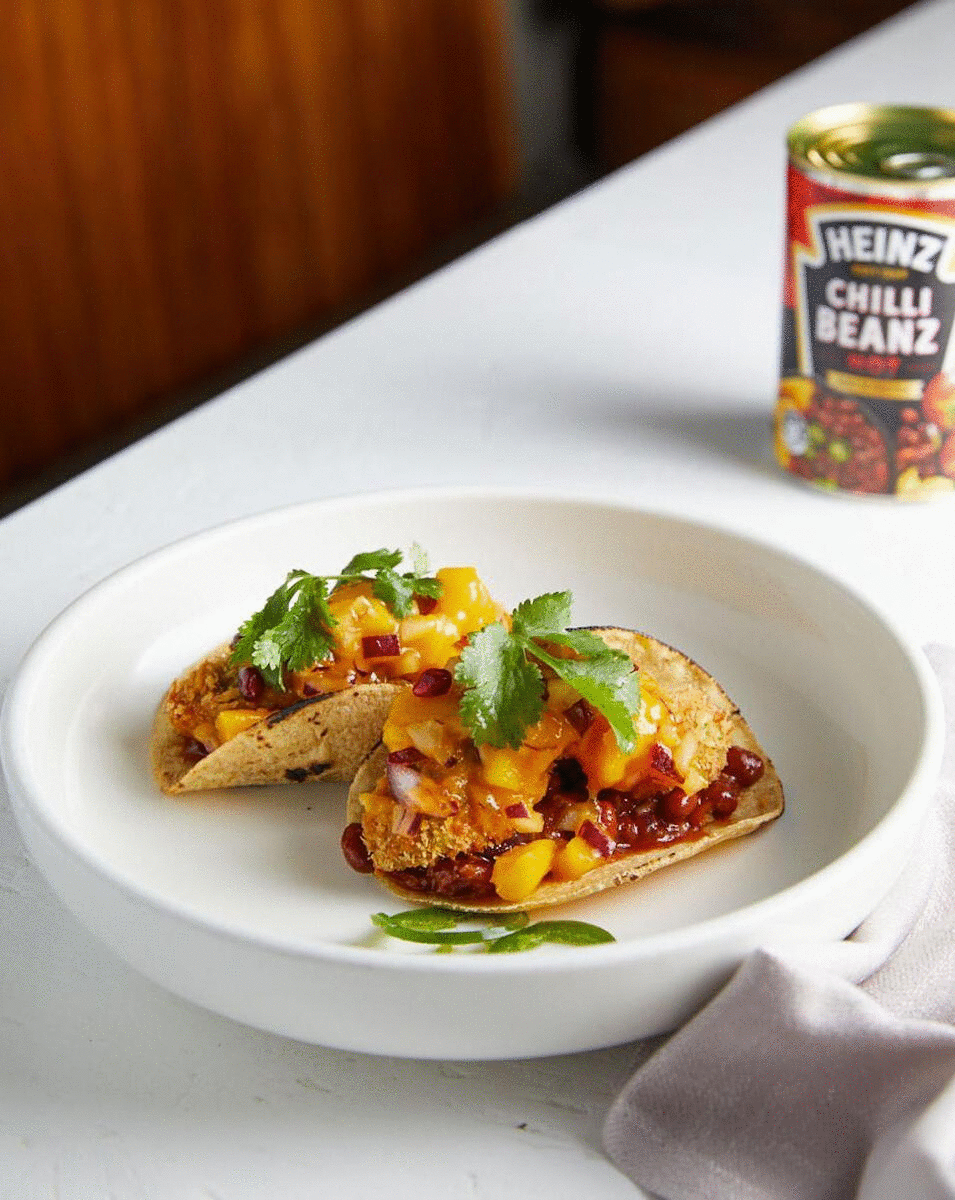 Spicy Crispy Avo Tacos
Ingredients
1 Avocado

1 Can of Heinz® Chilli Beanz Hot

1 Pack of corn tortillas

3 Eggs (whisked)

300g Panko

300g Flour

2 Mangos

Can of mango puree (optional)

5 Rashers of bacon

1 Red onion

1 Clove of garlic
Method
Slice the avocado into five slices. Take each avocado slice and coat them in flour, then egg wash, and then the panko mix. You can add pantry spices like chilli powder, oregano, garlic powder, onion powder and paprika for extra flavour to your panko mix.

Once the avocado slice is completely covered in panko, deep fry each slice for 35 seconds until crispy (you can deep fry at home by adding enough oil to cover the avocado slices to a deep saucepan). Repeat the process for all slices.

Set your avocado slices aside on a plate with paper towels to soak up the extra oil.

Cook chopped red onion, garlic and bacon until brown in a saucepan (note: leave a small handful of red onion leftover for your mango salsa). Add the Heinz® Chilli Beanz Hot and your chosen seasoning, and let simmer for five minutes.

Chop your mango into small pieces and add the leftover red onion to create a fresh salsa. As an option, you can add a can of mango puree to the mix.

Heat up tortillas and add a layer of Heinz® Chilli Beanz Hot, an avo slice, and mango salsa to each tortilla and serve.
We're always nostalgic for our beloved Beanz, and no matter if you're making Manuel's epic recipe or you're feeling spicy and want to cook up your own glorious creation, take your dish to the next level with Heinz® Chilli Beanz range.
Image credit: Yasmin Mund
Editor's note: This article is sponsored by Heinz® Beanz and proudly endorsed by Urban List. Thank you for supporting the sponsors who make Urban List possible. Click here for more information on our editorial policy.