Don't get us wrong, we love heading out for our daily coffee, but sometimes you can't beat the convenience of a pod-machine coffee at home. Unfortunately, all those nasty single-use coffee capsules aren't great for the environment, though—an estimated six million are used every single day, with most going straight to landfill. Yikes.
Well, the good news is there's a clever little Aussie company that's helping you do a little better by the planet with each morning brew. Say hello to Crema Joe, the family-owned business from Melbourne empowering you to consume more consciously and live more sustainably with their awesome range of reusable coffee pods and planet-friendly products.
They've got easy-to-use capsules for all your major machines (Nespresso, Dolce Gusto, Lavazza and more) as well as some quality bespoke coffee blends to fill 'em with, so you can ditch those single-use pods for good. But to really cap off your sustainable coffee moment, you'll want to take a look at their latest product: the Perfect Press.
Made by hand with ethically sourced, reclaimed plastic bottle tops, the Perfect Press is designed to level up your pod coffee while also helping reduce the amount of plastic entering our waterways. You'll enjoy mess-free filling and a consistent tamp, which (for those unfamiliar with the term) basically means a more professional, creamy espresso each and every time. We're also kinda in love with the simple design as well.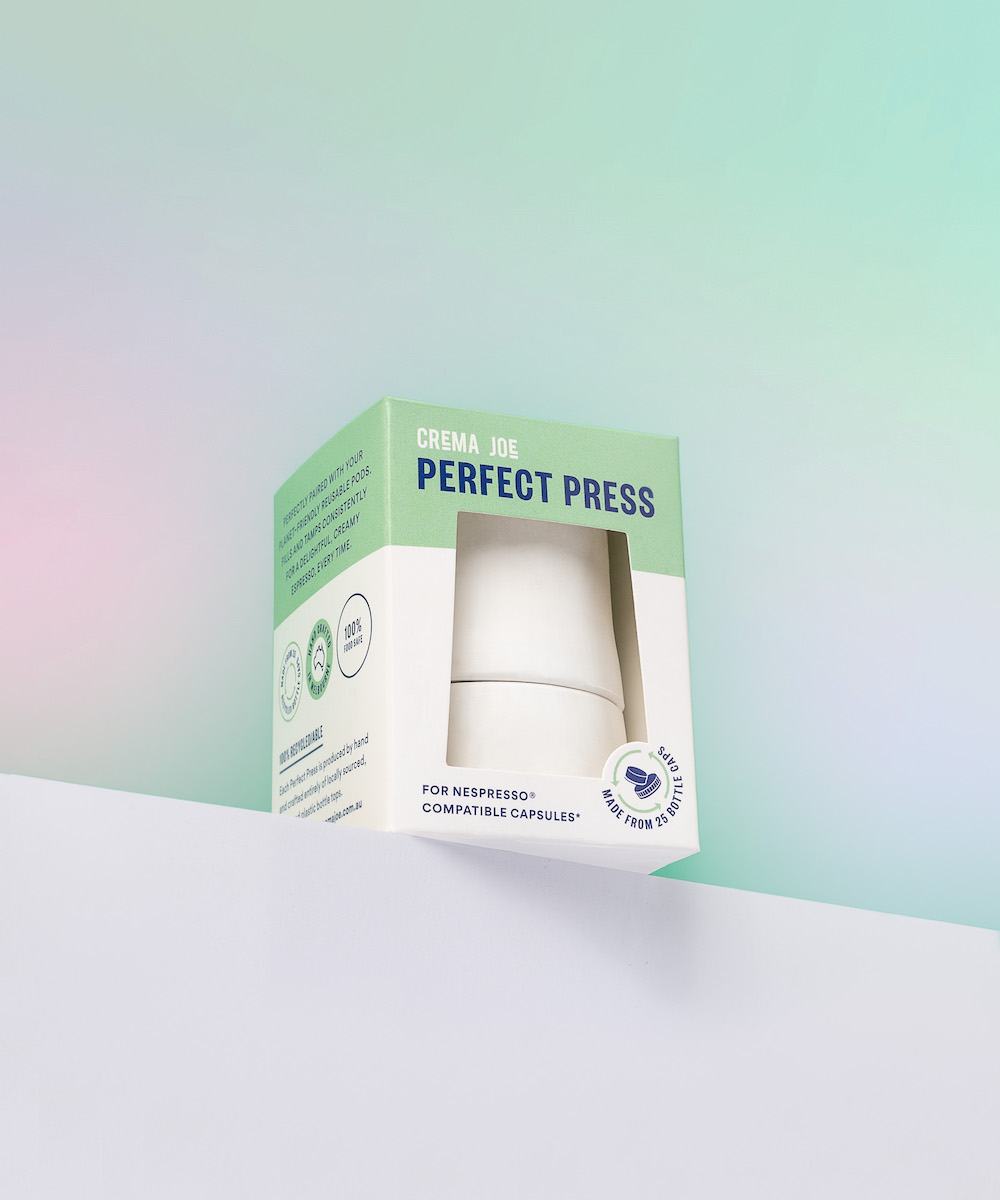 Don't let the simple look fool you, it took three years of research and development to craft the eco-friendly product. Each one is individually crafted from 25 plastic bottle tops which are melted down at Precious Plastic Melbourne, their micro-recycling facility in the outer suburbs of Melbourne.
It should come as no surprise that Kayla and Piers Mossuto, the couple behind Crema Joe, are big on the circular economy, so you can even send your Perfect Press back after you're done with it to get recycled into other eco-friendly products. How good!
Better yet, they've set aside a cheeky discount just for Urban List's sustainable readers keen to give one a go. Just enter PRESS10 to unlock a 10% discount on your Perfect Press.
Then go right ahead and check out more awesome plastic-free products.
Image credit: Supplied
Editor's note: Urban List editors independently select and write about stuff we love and think you'll like too. Urban List has affiliate partnerships, so we get revenue from your purchase.