In case you missed it, it's Plastic Free July—a global movement aimed at making sure you're part of the solution to plastic pollution. This month, it's time to reduce your use of single-use plastic waste in your everyday life and there's a bunch of easy ways to lead a more plastic-free lifestyle.
For now, read on for the best sustainable Aussie brands to add to your shopping basket stat.
Stasher
These clever plastic-free, reusable sandwich bags are a must-have in every home and are one of the best plastic free products around. Safe for use in microwaves, sous vide machines, standard ovens, boiling water, freezers and dishwashers, Stasher's patented design is an eco-friendly, environmentally safe and long-lasting alternative to plastic. Instead of petroleum-based plastics, these bags are made 100% pure platinum silicone that is BPA, BPS, lead, latex and phthalate free. They are also hypoallergic, non-porous and feature an airtight pinch-loc seal that locks in nutrients and flavour. You can also nab them up in a bunch of different colours. Buy yours here.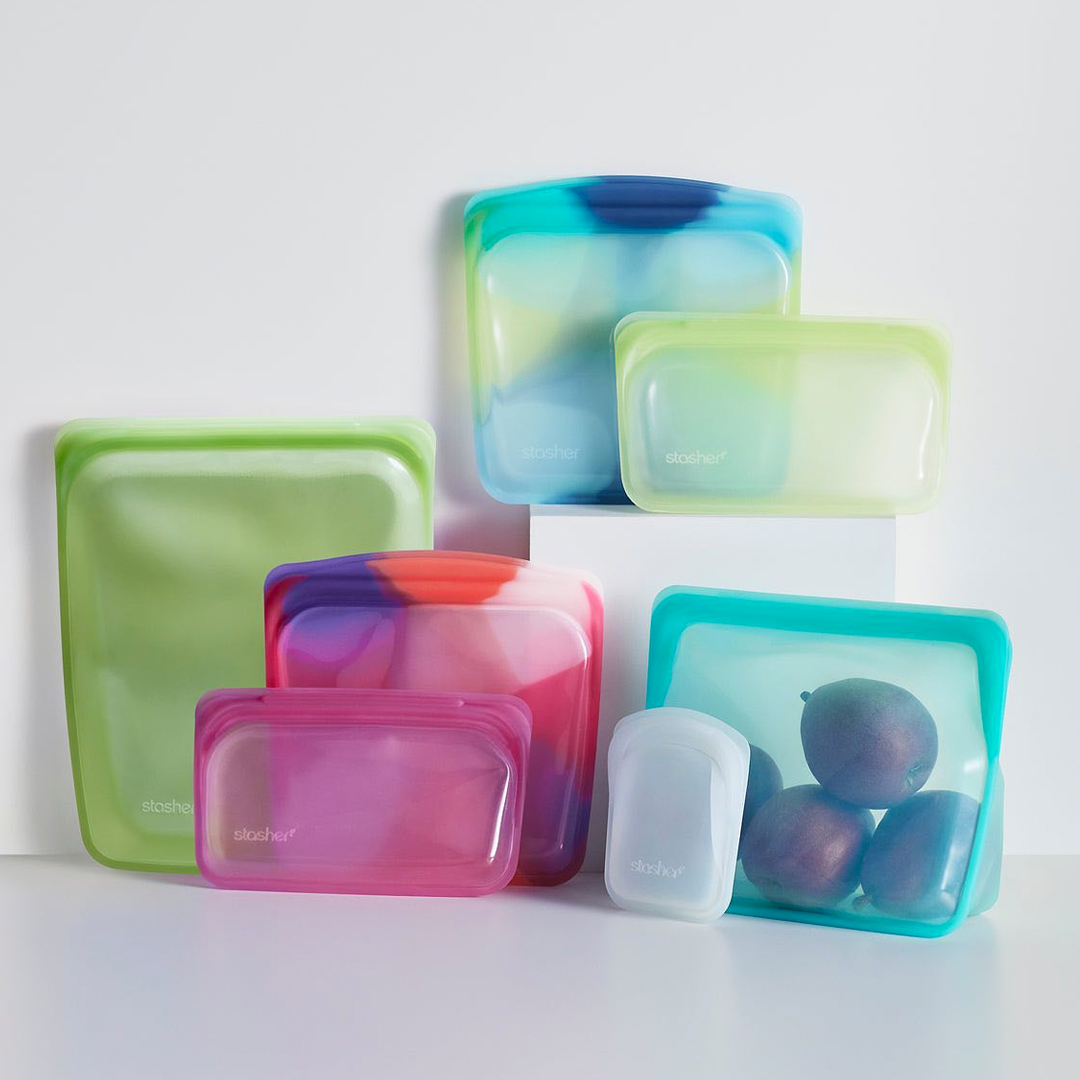 Woohoo Body
Woohoo Tango All Natural Deodorant Paste is a 100 per cent natural deodorant that will add a little bit of citrus passion to your day, even if you have very sensitive skin. This bicarb-free formula with a zesty tangerine and lemon scent will make you feel like dancing the day away. Just scoop a small amount, melt it between your fingers, and rub it in like moisturiser for 24 hour protection from body odour. Aussie-made and vegan, Woohoo is also a member of '1% for the Planet', donating 1 per cent of its wholesale sales to helping the planet. Buy yours here,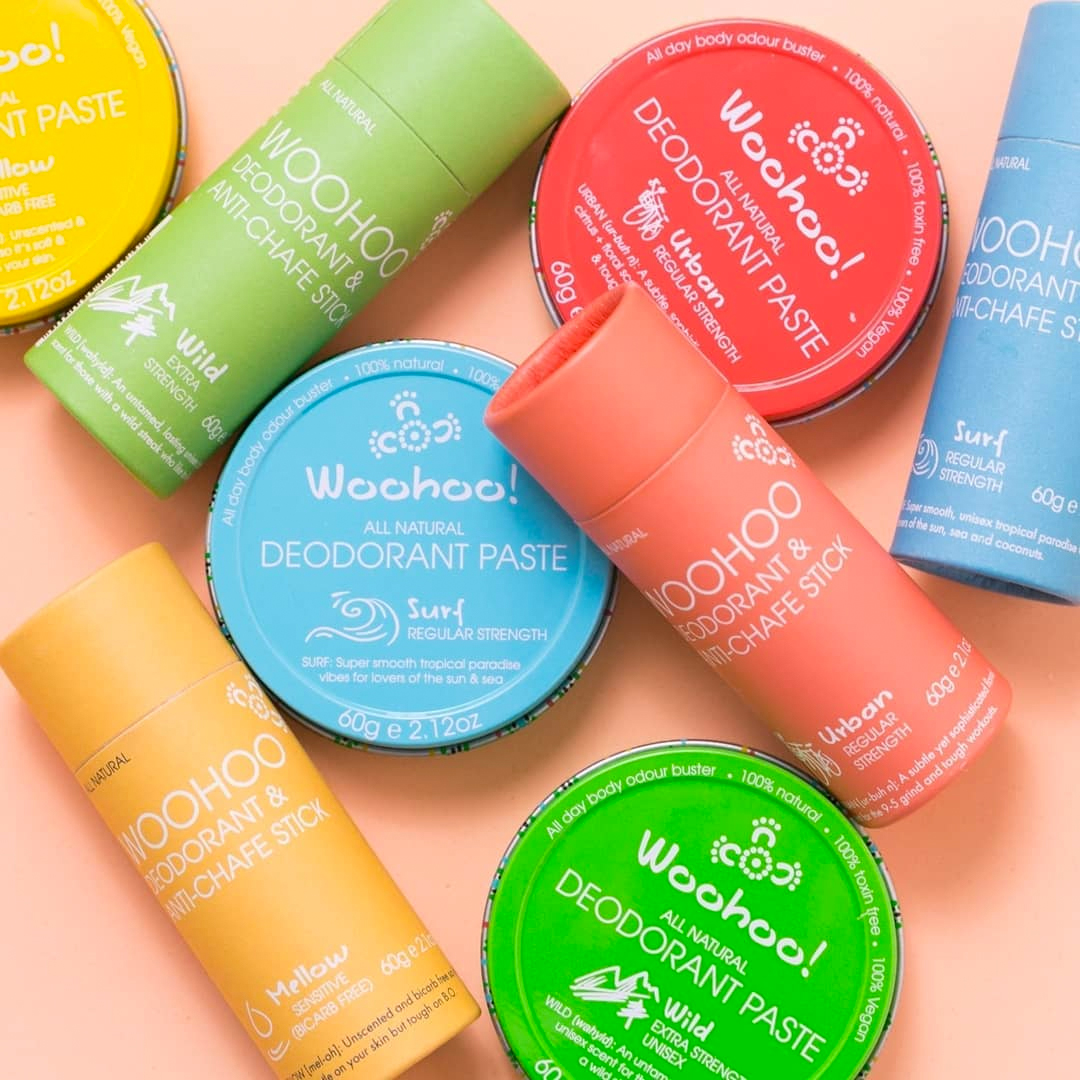 Zao Essence Of Nature
We hear you loud and clear. You're on the search for plastic free make-up. Enter Zoo Essence Of Nature. Since 2011, Zao has been developing a gorgeous range of 100 per cent vegan makeup certified as organic by Ecocert, with key ingredients being bamboo and micronised silver powder. By using refillable bamboo packaging, the brand is entirely committed to a sustainable approach when it comes to eco-design and waste reduction solutions. You'll find everything from multi-use make-up sticks and washable make-up remover pads to plastic-free mascaras, BB creams, foundations and eyeliner. Buy it here.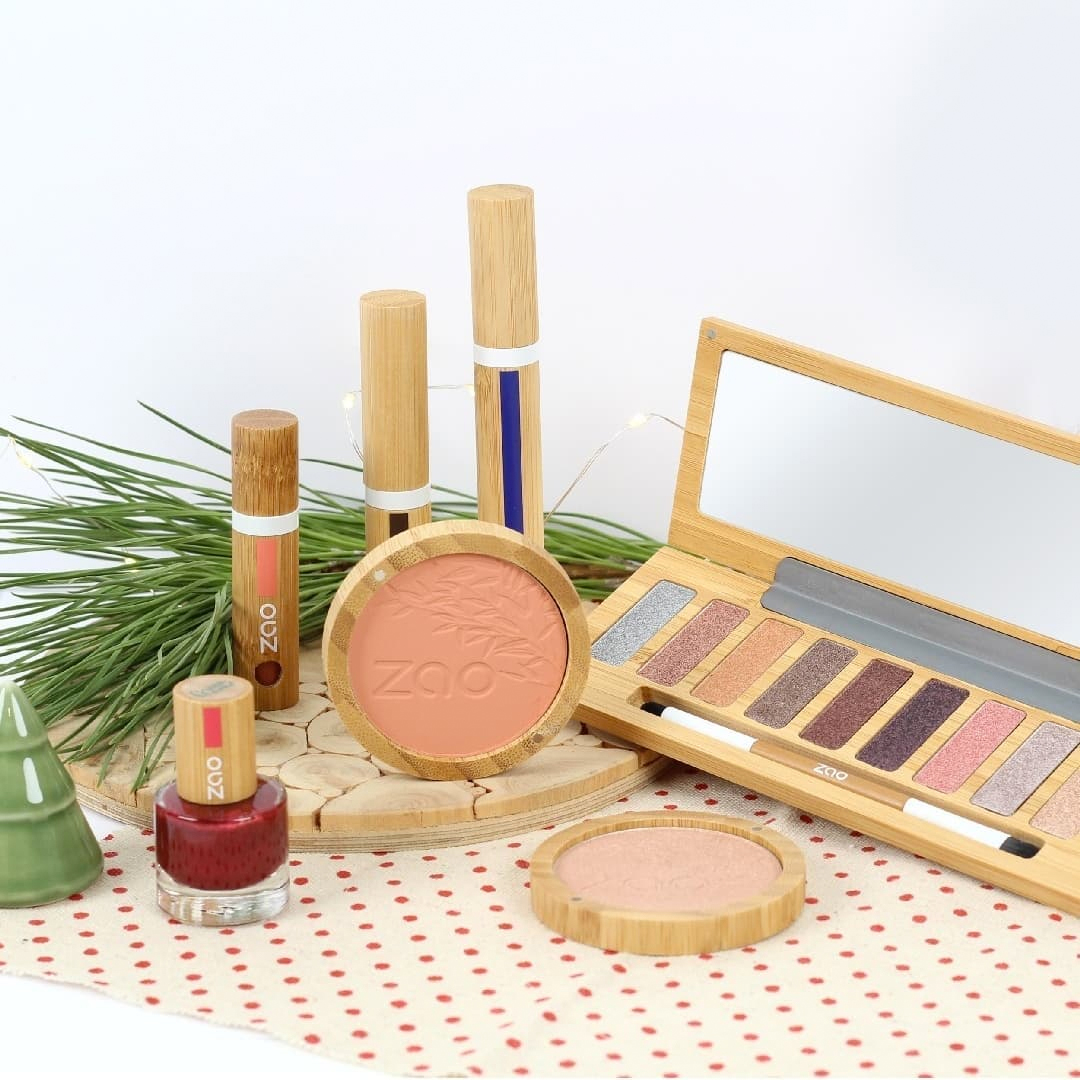 Bare & Co
If you're on the hunt for plastic free cleaning products, bring you attention over to Bare & Co. This eco friendly kitchen cleaning set is made from sustainable and biodegradable sources so you wont need to add to the worlds ever growing plastic problem. Bare & Co's Kitchen Set is a plastic free and clever way to clean, with six items in this set you will never need to grab another plastic sponge, scourer or cleaning wipe. Buy it here,
Ethique
On that note, you're going to need a plastic free cleaning agent, right? One plastic-free box of Ethique's multipurpose concentrate makes one 350g bottle of multi-purpose kitchen spray. To make, you just have to mix the concentrated bars with boiling water and you've got a fresh batch of streak-free kitchen spray, minus the plastic bottle. Buy it here, and for it's bathroom counterpart, head here.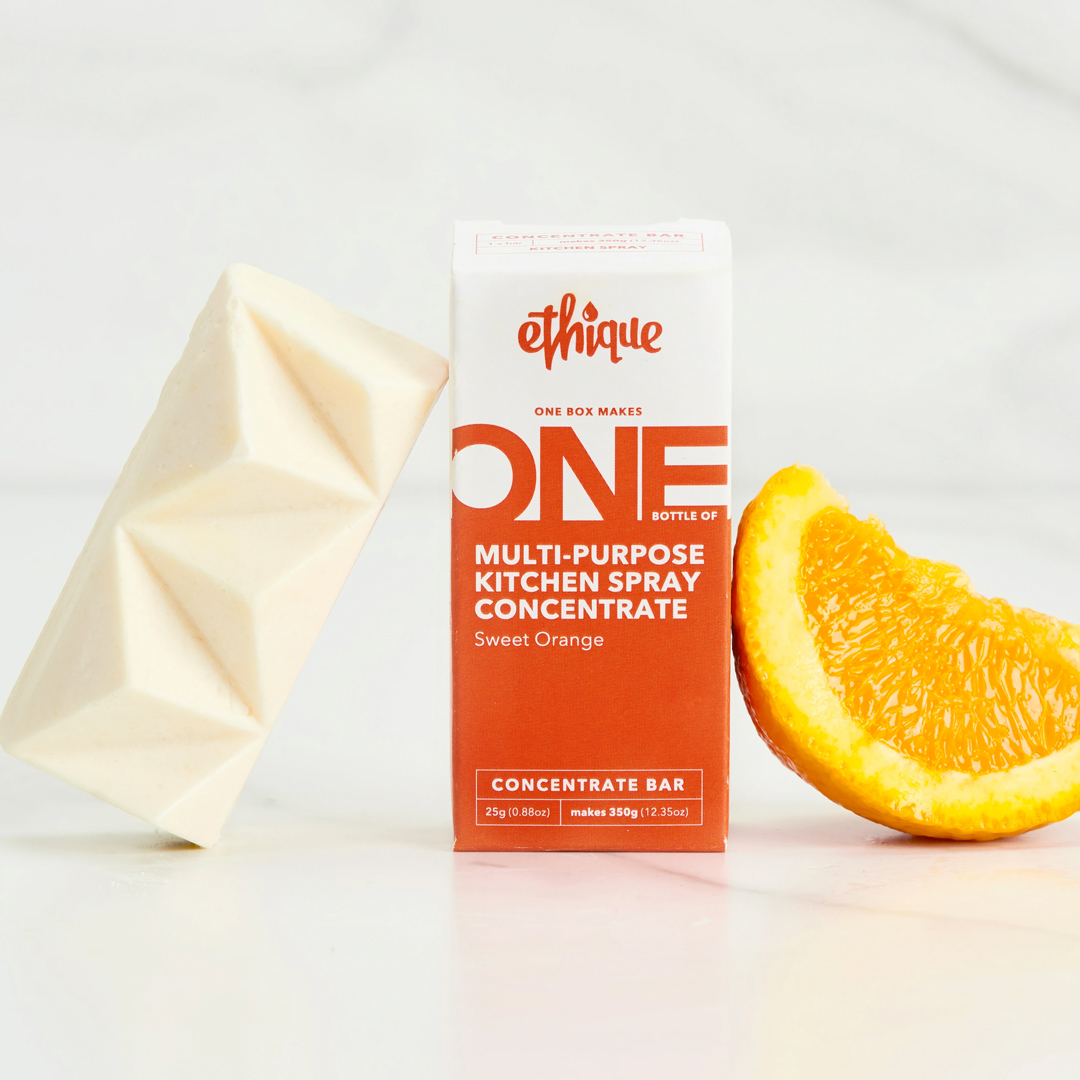 Scarlet Period Products
If you're not across Scarlet Period Products, then let us enlighten you. This crew offers a fresh take on period care with all the sustainable and plastic-free products you could ever need. There's a lot to stock yourself with here (from period undies to organic tampons) but our all-time favourite is the Scarlet Period Cup. This beauty gives a whole lot of security and comfort for all people with periods as it collects rather than absorbs menstrual fluids (this means no leaks and less waste). Made from 100 per cent medical grade silicone and BPA-free, the Scarlet Period Cup can be worn for up to 12 hours at a time.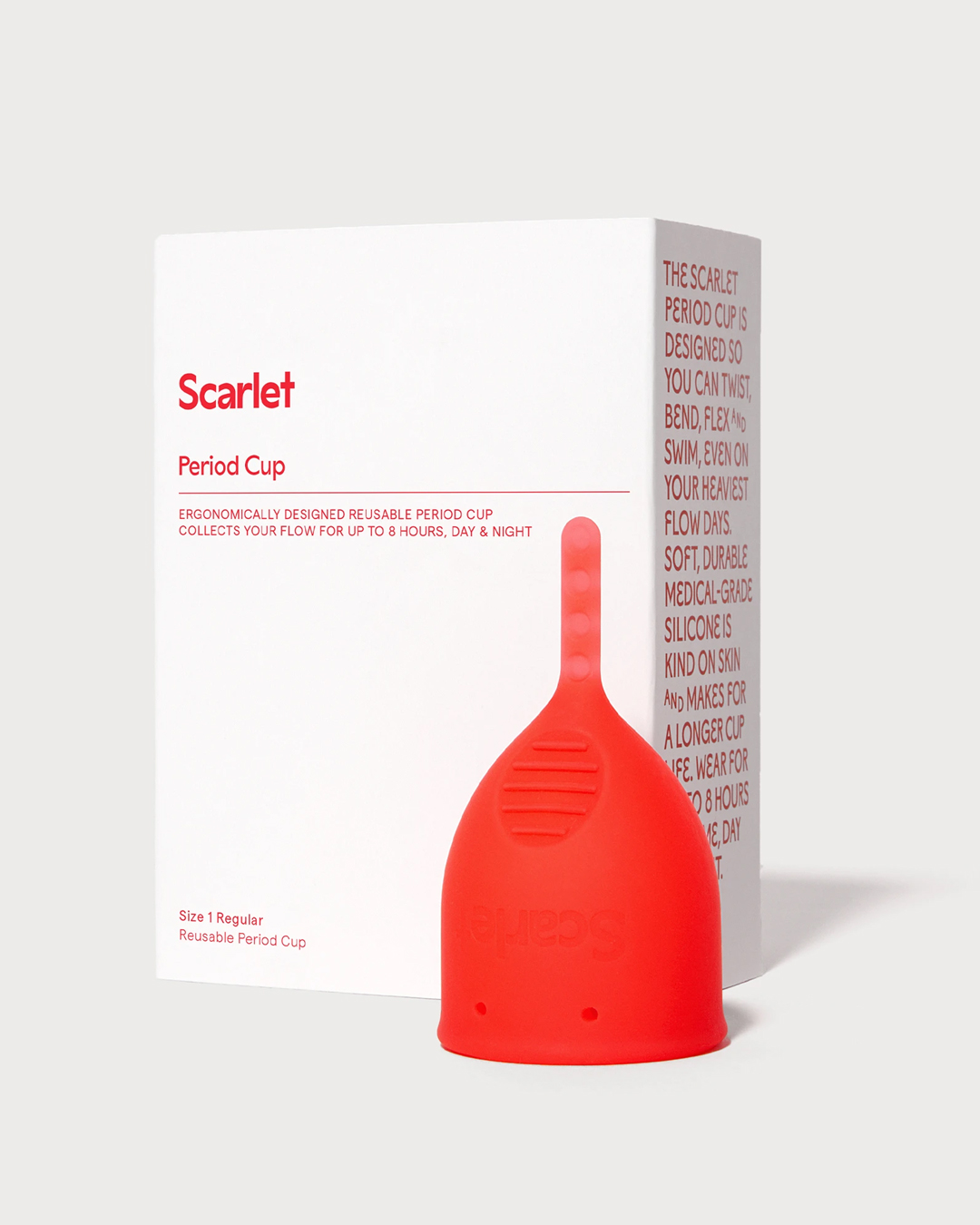 Leaf Shave
To put it simply, Leave Shave is your one-stop shop for all plastic-free shaving. There are plastic-free shaving kits, individual razors, blade recycling tins, soap bars and travel cases to treat yourself to, plus Leaf Shave also packages and ships 100 per cent plastic-free. Finally, Leaf Shave also record and offset the carbon footprint of their organisation and financially support climate action non-profit work.
Viva La Body
You bet we've included the revolutionary plastic-free brand that is Viva La Body. In 2019, these guys stopped making products in bottles, jars and tins and became certified palm oil-free, cruelty-free, vegan and plastic-free which is not only good news for the planet but good news for you, too. Viva La Body stocks deodorants, dish and laundry products, lip balms, perfumes, hair care, body soaps and water-activated moisturiser.
Modibodi
Enter Modibodi's innovative underwear that's chic as anything and perfect for hanging in at home. Modibodi uses tech-savvy fabrics (like Bamboo, Merino Perform Wool and Microfibre) and the latest in breathable, antimicrobial fibres with their Australian patented Modifier Technology to create stain-resistant, sweat and odour-free undies. They're also washable and reusable—basically they feel like your regular underwear, but they do so much more. The range is super stylish, so get yourself pair here.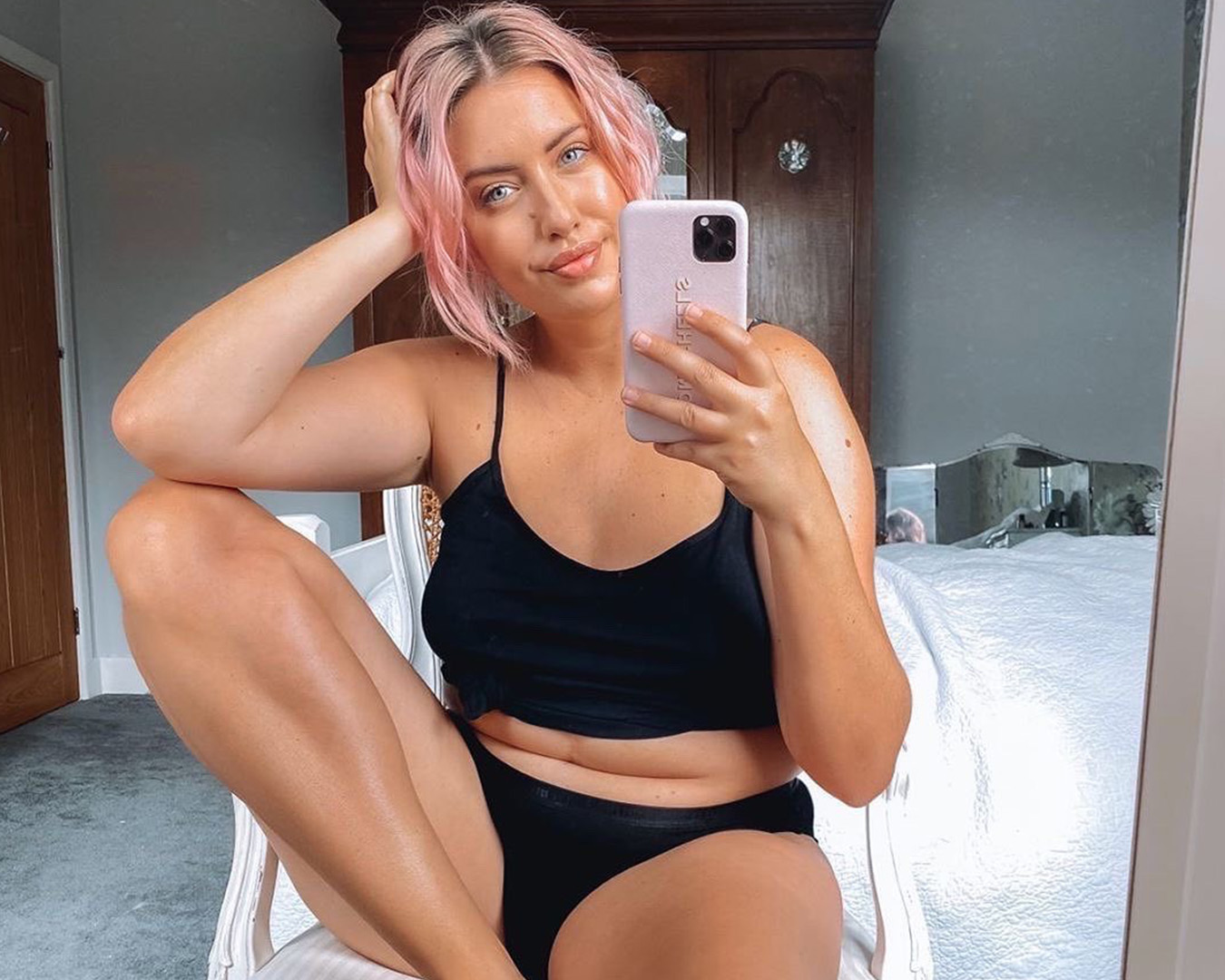 Keen to shop more plastic-free products? Check out Go For Zero—an epic new Aussie retailer with all the goods.
Little Mashies
Single-use plastic straws have a detrimental effect on our environment so why not switch to Little Mashies reusable straws! This food-grade silicone straw set comes with four reusable straws as well as a straw cleaner/brush. Perfect for toddlers and young children, the Little Mashies reusable straws are soft for mouths, BPA free, Phthalate-free and PVC free. They can be thrown in your handbag for cafe adventures, picnics and drinks on the go. Buy yours here.
Ever Eco
What is better than keeping your food fresh in a plastic-free, durable Bento Box by Ever Eco? Nothing. Made with only Food Grade 18/8 Stainless Steel this lunch box comes 2 compartments to separate your lunch and snacks; sushi, salad pasta, sandwiches, wraps and rice paper rolls…the options are endless. This big, customisable bento box featuring a removable divider, fits a sandwich or wrap cut in half with plenty of space leftover for sides and snacks. It is also the perfect size to BYO container for takeaway food. Buy yours here.
Now shop the best eco-friendly beauty products on the market.
Image Credit: @_youngmadame_
Editor's note: Urban List editors independently select and write about stuff we love and think you'll like too. Urban List has affiliate partnerships, so we get revenue from your purchase.