You know that muslin cloth hanging from your shower rod that makes you feel holier than thou when you use it to wash your face every night? The one you haven't washed in a few days? Well, we hate to break it to you, but it could be doing you more harm than good.
Unless you're getting a freshly cleaned washcloth out of the cupboard every time, you're basically washing your face with a carrier of all sorts of bacteria and mold, which can start to build up almost immediately in the damp, warm environment of your bathroom. Washcloths can also be quite abrasive, so if you're really scrubbing your skin with them every day, you could be destroying your skin's protective barrier.
So should we all just go back to using our fingertips to cleanse our face? Not if you wear a lot of clingy make up, or like me, you have pores that clog up at the mere thought of sebum. The answer to all that and more? FOREO's new LUNA 3 Plus.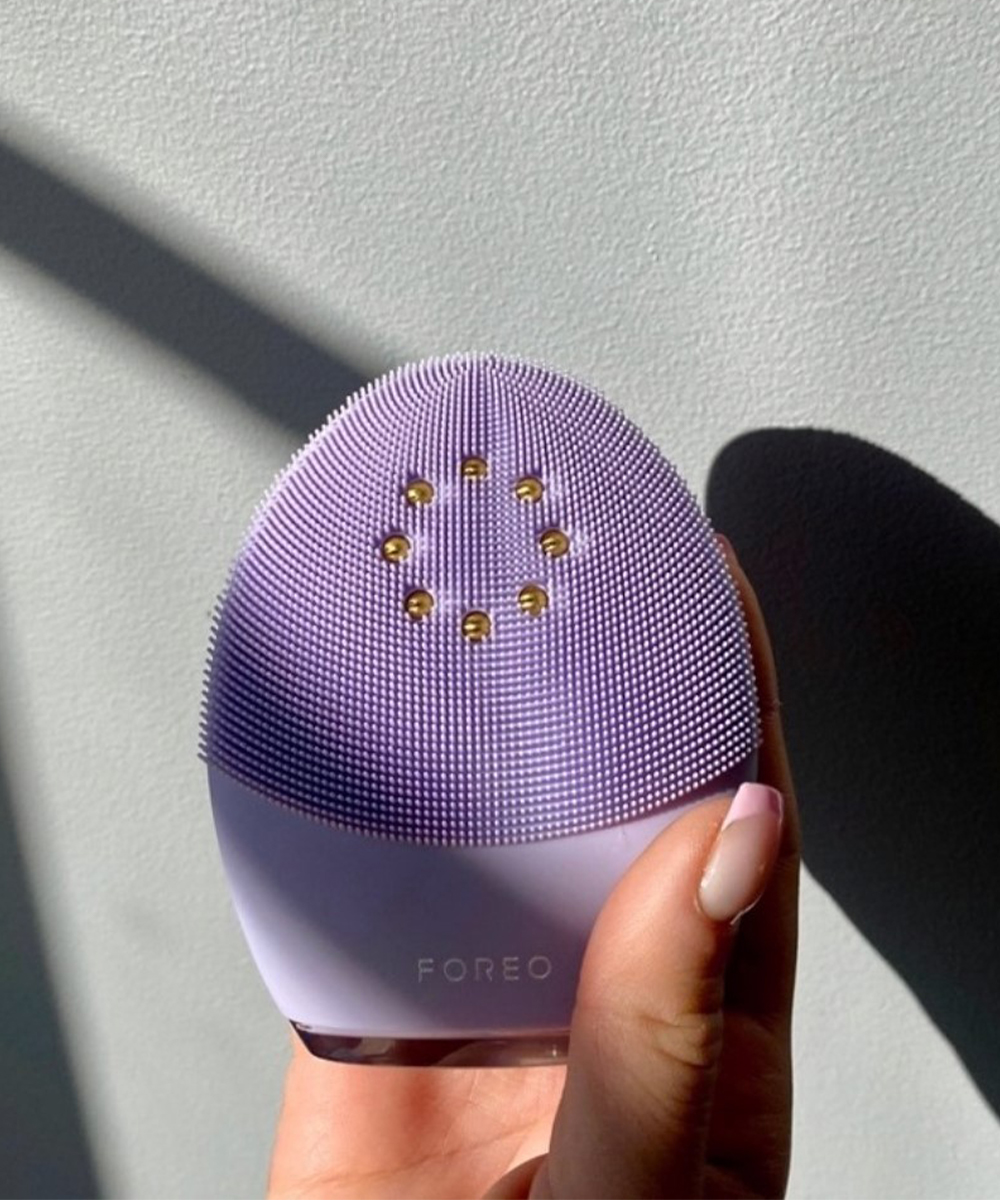 You might have heard of FOREO's facial cleansing devices—these futuristic looking silicone brushes use sonic vibrations to deeply cleanse your face without being abrasive. Their newest device, the LUNA 3 Plus, has the added feature of Thermo-Tech to gently warm the bristles as they clean, giving you a spa-level cleanse in your own bathroom.
The real kicker though, is that being made of small, silicone nubs, the LUNA 3 Plus is most definitely the more hygienic option, as silicone is much more resistant to bacteria (it's 35 times more hygienic than nylon bristles)—just clean it off after you've washed your face and let it air dry, or use FOREO's specially designed silicone spray. It's also non-abrasive, meaning you can use it every day—even twice a day—without worrying that you're stripping your skin.
If you're looking at the hefty price tag (it is $349...) and wondering if it's really worth it, well, there's more. This baby will basically save you money on beauty treatments thanks to the microcurrent mode on the other side of the brush, which stimulates your skin with low-level electrical energy to help the absorption of serums and promote anti-ageing. You'll get way more value out of all those serums in your beauty drawer, and spend way less on facials.
Having been using the FOREO LUNA 3 Plus for a few weeks now, I can tell you that my skin has never felt better. The clogged pores I've been battling with for a decade actually look almost as good as they do after a deep cleansing professional facial, and the microcurrent makes any serum soak into my skin like it's a sponge. I'm a convert, and will be throwing out my face washers to celebrate.
You can find out more about the FOREO LUNA 3 Plus and buy your own here.
If you're looking for a new serum, check out the best ones right here.
Image credit: Noah Buscher, FOREO
Editor's note: Urban List editors independently select and write about stuff we love and think you'll like too. Urban List has affiliate partnerships, so we get revenue from your purchase.