We're guilty of spending a large portion of our paychecks on exxy beauty products and various potions and serums guaranteed to make us feel and look freaking fabulous.
While you might have your hair, skin and nails in check with the best organic options on the market, we want to turn your attention to Gem, a probiotic-rich and non-toxic toothpaste that's here to upgrade your oral care routine.
Ok we get it, the thought of a natural toothpaste might seem a little iffy, but we're serious, these babies actually work and even better, it comes in four delicious flavours—crisp mint, apple mint, coconut mint and cinnamon mint. It's free of the bad stuff, like parabens, triclosan, SLS and BS and full of the good stuff like earth minerals and natural oils. It's also the first toothpaste in Australia to contain an oral probiotic, Lactobacillus Salivarius—aka super food for your pearlers.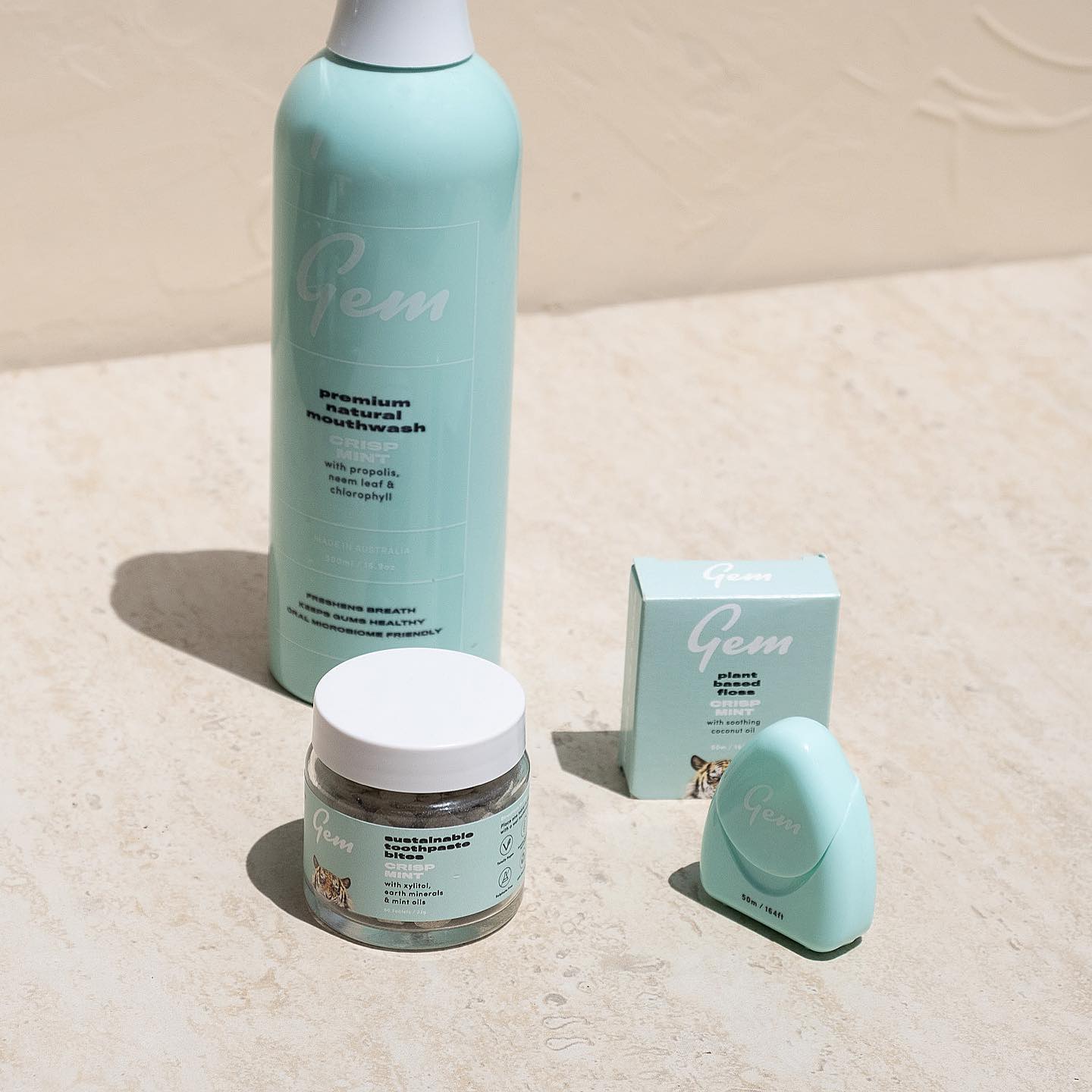 But that's not even the best part—as well as toxin-free toothpaste, Gem has just released a low-sensitivity, high-performance whitening pen to keep your pearly whites in top condition and a breath spray for feeling fresh and fabulous all day long.
The whitening pen is made with natural coconut, pure mint and food-grade hydrogen peroxide to gradually and naturally whiten your teeth, and if that doesn't get you hitting add to cart—know that it's $10 cheaper than its leading competitor. Get in. The breath spray uses spearmint oil to freshen and xylitol to neutralise bad breath and will be a useful addition to the beauty arsenal in your bag. What's more, you can pick both newbies up for just $30 with the genius Mouth Magic bundle.
If those products sound like a bit of you, be sure to also check out Gem's sustainable toothpaste bites and plant-based floss, the two additions to your beauty cabinet you didn't even know you needed. The plant-based floss is made with plant-based candelilla wax and coconut oil and is totally bio-degradable—good news for anyone worried about the masses of floss they go through every week. The toothpaste bites, meanwhile, are a gamechanger for your day-to-day. Made with peppermint powder and the size of a small pill, you just pop them in your mouth, bite, brush and smile, no messy tubes necessary or even water. Great for travelling, or just throwing in your bag with a toothbrush for when you're running out the door, coffee in hand, without time to brush.
Perfect for socially and health conscious legends like yourself, Gem is Aussie made and owned and does all the stuff you'd expect a toothpaste to do, like freshen, brighten and protect your grill.
So give your choppers the upgrade they deserve and shop the range here.
Next, clean up your beauty bag with these amazing clean alternatives.
Image credit: Gem
Editor's note: Urban List editors independently select and write about stuff we love and think you'll like too. Urban List has affiliate partnerships, so we get revenue from your purchase.