The past two years have been a real trip. Extended and snap lockdowns have left us lusting after late nights shouting at our mates over live music, the unmistakable ambient sound of cocktail shakers, and those walks home from the bar with a kebab in hand and pitstop at the local tattoo parlour.
It's been tough, but it's been especially hard for the people in the hospo and music industries who make those epic memories a reality for us.
So to celebrate going 'all in' this summer, we sat down with Sydney bartender and Sailor Jerry Ambassador Lucille Rose-Hopkins to chat about getting back behind the bar and what she's looking forward to most come freedom day (hint: those insane Sailor Jerry tatt parties are top of her list).
​​

What does a typical working day look like for you?

Something I really love about being the Sailor Jerry Ambassador is that there's no such thing as a 'typical day'. Pre-lockdown, I could be doing a photoshoot for a magazine or flying across the country to throw a tattoo party at a bar, or working with bartenders to create a new cocktail recipe. The variety is really exciting.
What has been your biggest career challenge to date and why?
Taking on a career that is so focused on travel, bars and face-to-face events, and learning how to adapt that to the virtual space.
And on the flip side, what has been your biggest 'f*** yeah' moment and why?
We threw an epic tattoo party at Replay Bar in Hobart back in May of this year. It was the first time Sailor Jerry had brought something like this to Tasmania. We raffled free tattoos out of a hat and had a handful of awesome Hobart artists tattooing the winners live. The lineup to get in the venue went all the way down the street. I'll never forget how much fun that night was. I think we'll all be talking about that party for years to come.
WhICH bars ARE YOUR FAVOURITE?
I love The Blind Bear in Cronulla. After a day at the beach, there's nothing I want more than to go eat chicken wings and sip on cocktails in a dive bar. The bartenders are great, the food is awesome, there's an ever-changing cocktail list and new and exciting beers on tap. It's my local and my happy place.
I also adore Shady Pines Saloon in Surry Hills. We might not be able to travel to the US right now, but we can go to Shady Pines instead. It's Americana at its best. From the bowl of peanuts to a bluegrass band playing in the corner of the room, to the A+ service and great classic cocktails. I've spent many nights singing along to 'Wagon Wheel' at last call.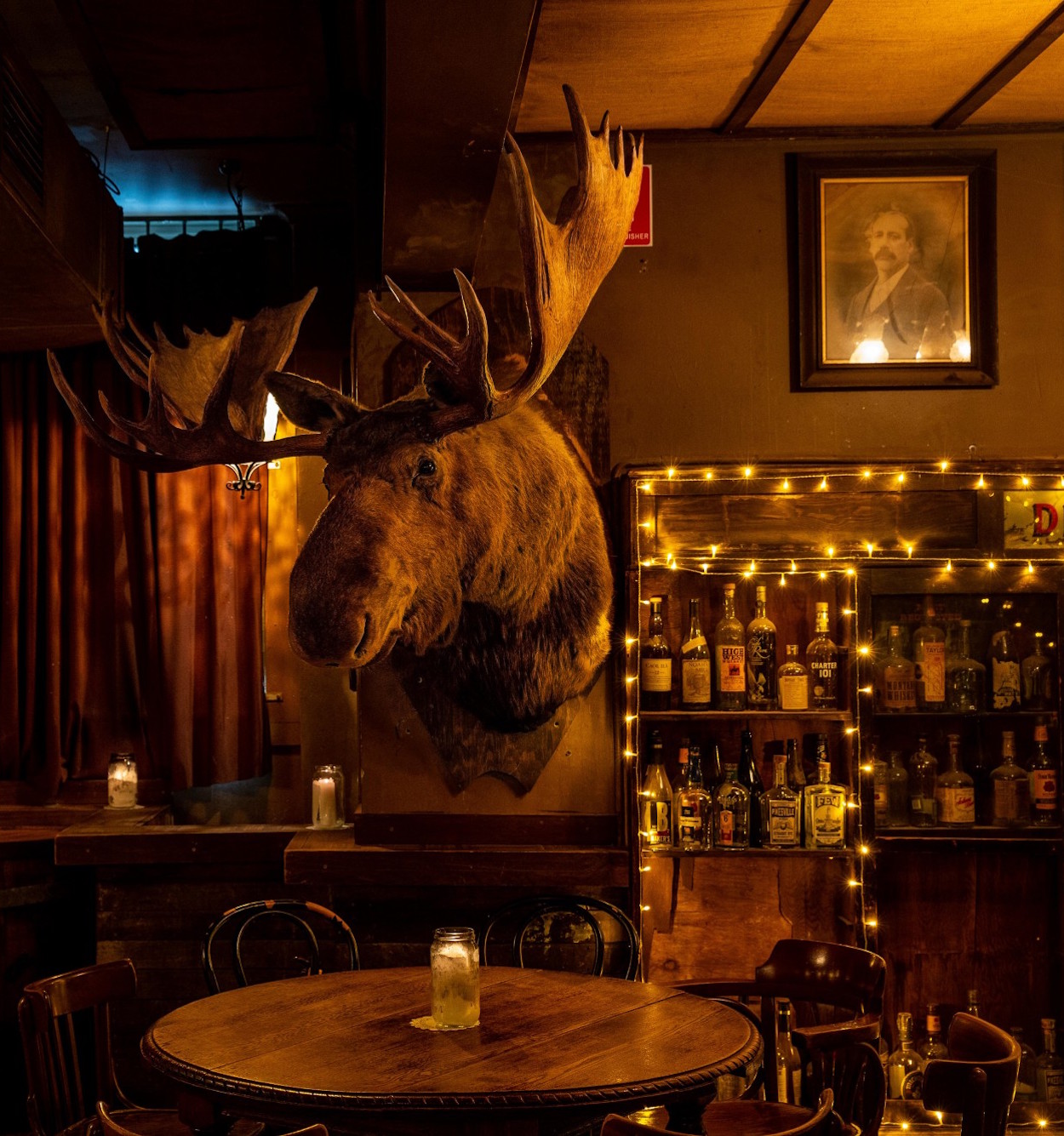 Can you share a delish cocktail recipe FOR US TO whip up at home?
Spiced Pina Colada
60ml

Sailor Jerry

45ml coconut cream

30ml pineapple juice

10ml lime juice

Fresh pineapple to garnish
Add all ingredients to a blender with ice, blend for 30 seconds. Dump into a glass and top with ice and fresh pineapple garnish. Tip: This cocktail can also be shaken if you don't have a blender.
Any cocktail-making hacks you can share with us?
Don't throw away the peels from your oranges and lemons! You can turn these into a great syrup simply by putting the peels in a sealable sandwich bag with a few spoonfuls of sugar. Leave it for a few days in a cool dry place. Voila, you now have orange syrup you can add to your cocktails, or even add to a simple Highball cocktail for a little extra flavour.
COME 'Freedom Day', what are you doing, where are you going AND How are you celebrating?
I'm going to Opera Bar in Circular Quay for a glass of champagne or two to celebrate. I live in South Sydney, so I've missed our beautiful city and harbour. Then I'm going on a bar crawl of all my favourite bars in the CBD and stopping at Burrow Bar for their incredible chicken wings.
It's going to be a hot vax summer—How are you planning to go 'all in' and make the most of it?
I want to spend my days at the beach and my nights visiting bars with my friends. I've been teaching myself how to roller-skate during lockdown, so I'm keen to skate by the beach or even join a roller derby club. I'm also hoping we can attend music festivals again by summer because I'm itching for a mosh pit or two. Nothing beats the feeling of being front row in the crowd at a festival.
Favourite restaurant you're itching to visit?
My top choice is Spice Temple. I used to bartend there and I can never get enough of the food. It's elevated, modern Chinese, perfect for a fancy date night. Order the Rooster cocktail and the wagyu brisket and dumplings—you'll impress your date, I promise!
Next up is Surly's in Surry Hills. If you love classic American BBQ as much as I do, you'll love Surly's. Every time I go to Surly's, I feel like I've teleported to Nashville. I'm ordering the BBQ platter for two, complete with brisket and wings, and pairing it with a Sailor Jerry and ginger.
Norman 'Sailor Jerry' Collins was the father of the old school American-style tattoos, CAN YOU Tell us about yours?
I have around 35(ish) tattoos, including a full arm sleeve. They're all colourful pieces and most are American Traditional in style, including three traditional Sailor Jerry designs.
I got my first tattoo on my 18th birthday. I just walked in on the day and picked a small flash piece of a bird on my wrist. While I don't regret any of my tattoos, my advice would be to not rush out and get something the moment you can. It usually won't end up fitting in if you get more—and you usually do.
WhICH tattoo IS YOUR FAVOURITE ANY WHY?
Most of my tattoos don't have deeper meanings, I usually just get things I like or feel drawn to. However, my favourite tattoo actually does have meaning. I have an Old Fashioned cocktail tattooed on my wrist. My husband has a matching one. We both work in bars and spent our first date drinking Old Fashioneds together, so the cocktail is special to us.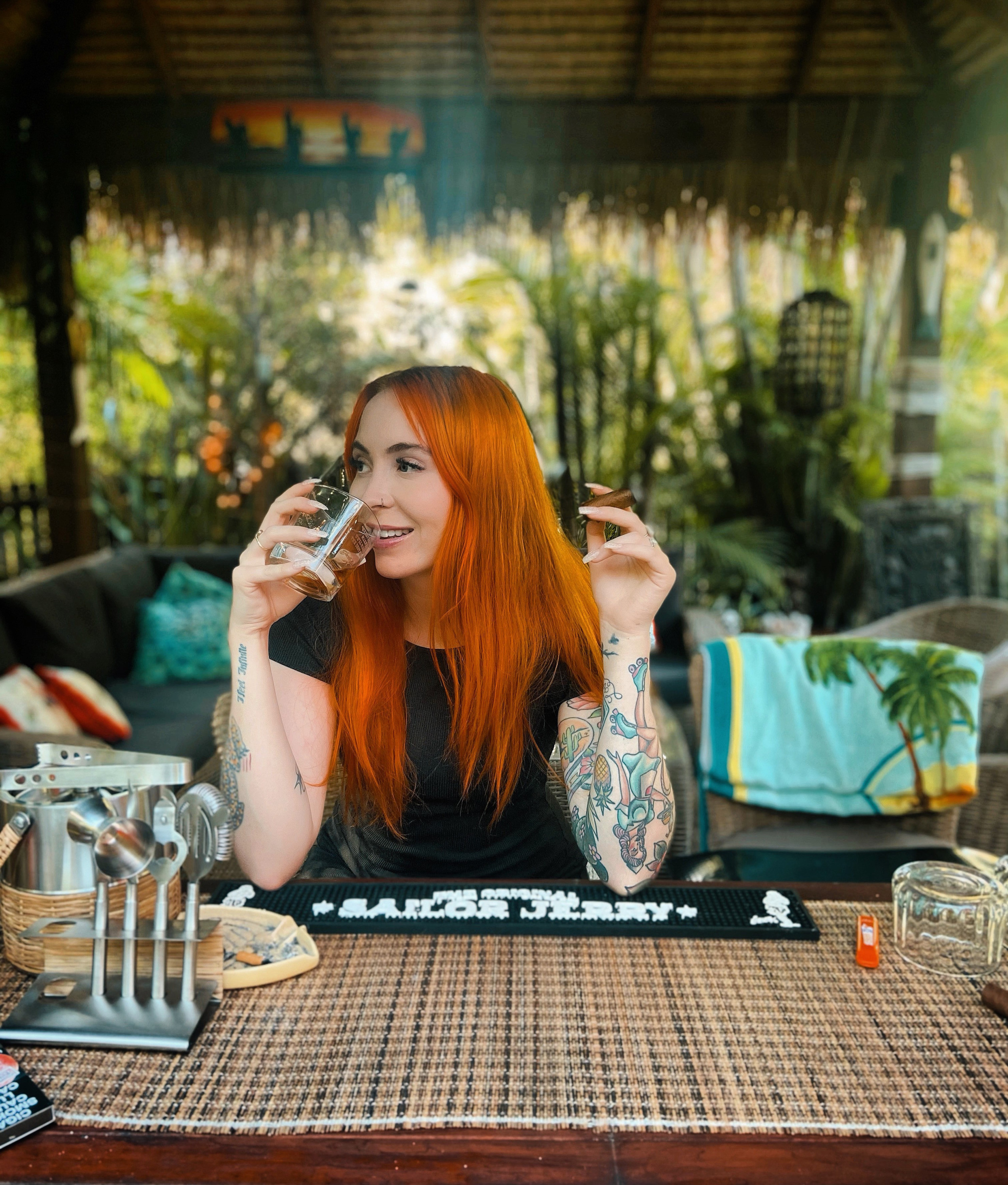 Do you have any fave tattoo artists?
Melanie Milne. She's done about half of my tattoos. She's incredible.
Rhys Gordon does a lot of Japanese style tattoos but has also worked with Sailor Jerry at a lot of our events. He's a legend.
Uber Ben—I would travel to Hobart just to be tattooed by him. Seriously.
Everyone's got that one outrageous tatt tale. What's yours?
Most of my tattoos are planned out although I have a Sailor Jerry piece on my forearm, which I got at the first Sailor Jerry tattoo party I worked at. It was actually my first day on the job and we were launching Savage Apple in Australia. I decided to go 'all in' and get a tattoo to celebrate, as being the Sailor Jerry ambassador was a dream job for me. I was nervous as hell and had cameras in my face and everyone was wondering who I was, and I got tattooed right there in the middle of the crowd. The tattoo is a set of playing cards with the word 'lucky' underneath. That's how I truly felt, and still feel!
What's next for you and your career—Any epic collabs or dream projects in the works?
I just want to get back out there. I plan on having a very busy 2022—I have some big projects in the works. I can't spill too much yet, but Sailor Jerry will be partnering with a very exciting event in the music industry, as well as going back to explore local grassroots music scenes. We're also collaborating with some super cool lifestyle brands… my lips are sealed though, you'll have to wait and see. 2022 is set to be an epic year.
Any final thoughts that you'd love to share?
Times have been tough these last eighteen months for everyone. Sailor Jerry is all about supporting local communities, and we urge you to do the same. Whether it's buying bottled cocktails from your neighbourhood dive bar, or planning a tattoo to celebrate the end of lockdown. Go 'all in' for your local community. Support your local artists, musicians, bartenders… we need them, and they need our love.
And when things do open up again properly, it's going to be a crazy time. Be kind to hospo workers.
Arm yourself with a bold and smooth as hell Sailor Jerry cocktail, paired perfectly with all your summer adventures. It's finally time to get back out there, live large and support all those who need it most right now.
Editor's note: This article is sponsored by Sailor Jerry and proudly endorsed by Urban List. Thank you for supporting the sponsors who make Urban List possible. Click here for more information on our editorial policy.