Bali is a true choose-your-own adventure destination. Sun, sea, spiritual awakenings, mountains and the odd massage or spa treatment thrown in for good measure. Not all experiences are created equal, however, and to create the perfect Venn diagram of all of the above takes a certain nuance—that's where Meliá in Nusa Dua comes into play.
Perched on the South-Eastern coastline of Bali, Meliá brings the best bits of the region into one luxurious, sprawling locale. The menu of what's on offer is extensive, which you could and should explore to its fullest, though there are several must-do's, eats and see's that anyone wanting to engage vacation mode simply can't skip out on.
Stay
There are 494 rooms on Meliá's green and glorious grounds, so no matter your party size, budget or pillow preference, you've got options. Kicking things off at around a modest $250.00AUD will put you in a Garden Room view for two, or, up the ante to just shy of $400.00AUD a night in Lagoon Access Junior Suites and you'll find yourself sitting on your private terrace overlooking a pristine pool set away from the rest of the resort.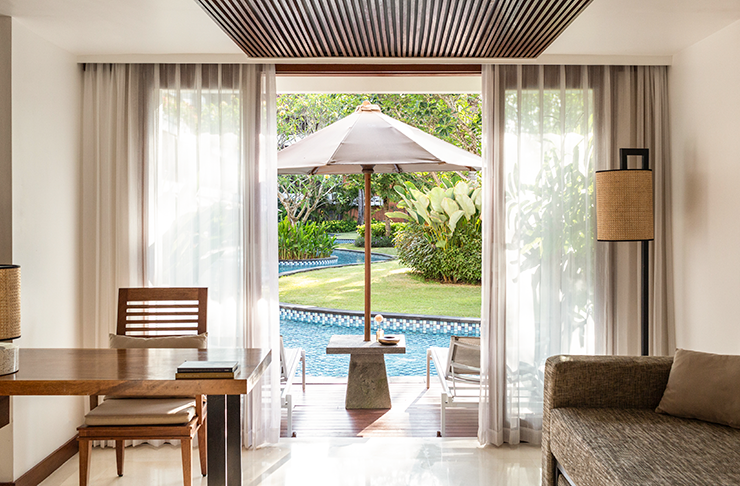 All accommodation options sport the appropriate modern sensibilities and then some—bathrobes, organic amenities, coffee pods, and very comfy beds—though those wanting to go all out can absolutely do so in the Presidential Suites or even a private villa with its own swimming pool, garden and gazebo.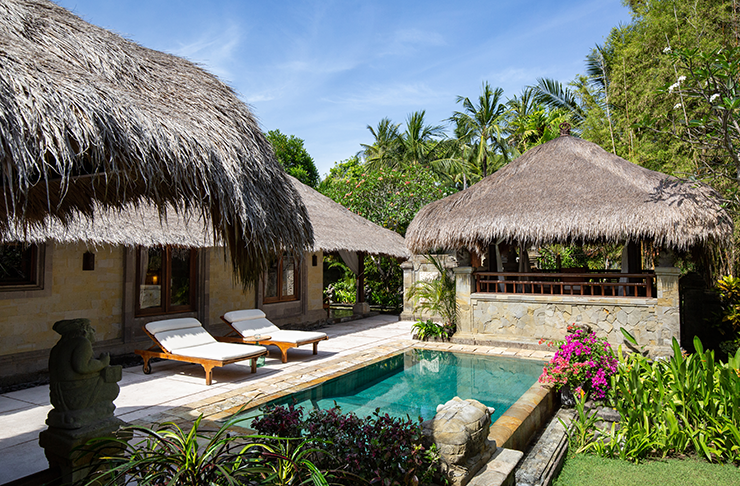 Find out more about Meliá's accommodation offerings here.
Eat
As is the theme at Meliá, dining across the Nusa Dua destination truly is a choose-your-own adventure. In total, there are eleven restaurants, cafes and diners—all of which fall under the watchful eye of Meliá's Culinary Director, Eric Claude Barbe, a celebrated chef with Michelin star experience—who ensures a top-notch meal no matter which table you take a seat at… along with a fresh Bin Tang, too, of course.
Lotus
Lotus is undoubtedly Melia's pièce de résistance. the heritage-style pavilion with a thatched alang-alang roof brings enough Balinese tradition to the table while not keeping in mind modern dining standards. Work your way through the Pan-Asian menu and if you're there on the right evening, enjoy a traditional Balinese dance while you dine, too.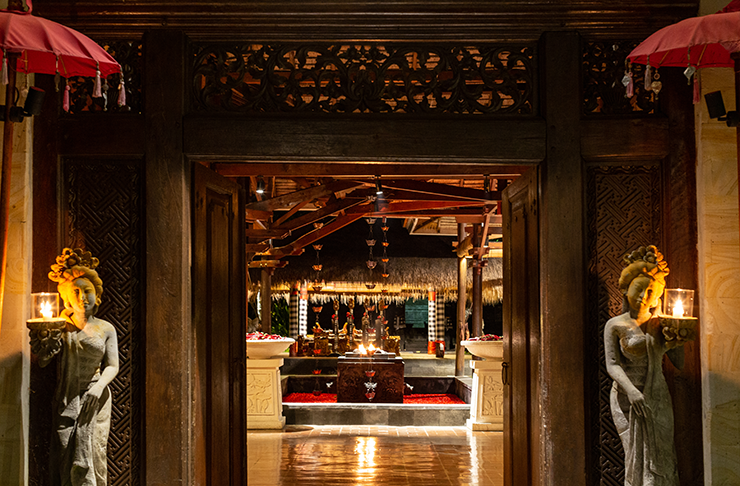 Sakura
While we're never one to pass up a plate of Nasi Goreng, there's nothing wrong with departing from Bali's iconic dishes for an evening, especially when the standard is set as high as it is at Sakura Japanese restaurant. The focus here is on fresh sashimi, sushi with a teppanyaki spin—there are two private tatami rooms for those after a more intimate dining experience, too.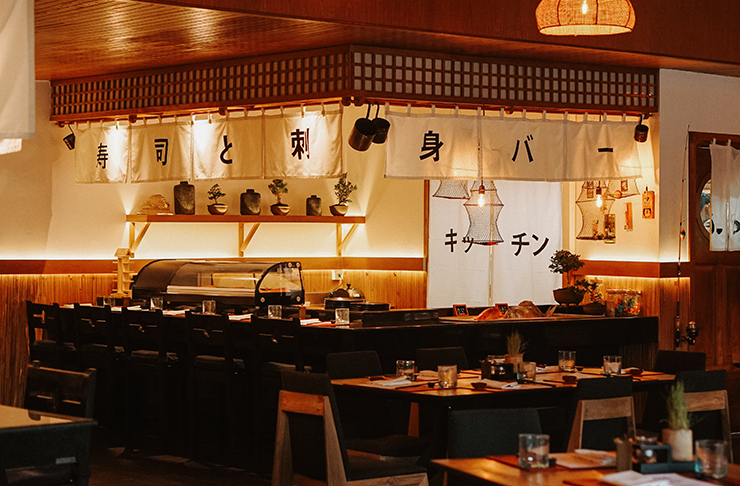 El Patio Restaurant
The jetsetter in us all will relish in El Patio's transcontinental menus. Breakfast takes shape as both an American and Asian-style buffet, while lunch rotates cuisines from around the globe, and dinner will see a seasonal a la carte menu that's been carefully curated by Barbe and his team. The real drawcard here is surely the latte art that comes in the form of your portrait—just ask nicely.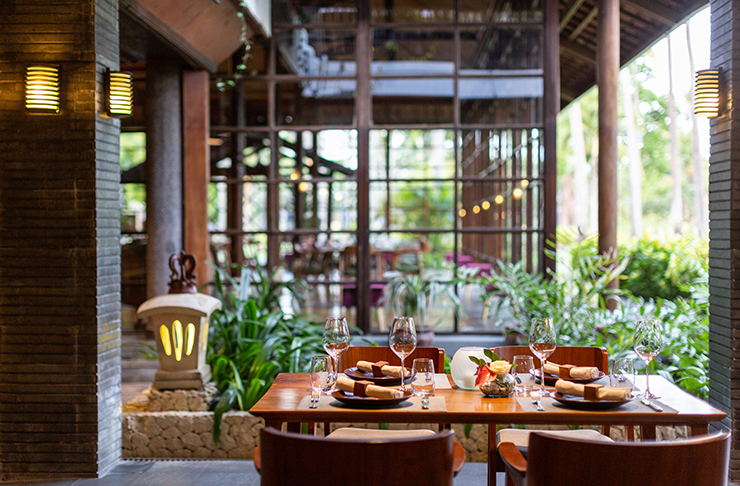 Tapas Bar
There's nothing quite like connecting with other travelers over a Bin Tang, and at Tapas Bar you can do exactly that. The sprawling open-air bar has more than one trick up its sleeve—though if it solely served Bali's national beer, we wouldn't be mad—drop on in at your leisure and order up on one or several of their signature cocktails while taking in the beachfront vistas just meters away.
For more of Meliá's dining options, head this way.
DO


YHI Spa
A trip Bali isn't even close to complete without a spa experience in itself, and once you've arrived at Meliá and settled in with a Bin Tang, your first stop should absolutely be at YHI Spa. At the top of the menu is their Balinese massages; nothing short of transcendent, the experience is so much more than just a massage. Foot and leg treatments come standard, while the refreshing dip in the outdoor spa afterward is a must—the team's masseuses are highly trained in their craft, so you're quite literally in good hands.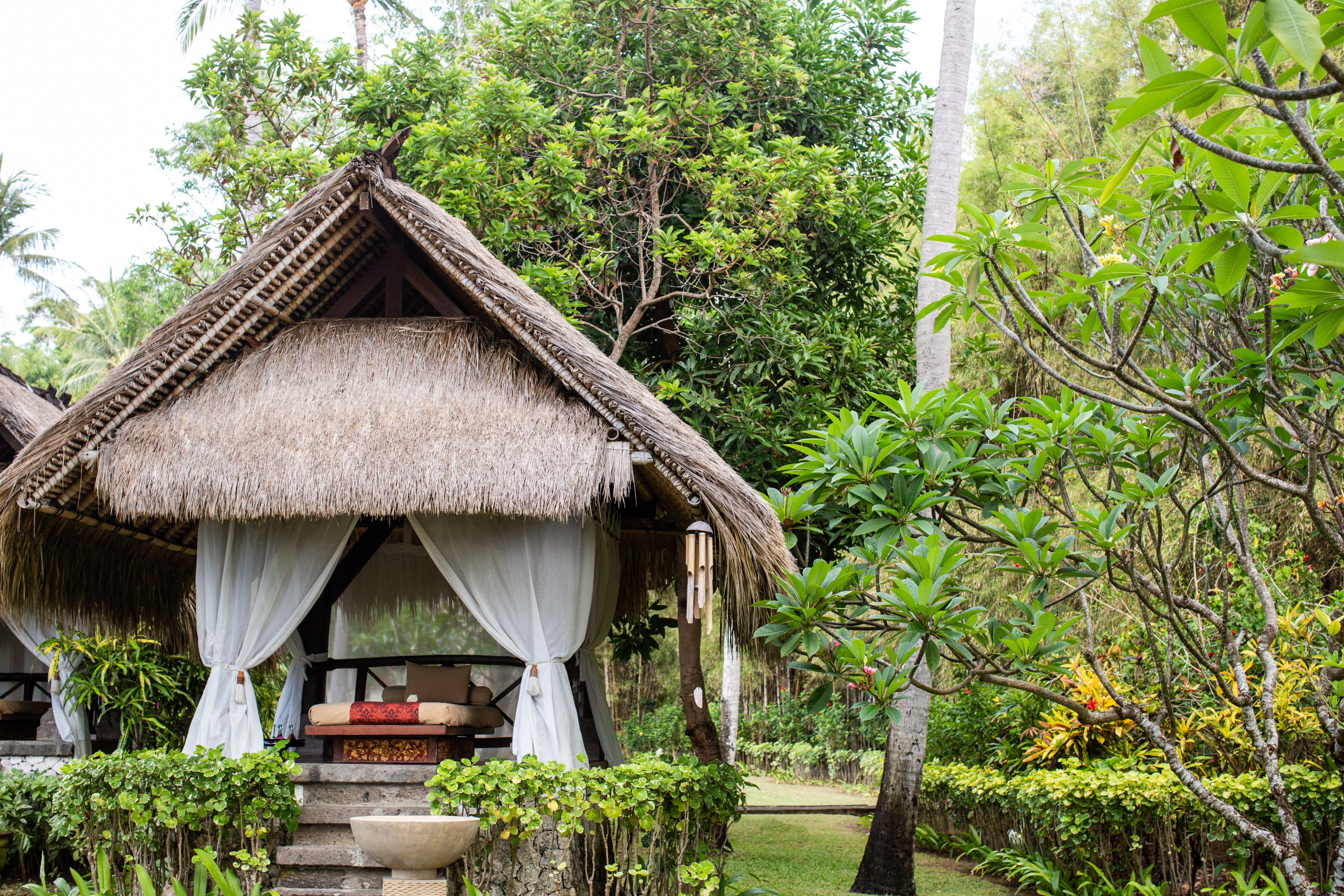 Vanity treatments, collagen peels and wraps, reflexology along with plenty more bells and whistles are also on offer. Take a look in more detail here.
Balinese Traditions
Bali is rich in heritage, culture and tradition, and this is something Meliá nods to with respect while educating and involving guests. Here, you can join the local pemangku (Balinese priest) for an offering at the onsite temple—and for that extra sense of understanding you'll be joined by a translator who'll help you understand the process of your time with the pemangku.
Balinese dance classes are also on offer, while those who'd prefer to slow down and pause for a day can take part in a Penjor workshop, exploring the art of bamboo decoration.
Cooking Classes
Culinary Director Eric Claude Barbe keeps busy, though chatting to him in Meliá's self-sustained garden and it's clear he'll always find time to join guests in the outdoor kitchen. Here, Eric will take even the most kitchen illiterate (like me) through core techniques using ingredients sourced fresh from the garden.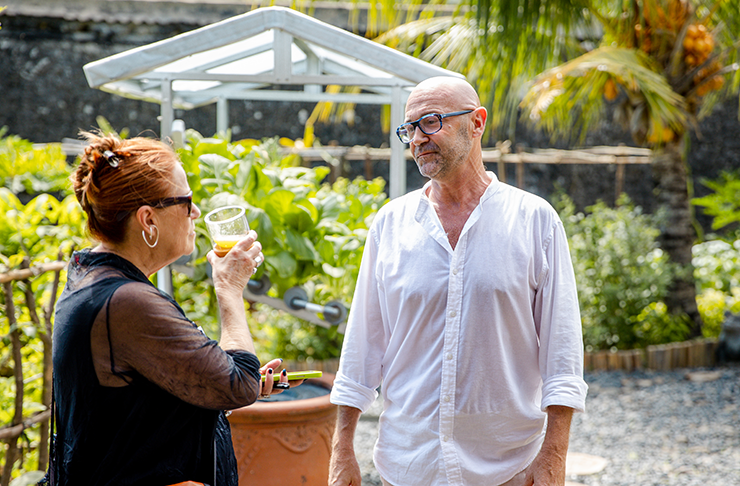 Sports And The Active Lifestyle
Should you want to keep up some sort of regular routine, the 24-hour gym can provide that, as can the daily yoga classes—the added bonus here, which is quite substantial, is the setting. There's something about a downward dog with that sea breeze brushing past that absolutely hits different.
The beach, stretches of which are exclusive to Meliá, is a playground for little and big kids alike. Take out the stand-up paddleboards when the tide is low and slow or grab a kayak and explore the local waters—don't forget to look down as sealife frequents the area on the regular.
Pro tip: Meliá's hammock is somewhat of a signature to the destination, but those willing to get in early will relish in endless photo opportunities and ultimate relaxation.
Day Trips
As you'd no doubt be aware by now, there's little reason to leave the oasis that is Meliá, though who are we (or they) to quash our curiosity? Meliá offers day trips across Bali, with a mission to the mountainous Ubud being a highlight. It starts with a vegan lunch in Ubud's stunning and stretching rice fields and ends with a visit to the house of palm reader Ketut Liyur, yes, that Ketut from 2010 romance Eat, Pray, Love. Ketut has passed away some time ago, though his son has picked up the family trade and is ready and willing to read your future—I was told at least three Bin Tang's by the Tapas bar were just ours away. Checks out, really.
You can tailor the trip to your liking, though a drive out to bathe in the holy waters of Tirta Empul Temple is well worth it. Meliá will also provide a tour guide for the day who'll keep you both educated and entertained as you hurtle up the mountain—for a good time, request Soma and his ukelele.
The Level
You can do Meliá modestly and have a great time, though those who really want to lean into the locale can tap into The Level, a premium service giving guests access to a private pool, exclusive dining areas, a private bar, discounts on YHI spa treatments and a private beach—it's a true VIP experience. There are plenty of room options, all stunning and fit out with the essential modern sensibilities in their own right, but the lagoon room which comes as part of The Level experience should be top priority. Direct access to Meiiá's lagoon is a real drawcard, though the private terrace overlooking the calm and pristine pool says it all, really.
For more of the Bali's best, head this way.
Image credit: Meliá Bali