Hospitality's high-achiever, tv host, entrepreneur, restaurateur and chef Shane Delia either never sleeps or has somehow tapped into an eighth day of the week. In fact, rarely a week goes by when the man doesn't plate up a new venue, project or initiative—what's being served today, however, is a hummus recipe to end all hummus recipes direct from the mind of the man himself.
The celebrated Middle Eastern chef has spent years perfecting the universally loved dip, and if you haven't already been fortunate enough to try it at Delia's Melbourne-based Maha Bar, a little time spent in the kitchen will convince you that this hummus recipe is one of the best there is.
Ingredients
Harissa
500g chickpeas, soaked and cooked

150g tahini

3 large cloves of garlic

500 ml warm water

100 ml lemon juice

Salt, to taste
Harissa roasted carrots
4 large carrots, sliced lengthways and sliced at an angle

3 tablespoon North African harissa paste
To serve
1 tsp harissa

100ml maple syrup

1⁄2 bunch dill, chopped

30g pine nuts

A squeeze of lemon juice

Olive oil
Method
Pre-heat oven to 180 degrees.

Place all hummus ingredients in a Thermomix/blender and put on a high speed, adding warm water slowly to help with blitzing. Be careful not to add too much as you want smooth, thick hummus.

Once smooth and thick, season with salt and more lemon juice if required. Transfer to a container and set aside until required.

Place 2 tablespoons of harissa paste in a small mixing bowl and drizzle olive oil and mix with a spoon to loosen up to a paste. Add to the carrots and mix well until the carrots are coated.

Place carrots on a baking tray and into the oven for 8 minutes, then stir well and cook for another 8 minutes or until just tender. Carrots should be dark in colour but still holding shape. Remove from oven and set aside.

Over medium heat, drizzle a pan with olive oil and add the carrots, one teaspoon of additional harissa paste and pine nuts. Sauté for two minutes and add the maple syrup, allowing the carrots to glaze.

Once shiny, remove the pan from the heat, add a handful of chopped dill and season with salt and a touch of lemon juice.

To serve, place 3 large spoons of hummus in a medium bowl, making a large well in the middle. Spoon over the glazed carrots and sprinkle some more chopped dill over the top.
Notes
You can find harissa paste at most supermarkets. Look for the Le Phare Du Cap Bon Harissa Tube for an authentic flavour.

If you don't have time to soak and cook the chickpeas, substitute with tinned chickpeas.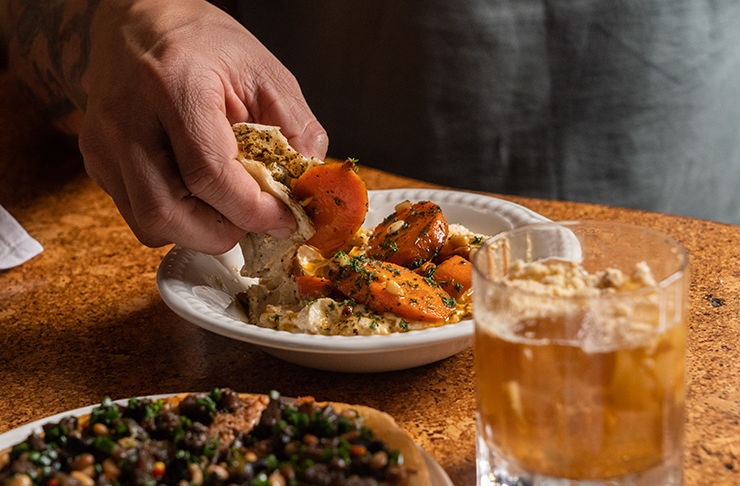 Don't stop there. Up next is a big, bold and boozy recipe for this vodka pasta.
Image credit: supplied