Our love for sausage rolls runs deep. That golden crust, drool-worthy meaty centre and perfect flavour combo really get our hearts racing. It's the most iconic Aussie snack—and rightfully so.
Turns out Sydney's Wings x Tins co-founder Anthony MacFarlane is just as obsessed with sausage rolls as we are, so we asked him to create a spicy spin on this Aussie classic.
Loaded with both pork and beef, unholy amounts of spice, an entire bottle of Frank's RedHot Sauce and topped with a spicy peach relish—this isn't just your average servo sausage roll—this fancy AF crispy creation will impress just about anyone.
Spicy Sausage Roll
Ingredients
300g pork mince

300g beef chuck mince with 1/3 fat

White onion finely chopped

3 Garlic cloves, crushed

Celery finely chopped

Carrot finely chopped

1/4 Cup of Worcestershire sauce

1 Tablespoon allspice

Sesame seeds

1 Egg whisked

3 Sheets of puff pastry

Parsley finely chopped

Optional: thyme, basil and coriander
Method
Combine pork, beef, onion, garlic, celery, carrot, parsley, Frank's RedHot Sauce, Worcestershire sauce and allspice in a large bowl.

Lay your puff pastry sheets on a tray lined with baking paper, and then spoon the mixture onto each sheet and mould it into a long sausage shape. Hot tip: roll your mince mixture with cling wrap first to help mould the shape before transferring it to the puff pastry.

Brush the opposite edge of the sheet with egg wash.

Roll the pastry to enclose the sausage, then brush the top with egg wash and sprinkle with sesame seeds.

Bake at 200° for 20 minutes or until golden brown.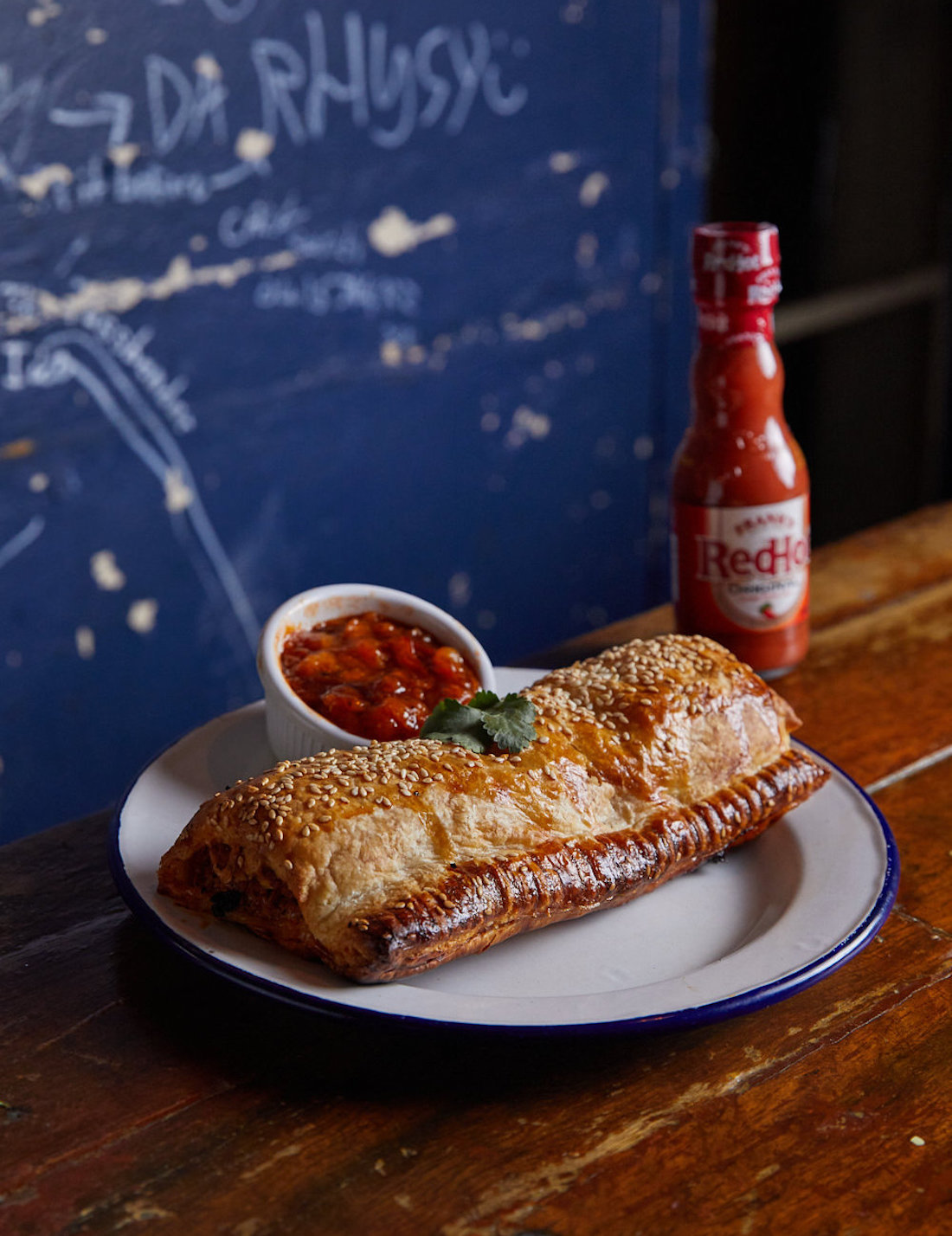 Spicy Frank's RedHot And Peach Relish
Ingredients
2 chopped tomatoes

1/2 Can of peach slices

Ginger

Vinegar

1 Tablespoon allspice

1/2 Cup of sugar

Salt and pepper
Method
Combine the tomatoes, peach slices and ginger in a saucepan over medium heat.

Add a dash of vinegar, Frank's RedHot Sauce, sugar, allspice and salt and pepper to taste.

Boil it down until it's sticky and rich.

Top your sausage roll with the sauce liberally.
From personal experience, we can hand on heart say this sausage roll is pure perfection. Better still, this recipe is super simple but really dials up the taste factor. Loaded with an entire bottle of Frank's RedHot Sauce, this spicy rendition of an Aussie classic from Wings x Tins' Anthony MacFarlane is the perfect blend of flavour and heat.
Image credit: Yasmin Mund
Editor's note: This article is sponsored by Frank's RedHot Sauce and proudly endorsed by Urban List. Thank you for supporting the sponsors who make Urban List possible. Click here for more information on our editorial policy.