There's something super intoxicating about visiting a winery (drinking copious amounts of wine in the middle of the day, might have something to do with it) and we're not short of some BEAUTIFUL options just outside Brisbane. All you need are some wheels, good mates, and one unlucky designated driver.
Feel free to use this as your Brisbane winery bucket list—you're gonna want to do them all!
O'Reilly's Canungra Valley Vineyards
Canungra
Right on our doorstep, we're blessed to be in the company of O'Reilly's Canungra Valley Vineyard. The expansive property stretches along Canungra Creek; and the vineyards, cellar door, and homestead are nothing short of gorgeous. You have the option to enjoy a brekkie or lunch in the restaurant, grabbing a wood-fired pizza to enjoy overlooking the vineyards, or grabbing a gourmet picnic basket packed with the likes of fried chicken, antipasto vegetables and even ice cream, and laze about with a bottle of wine alongside the creek.
Where: 852 Lamington National Park Road, Canungra
Drive time: 45 minutes
Witches Falls Winery
Tamborine Mountain
Another fab winery we are blessed to find in our backyard is Witches Falls Winery. Witches Falls is a must-visit on any trip to Mount Tamborine, and is conveniently located just down the road from Witches Chase Cheeses for those picnicking purchases. Where else can you taste a flight of six locally-grown wines for just $6? Don't forget to grab a handful of bottles from the cellar door for your next Burleigh Hill Sunday soiree, where you can discreetly brag about how cultured you are.
Where: 79 Main Western Road, North Tamborine
Drive time: 2 hours
Flame Hill Vineyard
Montville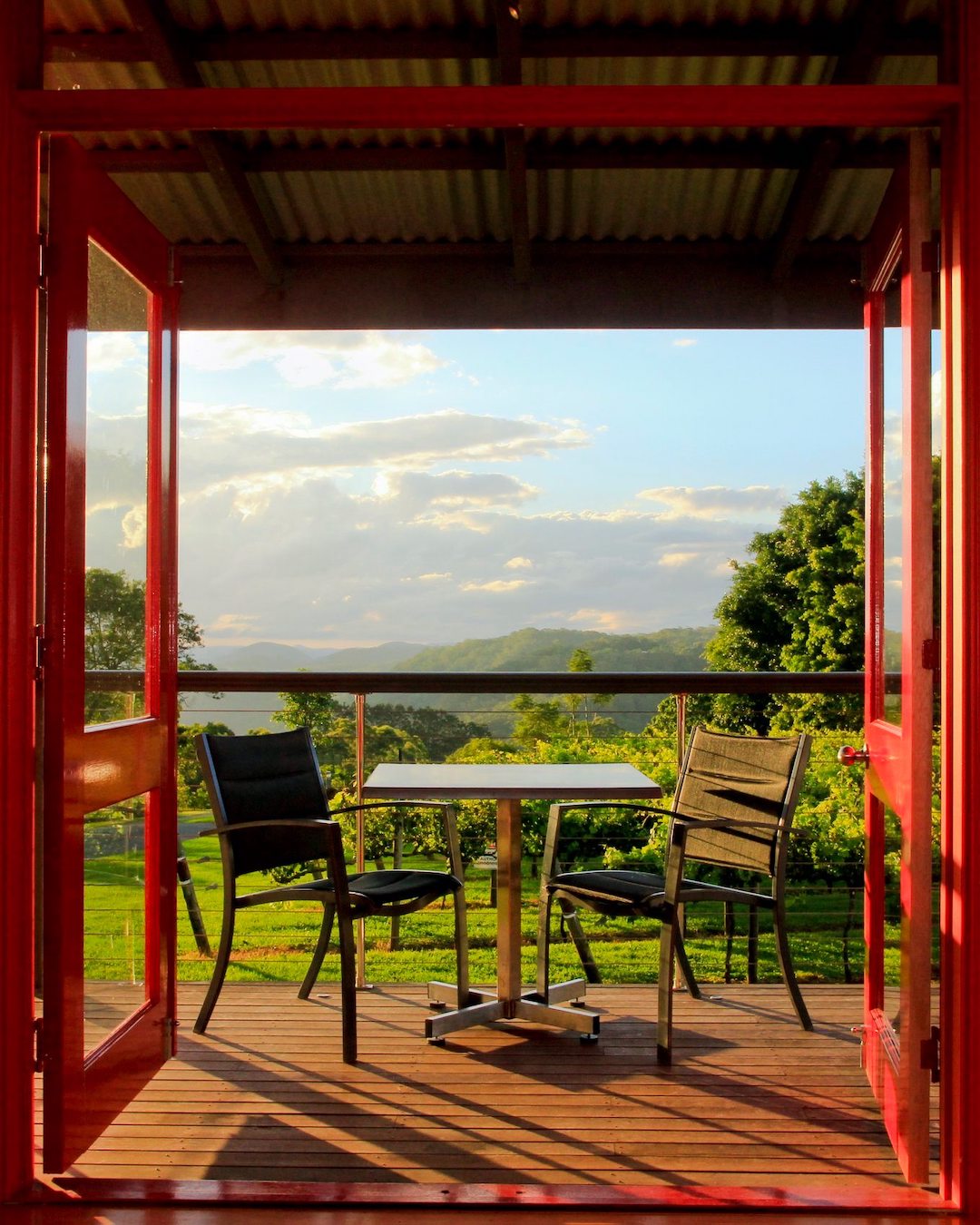 Sitting at the very top of Montville, Flame Hill Vineyard has it all. Great views, luscious vines, incredible nosh—and, of course, totally drinkable wine. A real highlight is their Stomp event celebrating a successful harvest at which guests are encouraged to stomp the hell out of barrels of grapes. A totally unique experience combined with great food and entertainment; there's really no better way to spend a day!
Where: 249 Western Avenue, Montville
Drive time: 2 hours
Ocean View Estate
Ocean View
Nestled in the green hills of Mt Mee, Ocean View Estate is a total slice of paradise. Their award-winning wines are exclusive to the estate and will be paired up to the perfect meal with globally inspired flavours using great local produce. The views from the restaurant overlooking the vines are breathtaking, and if your other half isn't so into wine, they also do their own craft beer. If you're looking to keep it simple, grab one of their scrumptious picnic baskets and wander among the vineyards or lakeside in the sun. And as if these guys hadn't thought of it all already, they also boast a set of beautiful cottages… Scenery, food, drink, and accommodation? Sounds like the perfect weekend away!
Where: 2557 Mt Mee Road, Ocean View
Drive time: 1 hour
Cedar Creek Estate
Tamborine Mountain
A favourite for weddings held against the backdrops of its vineyards and sweet sandstone chapel, Cedar Creek Estate Vineyard and Winery is another to add to your Mount Tamborine winery hop itinerary. There's a glow worm cave, rainforest walks, wildlife, cellar door and an onsite restaurant for a lazy lunch or high tea on the deck served with a side of gorgeous lake vistas.
Where: 104—144 Hartley Road, North Tamborine
Drive time: 50 minutes
Kooroomba Vineyard And Lavender Farm
Mount Alford
Did you know there's a lavender farm, ripe for the perfect Insta shot, within driving distance of Brissie? Yep, you can swan about among rows and rows of purple, wine in hand at Kooroomba Vineyard. The property overlooks rolling hills and mountains, with the restaurant offering 180-degree views and a rustic French-influenced menu Wednesday to Sunday, alongside the cellar door. Sounds like heaven (with the scent of lavender).
Where: 168 F.M.Bells Road, Mount Alford
Drive time: 1 hour 20 minutes
The Overflow Estate 1895
Beaudesert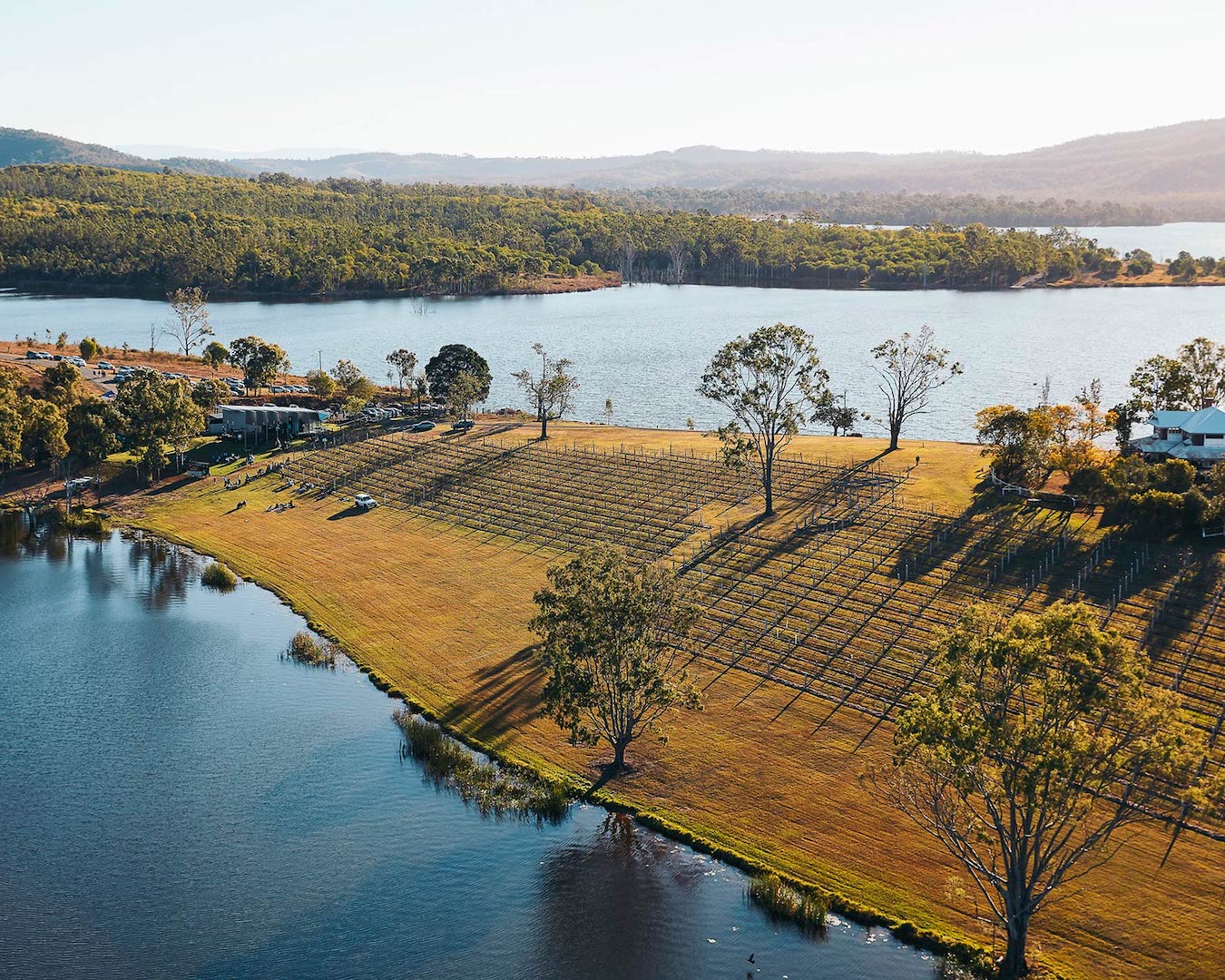 Set amongst the picturesque Scenic Rim with views that will take your breath away, The Overflow Estate 1895 looks like something straight out of an oil painting. The wines crafted here are grown on some 2500 vines, with Vermentino, Fiano, Tempranillo and Montepulciano hailing from Italy and Spain growing around the contemporary eatery and cellar door. They're best enjoyed right there at the winery, paired with a local cheese and antipasto board on the lawn, or classic French meal in the restaurant.
Where: 1660 Beaudesert-Boonah Rd, Beaudesert
Drive time: 1 hour 20 minutes
Bunjurgen Estate Vineyard
Bunjurgen
Rosé lover? You'll want to make for this Scenic Rim winery, where a variety of rosé wines are made from grapes grown on the property. Though there is a cellar, on breezy days Bunjurgen Estate Vineyard hosts their tastings outdoors under the jacaranda trees, and you can bring along your own snacks for a picnic on the 24-hectare estate.
Where: 121 Brent Road, Bunjurgen
Drive time: 1 hour 20 minutes
Hampton Estate Wines
Tamborine Mountain
You'd be surprised that this sweet oasis is just over an hour's drive away from Brisbane. Hampton Estate Wines has been making award-winning drops for over 25 years, so you could say they've got some experience under their belt. Perched atop a rolling green hill, the estate is just the place to stop in for a wine or two over a long lunch in the onsite restaurant, or a game of bocce of Finska on the lawn.
Where: 52 Bartle Road, Mount Tamborine
Drive time: 1 hour
Mason Wines
Tamborine Mountain
A nearby gem nestled in the Gold Coast hinterland is Mason Wines. Their incredible array of wines pairs up perfectly with the winery's daily tastings of local olives, jams, chutneys, fudges and much more and, if the magnificent views overlooking the vines weren't enough for you, Mason Wines also boast a set of beautiful cottages for a charming weekend getaway.
Where: 32 Hartley Rd, Mount Tamborine
Drive time: 1 hour 10 minutes
Ballandean Estate Wines
Ballandean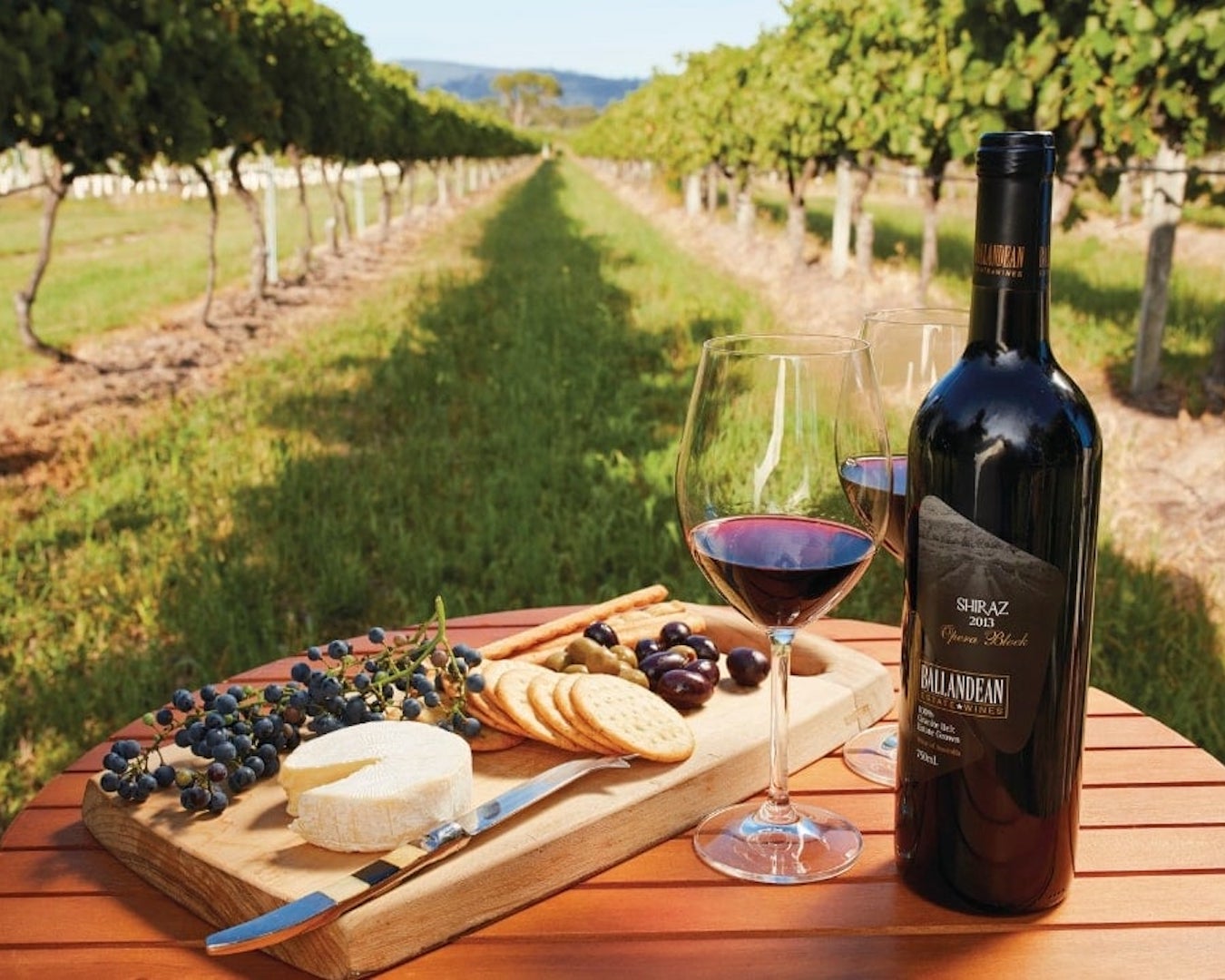 Located in the heart of the Granite Belt, Ballandean Estate has been producing exceptional wines in this region for over 80 years. With a strong Italian heritage, the Puglisi family keep themselves pretty busy, as they are open every day for wine tastings and winery tours. Set in naturally beautiful high-altitude surrounds, the venue also boasts their Barrel Room restaurant, serving food Thursday to Monday and an events calendar that is worth keeping an eye on.
Where: 354 Sundown Rd, Ballandean
Drive time: 3 hours
Albert River Wines
Tamborine
Enjoy fine wine tasting in a relaxed atmosphere after a stroll through the vines at Albert River Wines, which has been home to three of Queensland's former premiers. Only an hour away from Brisbane, it's the perfect day trip for a quick getaway with friends or family—and you should definitely leave time for a lunch of their winery's slow-braised lamb shank, which is best enjoyed with a glass of their red, naturally.
Where: 869 Mundoolun Connection Road, Tamborine
Drive time: 1 hour
Sirromet Winery
Mount Cotton
If you haven't yet made your way out to Sirromet Winery, then you need to book in a day ASAP. A beautiful estate with endless views overlooking Moreton Bay and Stradbroke, Sirromet Winery truly offers the full experience to both wine enthusiasts and occasional drinkers alike through standard wine tastings, premium tastings, and a full winery tour. Their live entertainment sessions on the weekend are never short of epic, and there are heaps of tasty food options to choose from. Make it a fancy lunch at Restaurant Lurleen's or enjoy the outdoor Tuscan Terrace which offers high tea or Italian-inspired meals all under $30.
Where: 850 Mount Cotton Road, Mount Cotton
Drive time: 50 minutes
Hidden Creek Winery
Ballandean
If you're heading all the way out to the Granite Belt, you've also got to stop at this award-winning winery, which took out the Queensland Wine Awards' 2018 Winery of the Year. If that's not enough of an incentive, there's also a winery pooch named Pepper. The best way to sample Hidden Creek's wines is to grab a picnic hamper filled with nibbles (and including an entire bottle of wine) from the cafe and take it down to the water to enjoy—with or without the friendly Pepper.
Where:
2271 Eukey Rd, Ballandean
Drive time: 3 hours
If you're up for a weekend away, here's where to stay in the Gold Coast hinterland.
Image Credit: Flame Hill Vineyard, The Overflow Estate 1895, Ballandean Estate Wines