Lads, we know how out-of-hand bucks parties can get—it's all well and good until someone starts a fight/pashes a stripper/ends up in jail (or worse, the Brisbane River—just kidding). In an effort to help your soon-to-be-married bestie avoid the slippery slope that is Caxton Street on a Saturday night, here are our top recommendations for Brisbane bucks parties that'll leave you feeling refined, gentlemanly and a hell of a lot more worthy of the company of the finer sex on the big day.
Oche
Fortitude Valley
If your buck has a bit of a competitive spirit, Oche will pit groom against groomsman in a high tech darts game that requires no keeping score whatsoever—so you don't have to stay sober enough to do simple addition. With private booths for up to 12 in an industrial, underground bar that has a slightly gentleman's club vibe, you can cycle through a heap of different dart games while the electronic scoreboard keeps track of every bullseye—hopefully the groom will manage to hit at least one. There's plenty of beers and spirits on the menu to keep the party going (and the hand-eye coordination declining), as well as pizzas to line your stomach with.
Victoria Park Driving Range
Herston
Want to smack some golf balls high and far with a club while overlooking Brisbane's city skyline? We thought so. If you're after a hard-hitting way to celebrate (or mourn) the end of single life then head to Victoria Golf Park's driving range. For $20 you'll each get a bucket that holds 105 balls to send flying. And before you ask, yes, there is a well-stocked bar, and you can even head to the bistro afterward for a feed. Just remember to stand clear of the swinging clubs, no matter how many beers you've downed.
Netherworld
Fortitude Valley
Full of gaming relics from the 70s to present day, Netherworld is home to an epic line up of arcade games, including 15 pinball machines and 24 arcade machines, as well as board games and consoles, so basically it's perfect for all the gamer blokes out there. But that's not to say it's off the cards for everyone else—if none of the games appeal to one of the party, there's a great diner menu to keep them occupied, full of burgers, nachos and loaded fries, as well as plenty of drinks at the bar.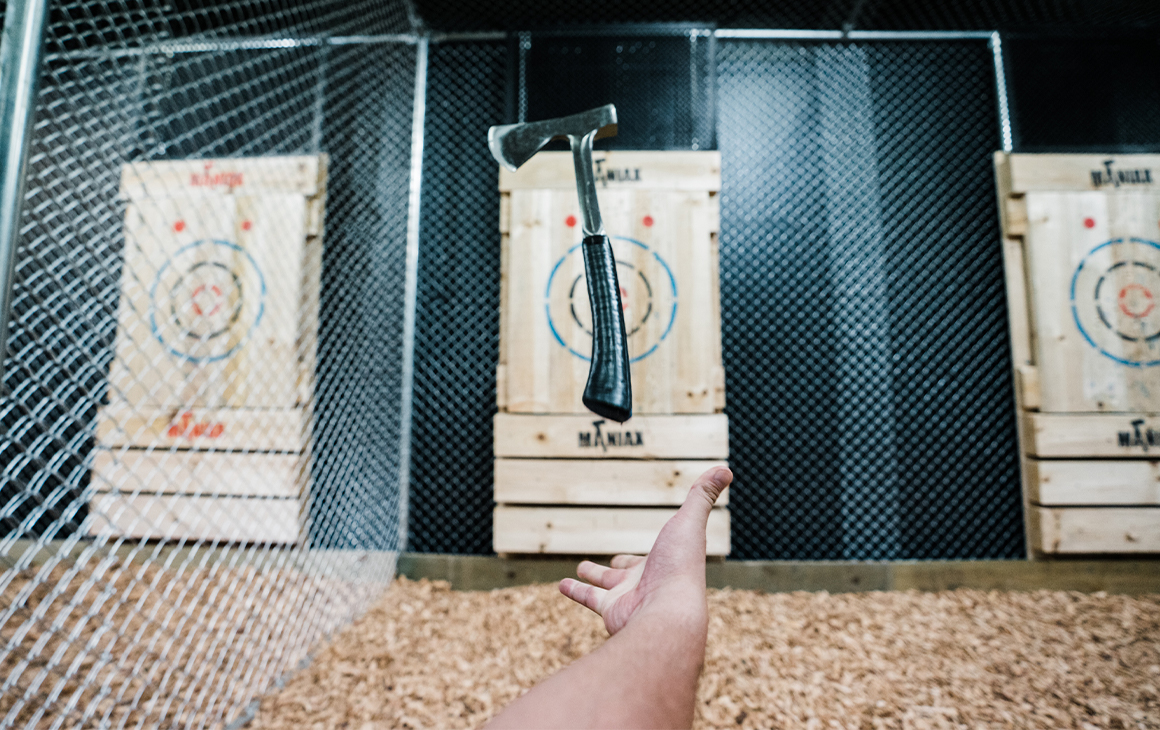 Maniax
Newstead
Drinking brews and throwing axes at a wall as hard as you probably sounds like a disaster waiting to happen—but don't worry, Maniax won't let your Brisbane bucks night plans end up with someone missing a finger. Here you can sip on Green Beacon and Newstead Brewing craft beers while you try to hit a target with a flying axe—but take note, three beers is the max here, so sip slowly.
Brewery Crawl
Newstead
If the buck is a die hard beer lover and couldn't imagine his (hopefully) one and only bucks night without lots of frothies then heading to Newstead and taking a self-guided brewery crawl sounds like just the thing. Start off at Stone & Wood in the Valley, where you can sip your way through a tasting paddle of their creative brews, before walking over to Newstead where you'll find the likes of Green Beacon, Newstead Brewing and Range Brewing. All have a killer atmosphere as well as plenty of good pub grub, and let's face it—there's nothing better than kicking back with your mates and sipping on fresh brews, so why would you do anything else?
Zero Latency
Newstead
Sitting around a television fighting zombies on the Xbox probably doesn't sound bachelor party-worthy, but throw in some VR goggles and suddenly it's an epic day out. With countless games to pick from at Zero Latency, including a zombie survival reality experience, a deadly virus infection with a mission to find a cure (maybe a little too close to home) and fighting killer robots, you're bound to find one that will get the adrenaline pumping. With the VR goggles, backpack and VR gun in hand it'll feel more real than anticipated—especially with the unexpected jump scares. Afterwards, you can grab a beer nearby and debrief.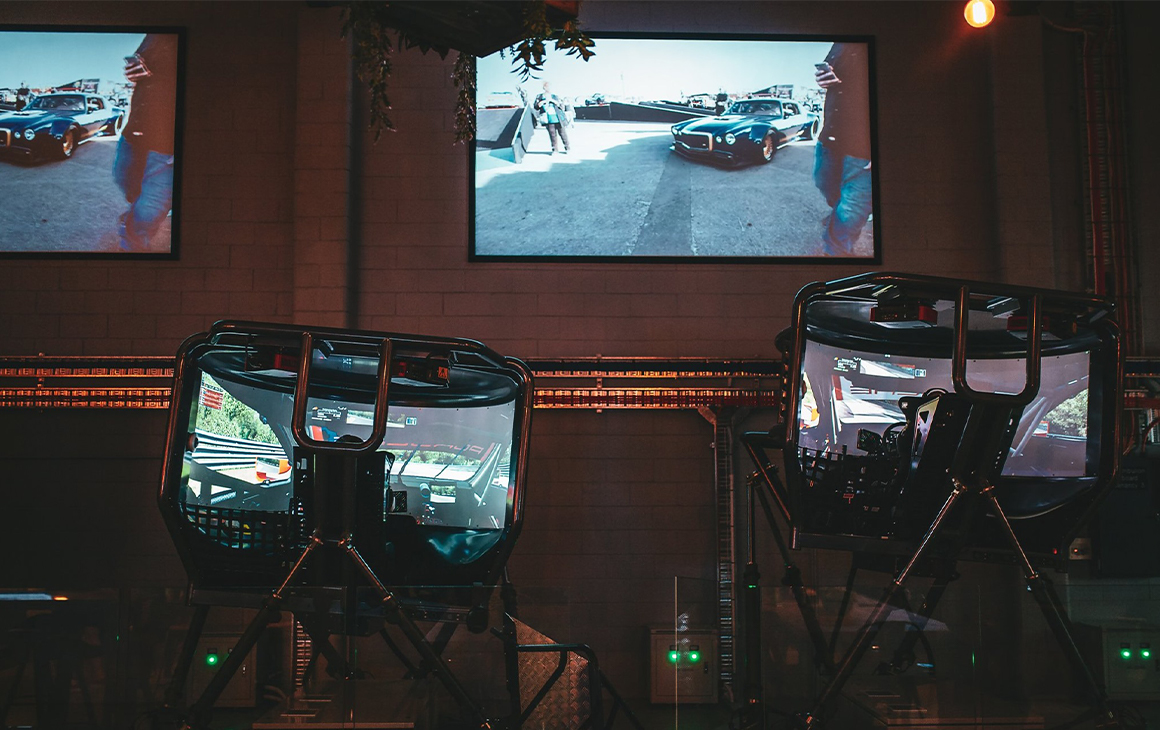 VR Motorsports
Cannon Hill
For the buck who's keen to race around a track at astronomical speeds, but whose fiance isn't quite so keen on the idea, there's VR Motorsports in Cannon Hill. Fitted out with six race car motion simulators, this bar will let you indulge your need for speed without risking life and limb. Choose from a lengthy list of real world virtual race tracks and feel every turn as you throttle it over the finish line. Between races, you can hit the bar or use the pool table, so no one is left sitting around twiddling their thumbs.
Go Karting
Several locations
Prefer to cruise around a race track for real? Go Karting might be more your speed and luckily, there's a heap of tracks around Brisbane to choose from. From Kingston Park Raceway, where you can go head-to-head in separate heats to compete in a grand finale, to Slideaways at Eagle Farm where you can book out the whole track for 10 or more drivers, there's plenty of options on every side of town. Check out our list of Brisbane's best here.
Barefoot Bowls
Several locations
Looking to have a more chilled out bucks night, but still ingest copious amounts of booze? Barefoot bowls could be just your speed. There's a heap of bowls clubs around town, from the riverside Methyr Bowls in New Farm to more buzzing spots like The Boo, but for something a little different, don all-white for Glow Bowls under UV lights at Coorparoo Bowls Club. Not quite macho enough for you? Check out the rest of Brisbane's best bowls clubs here.
Or you could just head for one (or all) of Brisbane's best breweries.
Image credit: Sophie Spencer, VR Motorsports