Things can get a little dreary when the weekend rolls 'round and your only plans involve a trip to Woolies and smashing out yet another season of your fave show on Netflix. Or worse still, those weekends where you're so busy you barely have time to breathe, let alone recover from the work week. Whether you're tired of being all booked up or just bored out of your brain, there's one simple and easy fix: a weekend away. You don't have to stress about taking time off, organising flights or travel insurance—all you have to do is get in the car and drive. The only question is, where to? Here are our top picks for 10 overnight trips you can take, all within driving distance of Brisbane.
Lamington National Park
You can't go wrong exploring a park that shares its name with a delicious Aussie treat. A long time favourite of adventurers, Lamington National Park deep gorges and distinctive peaks act as a sanctuary for all kinds of Aussie wildlife. Home to over 500 world-class waterfalls accessible via 160-kilometres of nature trails, there's no shortage of things to do, but the hike to Elabana Falls should be at the top of your list. Okay, scratch that—the Canungra Alpaca Farm should be at the top of your list, but the waterfall walk is a close second. Enjoy some bonding time with Pancake and Tim Tam on an alpaca picnic, before heading back to bliss out in your stunning eco escape. O'Reilly's Rainforest Retreat's architecturally designed villas are surrounded by 20,000 hectares of subtropical rainforest to give you a truly immersive experience that allows you to reconnect with the natural world. The retreat also offers plenty of activities, including Segway tours and day spa treatments—'cause it's not a holiday unless you're being pampered.
Noosa
No trip up north is complete without stopping in at the thriving coastal community that is Noosa. With an iconic shopping precinct, world-renowned beaches and shimmering lakes, there's nothing this town can't do. Update your wardrobe with a shop along Hastings Street, and while you're there, choose one of the best cafes in Noosa to brunch at. Once you've filled up, hit the beach—breakfast baby demand. If you're feeling energetic, you might want to tackle the next-level hike from Noosa Heads to Alexandria Bay, then you'll be all tuckered out and ready for a brew at Copperhead Brewery. With restaurant-quality fare at pub prices and a rockin' beers list to boot, by the end of the night, you'll be in no condition to drive home. Fall asleep to the gently lapping waters of Lake Weyba with a contemporary lake house courtesy of Eumarella Shores. Want to make plans for Sunday? Check out our guide here.
Mount Tamborine
Nestled between Brisbane and the Gold Coast, Mount Tamborine is one of Queensland's greatest treasures. It's convenient location makes it ideal for a weekend away, and the region's natural beauty gives visitors the chance to relax and rejuvenate. The Curtis Falls track winds past burbling creeks and giant strangler figs on the lead up to the waterfall, gushing with the flow of recent rain. Better still, Mount Tamborine is home to an award-winning winery that offers tastings for just $10 per person. Pair that with a pot of quince paste and triple cream brie from Witches Chase Cheese, and you've got a party on your hands. Save the drive home for tomorrow by booking a room at Songbirds Rainforest Retreat, which comprises six spacious villas spread out over 51 acres of stunning Australian rainforest. Trust us—you won't want to leave.
Sunshine Coast Hinterland
If the weekly (let's be real, daily) news reports about traffic on the Bruce Highway are anything to go by, it's pretty clear that us city slickers love to head up the coast any chance we get. And it's no surprise why—with lush mountain ranges, spectacular waterfalls and award-winning breweries, the Sunshine Coast really does have it all. But if we had to narrow it down to just one weekend, there's no way we'd miss out on a trip to Gardners Falls. It's the perfect place to take a dip, or soak up some sun as you dry off on the rocks. And while we're there, we might as well stock up on all-things-dairy at the Maleny Cheese Factory. Next up, stop in at Brouhaha Brewery for a taste of their award-winning Strawberry Rhubarb Sour. Let afternoon drinks drag into dinner, so you have an excuse to try their smoked porter and Maleny wagyu pie. Spoil yourself even further with a night at Spicers Tamarind or the French-inspired Clovelly Estate. You can thank us later.
Stanthorpe
Stanthorpe may not sound like your next must-see holiday destination, but trust us—this glorious slice of country paradise has got the goods. Part of Queensland's Granite Belt region, Stanthorpe is teeming with cult-worthy wineries, farm-to-table dining and good ol' country charm. You'll know it was worth the three-hour drive when you pull up at your glamping tent at Allure Stanthorpe—it's more luxe than any hotel. Once you've settled into your new lodgings, fill up on fine modern Australian fare at Essen Restaurant. Their locally-sourced produce puts the best of the Granite Belt on your plate. Exploring Girraween National Park's boulder strewn trails are a must, but save some time for a Southern Downs wine tour—or just pick a few of the several dozen nearby wineries to hit on your own. Sounds like our kind of holiday!
Moreton Island
Just over an hour's ferry ride from Brisbane, Moreton Island is a nature lover's paradise. Home to the Tangalooma Island Resort, the island caters to all types of holiday-makers, whether you're looking for adventure or just a relaxing weekend away. Snorkel with colourful coral and glittering fish as you explore the Tangalooma Wrecks, or witness the wonders of nocturnal sea life with a night kayaking tour. In terms of food, the resort offers a range of dining experiences, from a laid-back beach cafe to traditional spicy sichuan Chinese cuisine. The rooms themselves are modern and affordable, but if you're looking for luxe, you'll want to check out their beachfront villas. Plus, staying in the villas comes with the chance to feed wild dolphins. Worth. Every. Penny.
Stradbroke Island
A longtime local fave, a weekend trip to Straddie is practically a rite of passage in southeast Queensland. The sun, sand and surf come together to create our very own slice of paradise, complete with nature walks, pristine freshwater lakes, and an iconic gelati shop. Getting around the island is a breeze thanks to the local bus services, but if you want to explore on your own terms, bring the car over by booking a ticket for the barge. Bring back memories of long-forgotten camping trips with Dad by setting up a tent at the Cylinder Beach campgrounds, or glamp it up a notch by staying in one of Adder Rock's eco tents. Once you're all set up, get a feel for the island with the North Gorge walk—and keep an eye out for dolphins and whales on the way. You'll no doubt work up an appetite, which means you'll have the perfect excuse to head to Fins 'n' Fries, and chow down on fresh seafood as you watch the waves roll in.
Rainbow Beach
All-too-often overshadowed by its famous neighbours, Rainbow Beach is worth ticking off your bucket list. This hidden gem has managed to maintain its quaint, quiet charm, while simultaneously offering breathtaking views and beginner-friendly surf breaks. Stroll along the massive batch of sand that is the Carlo Sand Blow, before making some fishy friends with a dive tour at Wolf Rock—an official marine sanctuary for critically endangered Grey Nurse sharks Don't worry, they won't bite , but when you're ready to, we recommend dinner at Arcobaleno. This beachside abode is tucked away off Rainbow Beach's main strip and specialises in wood fired pizza, but their homemade sweet potato gnocchi is a strong second. Wash it all down with a bevvy from the Rainbow Beach Hotel, before hitting the hay at Plantation Resort for some seriously luxe vibes.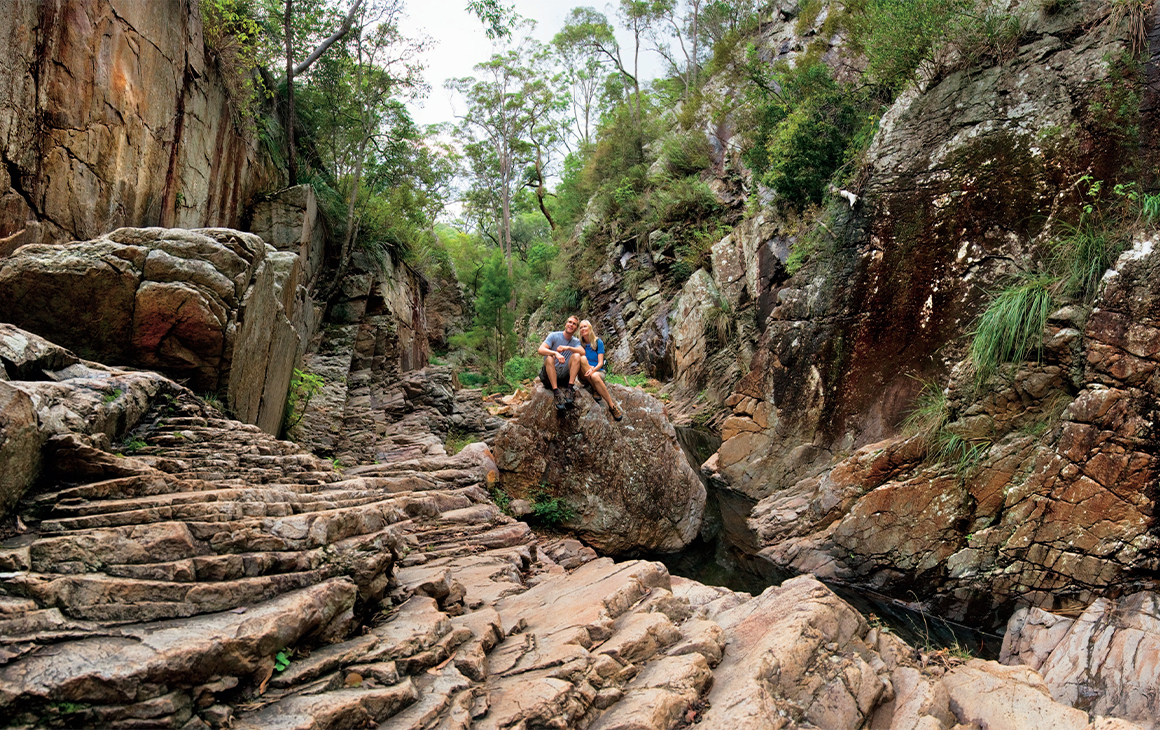 Scenic Rim
You've no doubt spent plenty of weekends in Burleigh, but just a bit further inland sits the thriving rural paradise that is the Scenic Rim. If you're a fan of good food (and good wine), this is the trip for you. Start your weekend with a trip to the Kooroomba Lavender Farm and take in endless fields of fragrant purple flowers stretching into the distance. Pair a bite of their lavender scones with a sip of their lavender cocktails, and take a candle for the road. Next up is the chance to get your heart pumping, with a hike to the Mount Barney Lower Portals—you can even take a dip if you're game. After that, cool off (or warm up) with a visit to 1985 Overflow Estate Winery. The winery sits on the shores of the stunning Lake Wyaralong, giving guests incredible views out over the water as they pamper themselves with the taste of premium wine and platters of cheese. After you've undoubtedly had one too many, it's time to call it a night—get your designated driver to head back to your accom at Ketchup's Bank Glamping. One night in these luxury tents and you'll never camp again.
Toowoomba
Known for its crisp country air and that iconic flower carnival, just one trip to Toowoomba is all it needs to win you over. Start your getaway by carb-loading on pastries at The Baker's Duck. Seriously—this place is worth the trip all on its own. The only problem is, their food is addictive, and you'll crave it on the reg, so stock up while you can. For something a bit heavier (and healthier), head to The Finch Cafe. Their breakfast menu is available all day, so there's no need to rush for your smashed avo. Spend the rest of your day exploring the city's vibrant street art scene. The weird and wonderful designs are just begging for a feature on your Insta story. And when it comes time for bed, we have the perfect place in mind. Norah is a tiny house in the Toowoomba region that promises an escape from big city life. Powered by the sun and gas bottles, charging your laptop is off the cards—but it's well worth the trade off.
Like your road trips with a side of cheddar? Stock up on cheese with a road trip to these country cheese makers near Brisbane.
Image credit: Tourism and Events Queensland, Witches Falls Winery