Right underneath luxe Chinese restaurant Donna Chang's in the CBD, The Boom Boom Room was one of our favourite spots for a cocktail before it closed its doors late last year. The dark, sumptuous venue housed in the heritage building's original underground bank vault—complete with massive steel vault doors leading to cosy private rooms—was the spot for lively late-night tunes and expertly made cocktails, until flooding damage necessitated rectification works, and the bar was forced to close.
Now, the Ghanem Group has dropped the news that it wasn't only structural refurbishment going on down below the city streets—the whole venue has been transformed. With hospitality venues still operating under severe restrictions, the team made the call to 'pivot' and change directions for the bar, which is now just about ready to re-open as a Japanese-inspired restaurant and bar, Boom Boom Room Izakaya.
"We have been developing the Izakaya concept for a while now however the decision to transform and reimagine The Boom Boom Room was definitely made in light of the current landscape," said Ghanem Group's Managing Director Nehme Ghanem. "However, we are incredibly excited to bring this fun and delicious Japanese inspired concept to the people of Brisbane regardless of the circumstances that led us here."
The sultry space we know and love hasn't been changed too much—why mess with a good thing, after all. Now, rather than cosy lounges and bar tables, you'll find the main area scattered with a mix of dining tables rimmed by red velvet chairs, with low lights creating a moody atmosphere. Meanwhile, the smaller rooms hidden in those bank vaults have been turned into private dining rooms—talk about the perfect spot for a birthday dinner.
It's the new menu crafted by Executive Chef Jake Nicolson that will really knock your socks off though, along with the matching cocktail list. We've only had a sneak peak of the new menu, but you can expect to find a lengthy list of Japanese-inspired bites designed to be ordered in bulk and shared with the group on offer. Think miso-glazed toothfish yakitori with bonito mayo, barramundi katsu bao burgers, wild scampi with scampi caviar gunkan, fried silken tofu and wood-roasted cauliflower.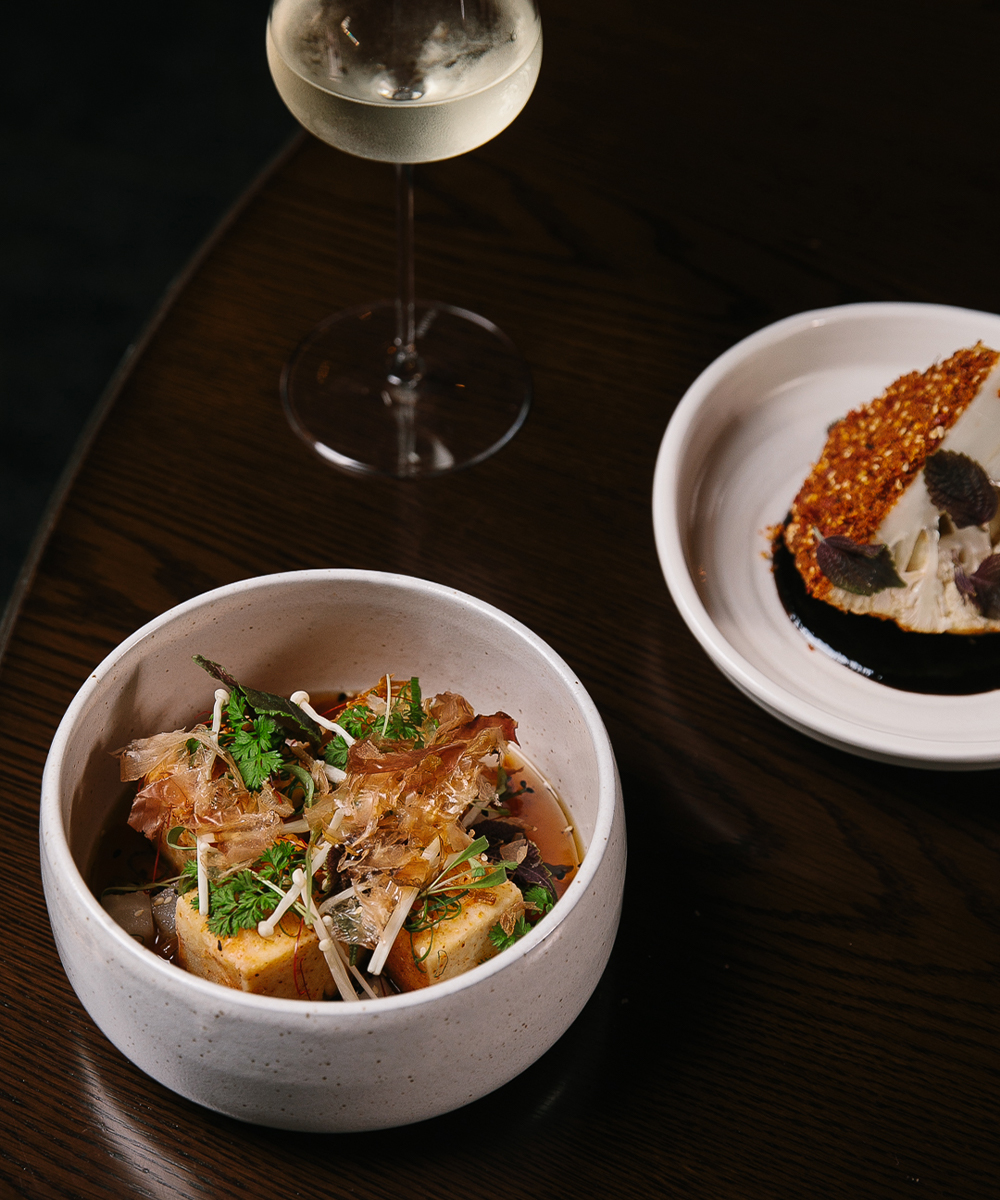 As for the cocktails, you'll be sipping on concoctions like the Reiki Master, a twist on a classic penicillin with Suntory Toki whisky, umeshu, pickled ginger, honey, lemon juice and smoke, or the Hana, a blend of cherry blossom, Haku vodka, lychee and green tea soda.
Boom Boom Room Izakya officially opens on Friday 2 October, but you can make a booking now via info@boomboomizakaya.com.au or (07) 3243 4000. In the meantime, sign up to be first to know more here.
Checked out this new West End spot dedicated to bao buns yet?
Image credit: Supplied