You might be wondering what makes Korean fried chicken different to other fried chicken? Korean fried chicken, otherwise known as 'the other KFC' is fried twice. So great, right? 'KFC' is also typically served with a sour pickled radish that acts as a palate cleanser.
But enough with the food science, here's where to find the best Korean fried chicken Brisbane wide. Don't be afraid to get a little messy.
Chi Mc
Brisbane CBD
Chi Mc is the newest kid on the KFC block, but, their name is a common Korean term formed from the words chicken and maekju (beer). Known for super fresh Korean fried chicken in more flavours than you can imagine—candy chicken, anyone?—served with fried potato crisps, and huge beer towers to share between friends, Chi Mc is putting KFC on the foodie map.
Funny Funny
Brisbane CBD
Before NeNe and Chi Mc was around, Funny Funny was—and is still is—some of the best Korean fried chicken in Brisbane. Funny Funny serves alcohol and stays open until 1.30am, so no guesses where your next midnight chicken fix will be...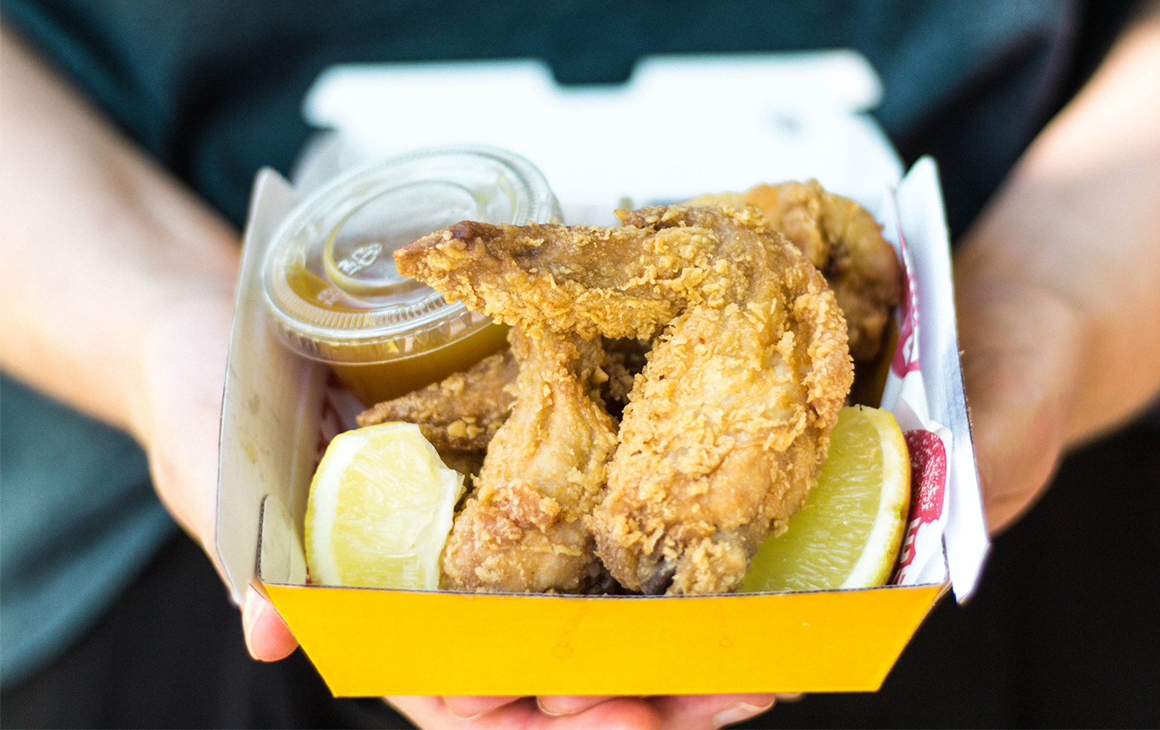 NeNe Chicken
BRISBANE CBD
NeNe Chicken is originally from Korea and has finally made its way to Australia! NeNe Chicken serves some pretty out there flavours including 'swicy' (sweet and spicy), garlic, bulgogi, lemon and 'snowing vegetable'. They also sell $2 soft serves in either black sesame or matcha which are great post-KFC desserts. BYO cleansing towelette.
Seoul Bistro
Sunnybank
Ever fancied all-you-can-eat Korean Fried Chicken? Seoul Bistro is the answer to your feasting dreams! The KFC at Seoul Bistro comes in nine flavours, and the buffet option comes with homemade lemon ice tea, garlic bread and crispy fries. It's probably a good idea to hit this one up on an empty stomach…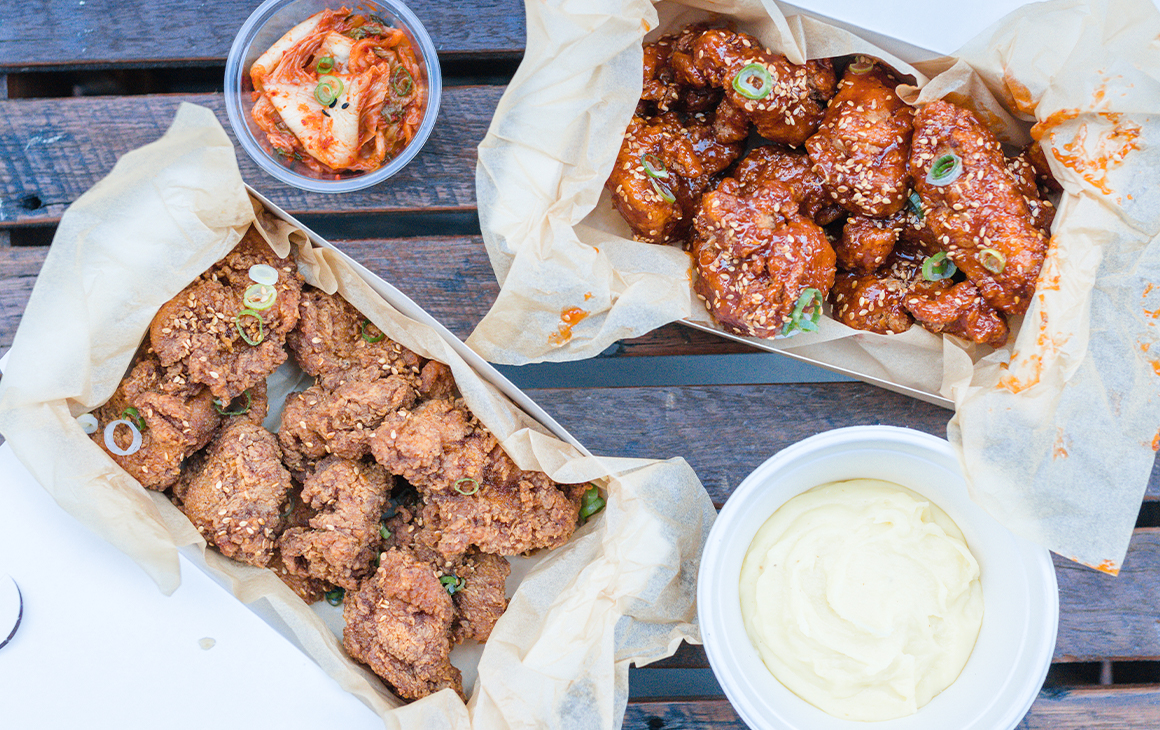 KCS Chicken
Woolloongabba
This cosy, romantic looking spot may not look like a fried chicken joint, but after switching their focus from fine Korean fare to crispy chicken mid-last year in the midst of lockdown, KCS has never looked back—turns out 'Gabba locals love their fried chicken. Their tender pieces come in flavours like original, secret soy and KCS hot sauce, and the boneless fried chicken comes with a side of house made kimchi—we recommend ordering the mashed potato and wombok slaw as well.
Kaikai Chicken
St Lucia
Any impoverished UQ student will know Kaikai Chicken well—where else will you get all the Korean fried chicken, fries, rice and dessert you can eat for $19.90? For those with a few more dollars to their name, the standard fried chicken buffet includes more chicken flavours (12 to be exact), loaded fries, gravy and mash and a bread roll, with bottomless iced tea for an extra $2.90. Time to answer a question you've probably never asked yourself—just how much Korean fried chicken can you eat?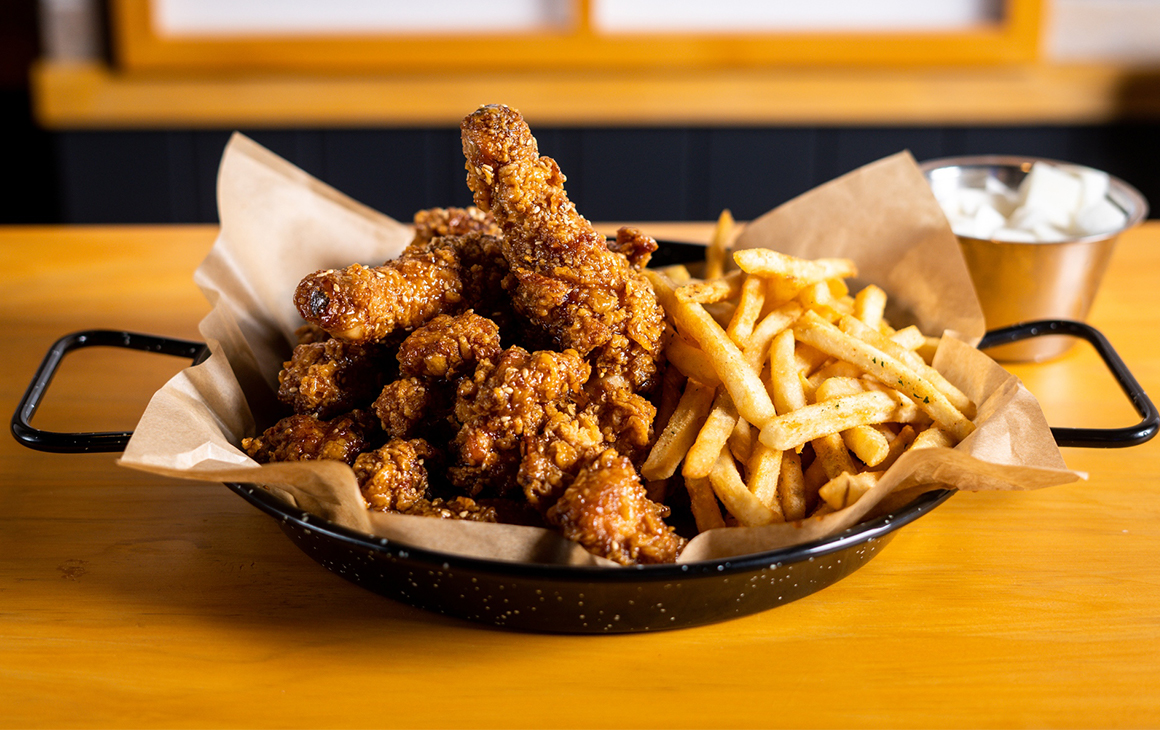 Seoulful Chicken
Everton Park
A relative newbie to Brisbane's Korean fried chicken scene, Seoulful Chicken shot to fame with their carbonara pasta and fried chicken bread bowls—but their fried chicken is worth sampling if you're not into excessive carb-loading. With flavours like sweet chilli, garlic soy and snow cheese, all their fried chicken comes piled atop a mound of golden fries.
Momo Chicken and Beer
RUNCORN, BRISBANE CBD, Chermside AND MT GRAVATT
Whilst there are endless restaurants in Brisbane that serve Korean fried chicken, one of the few worth mentioning is Momo Chicken and Beer. They specialise in fried chicken that bursts in succulent flavour, served with fried crisps (not to be mistaken for just any old hot chip), in true Korean style. Dig in.
Haeduri Chicken
Redbank
Just a pile of fried chicken not tempting enough for you? How about Korean fried chicken dipped in bubbling, melted cheese? That's just what you can order up at Haeduri, with their UFO Fondue Chicken—a platter of wings arranged around a pot of cheese which is melted in front of your eyes, ready for dipping. Of course, you can just order their perfectly cooked chicken on its own—but why would you?
Still hungry? Here's Brisbane's best Korean BBQ.
Image credit: Caitlin Hicks, NeNe, Ranyhyn Laine, Seoulful Chicken