To make it through the daily grind every week, prioritising some consistent, well earned r and r is key. While you could opt for the likes of a day spa, why not kick the relaxation vibes into high gear with a weekend getaway where the bath is actually the main attraction? Let your hair down, and book yourself in for a weekend at one of these ultra-tranquil stays with a gorgeous outdoor bath near Brisbane.
Highgrove Cottage
Immerse yourself in a stunning green valley at this renovated countryside escape set on 46 acres. Separate from the gorgeous two-bedroom Highgrove Cottage (with indoor fireplaces AND a fire pit) you'll find the bathhouse, boasting a two-person bath and yet another wood-burning fireplace for the ultimate countryside romance. Light the fire, let the bath run, and pour a glass of something red before soaking up some peace and quiet.
Sparkling Pool Oasis
If you're looking for a getaway with your special someone then look no further than this picture-perfect guest suite in the heart of Noosa. The two-bedroom home offers not just a stunning outdoor bathtub where you can relax under the stars, but a full private pool and outdoor shower. There are plenty of hammocks and day beds to soak up the sun and leave all the stress of work behind for the weekend. We're about two seconds away from booking it out for the next three months so you better hurry if you want to beat us to it.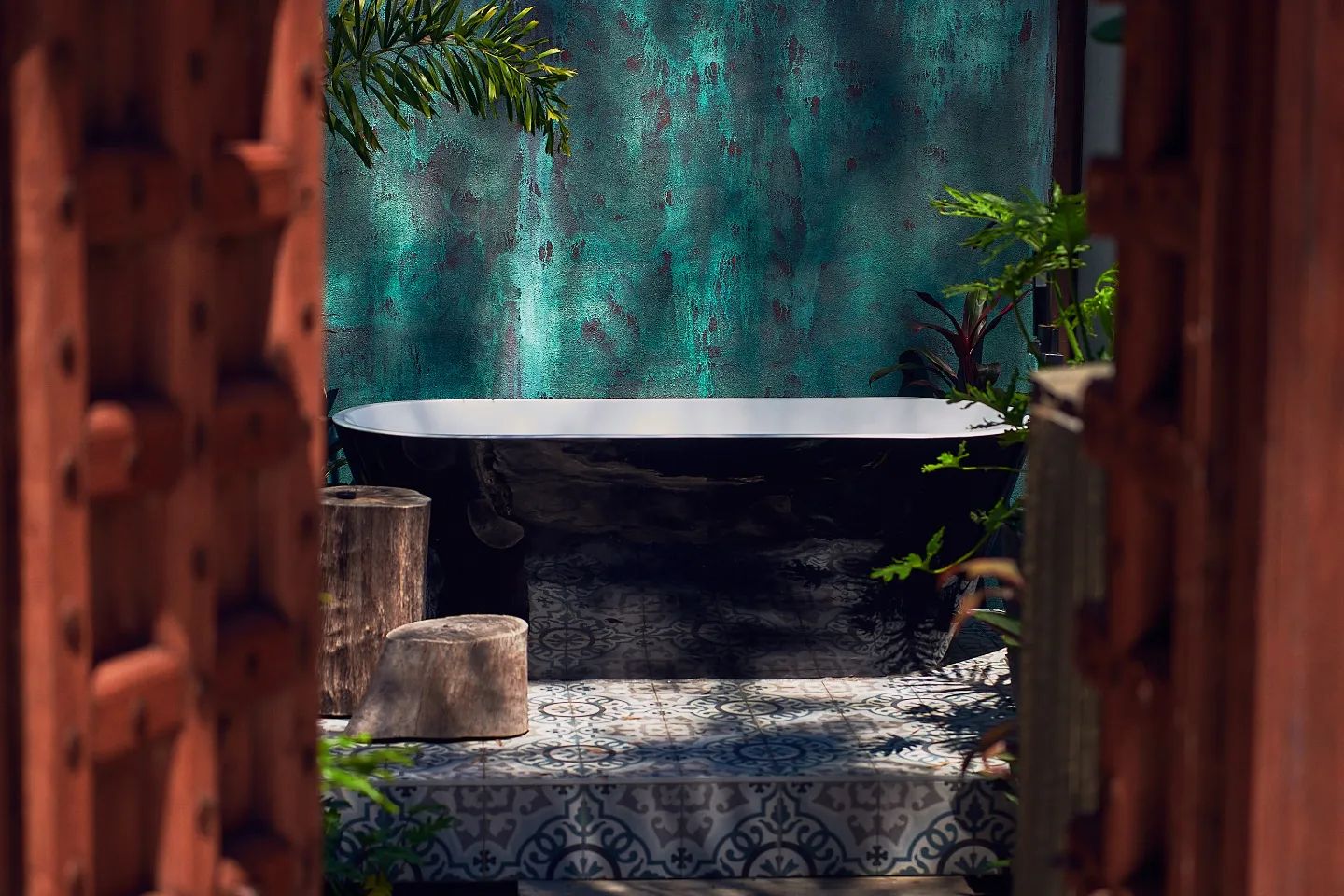 Bird Song Valley
Montville is synonymous with peace and quiet and this 1920s Queenslander on the outskirts of town is no different. The accommodation has three bedrooms so you can have up to six guests all soaking up the sights and sounds of the hinterland—and there's a custom-made free-standing spa just outside the master bedroom with French doors that open right up to that view. Have fun fighting over that room with your friends. There's also a wraparound verandah, Hamptons-style kitchen and a second tub in the bathroom so no one will actually miss out.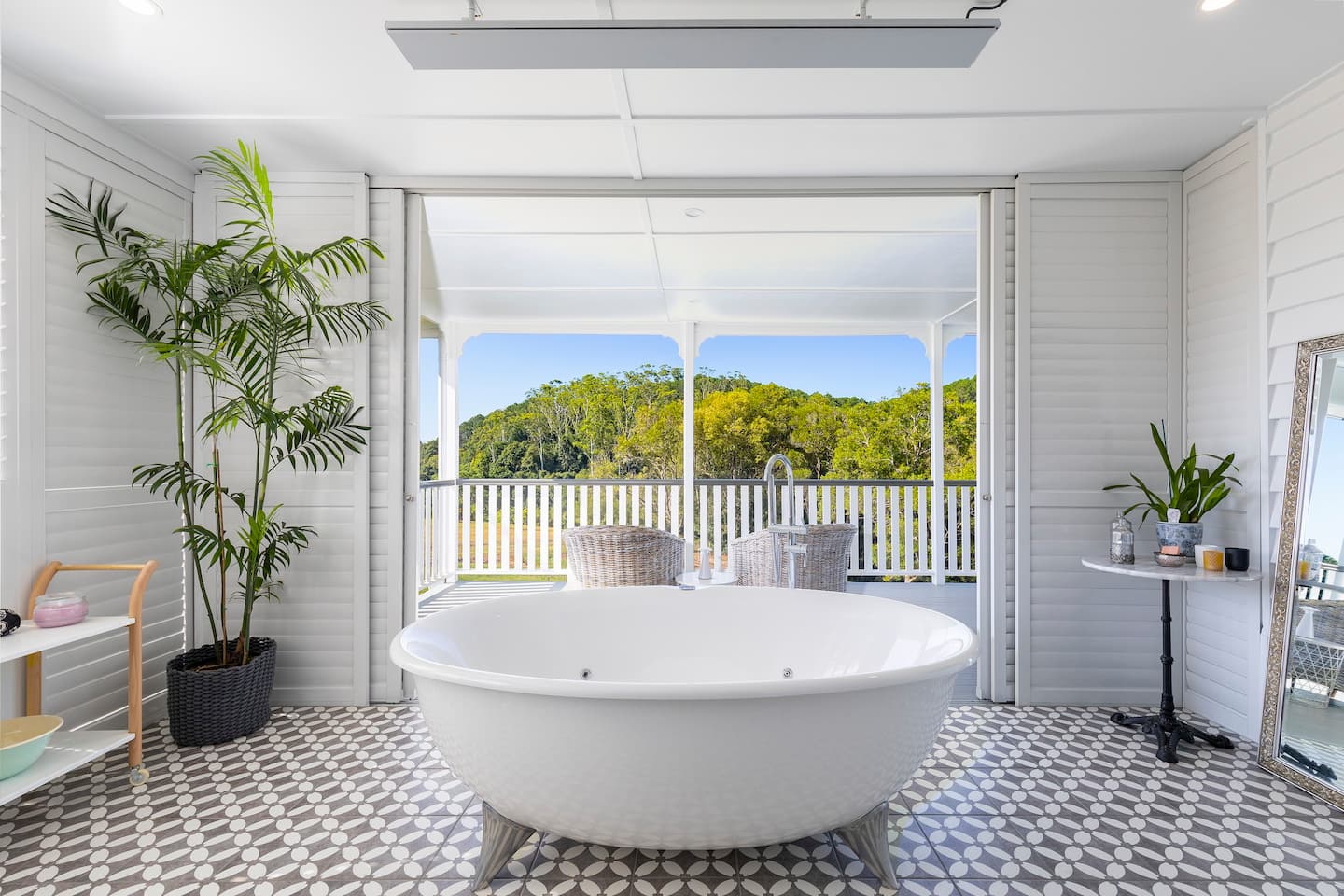 Balmoral575 Bungalow
Balmoral Ridge |
Sleeps 2
This secluded house in the Sunshine Coast hinterland offers uninterrupted views of the surrounding area and of course, an outdoor bathtub that dreams are made of. The one-bedroom property is only 5km from Maleny and Montville so you can fill your days with exploring the idyllic local areas before relaxing in the luxurious tub or warming up near the fireplace. You'll have heaps of privacy so it's perfect for honeymooners or loved-up couples.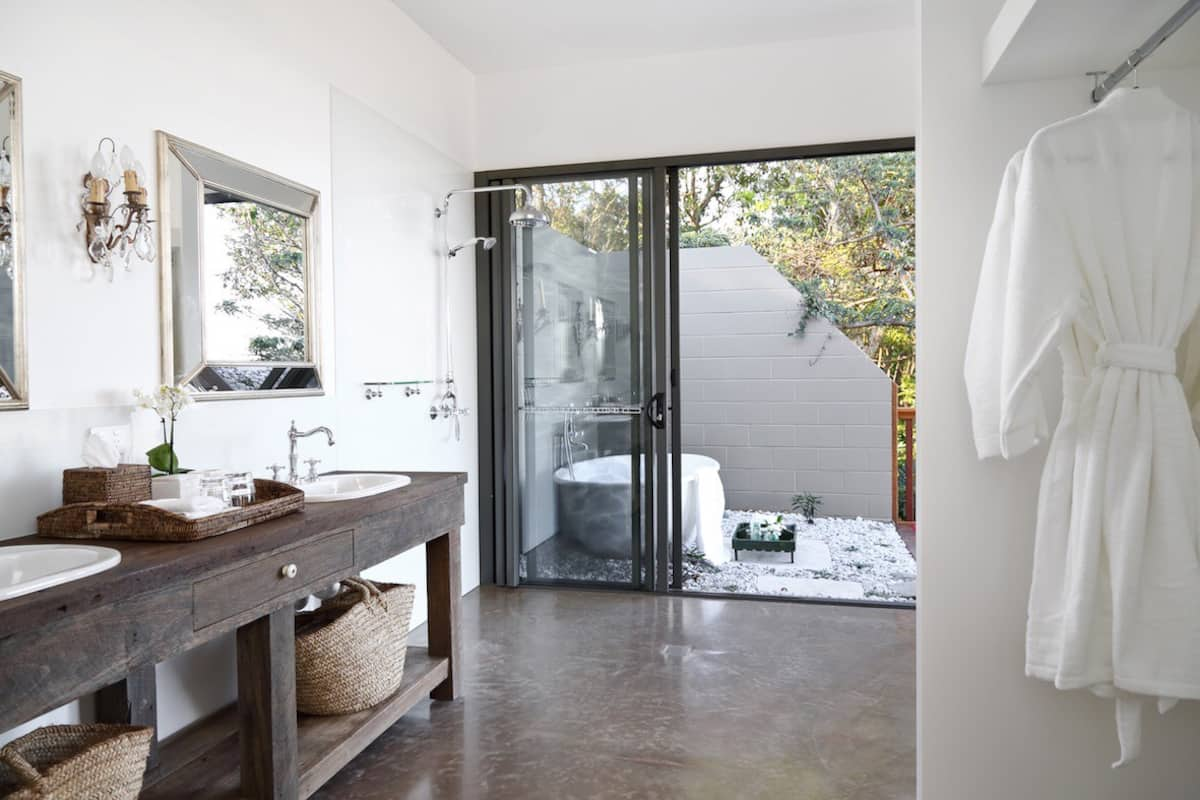 Tyalgum Springs
Enjoy a country getaway in northern New South Wales at this sweet home that calls 30 acres of rolling farmland home. With stunning views of Mount Warning, access to a creek and dam, located just one kilometre from neighbouring town Tyalgum, and indoor and outdoor fireplaces, this Airbnb's best feature is its outdoor clawfoot iron bath for soaking away the stress of city life. A peaceful spot for kicking back with friends or family, Tyalgum Springs also welcomes dogs (as long as they can get along with the horses and cows).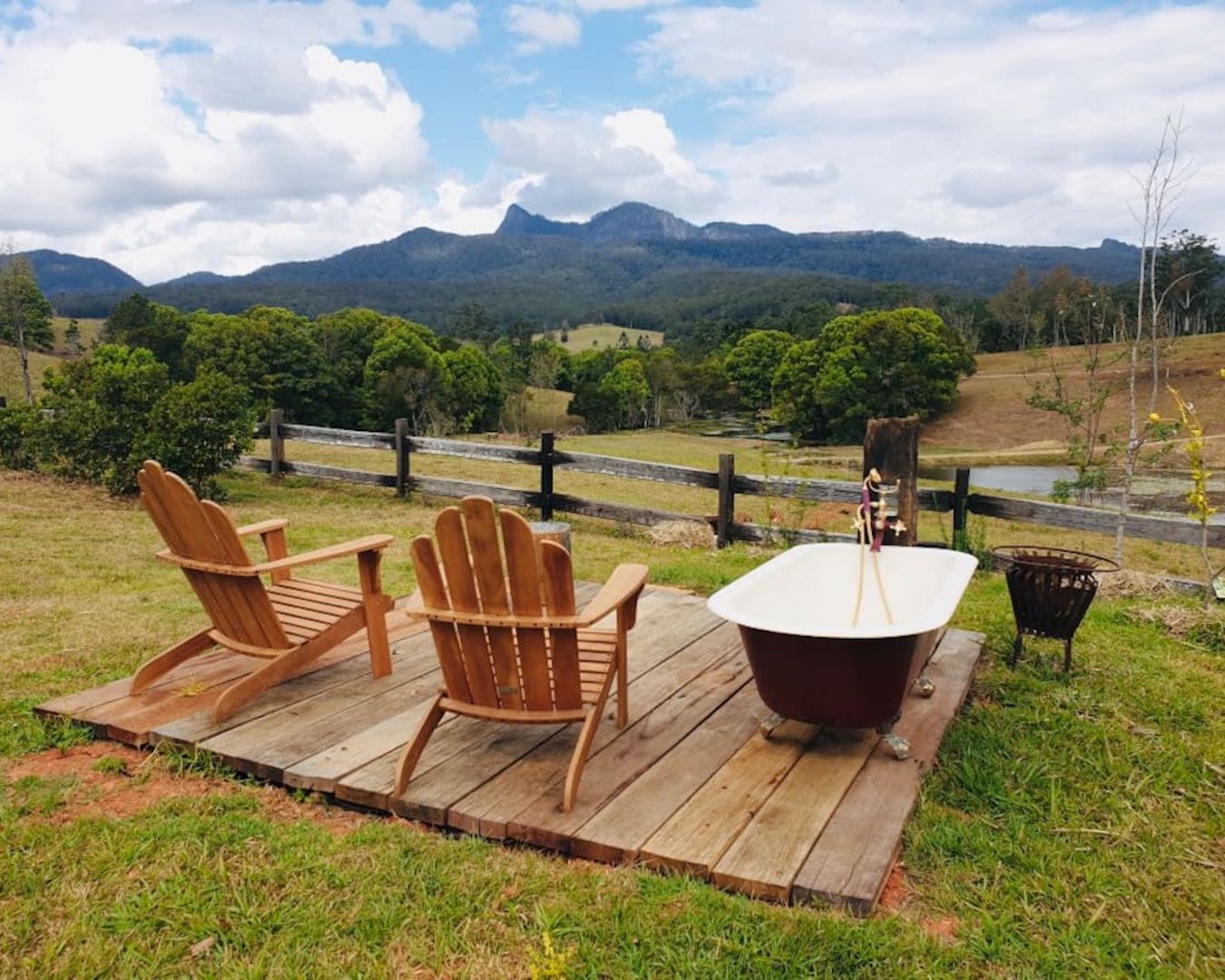 Hillview Dairy
Currumbin Valley |
Sleeps 8
Four words: wine barrell plunge pool. Need we say more? Yeah, didn't think so. Hillview Dairy offers everything you need to escape from everyday life. You'll be off the grid, but don't stress—there's plenty to immerse yourself in, including an outdoor European bathtub and stunning views of the Gold Coast countryside. Did we mention the plunge pool?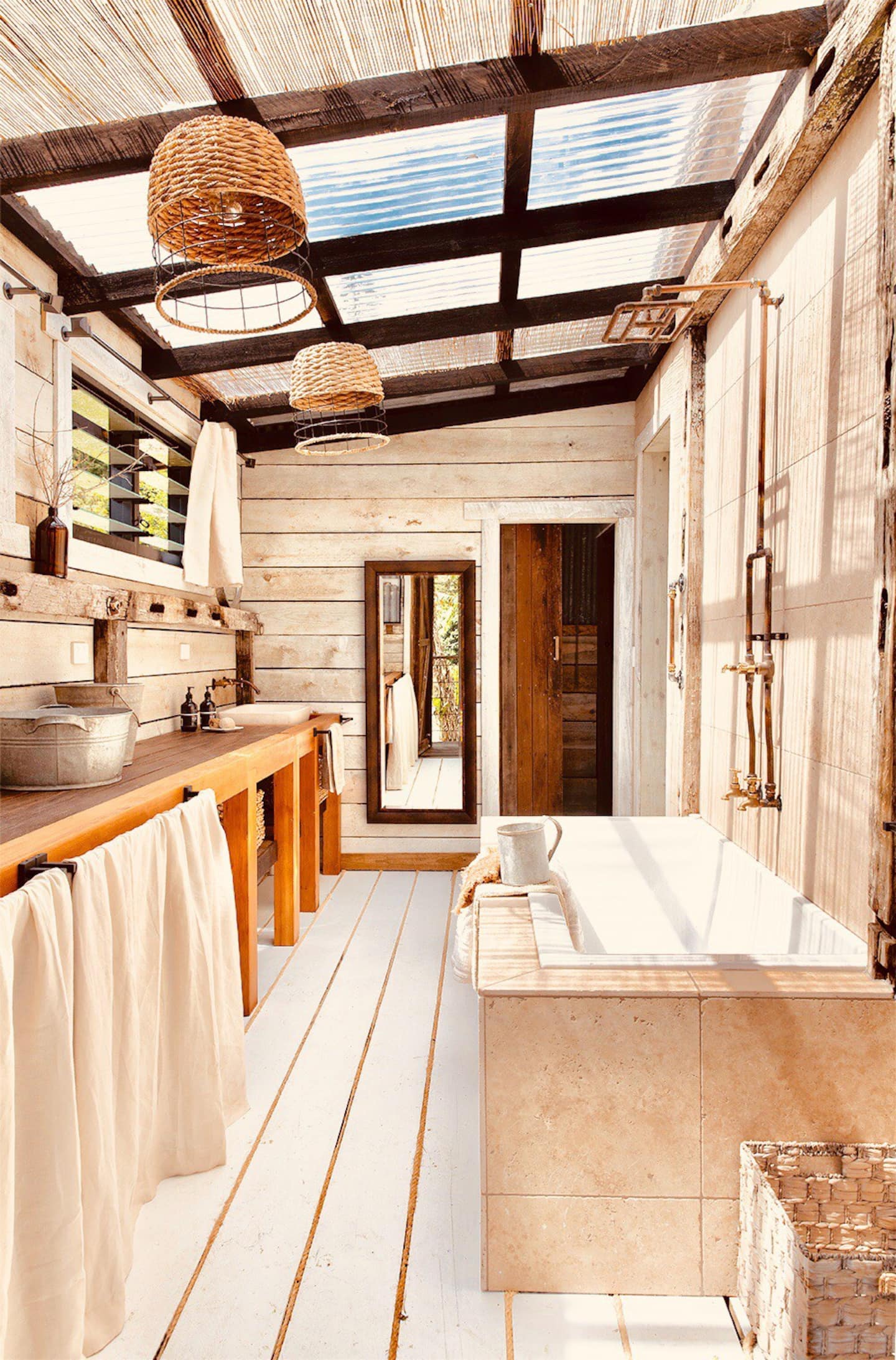 Grand Designs Home
Tamborine Mountain |
Sleeps 8
If you've been watching Grand Designs for decades, dreaming about relaxing in one of those incredible homes, well the time has finally come. This architectural wonder nestled in 7 acres of private land on Mount Tamborine was featured in Grand Designs Australia. The three-bedroom property is perfect for a group or family getaway. Just when you thought this place couldn't get any cooler, it has an entire bathouse with doors that open to the mountain air where you can unwind.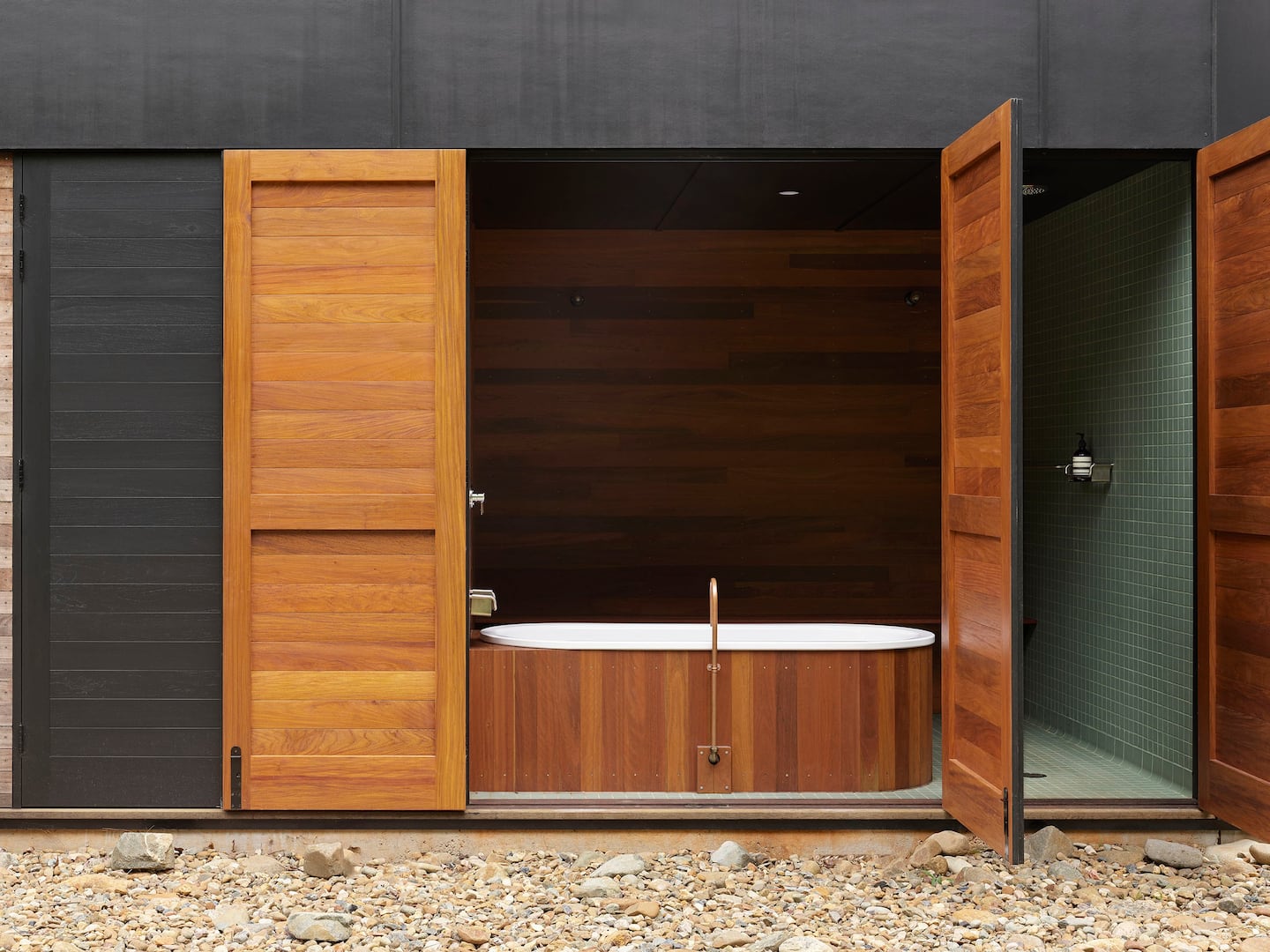 Noosa Hinterland Cabin
Looking for a quiet, couples getaway in the country? This Noosa Hinterland Cabin has an outdoor tub perfect for cow watching. Yes, you heard right, there's plenty of cows on the property that you are welcome to pat and feed to live out your farm life dreams. Only 30 minutes from Noosa's Main Beach, it's easy to make a day trip into town if you are missing the crowds. If you're craving total silence and seclusion instead privacy is guaranteed at this stunning spot with 25 acres of land all to yourself.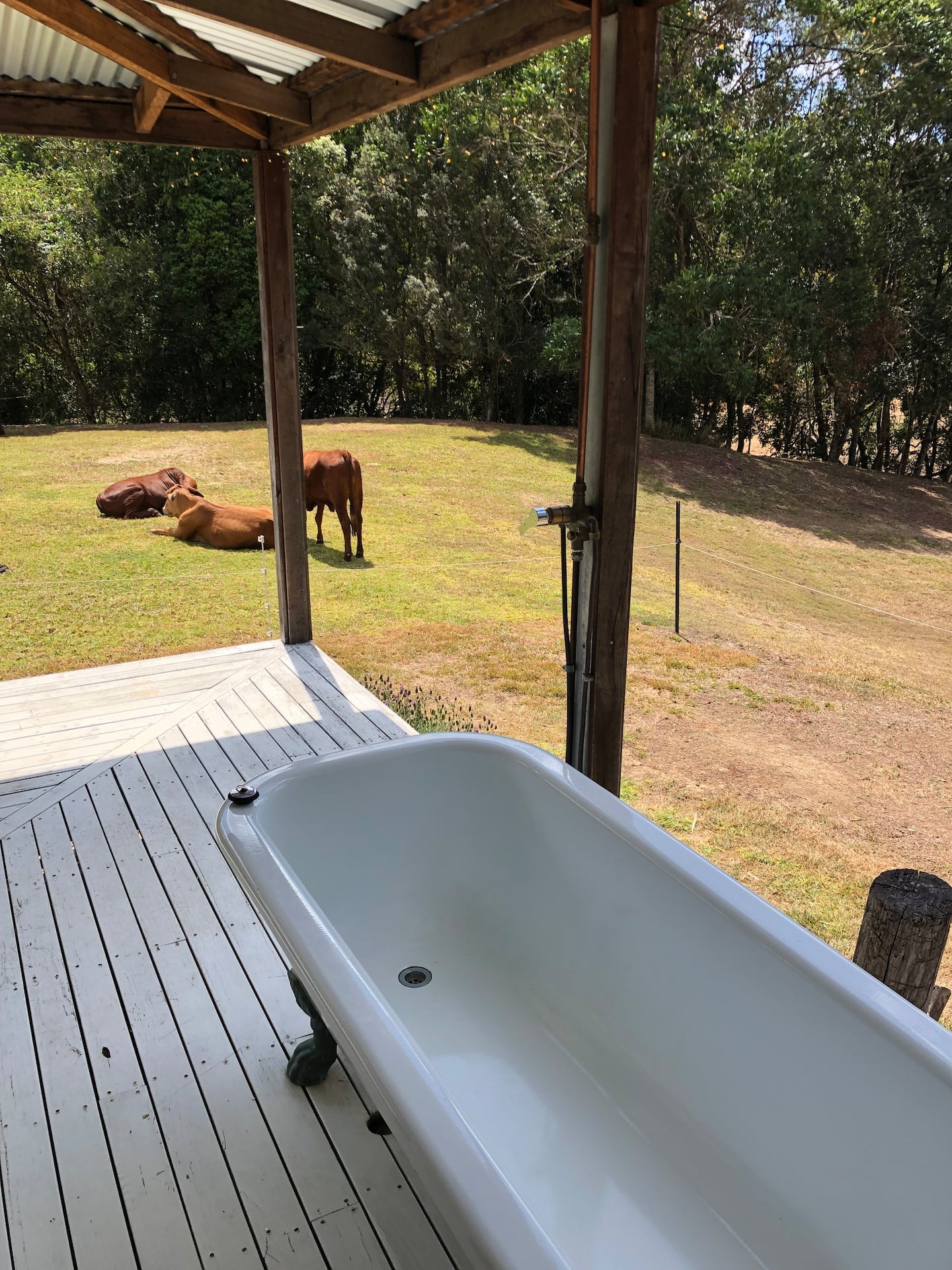 Clouds Safari
Check in to stunning views of the lush green rainforest at this safari-style tent accommodation in the Gold Coast hinterland. You'll enjoy 180-degree views of Springbrook Mountain and Numinbah Valley, even while soaking in the gorgeous tub that can be completely opened up to the outside world. Clouds Safari has a projector so you can settle in for a movie, and a large deck for soaking in the views with a coffee or wine.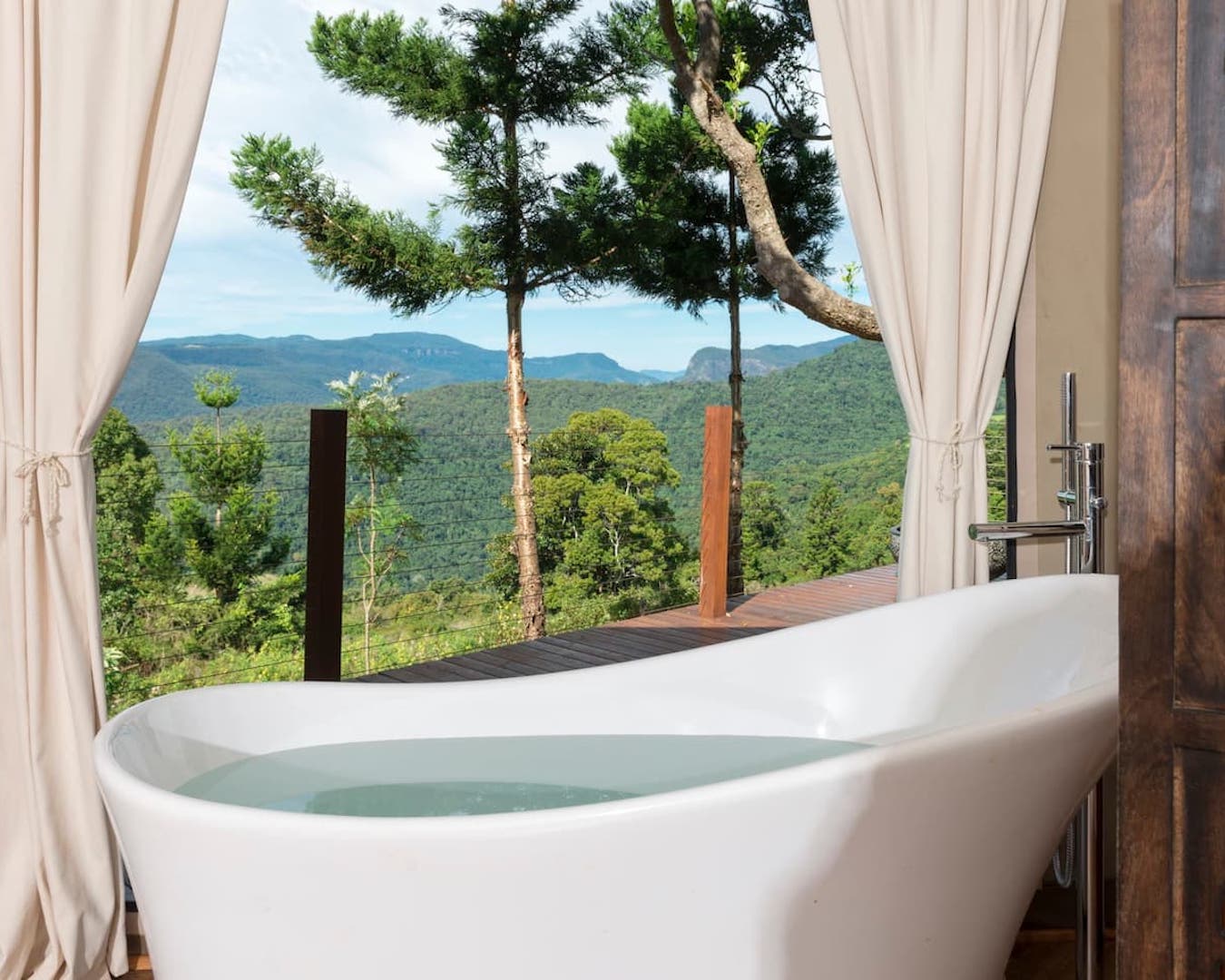 Kanimbia Luxury Glamping
By now, we're all well aware of glamping and how it one-ups camping in every way, but this Kanimbia Luxury Glamping site has taken the idea to the next level, putting the "glam" in camping (times 100). If you're looking to truly immerse yourself in the great outdoors away from anyone else, you're in luck because this luxury safari tent is surrounded by 50 acres of land. Recharge in the bathtub, which sits behind a canvas wall that you can fully open up to truly be at one with nature.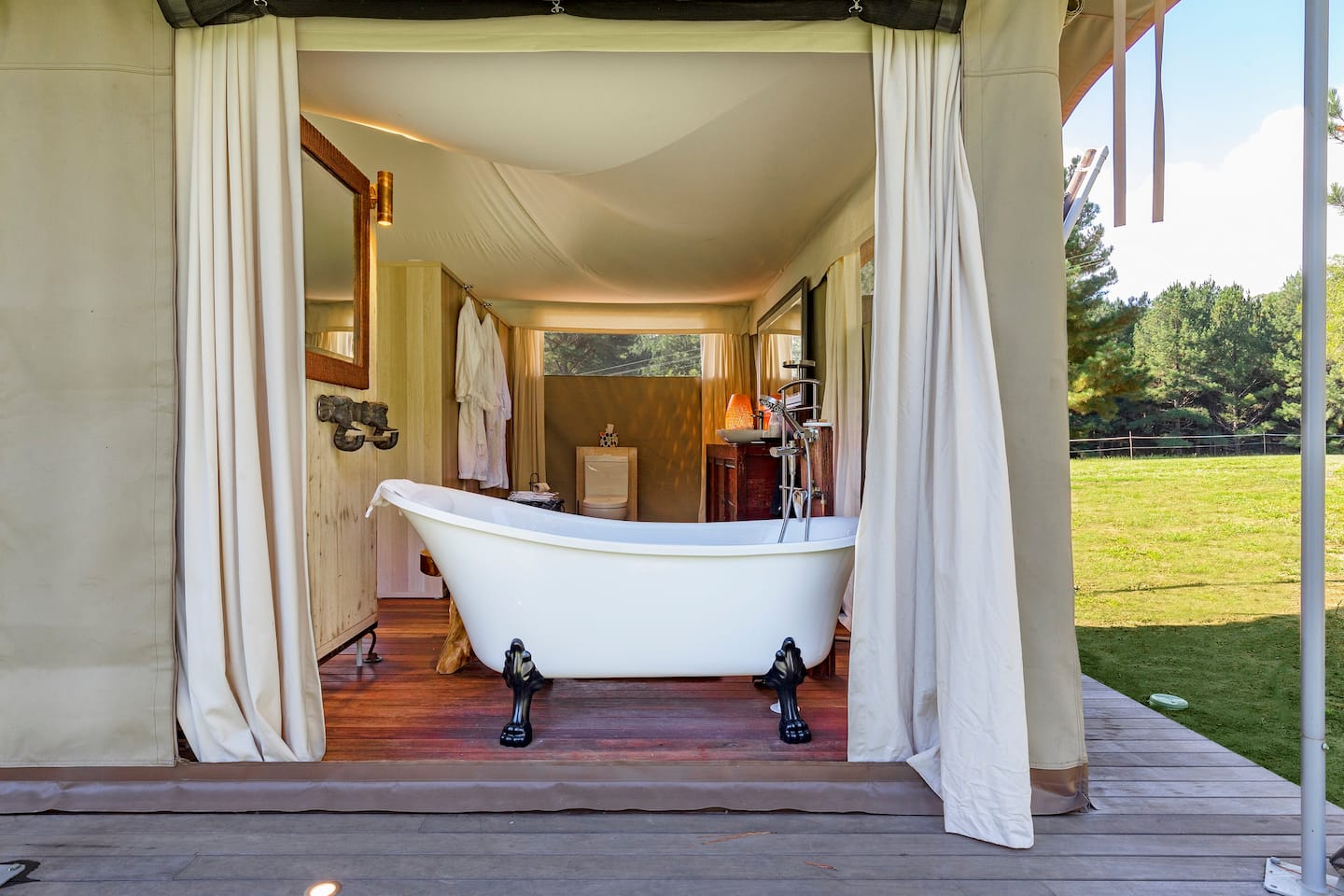 Starry Nights Luxury Camping
If you're to get away from it all without actually going too far from civilization, Starry Nights in West Woombye is for you. Perched in and amongst the hinterland of the Sunshine Coast you'll have complete privacy in the midst of a tranquil forest. Take a bath with the canvas wall rolled all the way up, lie in the large king-sized bed or laze around on the couch next to the food fire as you take in the peaceful serenity of Woombye. Being just 10 minutes from Montville and 20 from Mooloolaba Beach, it's the perfect place to unwind and relax while still being close to everything else you want in a weekend break.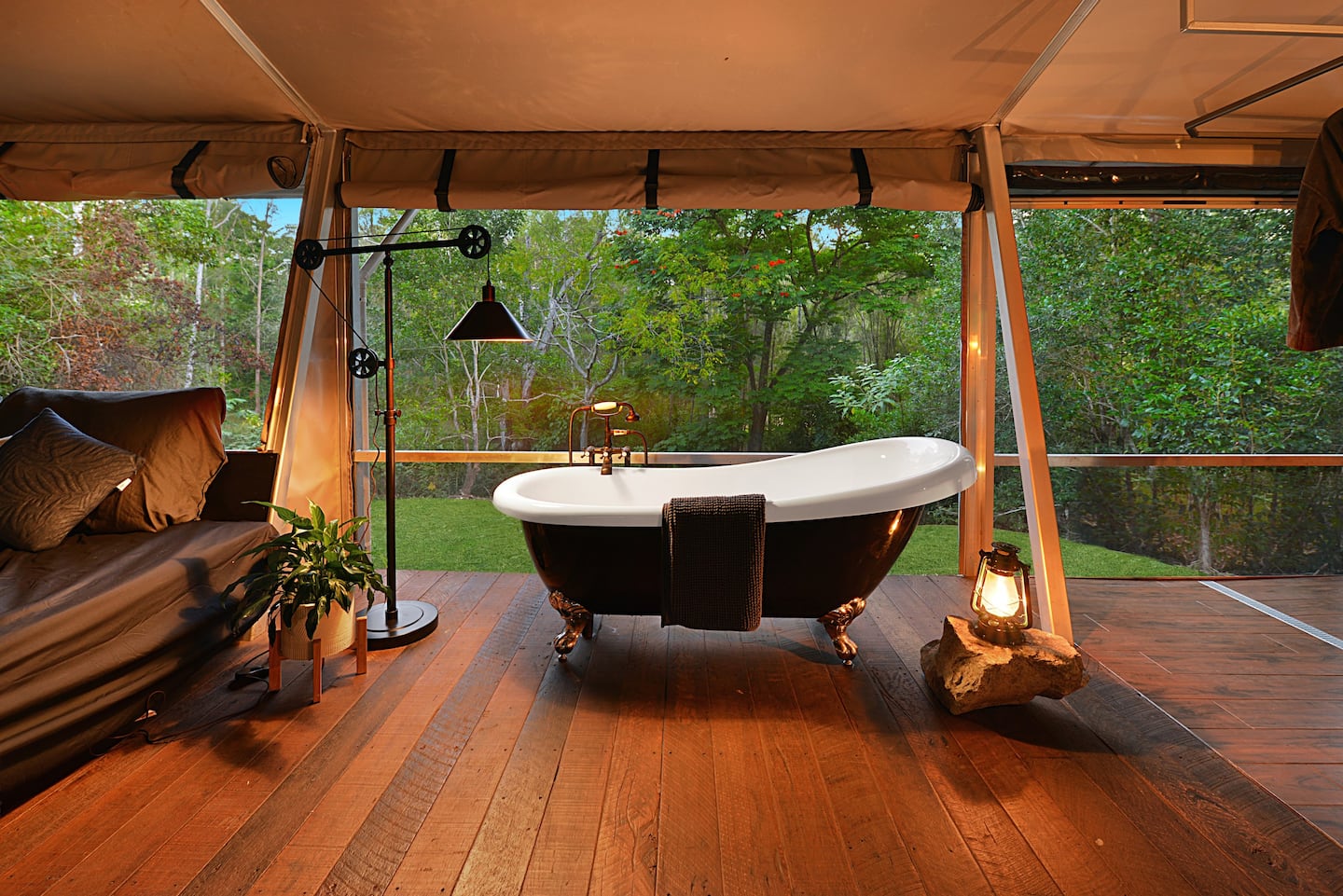 ​​Shackpalace Noosa Home
When you imagine architectural perfection, what comes to mind is probably something close to Shackpalace in Noosa Heads. Inside these modern walls are the sleekest interiors you'll ever see. The dark wooden furniture and liquorice-coloured walls create a truly immersive holiday experience where you'll feel calm, cosy, and disconnected from the world. You can also admire the mountain views from the connecting deck and open-air bathtub.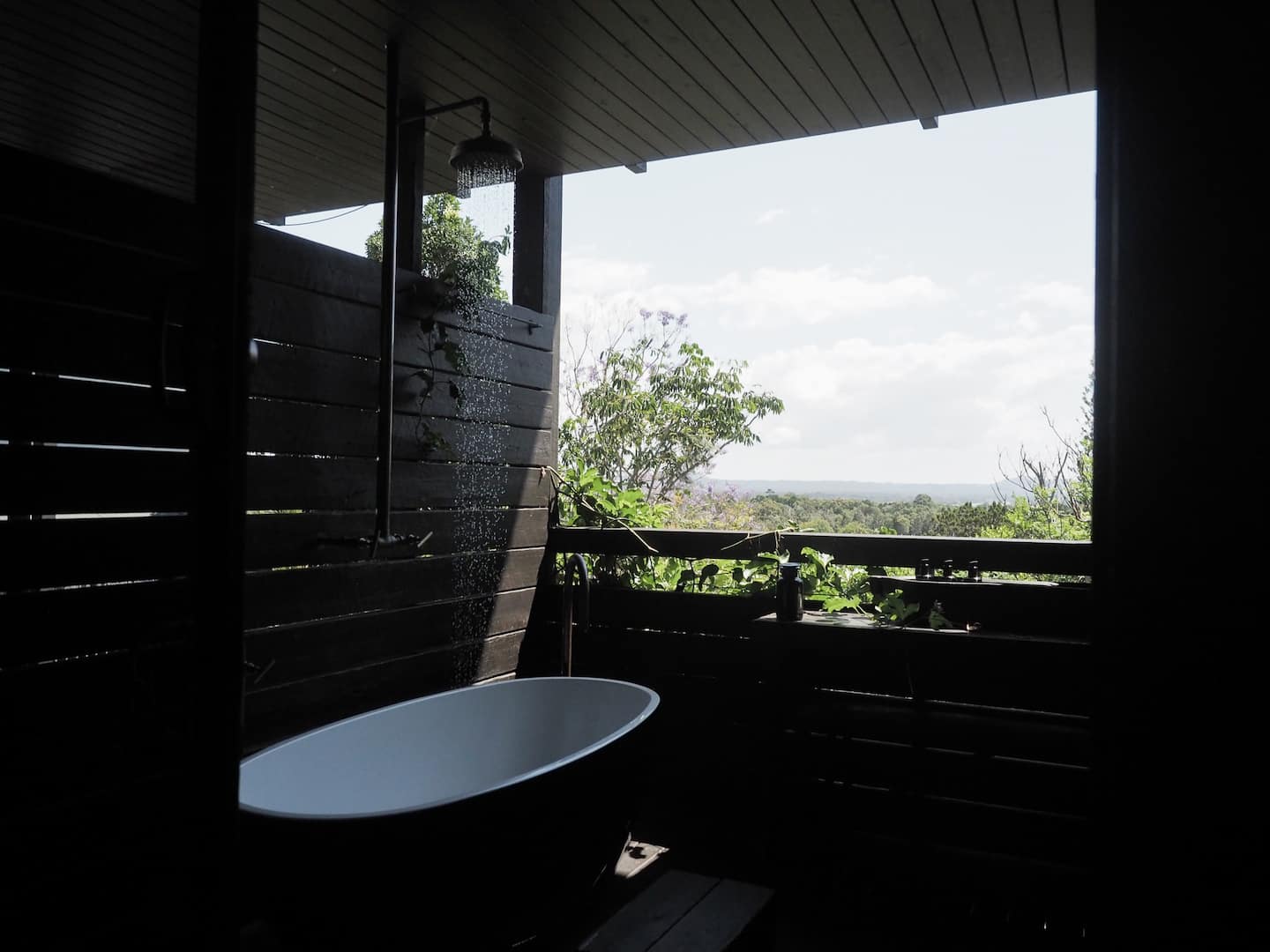 Stargazer
Beechmont | Sleeps 5
If you want to fall asleep under the stars but in the comfort and warmth of a bed, Stargazer house has you covered. The house's glass ceilings make stargazing possible from rooms all over the house and walls that you can swing right open make watching the sunset possible from the open-air bathtub. Apart from the stunning glass ceilings and walls, there's an outdoor fireplace, entertainment deck and a pizza oven. Yes, a pizza oven, you read that correctly. Enjoy the views of rolling hills and ridges and the starry night sky with a woodfired slice of pizza in hand—it's only right.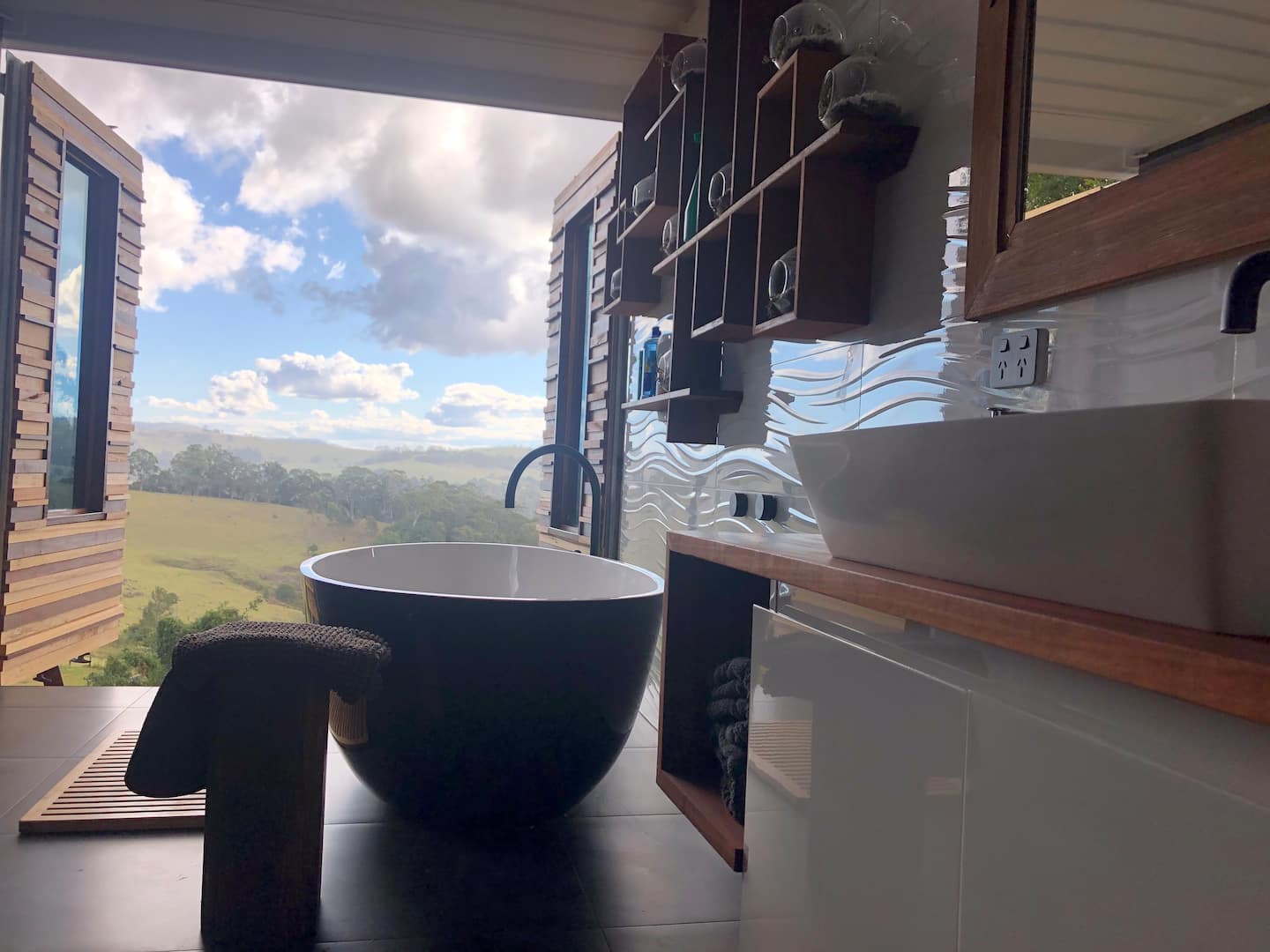 Spicers Hidden Vale
Grandchester
Wake up to views Monet would be inspired by in the Luxury Suite at Spicers Hidden Vale. Located about an hour from Brisbane, the name says it all with rustic elegance being the focal point for this retreat. The home away from home is situated in the rolling hills of Mount Mort, featuring an outdoor tub sheltered from the weather by a corrugated iron roof and walls on three sides. We recommend making a warm cuppa, filling up a hot bath and watching the sun set over the hills for the best end to a day you could ask for.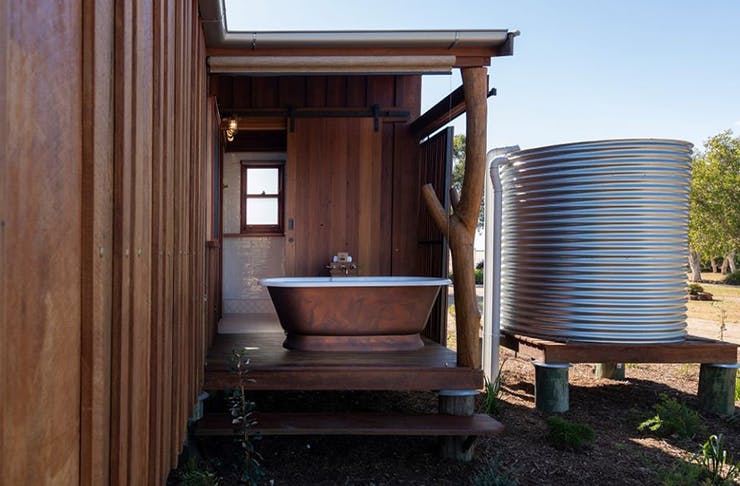 The Banksia House
An architectural gem you won't want to leave, The Banksia House looks like it has come from the pages of Architectural Digest. With its indoor-outdoor living, it would be impossible to not feel connected with nature at this King Beach residence. Wake up on the right side of the bed with the top-of-the-line mattresses, then take a dip in the pool, play a game or two of barefoot boules, and finish off the day in the outdoor tub with a drink in hand. This house has something for everyone, with stacks of outdoor entertaining as well as relaxing amenities.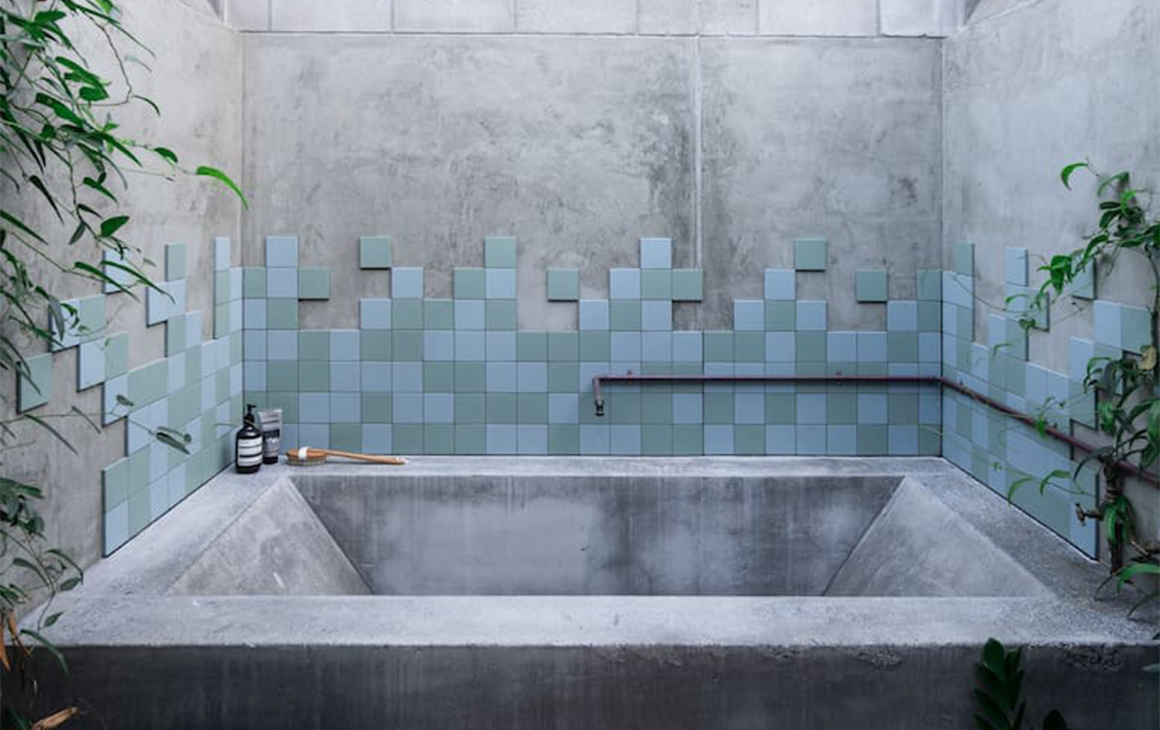 Nightfall
LAMINGTON NATIONAL PARK | Sleeps 2
We never thought we would say this but somehow Nightfall glamping makes the bushranger lifestyle look sultry and alluring. Now, we should just preface this by saying that there are no illegal activities involved during your stay, and the mod cons provided in this glamming experience are leaps and bounds above early 1900s inventions. However, we can't help but feel as if Ned Kelly would've taken his honeymoon at Nightfall. With the iron baths and wood-fired fireplaces all situated amongst the lush rainforest of Lamington National Park, this glamping experience is one that will have you feeling full of warm and fuzzies.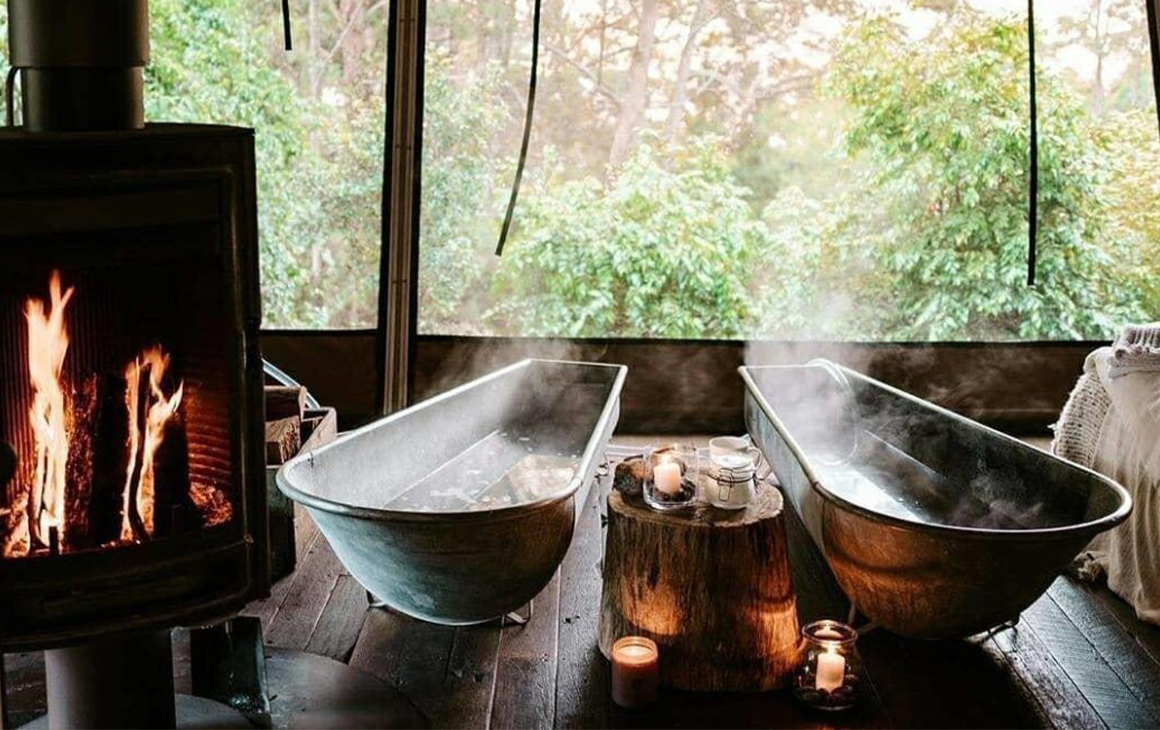 Prefer your soaks steaming hot? Check out these cabins with hot tubs near Brisbane.
Image credit: Tourism & Events Queensland, Spicers Retreats, Airbnb
Editor's note: Urban List editors independently select and write about stuff we love and think you'll like too. Urban List has affiliate partnerships, so we get revenue from your booking.