Remember how excited you'd once get at the prospect of an all-you-can-eat feast at Pizza Hut or Sizzler—made all the sweeter by the help-yo-self soft serve dessert bar—and when food comas were a very real and acceptable thing.
Often your eyes are bigger than your stomach and you walk out regretting that last plate (or three). Unfortunately too, average buffets can be a dime a dozen. Though since we love to show you everything when it comes to this great coastal home of ours, we've compiled a list of five of the Gold Coast's best all-you-can-eat restaurants or event nights that won't make you question what's actually in your food, but will have you getting as much bang for your buck as possible.
Bread N Butter
Don your comfiest stretchy pants on Thursday nights, when Bread N Butter hosts their epic $25 all-you-can-eat feast. If there's one thing better than wood-fired pizza, it's the endlessly flowing variety, paired with a rotating menu of tapas tasting plates (think Spanish meatballs, garlic mushrooms, and patatas bravas). And, if there's room (and there should always be room), all-you-can-squeeze-in desserts. Churros and Nutella pizza? Yes, please! For those who've not heard the news, sadly due to a new property development our dearest Bread N Butter will not be around for much longer. So, put this all-you-can-eat at the top of your list and gorge your way into history.
Where: 76 Musgrave Street, Kirra
Bazaar Interactive Kitchen
There's some stiff competition in elite hotel circles, but when it comes to buffet feasts, QT Hotel's is considered the best in the state. Big call, right? And like everything QT does, they'll ask that you forget any past buffet experiences, 'cause they like to be different, and they nail it. Firstly, they'll have you know this isn't a buffet, it's an "interactive kitchen". Dishes are purposefully displayed without labels, forcing you (in a good way) to interact with the friendly staff and chefs on hand. Bazaar's selection is seriously eye-popping and always changing with dinner options like made-to-order steaks; seafood (prawns, crabs, oysters), an Asian station (dumplings, stir-fries, curries), countless salads, a lolly station, and a wall of quirky desserts. Served seven days for breakfast ($32 per head—uber value when you'll spend $25 for breakfast and coffee elsewhere), dinner ($72 per head), and Sunday lunch ($59 per head); one thing is guaranteed, you'll need to be rolled out the door. Burp!
Where: QT Hotel, 7 Staghorn Avenue, Surfers Paradise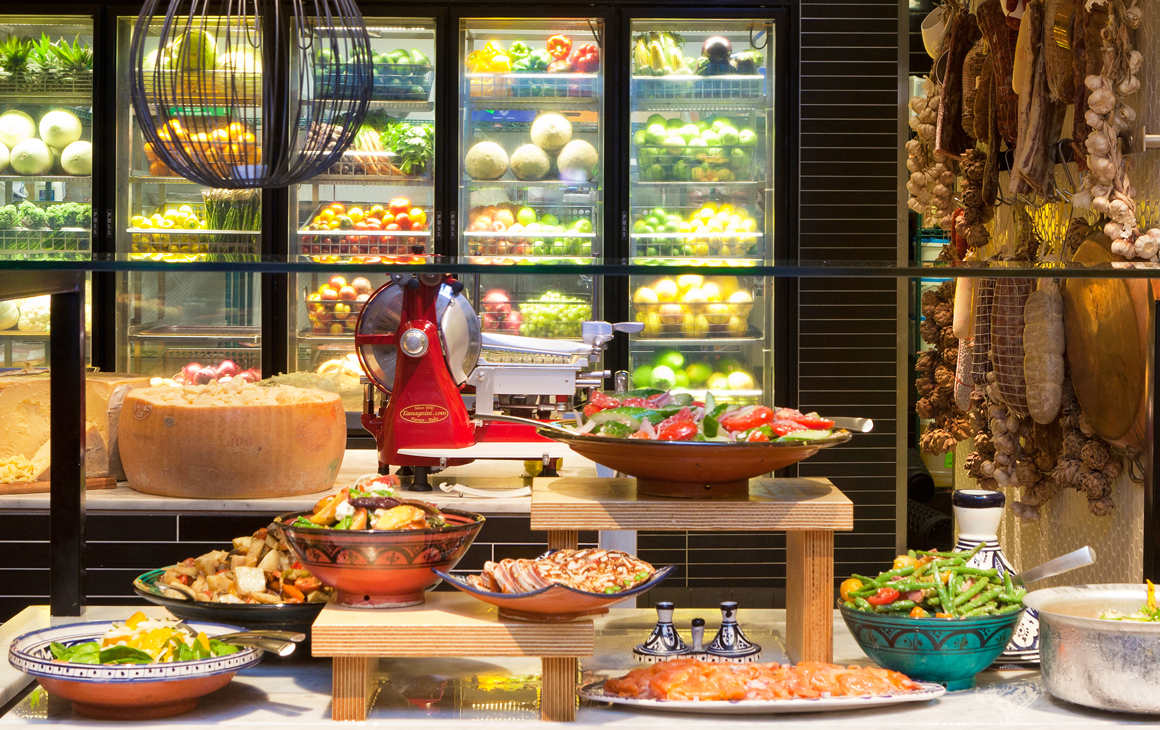 Mandala Organic Arts Café
One of the Coast's favourite vegetarian restaurants lets its devout followers in on a feeding frenzy every Tuesday night from 5pm, when all their best-selling vego pizzas and sweet variations can be consumed for a mere $20 per person. Not a vego? No problem, 'cause Mandala are sure to squash any preconceptions you've been desperately clinging onto. With cheese inventively replaced with a delish house-made cashew substitute, you'll want to skip through lunch leaving plenty of stomach real estate for pizzas topped with creamy mushroom and zucchini, roasted potato and capers, or cinnamon-roasted pumpkin and eggplant. Hang out in the garden with a cool crew of locals and know that you're helping to change the planet one less meat dish at a time.
Where: Shop 4, 2558-2560 Gold Coast Highway, Mermaid Beach
Il Barocco
Versace's Il Barocco is a buffet restaurant with class. If it's possible to keep your poise while returning for plate after plate piled high with fresher-than-fresh seafood, carvery roast meats, and naughty desserts, then this is the place to test your composure. Prices are lower for non-crustacean lovers, but you're looking at $79 for lunch and $82 for dinner ($89 on Saturdays). Their all-you-can-eat menu will take you on an international culinary adventure, but if you're anything like us, you'll be eating 90 per cent seafood (prawns, oysters, calamari, crab, mussels, smoked salmon, and fish), 'cause when else do you get the chance? Um, never!
Where: Palazzo Versace, 94 Seaworld Drive, Main Beach
Surfers Sandbar Buffet Breakfast
These days, $17 is rarely sufficient to buy you a single breakfast dish AND a coffee… but the crew at Surfers Sandbar has been in the buffet business for years, and have thankfully kept prices low. So low, we wonder how they make any coin, especially when that breakfast feast comes with salty ocean-front views; but we're not complaining! Roll up your sleeves and tuck into all the hot and cold goodies you crave when you roll out of bed, served daily from 6:45—11:30am. Plus, we have it on good word that these guys have some exciting changes in the works for their cafe and attached bistro and craft beer bar, so watch this space!
Where: 52 The Esplanade, Surfers Paradise
Photo Credit: QT Hotel