Counting down to the weekend?
We don't know about you, but after a manic week of deadlines and far too much social media, there's nothing we crave more than throwing on a frock and the fave lippy. 'Cause a night out with our besties and some quaffable cocktails pretty much cures everything—the spontaneity that ensues and the world problems that are solved in one evening… #priceless.
We've got you covered with our go-to list of the coolest restaurants and best bars on the Gold Coast for cocktails with the girls.
Lupo
Mermaid Beach
There's something truly captivating about Mermaid Beach eatery, Lupo. Maybe it's the stunning copper-topped horseshoe-shaped bar, the moody lights, humming atmosphere, or warmth of the wood-fired oven throwing delicious smells in every direction. Whatever it is, they've absolutely nailed it, and pulling up a seat at the intimate bar will transport you and your ladies to the depths of a culture-swathed neighbourhood in Europe. Here you can ponder your next international vacay over carefully crafted cocktails and bar snacks that'll have you stashing those keys and begging for a table to stay for dinner.
Iku
Burleigh Heads
Like to think you know a thing or two about specialty mixed drinks? Or even if you don't, a date with one of the best cocktail bars on the Gold Coast, headed by one of the city's (make that nation's) most talented bartenders, should be high on your list. Adam Bastow is legendary around these parts, as is his dimly-lit back bar and smooth velvet couch. Room for you and your gang, and then some; order one of Iku's weekly cocktail creations or whip out a request for Adam's top-secret clear espresso martini, and you'll be making plans to return before the night has even stepped into second gear.
Sparrow Eating House
Nobby Beach
If you don't know already, we are seriously head-over-heels in looovvee with Nobby Beach gem, Sparrow Eating House. While this darling wee restaurant is worthy of the whole kit and caboodle, aka drinks, dinner, desserts, the works… if you're just in the mood for fancy drinks with the girl crew, they've got you covered with some of the most drool-worthy cocktails in town. The luxe Flamingo Spritz or the boozy strawberry and basil margarita… um, we'll take two of each, please!
Mamasan
Broadbeach
Those pillowy, steamed Chinese baos stuffed with twice-cooked pork belly or soft-shell crab made them famous, but we're giving you another excuse to gather your squad on a Fri-YAY arvo. It's all in the name here: Mamasan, being the Japanese term for a woman of authority. Which means all your sassy lady bosses are welcome with open arms and carefully curated COCKtails such as the Lemongrass Gimlet or, our fave, the Lychee Elderflower Elixir.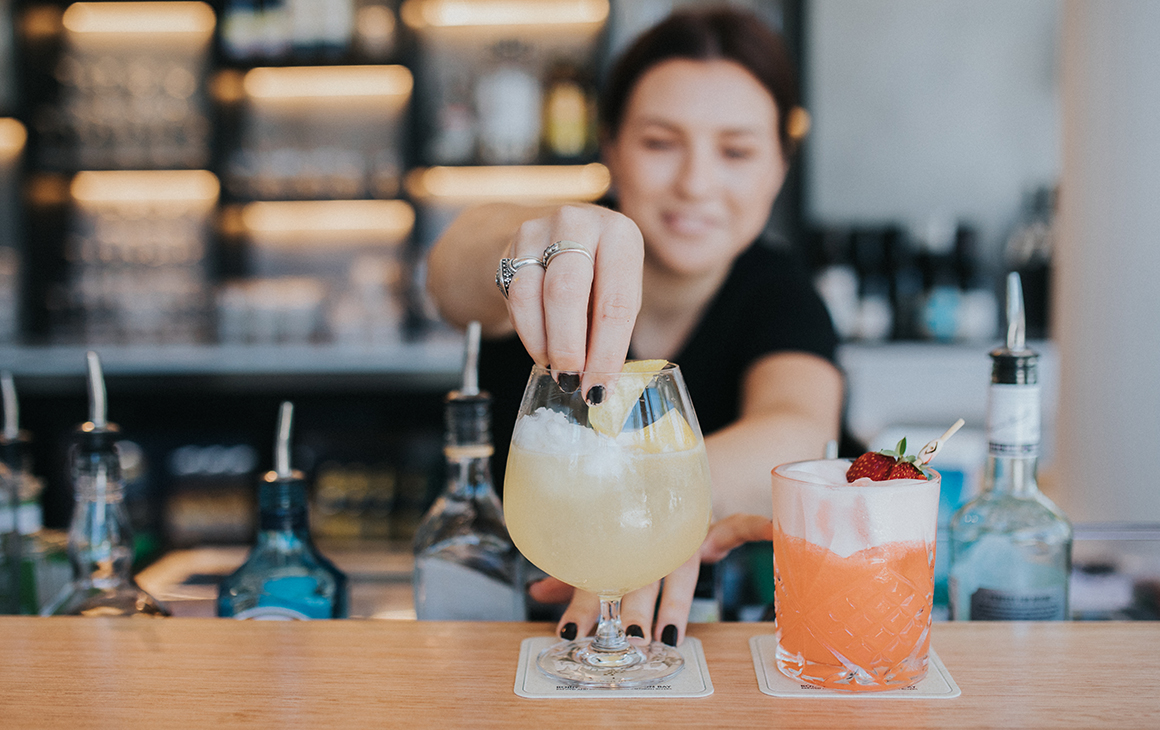 No Name Lane
Broadbeach
It may only be a new contender among the best bars on the Gold Coast for cocktails with the girls, but Broadbeach's No Name Lane got one very fine reason to lure you and your BFFs. $10 espresso martinis, all day, erryday! Need we say more? But let's be honest, you only need a couple of them before you're kissing sleep goodbye, so move onto delicious seasonal tapas and liquid creations like acai berry mojitos and coconut margaritas. Hola!
Tasca
Coolangatta
When Coolangatta's bustling shopping street dips into a semi-slumber come nightfall, you'd be forgiven for driving right past this tiny wine bar. Light flickering through the window at Tasca is like a moth to a flame, attracting savvy ladies in off the sidewalk for share plates and innovative cocktails, sipped while sinking into cosy booths— perfect for long overdue DMs and LOLs. Date night, ladies?
Mr P.P.'s Deli & Rooftop
Southport
Where do northern GC-dwelling girlfriends congregate on a Friday night when they wanna sip fruity drinks and squawk like a pack of happy chip-chasin' seagulls? Southport's reliable go-to—Mr P.P.'s Deli & Rooftop, if we're being specific. So, when is the best time to hit up the vibing little find that is Mr P.P.'s, you ask? Easy, that'd be 4pm to 6pm, Monday through Friday, when your cocktails are paired with $5 cheese and meat tasting plates! Or Sunday sessions… or anytime, really.
The Scottish Prince
Palm Beach
We all know Nobbys institution The Cambus Wallace is one of the OG best cocktail bars on the Gold Coast, but have you visited her younger sibling in Palm Beach, The Scottish Prince? If your First Mates don't need light and girly settings for a good time, step past the porthole and into one of the most atmospheric bars in town. Here, talented bartenders will teach you new ways to impress the lads (with your new-found whisky appreciation, that is) sipping cocktails like the stiff Rob Roy or the Betrayal and Mutiny in Manhattan (served with blue cheese!). Or, be safe and ask them to shake you a Kraken spiced rum espresso martini. Walk the Plant cheeseboard pairings essential.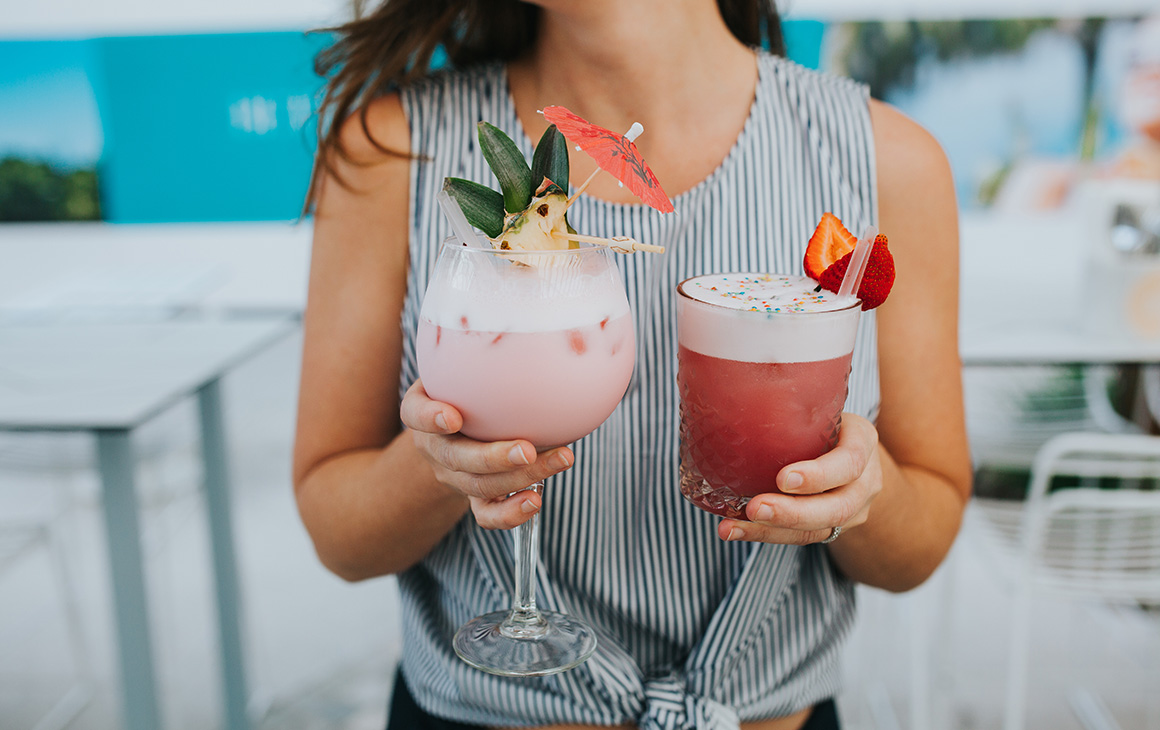 Comuna Cantina
Broadbeach
Shopping, cocktails and tacos platters are always a good idea, which is why we're crushing on this vibrant cantina at the grand entrance to Pacific Fair. Comuna Cantina's Insta-game is strong and we've been guilty of many a double tap; hence how they've coaxed us in for colourful cocktails, Nutella espresso martinis and shared cocktails served in a watermelon (we kid you not). These guys are open 'til late, seven days a week, for your post-work margaritas or pre-movie night buzz. If Instagram fodder is a top priority when searching for the best bars on the Gold Coast for cocktails with the girls, well, this is the place.
Justin Lane Establishment
Burleigh Heads
Justin Lane Establishment is the perfect destination to gather your beauties, frock up (or down), and give the working week the middle finger. With its sun-drenched rooftop and a swagger of so-hip-it-hurts male patrons, Justin Lane's much-loved rooftop is without question one of the best bars on the Gold Coast for cocktails with the girls. Our go-to? Justin's Passionfruit and Chilli Tommy's Margarita—please and thank you.
Baskk At Kirra Point
Coolangatta
Walk into a bar and picture everything in Insta-squares? Us too! Hence why Baskk's whimsical, natural-fibre lined décor gets us girls every damn time. Thirsty? Cocktails are everything, especially when you're in need of a quality catch up session with your gal pals. Fortunately, Baskk has designed their cocktail list with us ladies in mind, with the totally quaffable White Cosmo or amaze Crème Brulee Espresso Martini our Sunday session go-to.
Social Eating House
Broadbeach
If you've been coming to us for tips for a while now, you'll have likely picked up on the trend that we adore Social Eating House. Shakin' up one of the best espresso martinis on the Gold Coast (big call, we know), come for the cocktails and stay for the chef hat-quality, 1kg slow-cooked lamb roast. You can thank us later.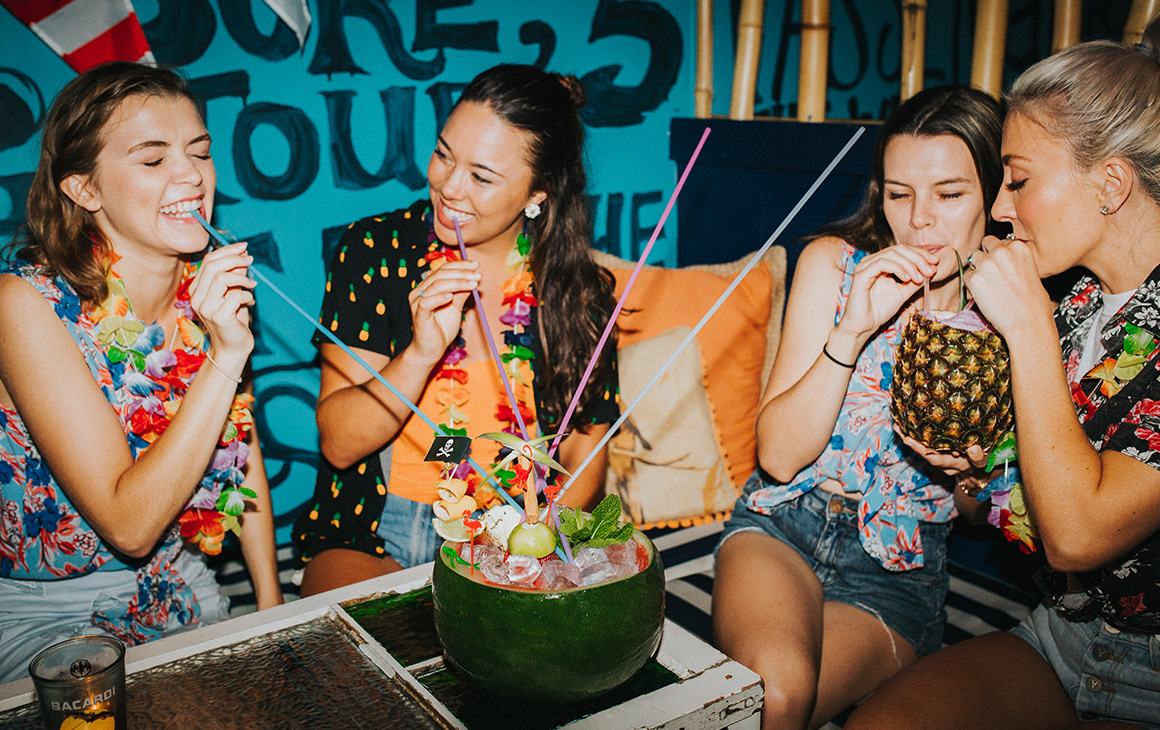 Aloha Bar & Dining
Broadbeach
What screams tiki good vibes, treasure chest shared drinks, and hollowed-pineapple cocktails? A girl's night, of course! Broadbeach's hidden away Aloha Bar and Dining could very well disappear out of your life as quickly as it appeared, so grab your girl squad and make tracks this weekend.
The Island Rooftop
Surfers Paradise
Adjoining boutique hotel, The Island, Gold Coast's biggest rooftop bar and sprawling alfresco patio, The Island Rooftop is bringing the cool back to Surfers Paradise's after-dark scene and is totally deserving of an afternoon hang out with your besties. With DJs, a retro-styled cocktail bar, ample seating and leafy nooks; Bliss Sunday sessions heat up the afternoons with DJs and live vocalists from 2pm.
The Collective Rooftop
Palm Beach
If frocking up and lounging around on Sundays, cocktail in hand, is the best way to spend an afternoon with your besties, well, The Collective Rooftop has is all. More share plate options than you can poke a fork at and Insta-worthy moments galore, sip on sangria, avocado margaritas or rose hip martinis as that flattering afternoon selfie-light floods in.
Garden Kitchen & Bar
Broadbeach
From Champagne Weekends to Sundays In The Garden, the list of themed events at Garden Kitchen & Bar is long and impressive. A vibrant addition to the culinary offerings at The Star Gold Coast, this indoor-outdoor venue is a total showstopper. Grab your best gal pals, snag a circle of beanbags, line up the cocktail jugs and live your best life at one of the coolest cocktail bars on the Gold Coast.

Worked your way through the best cocktail bars on the Gold Coast? How about a boozy long lunch next?
Image credit: Hayley Williamson for The Urban List