New Year, new you, new set of breakfast dishes to demolish. We're easing into 2018 the only way we know how, with copious amounts of scrumptious food at the forefront of our minds.
There's nothing quite like a complete Gold Coast breakfast round up to get those taste buds salivating and those weekend plans rolling. So, to help you and your breakfast buddies make the most of the next 12 months, we're spilling the deets on 18 delicious breakfasts you need to try in 2018. Cafe trail, anyone?
Dragonfly Waffle | Dragonfly
Broadbeach
Warning: You'll wanna Insta the shiz outta this brekkie. A new dining addition to Broadbeach, Dragonfly's signature Dragonfly Waffles (otherwise known as Hong Kong bubble waffles made with a condensed milk and vanilla custard batter) will make it hard for you to ever order anything else. Paired with a freakin' mini Magnum ice cream (yes, this is real life), seasonal berries, pistachio praline and then sprinkled with edible flowers, we're salivating just writing this one down.
Pork Belly Banh Mi Croissant | Bam Bam Bakehouse
Mermaid Beach
While we are still spinning at the news that Bam Bam Bakehouse is opening another bakery in Cinderah, where the baguette will take centre stage, we still can't get enough of all their variations of the humble croissant at Bam Bam. Flavour of the season is the Vietnamese-inspired Pork Belly Banh Mi Croissant with crispy slow-braised Bangalow pork, cucumber, pickled carrot and daikon, chilli, coriander and Sriracha mayo. Yes, it's as ridiculously good as it sounds.
Crumpets With Coconut Yoghurt | Substance Espresso
Runaway Bay
Northerners are still rejoicing at the arrival of Substance Espresso. Bringing smooth brews and even smoother vibes to Runaway Bay, we've been eyeing off their signature House Made Crumpets with coconut yoghurt, cacao nibs, berries and lemon curd. A cafe lovechild by the founders of legendary Daark Espresso and Siguenos food truck, we guarantee you'll be treated to some of the best breakfasts on the Gold Coast if cruising around the northern end.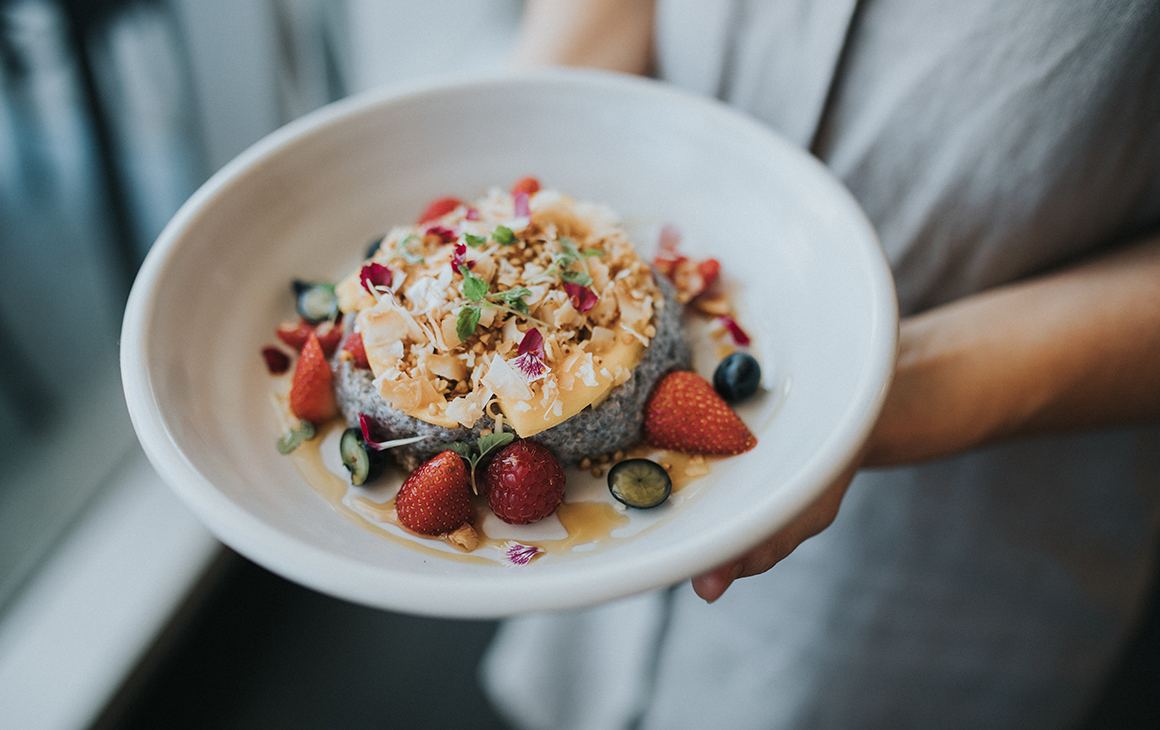 Coconut Soaked Chia | No Name Lane
Broadbeach
Other than the fact you've got to go check out No Name Lane's stellar revamp, we highly recommend sticking around to try their new summery Coconut Soaked Chia. Made even better with a rainbow of Queensland mango, strawberries, raspberries, buckwheat and coconut crumble (yep, we hear you!), organic maple drizzle and mint—this is the breakfast dish of champions.
Arroz Cubano | Barrio
Byron Bay
While you were busy getting festive in December, Byron Bay was welcoming a magnificent new Argentinian-inspired cafe slash restaurant, Barrio. Sure, it's not on the Gold Coast, but we all know a spontaneous Byron trip can occur at any time. We've got our eye on the intriguing Arroz Cubano (that's black bean mole, brown rice with a fried egg and banana, oh my), followed by a lust-filled stroll through the neighbouring designer boutiques that make up the impressive new Habitat complex. Get there in 2018.
Buckwheat Wraps | MiO Wraps
Various Weekend Markets
If you're yet to patiently line up for a MiO Wrap at weekend morning markets including The Village Markets, Palm Beach Currumbin Markets and Bundall Farmers Market, you're clearly missing out on one of the best street eat market stalls to grace the Coast. Enveloped in a warm buckwheat crispy seed wrap are fresh salads, proteins and sauces, with options for vegan, vegetarian and gluten-free eaters. Basically, you can't go wrong with whichever wrap you choose, but if we had to decide, we'd go the Tasmania smoked salmon.
Corn Char | Background (Barista)
Mermaid Beach
While we could order anything off the new Background (Barista) menu and die happy, currently we can't go past the Corn Char. Garnering legendary status where it was created (and served on a board) at sister cafe Barefoot (Barista), here you can expect corn with extra smokiness thanks to a new chargrill in the kitchen, plus Meredith goats cheese, avocado and two gooey poachies. A bucket list Gold Coast breakfast, right there.
Banana Brûlée Ricotta Pancakes | Pasture & Co.
Currumbin Valley
Sometimes it's about the journey and the destination. If you've forgotten how lush and lovely the GC's immediate hinterland is, or want to savour brekkie without the highway traffic noise, head west to Pasture & Co. in Currumbin Valley's EcoVillage. Breathe in, breathe out. Repeat. Our pick for breakfast? The amaze-balls Ricotta Pancakes with banana brûlée, berries, nut crumble and coconut yoghurt… So much yes…
Poke On Toast | Elk Espresso
Broadbeach
Choosing a favourite dish off the new-look Elk Espresso's insane breakfast menu is like choosing a favourite child. Mixing it up with every season, right now we're crushing hard on the Poke On Toast, with fresh AF mouthfuls of fresh Tasmania salmon, diced mango, coconut flakes, pomegranate and crème fraiche. Picture perrrfect!
Vegan Spelt Choc Chip Pancakes | Nude Sisters
Mermaid Waters
If you've made the bold commitment to go vegan in 2018, or are already well and truly on the wagon, you'll wanna beeline to Nude Sisters Wholefoods Kitchen in Mermaid Waters. Their gorgeous stack of Vegan Spelt Choc Chip Pancakes, topped with coconut ice cream, fruit, chocolate crumb and caramel sauce no less, will have you licking your plate clean.
Raw Salmon Poke Bowl | Borough (Barista)
Burleigh Heads
Poke Bowls exploded in popularity in 2017, which saw us gain a whopping four (or is it five?) dedicated poke bowl cafes here on the GC alone. But one of the best has got to be the Raw Salmon Poke Bowl from Burleigh's Borough (Barista). Served with wakame salad, edamame, avocado, kimchi pickled carrot, watermelon radish and brown rice, then loaded into an easy takeaway bowl to be devoured by the beach. Seriously, just look at it!
Philly Cheesesteak | Paddock Bakery
Miami
If breakfast is your biggest meal of the day, channel your inner caveman with a brekkie (or lunch) feast at Paddock Bakery. We're talking about the Philly Cheesesteak, think: one house-baked wood-fired semi-sourdough olive oil roll (wow, that's a mouthful already), stuffed with thinly sliced steak, Swiss brown mushrooms, melted Provolone cheese, green peppers and some fiery jalapenos for good measure. Phwoar!
Matcha Pancakes | Meraki Whole Food Kitchen
Chirn Park
For those among us who aren't already sweet enough, the Matcha Pancakes at Meraki Whole Food Kitchen will take you to your happy place. Vegan-friendly, topped with seasonal fruit and indeed very green, put this on your breakfast hit list and make it happen!
Breakfast Buddha Bowl | Corganics Cafe & Grocer
Mermaid Beach
Keeping inline with your New Year, new you mantra, Mermaid Beach's (also new) Corganics will satisfy your hunger for wholesome goodness including, our pick, the Breakfast Buddha Bowl. Dairy free and gluten free, it's loaded with roast pumpkin, sliced avo, broccoli, Moroccan spiced hummus, poached egg, sautéed mushrooms, kale and a chilli turmeric dressing. Basically, whatever you choose off the 100% organic menu, you'll walk away guilt free.
Chilli Chicken Quinoa Bowl | Raw Energy
Burleigh Heads & Coolangatta
If you're quickly turning into a walking acai bowl, but are still on a mission to stay healthy this year, RAW Energy, with locations in both Burleigh and Coolangatta, have added a swag of nourishing bowls to their menu, available allll day. If you ask us, we'd head straight for the Chilli Chicken Quinoa Bowl with roast veggie and Labneh.
Southern Fried Chicken Eggs Benedict | Koi Dining & Lounge
Broadbeach
If you're an eggs benny fanatic, you'd already know that long-standing local fave, Koi Dining in Broadbeach, has a whopping six variations on the menu. If you don't have time to work your way through the whole list, the Crispy Southern Fried Chicken Eggs Benedict with spinach, smoky chipotle hollandaise (yum!) and herbed slaw is seriously good.
Anything On The Menu | Hymn
Tweed Heads
If you're scratching your head about this one, you're not alone. A brand spanking newbie in 2018, Hymn is a new barista bar and cafe throwing some much-sought after cool in the direction of Tweed Heads. We can vouch that anything you order will be delicious, but if you only visit once, make it the Here Fishy Fishy with gin-cured salmon, poached eggs, walnuts and potato salad (oh, and the Hawker Roll with homemade roti and condensed milk mayo for your brunch date).
Consider yourself a breakfast boss? Have you ticked off our ultimate guide to Gold Coast's best cafes?
Image credit: Hayley Williamson for The Urban List