Everyone's hankering to get outdoors right now, and Melburnians will take it any way it comes. Even if it means taking up a new hobbie like kayaking.
There are a few good spots to go kayaking in Melbourne. Some are obviously BYO boat, but there are some operators that can help you out.
Here are the best kayaking spots Victoria has to offer in 2022:
Editors note: due to current COVID access to kayak activities may be impacted. please check ahead that the destination is in operation.
Lake Elizabeth
Tucked away in the sublime Otway Ranges, this one's best accessed via a tour with Otway Eco Tours. Here, you'll head out on a canoe or two, passing through the forest and often spotting koalas up above in the tree line. The scenery should do the selling point here, but if you still need some convincing, Otway Eco Tours have a 95% strike rate of seeing platypus, and they've been operating for around 18 years now—safe to say the odds are in your favour.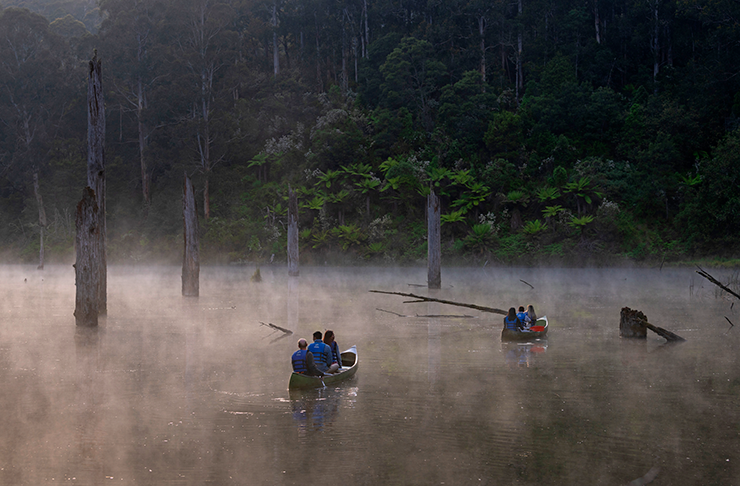 Williamstown
Williamstown is a great spot if you're learning the kayak ropes. The bay waves are usually pretty minimal, there's easy access from either the back beach or marina foreshore, and the prospect of fish and chips on the pier makes all the shoulder agony worth it. Either paddle around Point Gellibrand, or hook a left and head up the Yarra mouth to Fisherman's Bend. You can also spot dolphins, cormorants and boat wrecks, if you take the right routes.

Hands down one of the best kayaking spots Melbourne's waterways can offer you.
The Lower Yarra
Depending on the weather, kayaking the Yarra can either be a picturesque dream trip or a drizzly nightmare. Wait for a crisp day, grab the kayak, and head down to the Botanic Gardens landing near Morell Bridge (the rowing sheds near the city are technically for rowboats). It's best to paddle up towards Herring Island, but you can explore down to Docklands as well. Just make sure you follow Parks Victoria's rules and advice re 'recreational boating'. And no, floating down the Yarra in an inflatable flamingo with a beer does not count as 'boating'.
This one almost always makes best kayaking Victoria lists, so get there early if you're hoping to avoid the crowds.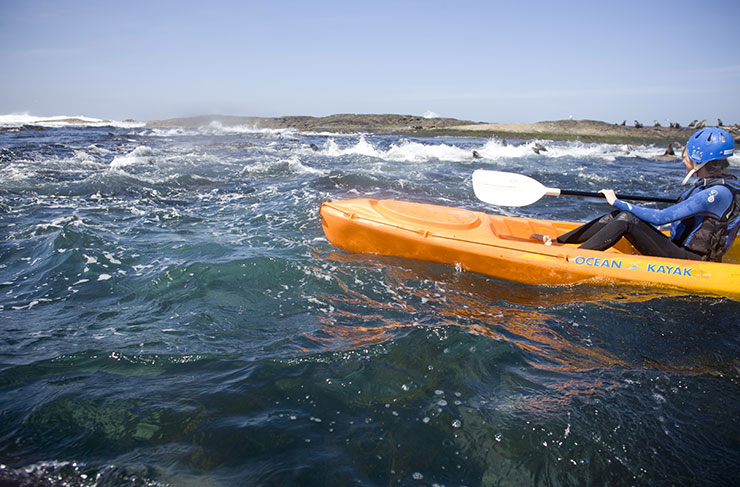 Apollo Bay
If you're looking for one of the best kayaking spots in Victoria, either strap the kayak to the roof rack (or hire one from these guys)—Apollo Bay makes a fantastic kayak spot on the Great Ocean Road. Why? Because this is where you'll find the Marengo Marine Sanctuary. Paddle out to this spot, a couple of hundred metres off the shore, in Mounts Bay, and check out the local colony of fur seals. Mostly they just lie around sunning themselves and smelling of fish, but sometimes they'll get curious and say hello. Finish up with a scallop pie at the Apollo Bay Bakery.
Gardiners Creek
So this one's really only available after a big rain. And we're specifically talking about the stretch between Warrigal Road and Burke Road. It's a cute little stretch, Gardiners Creek, but the water levels need to be up to make the most of it. There are half a dozen interesting weirs and little eddies, but it's still a good paddle for a relative kayak newbie. Just be aware, like the Yarra, that Gardiners Creek is basically a big drain for the eastern 'burbs. Anything can end up in there. If there's a big patch of rain forecast, wait a day or two so most of the rubbish has flushed through. You'll get a nice paddle.
Warrandyte
One of the hottest suburbs in outer Melbourne has more than lush leafy surroundings as a drawcard. The long-snaking Warrandyte river is a favourite amongst the Kayaking community and provides a nice level up from beginner-friendly passages with a few quick flowing sections. The route also provides an escape from the scenes of the city whilst only being around 30-40 minutes away; making it a hot choice for a quick paddle up the river. Hotly contested as one of the best kayaking spots in Victoria.
Lower Glenelg National Park
Okay so 'near Melbourne' is a stretch for this one (any further west and you'd be in Adelaide), but we promise the drive is worth it if you're looking for the best kayaking spots Victoria has. If only for a very specific stretch of the Lower Glenelg River, better known as the Glenelg Cliffs. This is a pretty spectacular 75km stretch—inky black waters surrounded by towering limestone cliffs and dotted scrub. It runs pretty much from Dartmoor to Nelson. While you're there, you should definitely check out the Princess Margaret Cave. Check out this page for info on campsites.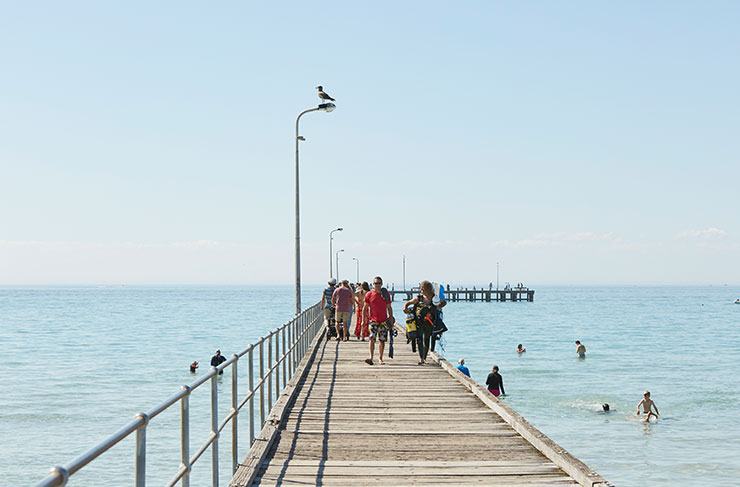 Mornington Peninsula
There's kind of two ways you can go on the Mornington Peninsula: back beach and front beach. We recommend the front—it's less dangerous, you don't have to paddle so hard, and there's less chance you'll get abducted by aliens ala Harold Holt. So where should you paddle? Sorrento front beach is a good place to start—head west and drop anchor on the secluded Shelley Beach (good spot for a beach picnic). Alternatively, you can head out to the Point Nepean National Park. There's a good chance you'll spot seals, penguins and dolphins out here. It probably goes without saying, but please don't kayak across The Rip. Check out these guys for gear hire.
Snowy River National Park
If you want rapids, the Snowy River might be your best bet. Obviously this one's for experienced kayakers (or people doing tours, like this one). The Snowy River National Park is just past Buchan, north of Lakes Entrance. A bit of a hike, but worth it if you're after Victoria's best kayaking. The best kayaking spots are probably from McKillops Bridge to Balley Hooley, near the Buchan River junction. The rapids range from Grade 1 – 3, and there's a bunch of good campsites on the banks and sandbars.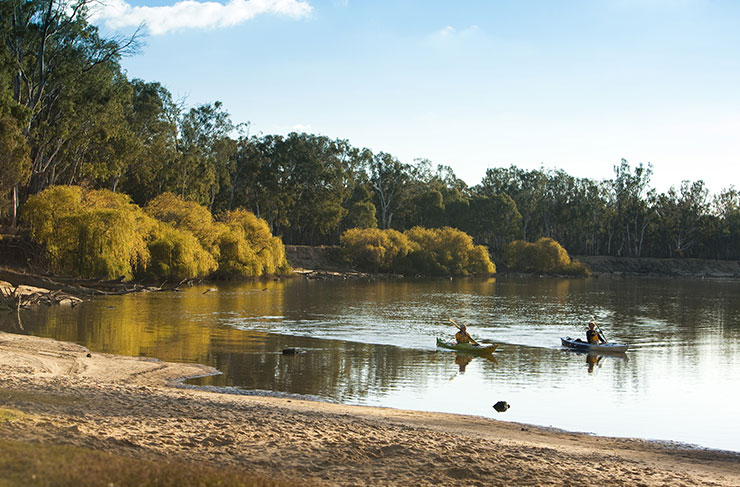 Gunbower National Park
One that tops almost every best kayaking Victoria lists, Gunbower is all about wetlands, rivers and billabongs, which makes it paradise for kayakers and birdwatchers (bird-watching kayakers will have an extremely good time). You'll find it on one of the bends in the Murray River, about 250 clicks north of Melbourne. The bit you want here is the Gunbower Island Canoe Trail, which runs along the creek. It should take you around two hours to do the return trip, and you'll spot a tonne of native wildlife along the way. If you don't have your own, keep an eye out for tour companies and kayak hire.
Lake Nagambie
Another spot that can't be left out of a best kayaking Victoria list is Lake Nagambie. You'll want at least a full day up your sleeve to tick this one off, but the scenery makes it all the worthwhile. Unless you're heading up here on a stormy winter's day—and why would you—the waters are going to be fairly calm. There's plenty of wildlife you'll likely spot, and the best part, there are an abundance of breweries and wineries around the area for a drink once you're done with the boats—check out our guide to the region and beyond here.
Barwon Heads
Barwon Heads is probably more famous for stand-up paddleboards, but it's also a beautiful spot to kayak, particularly in summer, when the tides are out and the water's sparkling. Paddle Life hire out kayaks and paddleboards right on the beach, or you can obviously bring your own gear. It's easy enough to just paddle around the estuary, but you can also make headway up the Baron. The river is kayak-able (not sure if that's a word) all the way to Inverleigh, although there are rocky stretches and weirs along the way. You'll also need to stop when you reach the lower breakwater Lake Connewarre. This site's got some handy tips if you want specifics.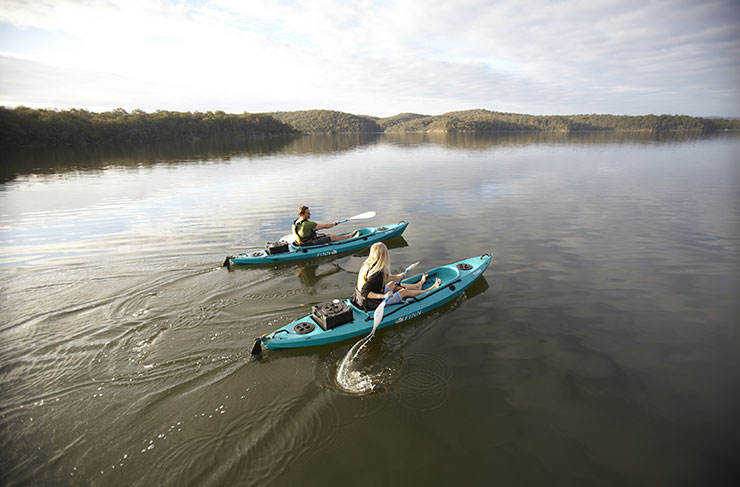 Gippsland Lakes
There are literally hundreds of good spots to kayak in the Gippsland Lakes district, but around Lakes Entrance and 90-mile beach is generally pretty popular. Gear hire companies like Venture Out are all over the place, so there's no need to bring your own stuff. The best access points for beginners are probably Blonde Bay, the Lakes National Park at Loch Sport, and Lake Wellington (you might need a 4WD for Lake Wellington though—the roads around there can be a bit dodgy). The Lakes National Park is way more accessible for normal cars.
If you prefer to keep your feet on the ground, here are 10 amazing walks near Melbourne you should check out.
Image credit: Visit Victoria