There's an alarming misconception among meat-eaters out there that vegetarian food has to be boring – think flavourless plates of lentils, bland steamed vegetables and tofu with the texture of a damp sponge. Think again. Melbourne rivals world-leading cities like San Francisco in its number and quality of vegetarian eateries. Here, you can indulge in anything from meat-free fine dining (Vue de Monde offers a vegetarian version of its famous degustation menu), to the burgers, 'chicken' nuggets and hot dogs that have made Lord of the Fries such a smash hit. Whether you are a vegetarian, planning on dining with one, or just want to impress one, here's The Urban List's round up of some of Melbourne's best vegetarian dishes.
GNOCCHI GORGONZOLA I THE CELLAR BAR
Want to please a carnivore in your life? Take them to Guy Grossi's Grossi Florentino Grill, which occupies most of his imposing Bourke Street façade, where they can gorge themselves on prime cuts of meat to their heart's content.

But for the best vegetarian meal in the house, head next door to Grossi's more affordable Cellar Bar, which boasts a stellar wine list and excellent desserts. There's a surprising number of meat-free options, but it's impossible to go past the gnocchi gorgonzola. The pasta literally melts in your mouth – just the way your best friend's Italian nonna makes it – while the gorgonzola sauce is creamy, textured and served with the perfect amount of consistency. The waiters will offer parmesan; nod your head to create possibly Melbourne's best cheese-lovers delight.

The Cellar Bar I 80 Bourke Street in city

TYRI SAGANAKI | HELLENIC REPUBLIC
The ubiquitous (not that we're complaining!) George Calombaris has contributed plenty to the city's culinary landscape since opening The Press Club back in 2006. To those that only know his TV work, he's best known as MasterChef's overly earnest judge. To anyone that's dined at his East Brunswick tavern, Hellenic Republic, he's the man responsible for this mouth-watering dish.

Trays of the signature dish emerge from Hellenic's open-plan kitchen with military-type precision; many tables order seconds and thirds. There's no secret to it – the generous wedge of Kefalograviera cheese is soft and it's topped with a handful of peppered baby figs, the flavour of which oozes over the cheese. Calombaris himself describes it as sweet, salty and peppery all in one. We describe it as damn delicious.

Hellenic Republic I 434 Lygon Street in East Brunswick



Tyri saganaki at Hellenic Republic. Image Credit: Facebook.

MARGHERITA PIZZA | LADRO
Artisan pizza restaurant, Ladro (Gertrude Street, Fitzroy and Greville Street, Prahran) is widely regarded as having the best pizzas in Melbourne. It's hard to argue the claim, but what we do know for sure is that once you've enjoyed Ladro's margherita, you'll be returning.

Cooked in a wood fire oven and topped with tomato, bufala and basil, the pizza bursts with flavour and freshness. There are always other veg-friendly options on the ever-changing menu, but it's hard to go past the simplicity of the margherita.

Ladro I 224 Gertrude Street in Fitzroy and 162 Greville Street in Prahran
'MEAT' PIE | LA PANELLA BAKERY
This unassuming Preston bakery has been churning out meat-free fare for years, but you'd barely know it if you walked past. La Panella's range of pies and sausage rolls – available hot or cold – look like the real deal, so much so that the meat eaters in your life may not even be able to tell the difference. The bakery's pies are stocked in a number of cafes around town, but they're cheaper at the store where they are sold alongside vegan-friendly bread and cakes. Soy mince and gravy ooze out from the first bite, so take a napkin – or four.

La Panella I 465 High Street in Preston

VEG OUT BURGER | THE BEER & BURGER LOUNGE
From the outside, Swan Street's Beer & Burger Lounge doesn't appear overly vegetarian-friendly. Maybe it's the hordes of pre-football crowds that pack in on Friday and Saturday nights – the lounge is a couple of drop punts from the MCG – or maybe it's the menu proudly spruiking its fish, chicken, salmon and beef burgers. But to the lucky few that can score a table during peak periods, you'll be pleasantly surprised with the vegetarian options. A mainstay on the menu is the Veg Out burger – a soft and crumbly homemade patty topped with haloumi cheese, fresh tomato and lettuce and served on an olive Ciabatta bun. Meat-free side dishes include crumbed jalapeños, wild olives and onion rings, and meals arrive quickly so you won't miss the opening bounce.

The Beer & Burger Lounge I 112 Swan Street in Richmond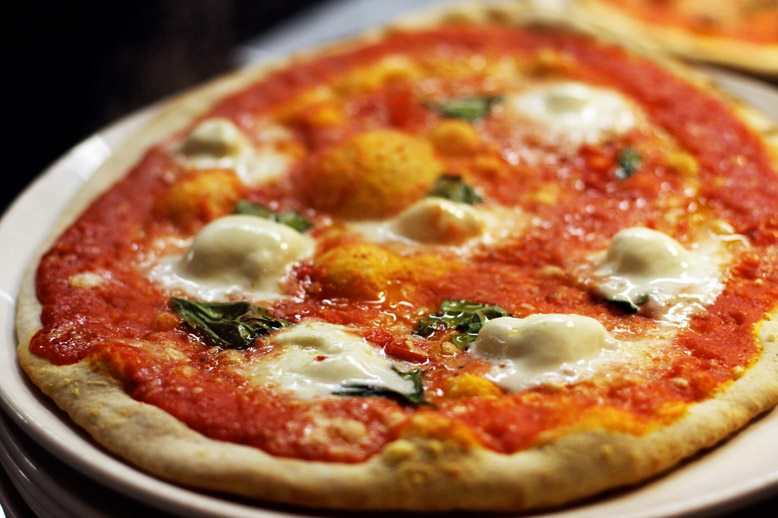 Mouth watering Margherita Pizza at Ladro. Image Credit: Facebook.

LEGENDARY SATAY SHAKAHARI | SHAKAHARI
For more than 30 years, Shakahari has served nutritious, all-vegetarian East-West cuisine from its gorgeous Carlton restaurant. The small but carefully crafted menu has a range of Indian, Chinese and Thai-inspired dishes – think plenty of papaya, brown rice, noodles and spices. The most popular item on the menu is the 'Legendary Satay Shakahari' – deep fried skewers of beancurd, seitan, onion and capsicum. The generous skewers come drizzled with an addictive peanut sauce, with rice and greens on the side. Make sure you leave room for dessert – regulars swear by the tofu caramel.

Shakahari I 201-203 Faraday Street in Carlton

KOREAN BBQ | YONG GREEN FOOD
It's fair to say vegetarians have differing opinions on mock meat. Some love tucking into a meat-free chicken burger or hot dog, while others keep a wide berth. Brunswick Street's Yong Green Food has been doing its thing – vegetarian, vegan, organic and raw – for a few years now and somewhat surprisingly, its mock meat offerings are among the menu's highlights.

Diners can choose from vegetarian teriyaki chicken, kingfish or tuna, but our pick is the Korean BBQ (marinated soy beef, served with biodynamic brown rice and kimchi). Factor in some of the friendliest service in Melbourne, reasonable prices and a great range of house-made smoothies, and you'll be deciding what you're going to order on your next visit.

Yong Green Food I 421 Brunswick Street in Fitzroy
DIM SIMS | VEGIE BAR
Dining out with somebody that's a little apprehensive about the wonders of vegetarian food? The golden rule: always choose the Vegie Bar. The Fitzroy institution has a cheap, cheerful and expansive menu full of things like pizzas, burgers and curries, all accessible enough to please a crowd. Many entrees have an Asian influence and top of the pick is the dim sims: tiny parcels of grilled vegetables wrapped in round, soft pastry and accompanied by dipping sauce.

Vegie Bar I 380 Brunswick Street in Fitzroy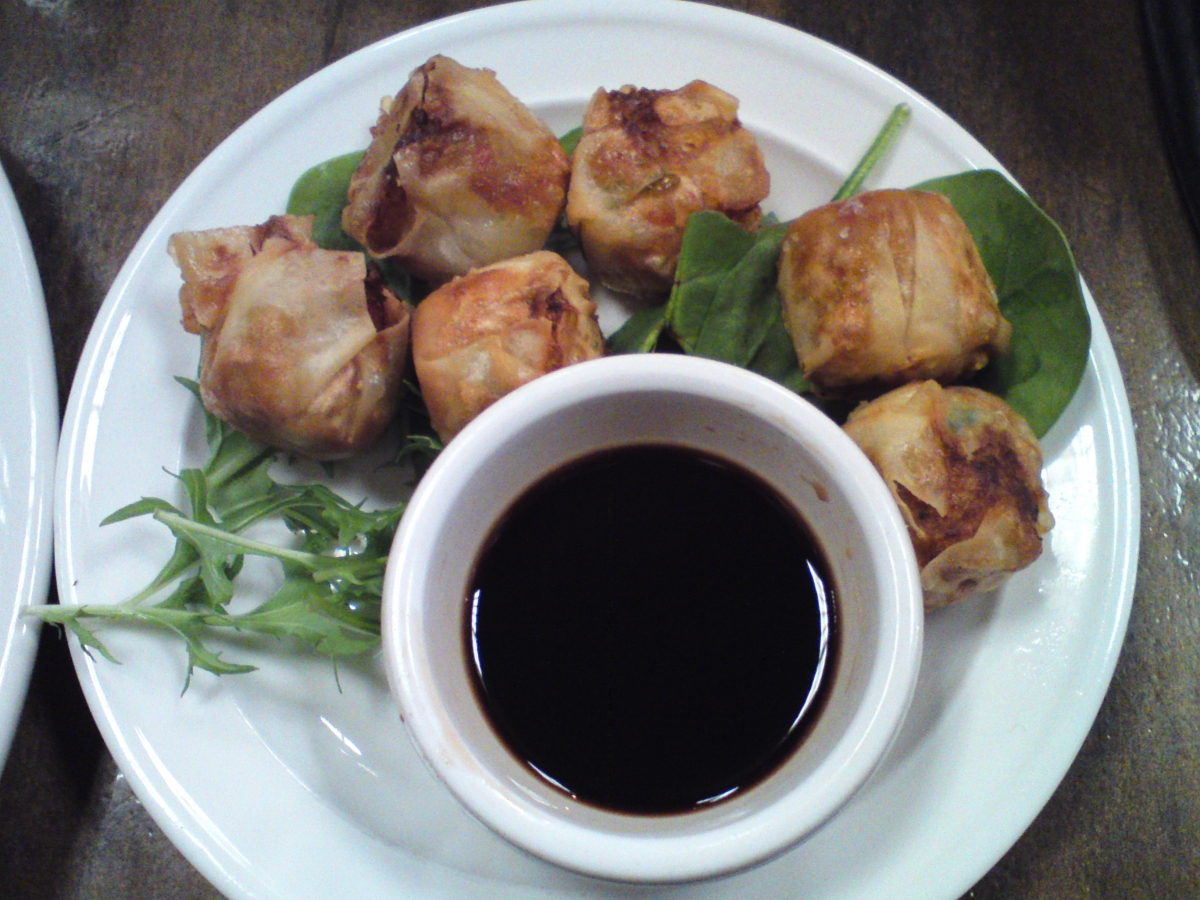 Dim sims at Vegie Bar: Image Credit: Foodrehab.com.au.

BREAKFAST BURRITO | TRIPPY TACO
We could have chosen almost any item from Trippy Taco's all-vegetarian/vegan menu. The cantina is so popular with inner-city hipsters, it moved from its original Smith Street digs to a larger space on Gertrude Street in 2011. It's not hard to understand Trippy's appeal: no frills, fresh Mexican backed by cool soundtracks and accompanied by a fridge full of beer.

Get there early to cure your hangover with the Breakfast Burrito: a tortilla filled with free range scrambled eggs, salsa and plenty of melted cheese. Salad and beans are optional extras, and vegans can swap the eggs for scrambled tofu.

Trippy Taco I 234 Gertrude Street in Fitzroy

TOFU BURGER | TOFWD
The thing with most tofu burgers around town is that they come in the same white bun smothered with cheese as their meat-filled counterparts. It's all well and good when you're in the mood for one, but what about a guilt-free alternative? Enter TOFWD (The Organic Food and Wine Deli) and its spin on a tofu burger. A grilled, marinated slab of tofu is served between two toasted pieces of wholegrain bread, accompanied by salad and homemade tomato chutney. The store also sells take-home vegetarian meals including vegetable and lentil curries and a delicious spelt pasta with tofu Bolognese.

TOFWD (The Organic Food and Wine Deli) I 28 Degraves Street in city
Editor's note: Looking for a restaurant that does a whole variety of great vegetarian food? ere's a link to our round-up of Melbourne's 11 best restaurants for vegetarians. If you're looking for completely animal-free dining, we've also covered Melbourne's best vegan.
Main Image Credit: Pinterest