The Queen Victoria Market, or the Vic Market for locals, is arguably the most iconic fresh produce and shopping market in Melbourne. Spread-eagled over several city blocks and boasting over 600 retailers, it has everything - from fruit and vegetables, to imported gourmet goods, candles, knick knacks, clothes and liquor - even woolen seat-cover specialists get a stall here.
Not only is the sheer size of the Vic Market overwhelming, you'll also have to contend with shrieking vendors arguing over whose avocados are bigger, early risers haggling over the leanest cut of meat, massive queues, glorious smells, and the emotional distress of wanting to eat every borek from every stall. You'd be mad only going once; a few times are needed to even see every stall and decide on the quality of their wares, let alone purchase anything.
To make popping your Vic Market cherry a little more palatable, we've put together a hit list of market faves, and pinpointed exactly which Vic Market stall does each best (in our humble opinion). Also, we've included a few little foodie treats, so next time you go you'll be fed like a Vic Market connoisseur.
Beautiful blooms at Joe Leuzzi Flowers. Image Credit: Queen Victoria Market.
FLOWERS
It's just as nice buying flowers for yourself as it is for someone else, and when you smell Joe Leuzzi's magnolia blossoms amongst the sugar and spices of the market, you won't be able to help yourself. His shop is located amongst the organic produce in the Therry Street Kiosk and stocks a whole heap of local and imported blooms. You can pick up a bunch or arrange some yourself, or perhaps buy a solitary stem for a little pick me up.
Therry Street Kiosk
03 9328 8922
CHEESE
If you like your cheese like you like your men – French, imported and oh-so-tasty – then the iconic French Shop is your place to get it. Not only are their imported goods a sensory delight, it's probably the best place in Melbourne to get terrines, pâtés and of course, cheese. If it's been there for over 20 years, they must be doing something right.
Shop 1-2, Deli Hall
0419 347 631
WINE
When you go to Vic Market, it's pretty easy to fall victim to 'same stall' syndrome, where everything just looks the same, so you give up and go to the closest one - missing hidden gems! Should you be in the market for grape juice, once such gem is ReWine - they bring their barrels on site and pour straight from barrel to bottle for you. All are available to taste before purchase. *Hic*.
Stall 92, A Shed
0412 588 440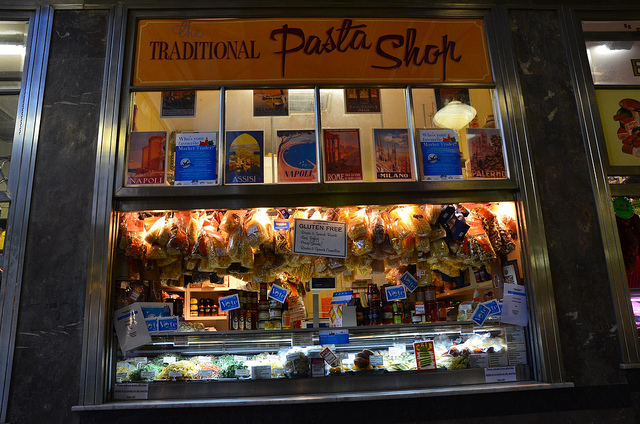 Stock up the Melbourne's best pasta at The Traditional Pasta Shop. Image Credit: Flickr.
PASTA
Nonna's back! If you don't have time (and let's admit, who has the time these days) to sit in the kitchen for three hours stuffing ravioli, the Traditional Pasta Shop's fresh homemade pastas are to-die-for. Like all things good and homemade, they come in a variety of flavours you certainly won't see on the shelf at Woolworths - like pumpkin and poppyseed fettucine and ravioli stuffed with gorgonzola and fresh figs.
Shop 3-4, Deli Hall
0424 868 459
GIFTS
Though sometimes it is easier to pop into The Body Shop for soap and smell-goods, family owned PETAL should entice you to travel a little bit further. Free from chemicals, sulphates and animal products, their oils, facial mists, body creams and soaps are heaven sent.
Sat: Stall 91-92, K Shed | Sun: Stall 5-6, Rear K Shed
0457 329 966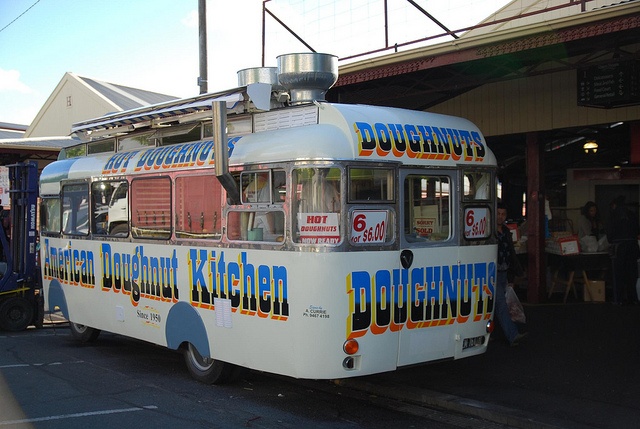 The legendary American Doughnut Kitchen. Image Credit: Flickr.
FOODIE FAVOURITES
Jam Doughnuts
The American Donut Kitchen at the Vic Market is the stuff of legends. This 50s style food truck pumps out those jam filled balls of hot dough like they're going out of fashion. Though there's always a queue, make sure you get 6 little bite-sized bliss balls for only $6 – they'll give you the energy to tackle the market.
Queen Street
03 9417 6415 | 0412 224 083
Boreks
Even though they're not a secret, the boreks are still the best thing about the Vic Market. Pan-fried flat bread stuffed with herbs, spinach lamb and fresh yoghurt, try your hand at any of the stalls that vend them (you just can't go wrong) for only $3. That said, we can't go past the Borek Stall – mmm mmm!
Shop 95, Deli Hall
Secret Layer Dip
Second to boreks on the scale of deliciousness comes the secret layer dip. In the deli section of the market, there are a few places that will have this three-layer dip parading about in its glory on their benches (we get ours from Dianne's Delights). It's spicy capsicum and cashew on the bottom, mascarpone in the middle, and a spinach and basil pesto on top. Buy a loaf of Turkish from one of the bakeries and a secret layer dip and you've got Saturday afternoon sorted.
Shop 43-46, Dairy Hall
[token node gallery]
Gallery Image Credits: QVM Website and Sir and M' Lady Dine Out