Reaching bold new heights, the timeless pastime of running became all the rage during Victoria's lengthy lockdowns. Securely confined to the 5km radius, it was almost the perfect formula for novice joggers, limiting the obligatory sense that you don't need to punch out double digits km's straight out of the gates.
Fast forward to now and running is still turning heads, filling the gram, and clothing the streets, as internet speak goes—it's having a real moment. A pivotal component of the new running wave is the run club, a collection of like-minded people who run together and then hang out over a beer or a morning coffee. This new social-centric aspect of the lone pursuit has been another key to the rise of running, but where did they all come from and why on earth would you want to talk while you're running?
To get a read on the ins and outs of the scene, we're checking in with Melbourne's running royalty, who are letting us in on the secret sauce, that is, run clubs.
George Wintle
Ate Miles Run Club Founder |

Attica Sous Chef

Ate Miles is the latest run club to ingratiate itself in the Melbourne running community. George Wintle, founder of Ate Miles who also doubles as the sous-chef at the world-famous Attica developed the idea for a running community centred around Melburnians working in hospitality.

"I was trying to find structure in an industry that really lacks it," says Wintle.

George found running like many during COVID, it was the routine that impacted George the most, "it's helped my mental health ten-fold and I wanted to create a community that really fosters that positivity".

The Ate Miles run club meets every fortnight on a Wednesday morning at 7am out front of the Nico's Fitzroy store. From there, the crew make their way to Carlton Gardens where they cut two laps at a sociable 6-minute per kilometre pace.

There's a strict open-door policy to Ate Miles, George explains, "we really wanted a wide array of people joining, we don't want anyone to feel intimated because of gender or running ability".

After the run, there's banter over coffee back at Nico's and even a sanga for those looking to re-establish those spent carbohydrates. Find out more about Ate Miles here.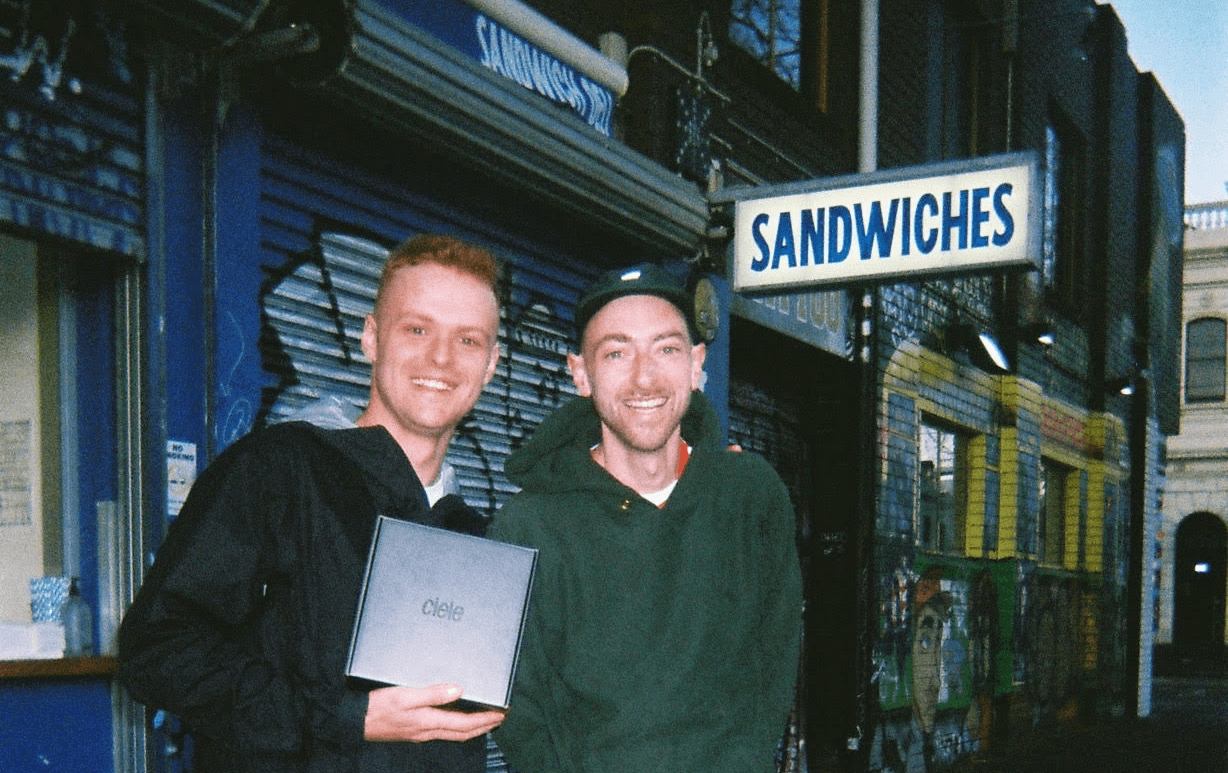 Kevin Cruz
AM:PM RC Member | Satisfy Running Ambassador | UpThere Alumni
Kevin was like many a Melburnian, caught the running bug in the first Melbourne lockdown and took to it like a duck to water.
"It was just one day, I had a pair of runners in my closet, I picked them up and decided to go for like 3-5km rum," said Kevin.
Since then, running has become a mainstay of his life, kicking off his career with a serious bang, "I jumped the gun, man, I went straight to the ultra marathon and did 60km," Kevin laughs.
Now a current ambassador for Satisfy Running and proud member of one of the original and longest-running clubs in Melbourne AM:PM RC, he describes what drew him to the collective "I just needed to run with other runners, and I remember after the first run everyone was so welcoming and supportive, asking how I found it, it just feels like a big community."
"Anyone is welcome, we can invite friends, family, work colleagues, anyone that wants to start running with people around them."
Kevin found his home at AM:PM after his first run with the crew, "I remember being really nervous because I hadn't met anyone, but everyone was so welcoming, people asked me how I found them and how long I'd been running for, they all just really opened up to me." says Kevin.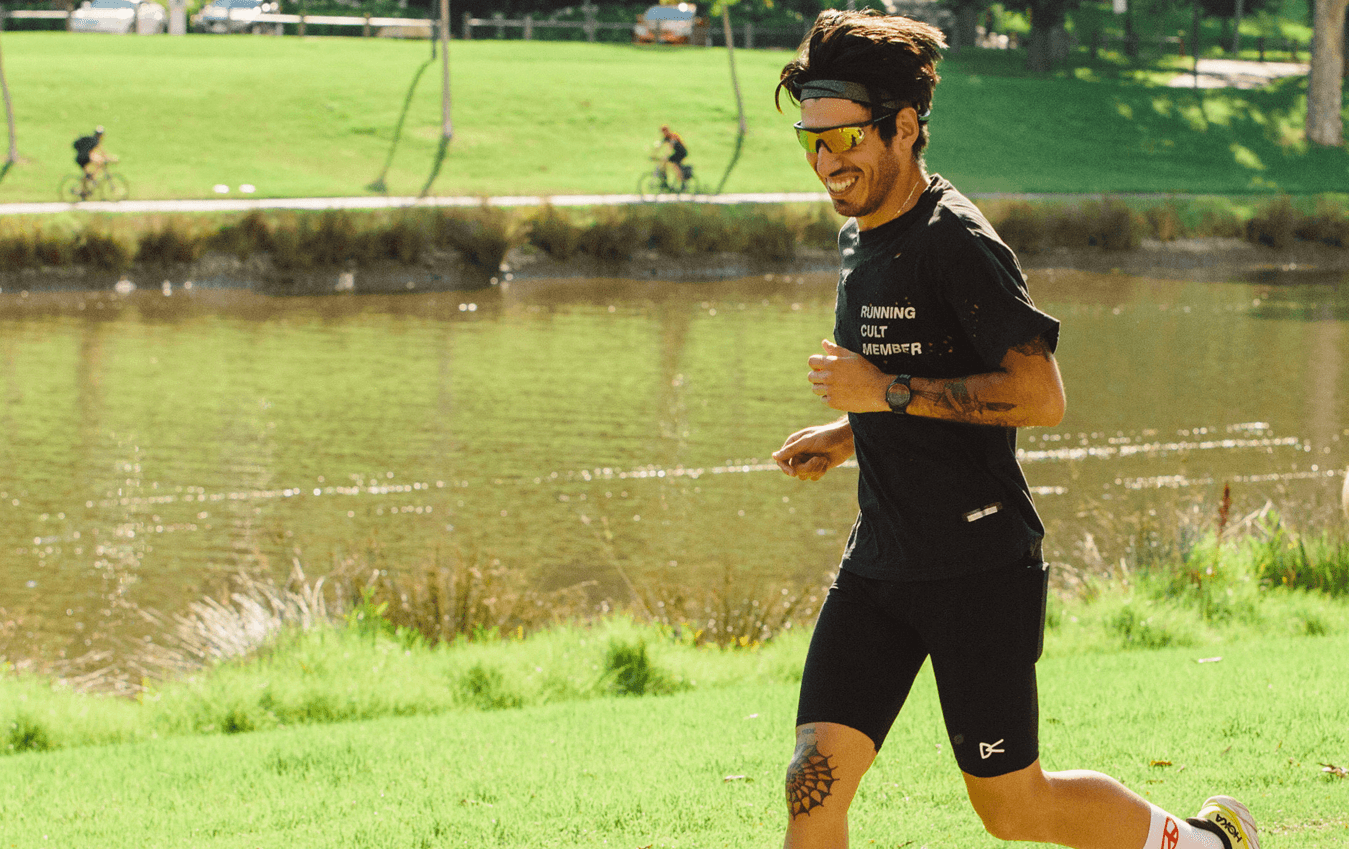 Brit De Groot
Founder Flow-State, Co-Founder Femmi-Run, AM:PM RC Member
Brit is another runner who picked up the craft in lockdown, fast forward two years later and now she's entrenched in Melbourne's run community.
"I used to actually really hate running, I've always been a team sports person," said Brit, which provides an insight into her commitment for run clubs, in which she is a member of AM:PM RC as well as the founder and co-founder for two all-female clubs, Femmi Run Community, Flow State and a dabbling member of NTHSide Collective.
"I'm kind of the run club queen of Melbourne," Brit joked.
The team aspect of running clubs was the main driver in Brit's journey. "It's a solo sport, so I was looking for something that pulled everyone together, I didn't have a lot of experience, I didn't know people even ran in crews, and what hooked me was just the comradery and pulling each other along".
There's something for everyone in the run club community, Brit explains how they differentiate, "all-female run crews are just a really different vibe, if you heard all of the girls running on a Friday morning, you'd be like what on earth is that noise, it's just a big gossip session."
It's a come one, come all scenario at Femmi and Flow State where Brit caters the pace and intensity for newcomers, it's a more informal club where people are there to connect, and more of a social aspect.
"I'm very conscious of that feeling of being slow, as someone that has felt that way sometimes."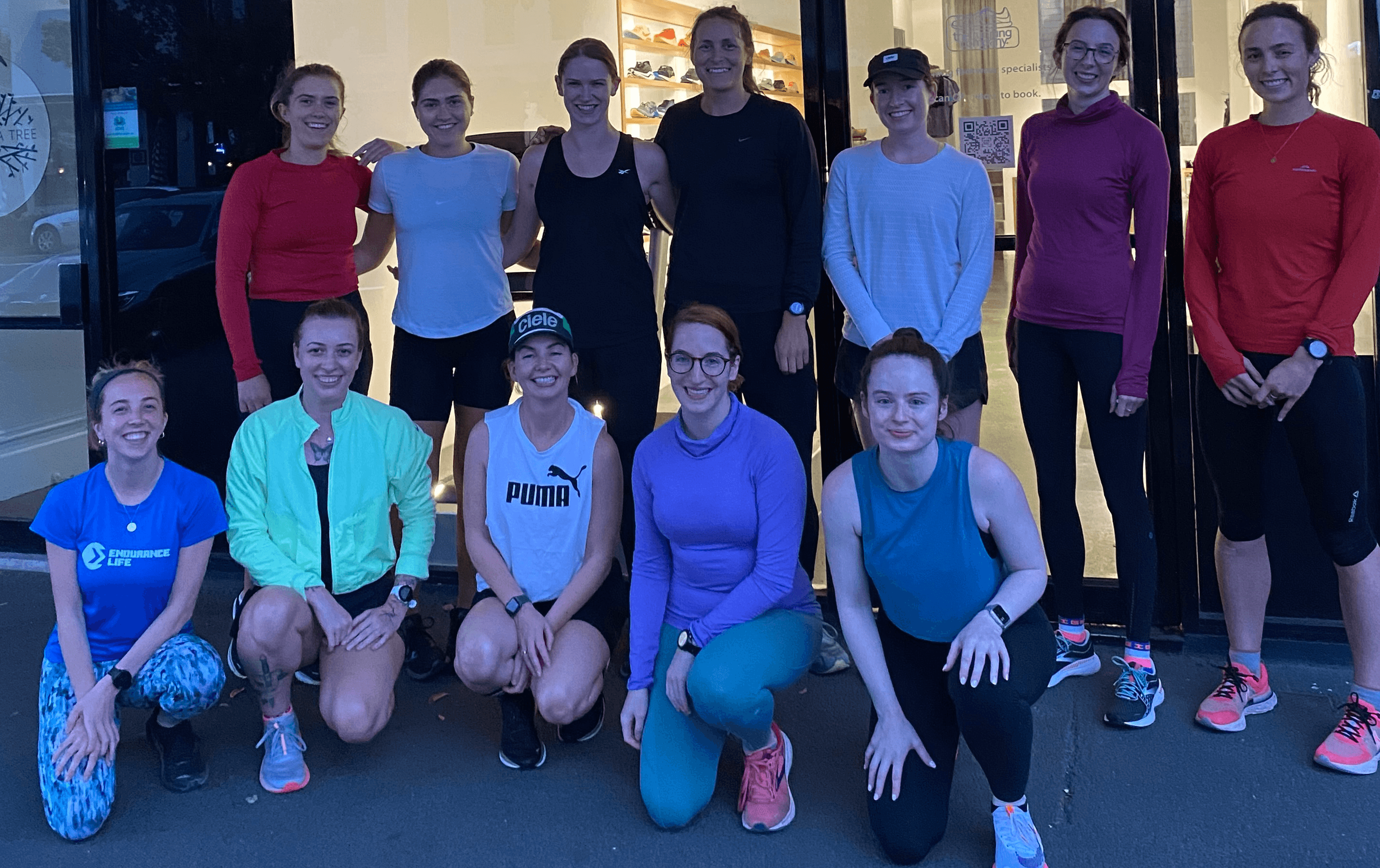 Ben Clement
AM:PM RC Co-Founder | Good Sport Magazine Director & Founder
Ben, who found running in his early twenties, is now a stalwart for Melbourne's run community, pioneering run clubs in Melbourne, and co-founding AM:PM RC in 2014. Ben's inspiration for the running ensemble came after working on a Nike campaign in Japan.
"I was there as a photographer and I met this running crew, Athletics Far East, they were all like-minded friends with a similar style, very creative and cool, I was like holy shit these guys all meet up together and run? That's a thing?" Said Ben.
Although a titan of industry, AM:PM RC started with humble beginnings, Ben explains how it all came together.
"it was just me and two friends, we had no idea what we were doing, we just met and went for a run and after it, we just said let's meet again next week…there was nothing like this in Melbourne, this was eight years ago now."
What began with humble beginnings has become a staple formula for other run clubs to base themselves on, AM:PM RC has steadily grown and has set the standard for run clubs, you'll catch them at running events with a gazebo pitched up at a specific point of the run, all members donning custom-made Nike apparel and showing their club-pride cheering their fellow crew runners on as they speed past.
"If you're not running, you're cheering… it's like the biggest support you can have, running past your friends and them yelling at you, you see a lot of the team's heart-rate data spike when they run past," says Ben.
The principle of run clubs are all connected, it's about the shared experience and the connectedness of pushing yourself with the support of others, "when you're running with people you kind of forget how long you've been running, you're not looking at your time, and you'll find you'll actually push yourself a lot further," Ben explains.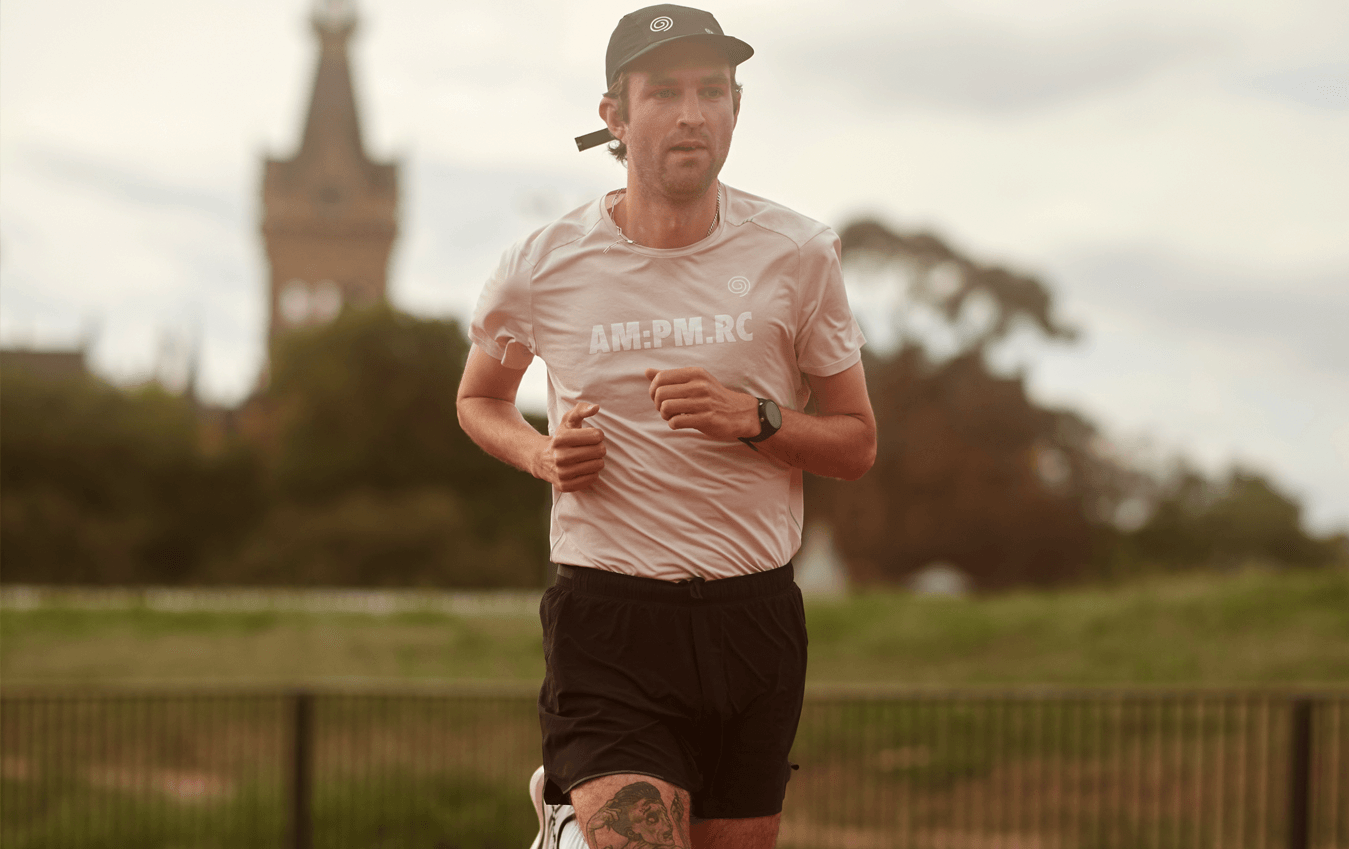 Nez Kagonda
Tanaka Running Club Founder | Tanka Community Grocer Founder
After running in high school it took the imbalance of full-time work and consecutive lockdowns for Nez to decide to don the runners and hit the track again. It was just a hot minute until the lines of Nez's newfound hobby meshed with his career as the founder and operator of the Tanaka Cafe & Grocer in Carlton, "during that process of buying a coffee, you've got to talk about something, so why not talk about running, about how it helps to manage stress, mental health and the positive sides of it."
Soon after Tanaka Running Club was born with Nez recruiting friends, family as well as pulling from the 200-300 loyal customers that flowed through the cafe each day. There's a large community focus at Tanaka, throughout COVID the team were helping the YMCA with food relief in the region, they even had support from members of AM:PM RC helping out, "we were all cooking together, we thought we may as well as run together as well," says Nez.
The Tanaka Running club is all-inclusive, it's especially rooted in social impact and growing community through running, this is reflected at the very base level of joining Tanaka.
"We don't have a prerequisite to join, we try and keep it more about community, we want it to be as approachable as possible, that's we run around a track, so if someone can only do 200m they still feel like they're part of it," Nez explains.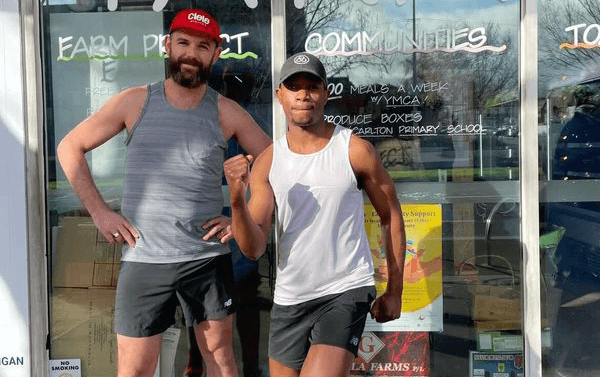 How To Find A Run Club
As well as the run clubs mentioned above there are several more operating in Melbourne, you can find some more here, otherwise, the best place to find them is through word of mouth (hit up your running friends) or through Instagram.
How To Join A Run Club
After speaking to all runners above, the same sentiment kept coming up, 'just get involved'. There are many different run clubs all catering to different levels of running, find one that suits your style and the community you would like to be a part of.
Prefer to take things slow? Here are some of the best walks to take in Melbourne.
Image credit: Ben Clement / Matt Smith