No matter how great the City of Sails is, there's always the impulse to hop in the car and head out of Auckland on a road trip…it's part of our DNA. Whether you want to unwind in nature, have an adventure or soak in the sights on a ferry before stopping for something to eat and drink, we have it all at our fingertips.
Here are 9 epic day trips out of Auckland for you to tick off one by one.
Puhoi
Head 50km north of Auckland to historic and beautiful Puhoi—hire a kayak and take a gentle ride down the river, browse the quaint shops and then stop for a bite to eat and a drink at the Puhoi Pub Hotel. You can't leave Puhoi without paying a visit to the kingdom of dairy, Puhoi Valley. Situated near the Puhoi River, this is the go-to destination for a session of relaxation while indulging in premium quality cheese.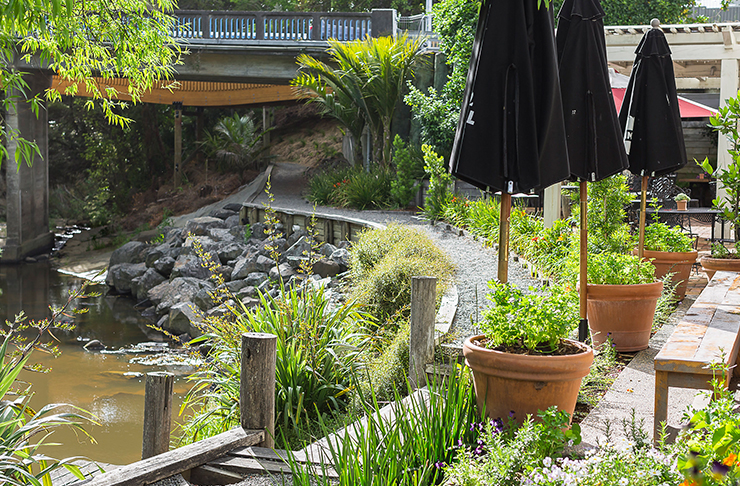 Matakana
A little further up the road, head to Matakana to the markets and shop up a storm. At these markets, you can find unique, one-of-a-kind handmade treasures, as well as iconic Kiwi eats like whitebait and paua fritters. Nibble on the delicious fare on offer and then head across the road to the Matakana Village Pub for oysters with your choice of tipple.
Waitomo
Stalagmites or stalactite? Bring back those memories from high school science classes and drive two-and-a-half hours south to the Waitomo Caves. These spectacular caves with glow rooms will have you oo-ing and ah-ing in amazement. If you prefer something a little more adventurous, there's always black water rafting or even abseiling.
Oratia
Another market to hit (and closer to home) is the Oratia markets each Saturday morning. Serving up delicious fresh, local produce, you can stock up the pantry for the week ahead. Once done, make sure you go back on the main road and visit Just Plane Interesting, which is filled with second-hand goods that are, yes, just plain interesting.
Karangahake Gorge
A slice of magic just two hours south of Auckland, Karangahake Gorge is filled with cliff faces with sheer drops, native bush, gushing waterfalls and a river. Cross the swing bridge and go for a walk (there are long and short options), learn about some gold mining history, discover stunning waterfalls before heading to The Talisman Café for a bite to eat.
Maraetai
Technically still in Auckland (it's the most eastern town), Maraetai has a stunning beach to soak in the rays and have a splash in the water. Across the road, there's a couple of cafes to choose from to fill your belly, or if you prefer the more Kiwi way, get your fish and chips wrapped in newspaper and eat on the beach. Since you're already so far out east, be sure to hit up the Clevedon Village Farmers Market where you can get amongst the tastiest German pretzels and stock up on the freshest produce.
Muriwai
Brave the wild winds and oceans and head west to Muriwai for a fun day out. The sweeping black sand beach has a little estuary to dip your toes in if the ocean is too wild and caves to explore. The Gannet Colony walk is nature at its finest—whether it's gannet season or not.
Riverhead
If you don't feel like driving, take the one-and-a-half Riverhead Ferry from downtown, under the Harbour Bridge and all the way to Riverhead and go the the Riverhead Tavern for a bite to eat and a beer to drink. Established in 1857 and still going strong, this tavern is considered an institution and it's a must for all Aucklanders. Grab their Famous Riv's Ribs and return to the city feeling satiated and like you've been on a week's holiday.
Raglan
High on the must-do list for surfers, it's not all about them. There's plenty to do in this little town. Check out the second-hand bookstore or pick up a knick-knack from the stores along Wainui Road before heading to The Shack for a post-roadie feed, or grab a coffee from Raglan Roast. However, if you're keen to get into surfing, Raglan is a great place to learn. Book in a lesson with Raglan Surf School and hit the ocean.
Image Credit: Todd Eyre