What's a Sunday without a roast? We're talking juicy, succulent pieces of meat drowned in gravy, paired with crispy, seasoned veges and—if you're lucky—a fluffy Yorkshire pud on the side. For those Sundays when you can't be faffed cooking your own, some of Auckland's finest restaurants are stepping up to the plate (pun intended) to bring you meaty deliciousness. Here are the 10 best places to grab a Sunday roast in Auckland.
Ostro
Britomart
Fit for a king or queen, Ostro's roasts are nothing short of momentous. Choose between prime steer scotch, pork belly, chicken and the infamous beef Wellington. A word of warning: the beef Wellington is so spectacular, it requires a 48-hour advance booking to perfect the flavour and puff-pastry layering. What are you waiting for? Pick up that phone!
The Oyster Inn
Waiheke Island
Love wine? Check. Love live music? Check. Love roast dinners? Check. The Oyster Inn over on Waiheke Island has it all…and more. The roast offering changes weekly—as does the live music—so you'll be back every Sunday. We can't get enough of the roast pork belly number with duck-fat potatoes, apple sauce and crackling. Grab that ferry ticket and get amongst.
Grangers
Half Moon Bay
Bookings are essential for Grangers' Sunday roast and it's no surprise why—it's deeelish! The roast changes weekly but their previous creations have included lamb shoulder with Brussel sprouts and smoked pancetta, corn-fed chicken with offal stuffing, as well as juicy pork belly with balsamic-glazed butternut squash and the all-important crackling. Dig in as you overlook the stunning Half Moon Bay marina.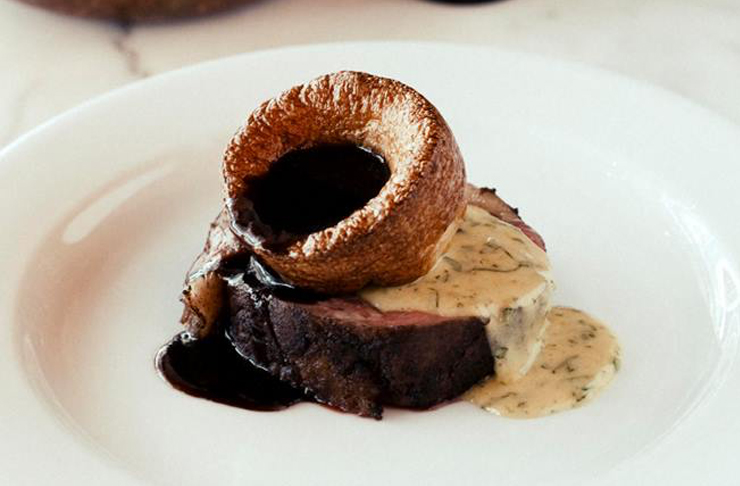 The Grill
SkyCity
Fancy dining on a roast that outdoes your momma's (sorry, Mum)? Head on over to The Grill where this kitchen of wizards are dishing up one of the best roasts in Auckland. You'll be served a succulent slow-roast rib of Wakanui beef off the bone with herbed béarnaise sauce, read wine jus and a fluffy Yorkshire pudding. Take the back seat, Mum.
Jervois Steak House
Herne Bay
With such a renowned repertoire of steaks under their belt, it's no shock that Jervois Steak House has also nailed the Sunday roast. Take the stress and hassle out of cooking for yourself and your loved ones with a trip to this cosy brick restaurant. There are two meat options each week, accompanied with the trimmings (hello maple-roasted yams).
Bird On A Wire
Multiple Locations
If your longing for chicken is not only restricted to Sundays (and let's be honest, whose are), Bird On A Wire will see you right. Here you can grab a rotisserie chicken any day of the week and we've got nothing but love for their Sunday roast baguette featuring pulled chicken, gravy, kumara, stuffing, green pea mayo, baby spinach and potato crisps. Say what? Bring your appetite.
Galbraith's Alehouse
Eden Terrace
The Sunday roast at Galbraith's Alehouse is loved by so many that they offer not one but two sittings to ensure everyone can get a piece of the meaty-action. Visit for their 12pm lunch sitting or rock up at 5pm for a roast dinner. Served with all the veggies imaginable, the changing meat special is always a winner. Wash down with one (or two) of Galbraith's expertly brewed beers—it'd be rude not to.
Circus Circus
Mt Eden
From 4.30pm to late, Circus Circus is in full force as they serve Sunday roasts to the masses. They mix things up weekly but you can expect the likes of lemon and thyme chicken, beef with béarnaise or pork with lashings of apple sauce. The friendly neighbourhood café is a popular spot on Sunday evenings, so it's time to make a booking. Pro tip: save room for their mouth-watering desserts.
Eight
Auckland City
Feast at The Langham's Eight restaurant and you may have to roll home. Why? They have an all-you-can-eat menu. On Sunday, not only can you dine at all eight of their kitchens, you also have the option to get a roast lunch. Loosen the belt and devour creamy potatoes, crisp roasted veggies, rich gravy and the tender roast of the day. Fancy dessert? Now that's a new challenge in itself.
Spitting Feathers
Auckland City
A much-loved drinking hole, Spitting Feathers is cheerful and always a good time. As if their reasonable happy hour prices weren't enough to lure you in, their Sunday roast is a proper crowd pleaser. Served from midday onwards, expect to grab an ale and roast that is pleasing on the tummy AND pleasing on the wallet.
Northcote Tavern
Northcote
Established in 1884, Northcote Tavern has stood the test of time—and they know how to whip up a decent roast. Their Sunday roast comes with all the trimmings and is best washed down with one of their many ales. You'll feel like you've stepped back in time as your feast on this good, honest pub grub. Don't be fooled by the relaxed atmosphere, their roasts sell out quick so get in early.
Boy and Bird
Ponsonby, Eastridge
Local, farm fresh and free-range are the mantra at Boy and Bird. Drop in for a house-rubbed, rotisseried and chopped bird smothered in chicken bone broth gravy and choose from either potato chunkies or slaw. If you're keen not to be observed while you shamelessly gorge yourself, these guys also offer a takeaway menu. Dig in.
Like steak as much as you love roast? Check out Who Does The Best Steak In Auckland?
Image credit: Ostro, Grangers, The Grill, Jervois Steak House, Circus Circus, Eight, Bird on a Wire, Boy and Bird