There's just nothing better than devouring a really good burger. It's salty, it's satisfying, it's what hungry dreams are made of. However, we all know there are many components that go into making a really good burger. Once you weigh up the bun, the patty, the sauce, and the toppings, it can become a very spirited debate. Everyone's got a favourite.
Which begs the question, who IS slinging the best burgers in town? Well, after a tonne of taste-testing (erm, research), we are pleased to announce our definitive list of the best
burger joints in Auckland. Enjoy!
Real Burger
Birkenhead
If you like getting smashed (the burger way), Real Burger will see you right. This corner spot in Birkenhead, fashioned after a classic American diner, has ditched regular patties in favour of meat smooshed on the grill and cooked 'til crispy 'round the edges, and the result is something we can't quite put into words (though a groan of pleasure might suffice). Their Nashville Chicken number is also worth its salt, what with its generous chunks of crispy chicken thigh, pickles, slaw, pickled reds, and secret sauce.
Jo Bro's Burgers
Point Chevalier & Street Feast
No-nonsense burgers are the name of the game at Jo Bro's Burgers, a venture bought to us by chefs Josh and Brody, who between them have a wealth of industry experience (Michelin-starred restaurants included). These guys have a simple-is-best approach when it comes to what makes a good burg, and we like the way they think. Expect plump sustainable beef patties, cheddar cheese, lettuce, tomato and onion, doused in their signature Jo Bro's Original burger sauce (which took approximately five years to perfect), slapped between two freshly-baked fluffy potato buns. Brilliant.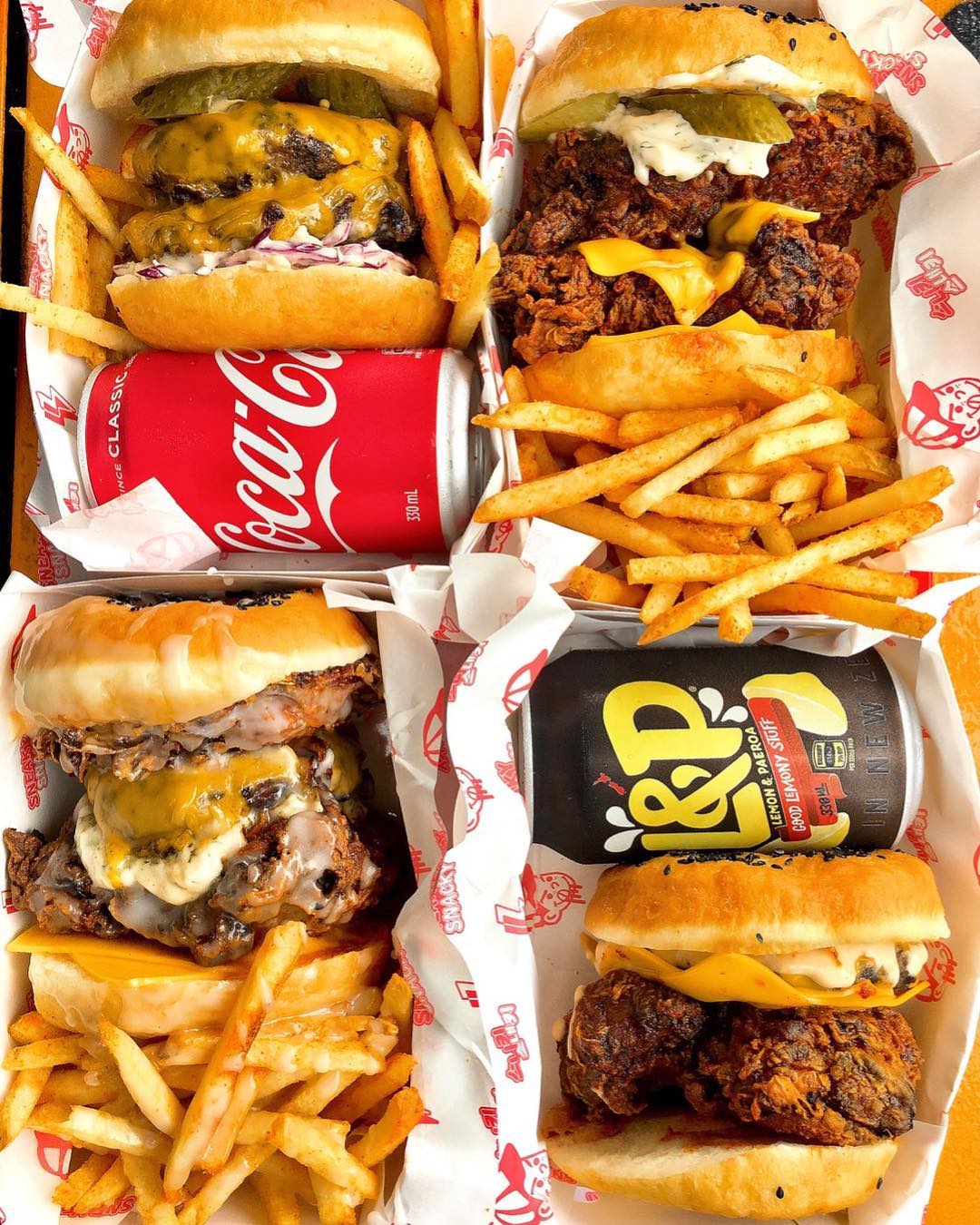 Sneaky Snacky
Karangahape Road
Imagine a burger so filthy (meant here in the most complimentary sense, of course!) that you needed disposable gloves to eat it... well, that's exactly what you can expect when you visit K' Road institution, Sneaky Snacky, where receiving a pair of disposable gloves with your meal is all just part of the service. These guys truly do make burgers unlike anyone else in Auckland, and it's not just the glove sitch that sets them apart—stacked out with wagyu beef patties, fried chicken thighs and kimchi fritters, their creations are actually served on donuts instead of buns, and that's a combo that shouldn't be ignored.
Harry's Burger Punk
Devonport
Let's shine the spotlight on another Harry right now—Harry's Burger Punk in Devonport, to be precise. This joint has nothing to do with the controversial royal, but everything to do with scandalously good burgs aka the kind that could cause you to flatline with a single sniff (Fried Affair, we're looking at you). 150g smashed beef patty burgers are the star of the show here, along with some hella tasty chicken options and Snickers and Oreo shakes to wash it all down.

Burgernaut
Kingsland
Once upon a time (right now) in a land not so far away (Kingsland) existed some of the most mouthwatering burgers known to man. In fact, so undeniably delicious were these burgers—found at a place known simply as 'Burgernaut'—that word of them travelled, with folks coming from far and wide in the hopes of sampling these tasty treasures. Bulging with burgery goodness including crispy smash-style patties, gooey melted cheese and punchy sauces made with beer from their sister business, Urbanaut, Burgernaut's burgers were (and still are) the stuff of legends. Props to these guys for their always incredible vegan offerings, and epic loaded fries.
Bunty's
Milford
Word has reached us of a new burger joint in Milford. Bunty's is its name and you'll find it on Kitchener Road, right next door to the beloved Tokki. Despite having only opened in December, Bunty's is already making quite the impression on locals thanks to their gourmet brand of smash burgers, which you'll find served alongside some classy small plates (pumpkin, mushroom and sundried tomato arancini, for example) and a selection of boozy bevvies, all in an upmarket, diner-style setting. Personally, we're all about their classic cheeseburger, which features not one, but two 100 per cent pure Angus beef patties made with meat from local butchery Well Hung, smooshed together with grilled cheese, pickles, onions, mayo and mustard. Dang.

RE Burger
Grafton
Like so many great eateries these days, RE Burger began life as a food truck, travelling the streets of Dunedin. However their burgers were always destined for more than four wheels (just look at the pic above), and over the years the brand has expanded into a number of cities around the country, including Auckland. The burgers here demand to be noticed, often jamming a literal tower of ingredients between their moreish milk buns (we like the Royal Big Smoke, featuring a pure New Zealand beef patty, streaky bacon, onion rings, cheese, pickles, smoky BBQ sauce and aioli). These guys are also renowned for their loaded fries, which even come in a fitting cheeseburger flavour.
Fat Puku's Smashed Burgers
Auckland CBD
For a delicious collision of food and retro vibes, you can't beat Fat Puku's Smashed Burgers. Originally a food truck, this CBD gem is responsible for bringing us some of the tastiest damn burgs on the block, once again centred around the deliciousness that is the smash patty, and all served in a fun atmosphere peppered with 70s/80s regalia, and a portrait of Fat Puku himself (actually a cat belonging to one of the owners). These guys also do a rather noteworthy veggie burger (along with fries covered in sweet 'frost' seasoning) and for that, we reckon they deserve a spot on any list of Auckland's best.

Jax Burger Shack
East Tāmaki
If there's one thing to be said about Jax Burger Shack, it's that they don't do things by halves. This East Tāmaki haunt has practically a trillion followers on social (and probably even more in the flesh) thanks to its insane burger creations, which we reckon could give you a food baby, just by looking at 'em. Case in point? The wildly popular Pablo (pictured), which brings together an Angus beef patty AND sirloin steak along with melted cheddar cheese, mushrooms, lettuce, tomato, red onion, hickory BBQ sauce and Jax's very own secret-recipe aioli. Don't forget to save room for their dessert waffles, if you know what's good for ya.
Shake Out
Commercial Bay & Takapuna
Coming in as a city staple, Shake Out satisfies burger cravings all day long. Standing apart from the movers and shakers, the menu is tasty and satisfying without the fuss. Classic and BBQ cheeseburgers tick all the boxes (double anyone?), with fresh, high-quality ingredients as the star of the show. Made with care and delicious simplicity, it's no surprise that Shake Out is a favourite of many. Treat yourself to one of their beloved shakes or sundaes for a little dessert, and you're ready for an evening in burger heaven.

Parade
Ponsonby
A fan-fave for American-style burgers that are equally classic and exciting,
Parade
is a definite cool kid on the block. Whether you want spicy fried chicken or a cheesy beef patty, you'll find both sandwiched inside their signature soft and salty pretzel bun. With an enviable Ponsonby location and limited items daily, Parade has established itself as a burger joint to watch. These guys choose quality over quantity and just nail everything they do. Feel like smashing a smash burger? Parade is the place to be.
Wise Boys
Commercial Bay & Grey Lynn
Calling all vegans—this one's for you.
Wise Boys
proudly identifies as your 'one-stop-shop for a face full of indulgent plant-based burger goodness'. And, trust us when we say, their vegan burger goodness is totally next level—even the staunchest carnivore will be impressed. Wise Boys' original store in Grey Lynn is now joined by an outpost in Commercial Bay. At both, you'll find 'classic boys' such as the Spicy Mex with chunky salsa and corn chips, or 'fancy boys' including the Hungry Jack oozing with smoky barbecue jackfruit, grilled pineapple and tangy slaw—yum. Enjoy with a side of kumara fries dipped in their signature aioli and you'll be away laughing.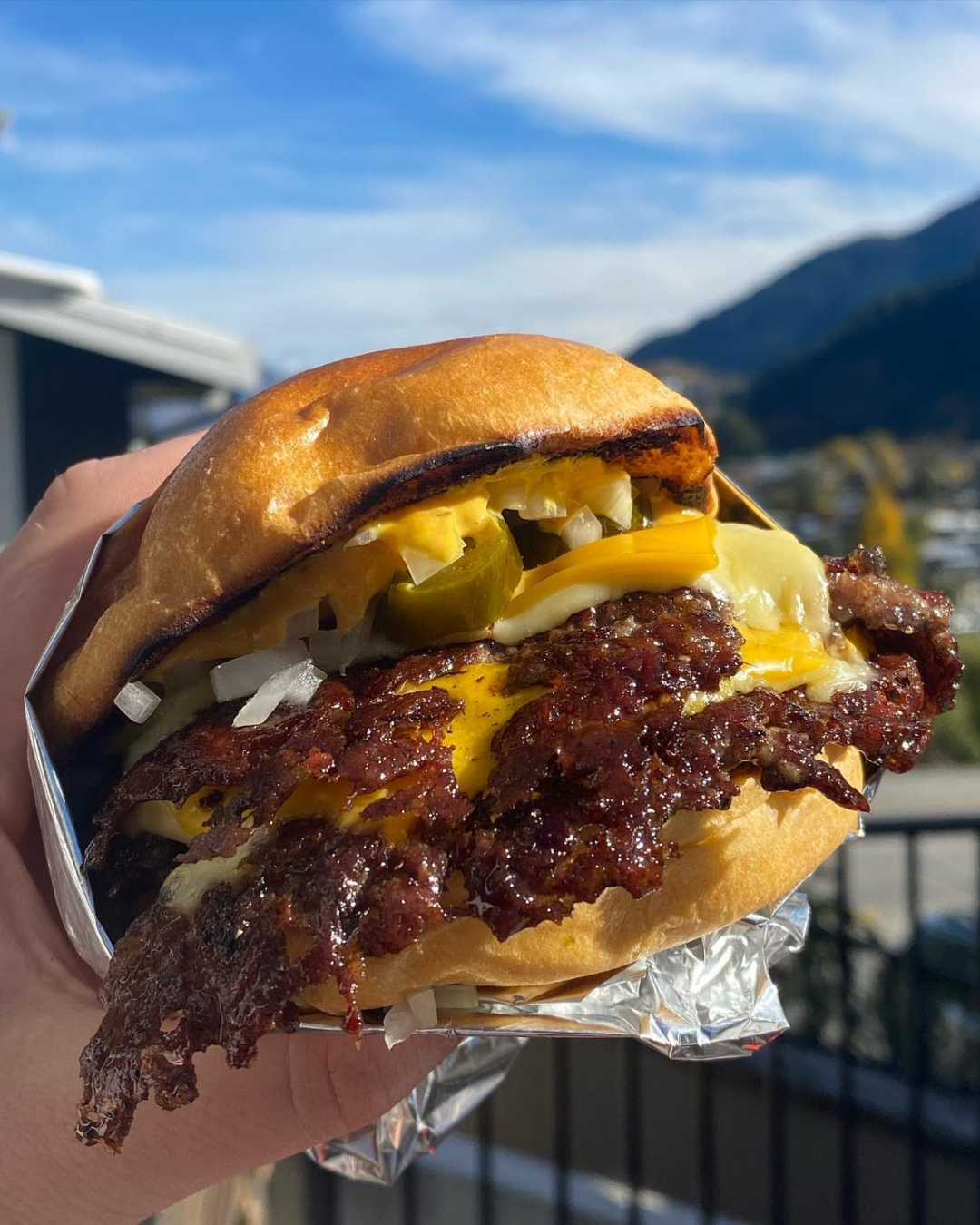 Baby G Burger
Pop-Up Only
Self-proclaimed 'cheeseburger enthusiasts', the crew at
Baby G Burger
are running a serious cult favourite. Rocking what might be the smash patties to rule all smash patties, one of Baby G's hits includes the Oklahoma Dreaming, an onion smashed patty with pickles, cheese, habanero mustard mayo, and chilli sauce, all topped off with a drizzle of maple syrup. Hell to the yes. These irresistible burgers only make appearances at pop-up locations for the moment, so stay up to date with their socials if you're hungry for a taste of the good stuff.
Better Burger
Auckland CBD, Ponsonby & Sylvia Park
Better Burger
appears to have the mantra: 'you can't go wrong with a classic cheeseburger'. And, in our humble opinion, they've got their mantra down-pat. Their not-here-to-eff-spiders menu allows you to choose from a hamburger, cheeseburger, double cheeseburger, mushroom, or chicken burger. As simplistic as it is, their burgers are also very (very) delicious. Our advice? Come for the burgers, stick around for the fries. Better Burger hand-cut potatoes right before your very eyes to create their unmissable crispy fries. You're never far from your burger-slash-fries fix with various locations Auckland-wide (and counting).

The Chosen Bun
Stonefields
If one thing's for sure, it's that the burgers at
The Chosen Bun
are beloved by many. These drool-worthy burgers are piled high with all the good stuff. Think crispy onion rings, juicy buttermilk-fried chicken, and zesty, crunchy slaw. Also, The Chosen Bun is no stranger to a double smash-patty situation—they've even ventured into triple-patty territory aka the land of the brave. Time to get amongst it if you're up for a delicious challenge.
Burger Geek
Eden Terrace & Grey Lynn
As the name suggests,
Burger Geek
is a total geek when it comes to burgers, and we love them for it. The team make their patties from a blend of wagyu and Angus cuts that are freshly ground on-site each and every day. All chicken is free-range, bread is sourced from local bakers, and their bacon is cured for seven days before being smoked in-house. The impressive attention to detail doesn't go unnoticed—Burger Geek's burgers are undoubtedly some of Auckland's best.

Tiger Burger
Grey Lynn & Mount Eden
Tiger Burger
puts their thing down, flips it and reverses it. Translation: they put an Asian twist on the humble burger. You're spoilt for choice and flavour with their Kimcheese burger starring sauteed kimchi, aged cheddar and gochujang mayo, which is condiment perfection according to some peeps. Alternatively, the Cheeky Hoisin is brimming with slow-braised pulled pork, and the Yachae keeps vegans happy with its kumara carrot fritter and edamame guac. Not only do they serve epic burgers, but they do it with a conscience—using only ethical meat, sustainable packaging, and high-quality, locally sourced ingredients. We like your style, Tiger Burger.
Burger Burger
Newmarket, Ponsonby & Takapuna
No self-respecting list of the best burgers in Auckland would be complete without
Burger Burger
. Conveniently located in three spots Auckland-wide, the burger joint is famed for its simple, honest and always-delicious burgers. Opt for a classic beef and cheese, get spicy with cajun grilled chicken or wrap your mouth around pulled pork shoulder slathered with homemade barbecue sauce and apple mint slaw. We'll have one of each, thanks. Their sides are equally Auckland-famous with no visit complete without their buttery, garlicky charred broccoli. Our city would be lost without the legend that is Burger Burger.

The Flaming Onion
Browns Bay, Northcote & Remuera
Make sure you arrive hungry when you visit
The Flaming Onion
for one of their next-level burgers. They're big, they're juicy and they're some of the best burgers in Auckland (and Marion's personal fave). The team prides itself on not taking any shortcuts when making their gourmet burgers—every patty is handmade, their sauces are made from scratch, and their buns are brushed with herb-infused olive oil before toasting them. Choose between the likes of The Smokey One with wagyu beef, manuka-smoked bacon, Swiss cheese, smoked chipotle aioli and smoked bourbon BBQ sauce, or Blue Dream with sharp blue cheese and caramelised onion. Keep tabs on their drool-inducing Instagram feed for regular specials.
BurgerFuel
Auckland-wide
Arguably the original burger MVP,
BurgerFuel
has been killing the game in Auckland for over two decades. Only frying up grass-fed New Zealand beef and free-range chicken alongside the freshest ingredients, their beloved burgers don't compromise on quality or flavour. BurgerFuel is always rocking some banging veggie options (cooked separately, we might add) that are glorious enough to satisfy omnivores and herbivores alike. And hey, though this list may be about burgers, we can't deny they've got some of the best fries out there.

Corner Burger
Newmarket
Head to
Corner Burger
and you'll find the best things in life: juicy burgers, poutine fries, jalapeño poppers, and freshly poured beer. Their dedicated burger menu allows you to choose between beef, chicken, lamb or veggie options. We can't go past the Winner Winner burger stacked high with crispy fried chicken, aioli maple slaw, bacon, and the best part—deep-fried brie. Yep, they don't do things by halves at Corner Burger. Case in point: you can polish your meal off with one of their equally insane dessert burgers.
Image credit: Parade, Real Burger, Sneaky Snacky, Burgernaut, RE Burger, Jax Burger Shack, Baby G Burger, The Chosen Bun, Tiger Burger, The Flaming Onion, Corner Burger.