It's a love story that's stood the test of time: banana and impossibly moreish caramel. Taking all shapes, forms and textures beyond its—quite literally—humble pie beginnings, banoffee has now morphed into a wonderfully delish dessert category of its own that us Aucklander's just can't get enough of. We asked you to clue us in on your faves and you didn't disappoint.
From trusty pies to tarts, slices, cakes and even the odd dumpling, here are your tried and true, best banoffee pies in Auckland—and all their dinky caramel and banana-stuffed comrades.
Circus Circus
Mount Eden
The patron saints of Auckland's decadent desserts is home to—you guessed it—some of Auckland's very best banoffee pies. A slice of this baby is sky-high—propped up by a double-decker banana layer and pillowy cream. The best part? Banoffee are a permanent fixture in Circus Circus' dessert cabinet and they're open later than your average bakery all week (closing at 10 Sunday-Thursday and 11pm) so you can rest assured that you're never too far away from your next banoffee fix. As Maya puts it the ratio of everything is where this pie shines.

Holly's Cafe
New Lynn
It's the dessert that started a city-wide obsession last lockdown. With good reason, Holly's Cafe's now-famous banoffee pie has what can only be described as being crafted with the golden ratio of banoffee layering. It starts with a perfect slab of biscuity biscoff base—or as Jaimee tells us, this base alone 'does it for me'—long lengths of fresh bananas encased in a thick caramel, a good inch of cream and topped off with a biscoff for an extra caramelised touch. We vote that you stick around for a serving of Holly's savoury food too: a cabinet and menu full of delish, unique and downright quirky Korean-fusion goodies await. It's truly in a league of its own, as Koroset says 'that cream and biscoff hits different'.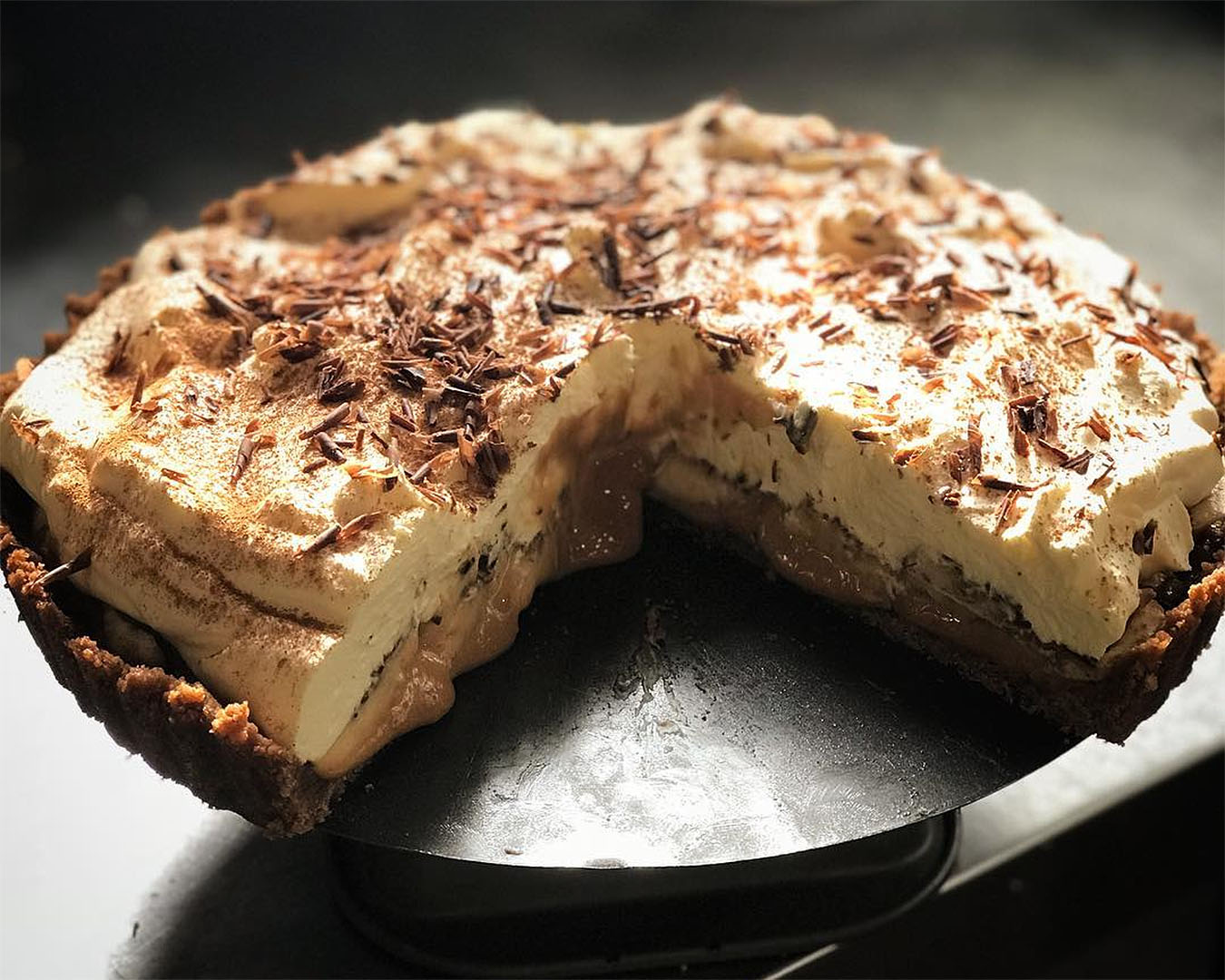 Coffee Pen
Eden Terrace
One of Auckland's best banoffee pies also happens to be Auckland's most elusive and best-hidden banoffee. Just where might you find it? Tucked among Eden Terrace's dead ends and buildings in the pint-sized trove that is Coffee Pen. The slice of banoffee you'll find here is as classic as it gets: made delicious with a wad of cloud-like whipped cream, buttery base and chocolate shavings galore. Plus let's be real, the hunt to find it makes it all the more delicious in our opinion. Alex knows how it's done: 'you can't simply grab a coffee without one' when you pop into Coffee Pen.
Sweet&Me
Onehunga
Bringing seriously delicious Pacific Inspired cakes to Onehunga—and one of Auckland's best Banoffee creations—is none other than Sweet&Me. As a family-run business, you can taste the love Bertrand and the team bake into their banoffee creations—along with huge splashes of fresh flavours from the islands. There are choices galore to get your banoffee fix: go big with a whole banoffee pie cake or simply take home a slice of coconut-custard-filled pie from the cabinet, lovingly wrapped in a banana leaf with a side of whipped coconut cream. Stella tells us that there's a perfect balance between banana and toffee and that it's so light and tasty—a must for a good banoffee.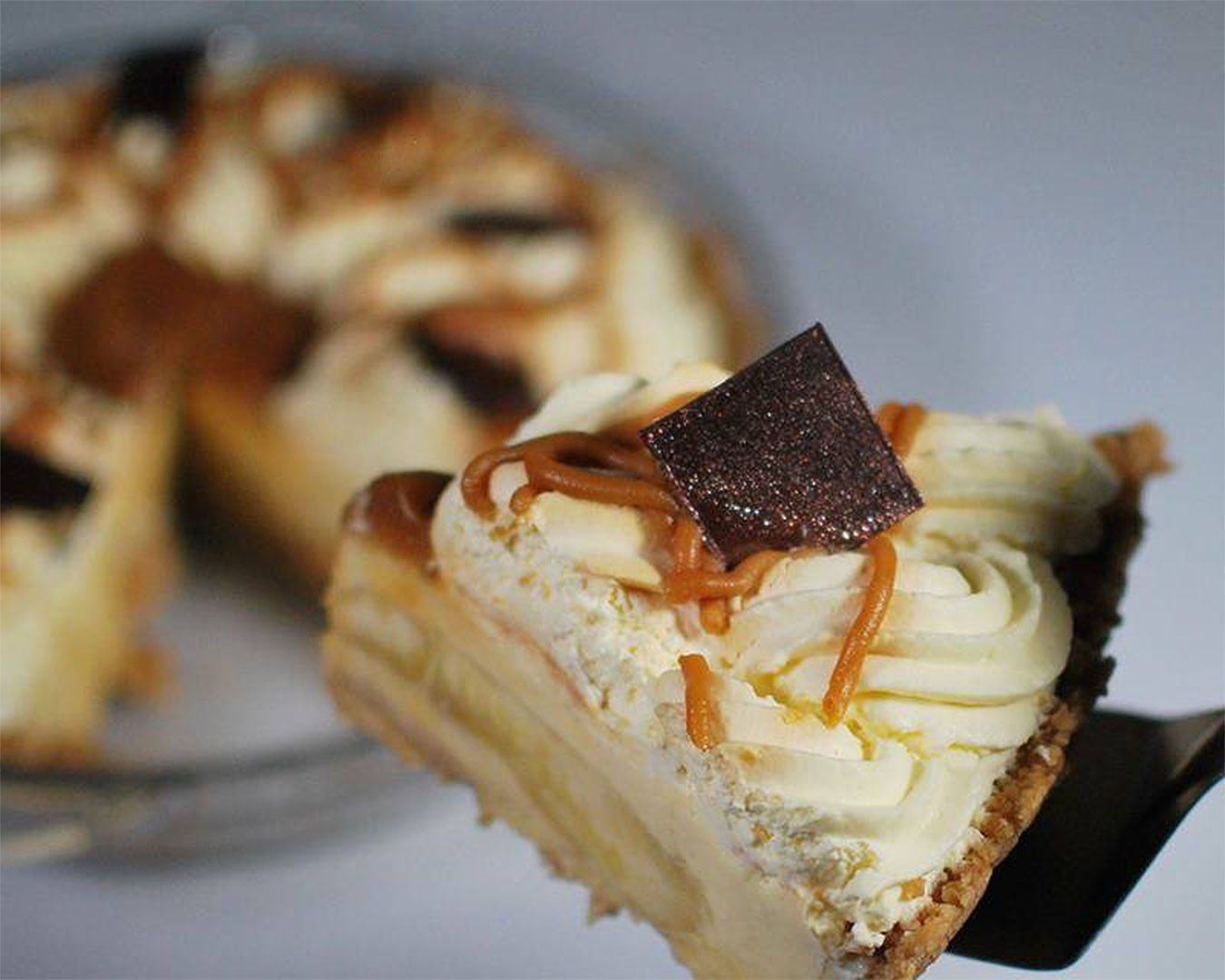 The Pie Piper
Karangahape Road & Eastridge
If it's American classics that you want, then at The Pie Piper, it's the American classics that you'll get—whipped cream on the side and all. A pantry staple in both Karangahape Road and Eatery at Eastridge outposts, their banoffee cream pie—heavy emphasis on cream— is as wonderfully traditional as you can get: set in a nice deep dish and completely covered with cream and caramel drizzles. Best of all, you can usually bet on finding a slice of this in the cabinet and even snag a whole pie for yourself! Amber says this bad boy is 'better than the ones you'll find in the USA.'
Little & Friday
Newmarket & Ponsonby
Banana-slash-caramel-slash toffee creations frequently pop up in Little & Friday's cabinets in the most delicious of ways. Some days it's in a layered, icing-stuffed version, other times, it's a banana and caramel-filled doughnut. That simply calls for multiple visits to catch each and every banoffee rendition—we don't make the rules. Tee says it best, sharing 'the doughnut is to die for'.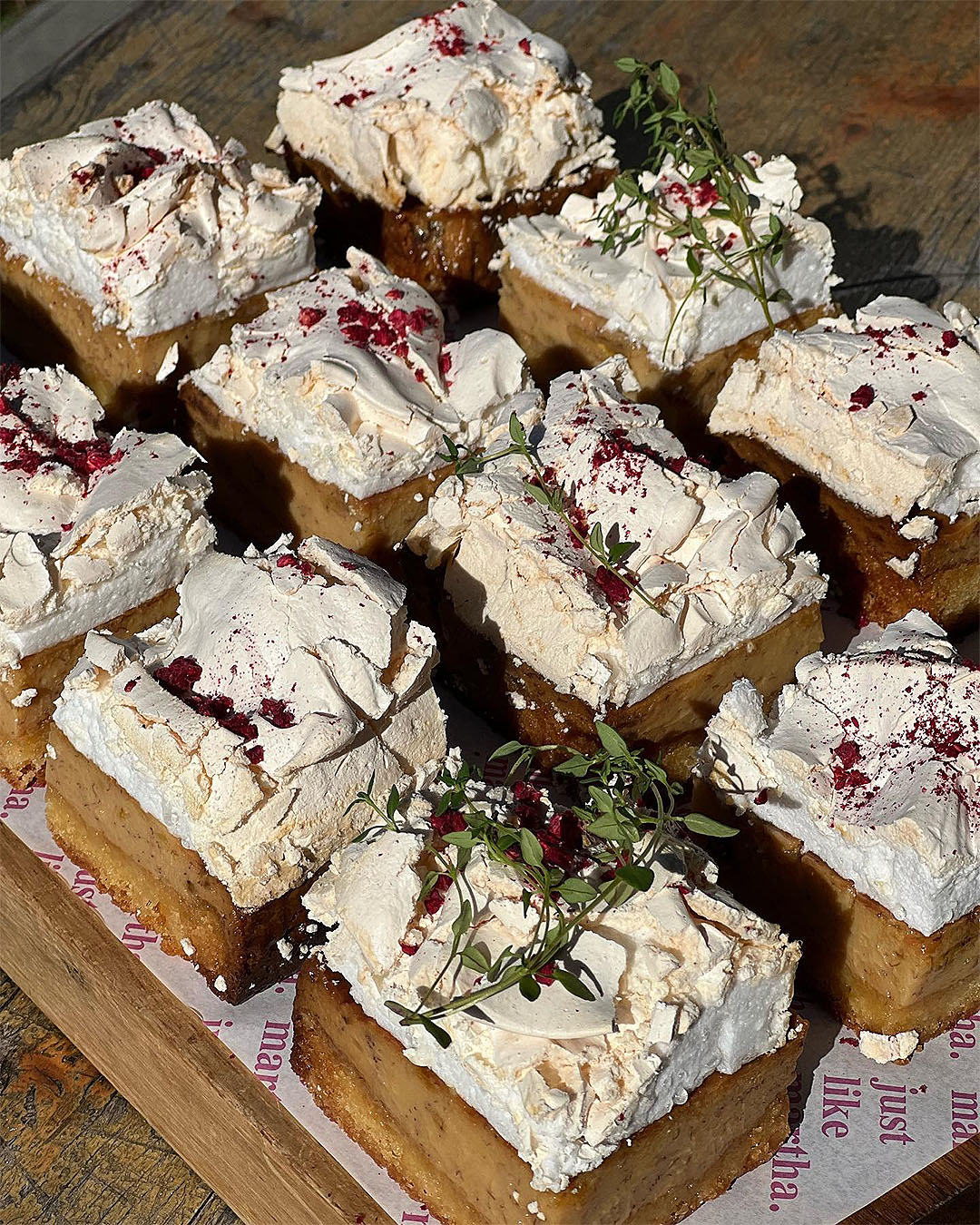 Just Like Martha
Three Kings
The base is where the banana action comes into play in Just Like Martha's rendition of a classic banoffee. Here, a delicious cakey base sets the strong foundations of this absolutely loaded slice, before a seriously thick slab of caramel and sculptural meringue stacks it up high. Trust us and Shannon when we say that this one's quite the textural journey: with the 'best filling and meringue on top'.
Rude Boy Deli
Auckland CBD
When it comes to banoffee pies, absolutely no one would complain about an extra dose of the buttery, biscuity and moreish bases that they're known for. At Auckland City's Rude Boy Deli, you'll be treated to just that in the presence of their Banana caramel tart. It's got all the trimmings of your classic banoff', but with the creamy-caramelly-banana-ey goodness, all encased in a perfect biscuit dish. As Sam professes their love, 'it's never gonna let you down'.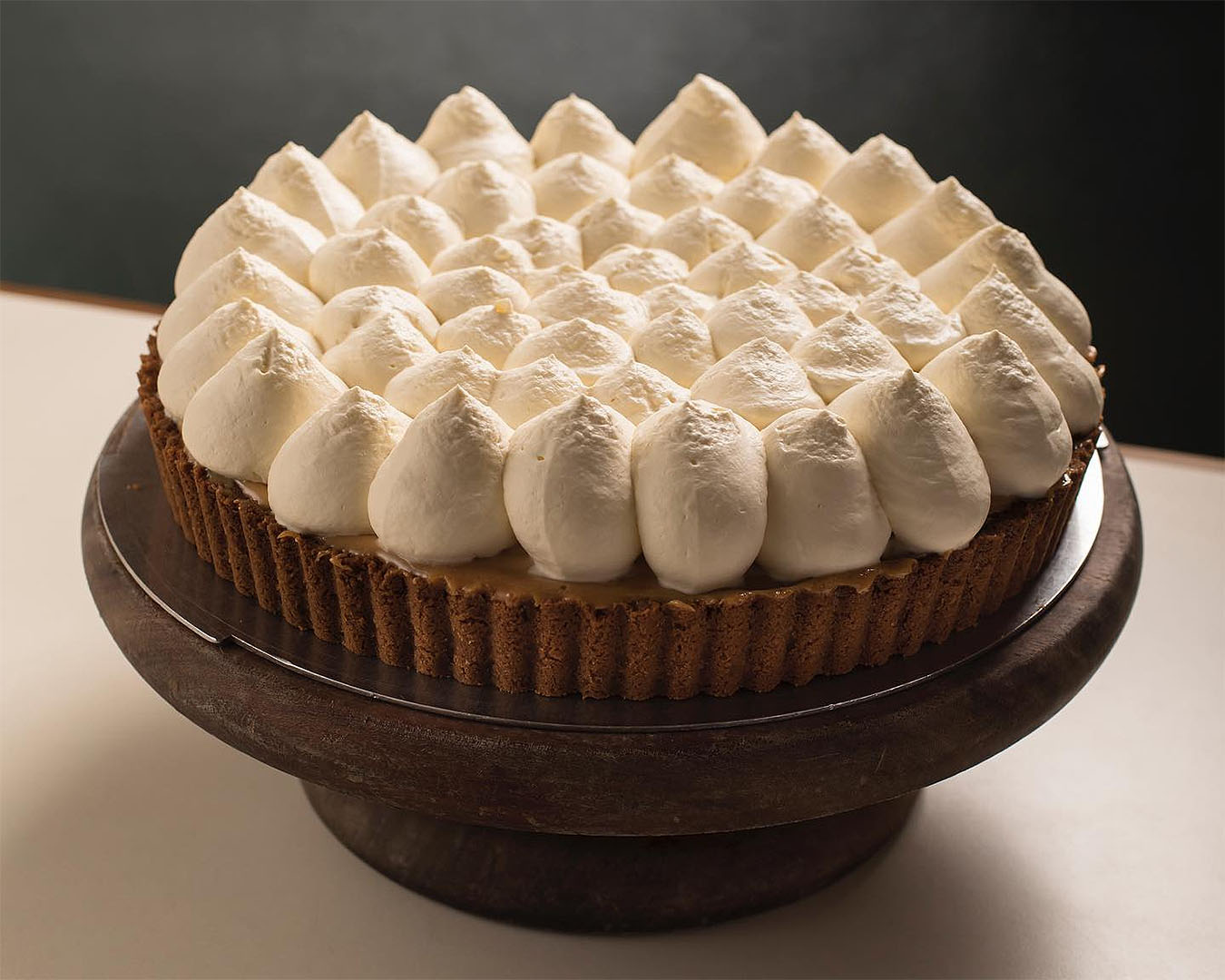 Federal Delicatessen
Auckland CBD
When you think of classic American desserts, you think banoffee. And when you think of places to enjoy classic American grub, you think of The Fed. So naturally, it should really come as no surprise that they're home to one of the best banoffee pies in Auckland. New to the banoffee experiences, however, is caramel popcorn: which is lavishly sprinkled over each slice. Have your banoffee in a slice by itself or enjoy it among two other pies of your choice in 'The 3 Way'. Maya hits the nail on the head when she says 'its just so delicious, you can't ever fault it.'
Cafe Cezanne
Ponsonby
One can simply always rely on Ponsonby's Cafe Cezanne to be open and ready to serve up a huge slice of cake. Much to our joy, banoffee pie is very much part of this equation. It's big, it's beautiful, and it's very banana-ey—all the hallmarks of a top-quality creation. Pair this with a big hot chocolate come winter, and you've got yourself everything you need to warm your heart, tastebuds and soul. Kate tells us that this combo is simply 'amazing on rainy days.'
Honourable Mentions
Peach's Hot Chicken
Panmure
The perfect chaser to a piping hot piece of fried chook is—you guessed it—a hearty serve of our favourite kind of dessert. Not strictly a pie, Peach's Hot Chicken's Banana Pudding has all the trimmings of the cult classic: it's banana-ey, custardy, creamy, devilishly moreish, and just like grandma makes it with hits of vanilla wafers. The Peach team keeps it authentic a-la-grandma by specially importing the vanilla biscuits that make this dessert a standout. But don't just take our word, Helen reckons she's 'borderline addicted' and that the amount of cream that tops it off is 'a tower of creamy goodness'.
Paris Butter
Herne Bay
Shout out to Herne Bay bistro, Paris Butter for two very special reasons: firstly, ultra-chic and avant-garde spins on the classic banoffee have been known to make guest appearances on their seasonal menu. Secondly, they have a hard liquor cocktail gracing their drinks menu, which brings together the subtle flavours of banana and toffee. Liquid banoffee with a hard hit? We're fans of that—and Andy too—who says it 'knocks back very easily'.
Xuxu Dumpling Bar
Britomart—temporarily closed
Okay so it's not *technically* a pie but this one does involve a melted caramel and banana centre wrapped in dough. So in our world, that counts. Trade your experience of a banoffee pie for its dessert dumpling counterpart by digging into what can only be the most famous dish at Xuxu. Longtime lovers of this cult-status dish will know what we mean. Newbies to this meal, however, it's in your best interest to hightail it Xuxu when they're back from their hiatus to get in on the action. Nicole knows the only way to eat these dumplings: 'they're so addictive you need two servings'.
Fancy yourself a bit of a foodie? Catch up on all the food news you need to know.
Image credit: Circus Circus, Holly's Cafe, Coffee Pen, The Pie Piper, Just Like Martha, Federal Delicatessen, Paris Butter.