What better way to treat yourself than enjoying one of Auckland's best high teas? Let's face it, it's nice to feel that you're a little bit classy. Those awesome, tea and cake (and sometimes champagne) filled occasions that allow us to get dressed up and drink flowery, fruity teas and sandwiches without even a speck of crust.
Whether it's Mother's Day, a graduation or you just want to spoil that special someone, high tea is the perfect thing to do. Not only do you enjoy tea, cake and sometimes a glass of bubbles, but they're also a great present for your mum or grandma, as well as for a hen's party for a bride-to-be who has asked you to keep away from other antics.
Lucky for us, various venues across Auckland serve up swanky high tea that we think would be good enough for the Queen herself.
Without further ado, here are the best high teas in Auckland.
High Tea At Sea
Obviously, we love a high tea situation but have you heard of High Tea At Sea? Yeah, it's a thing. Here to help you take your high tea experience next level with epic and wide sweeping views of Waitematā Harbour is NZ Maritime Museum. Hop aboard NAUTILUS, the vintage motor launch, and cruise across the waters for an hour while you indulge in goodies like cake, treats and tea on this private heritage vessel experience. If you're chasing something unique to do with your nearest and dearest, well this is it. Bookings are essential which you can do right over here.
High Tea At Cordis
Start your search for the best high tea in Auckland at Cordis. Get dressed in your flowery best and relax in one of their plush chairs beneath a beautiful chandelier with a glass of champagne (of course). Prepare those taste buds for a couple hours of pure delight. Served on tiered, gold stands, you'll find delightful finger food like your grandma used to make. Behold dainty sammies with the crusts cut off, warm and fluffy scones, followed by the cutest little sweet treats imaginable. Finish it all off with a delicious tea—we could seriously get used to this life. High tea at Cordis is an absolute must-do for every Aucklander.
High Tea At Cornwall Park Bistro
From 10 - 11.30am and 2pm daily, you can enjoy high tea at Cornwall Park Bistro. This stunning venue, in the heart of the rolling hills of Cornwall Park, is a treat like no other. With various places to sit, nothing can beat the deck on a sunny day. There are so many tea options, you'll be spoiled for choice. From rare white teas to Japanese green tea, Cornwall Park Bistro high tea has it all. And the food menu is just as delicious. Savoury treats include caramelised onion and blue cheese tart, smoked fish croquette and pork sausage roll. Just leave room for the sweets, because there's chocolate tartlets, salted toffee eclairs and, naturally, warm puffy scones.

High Tea At Bellini
Another beautiful venue to enjoy high tea is at the Hilton's Bellini. The expansive area boasts some of the best views of the sparkling Waitemata Harbour with floor to ceiling windows and the option to sit outside on a fine day—you're practically on the water! With plush chairs to sink into and excellent staff to cater to your every need, you'll feel like the Queen herself. Bellini offers three different high tea options. The first is the refined high tea, with your choice of two hot beverages and a full selection of savoury and sweet, the second is the mixologist's high tea, where you swap your hot drink out for two cocktail teasers and finally the bubbly high tea where you can choose between three glasses of bubbles or cocktail teasers and still get two hot beverages.
High Tea At Waitakere Resort & Spa
If you're looking for an alternative to high tea in Auckland City, then we suggest you plug Waitakere into Google Maps, stat—they say West is Best for a reason, you know. For the ultimate luxury escape, head to Waitakere Resort & Spa and soak in the views of the Waitemata Harbour, mighty Rangitoto and Auckland City while enjoying one of the best high teas in Auckland. If you think high tea is simply a few hours, then think again. You can up experience at Waitakere Estate by booking the Ultimate High Tea Package. With a night in deluxe accommodation, high tea and a three-course a la carte dinner for two, it's like high tea on steroids.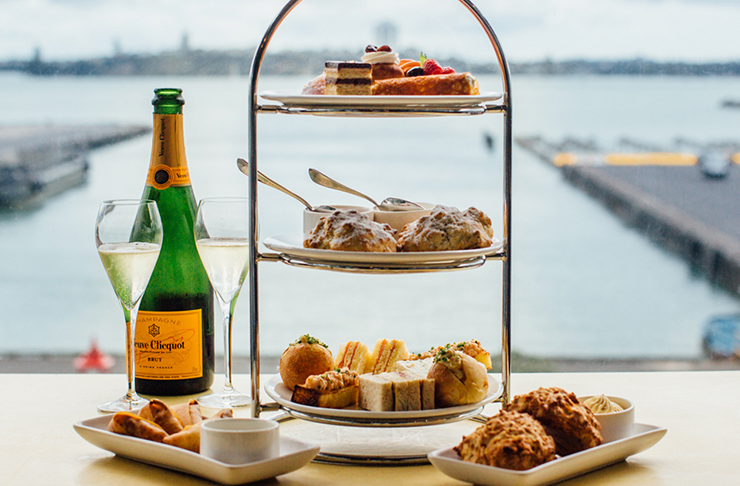 High Tea At Ostro
Situated in the Seafarers building in Britomart, Ostro has won the heart of many an Aucklander with its delicious food, friendly and talented staff and the spectacular views. Nothing beats the beauty of Auckland on a sunny day...except, perhaps, high tea on a sunny day. That's right, one of Auckland's best restaurants also serves up delicious high tea for you to enjoy with your mum, your gran or your besties. Slightly hidden, you'll need to go up the elevator, but when those doors open, you will be impressed. With large, sea-facing windows that are left open on sunny days, it's one of the most beautiful places in Auckland. Ostro's high tea menu has been carefully curated by Josh Emett and his pastry team. The savoury menu includes a prawn toastie and roast mushroom and parmesan quiche. This is followed by delicate sandwiches filled with curried egg, cured cucumber, champagne ham and smoked salmon. The sweet menu is indulgent charcoal pavlova, yuzu meringue tart and passionfruit marshmallow, to name a few. Naturally, there's also the fanciest teas to choose from...but no doubt you'll also want to buy that bottle of champers.
High Tea At The Wintergarden Café
Auckland's original tea kiosk continues to serve up a delectable high tea on the first and third weekend of every month. Think three-tiered stands chocka with deliciousness, including the crowd-favourite scones with cream and jam. The Wintergarden Café serves premium teas or bubbles to be enjoyed with your tower of treats. An inner-city oasis in the Auckland Domain, it's a must-try. Take a leisurely stroll afterwards and soak in the beauty.
Dilmah High Tea At Stamford Plaza
Situated in the heart of Auckland City, you'll find Stamford Plaza. More than a hotel, it is a fabulous venue for dining out, having an after-work drink and—of course—high tea. This isn't any ordinary high tea experience, it's a Dilmah tea experience. Having collaborated with the ultimate tea legends, the team at Stamford and Dilmah tea have joined forces to bring you a wonderful array of treats. Think a variety of delicate finger sandwiches, chicken curry puffs, Dilmah green tea cheesecake, raspberry macaron with white chocolate ganache and that's not all. There is a tea for every palate—quench your thirst with the elderflower & apple Infusion or try something a little different with the chocolate mint black tea. Those who like their high tea to pack a punch, opt for the Dilmah Elixir cocktail of the day, it's tea-licious!
High Tea At Fisher House
If you live in South Auckland or fancy a drive, head to Manukau to enjoy high tea at Fisher House. Found on what used to be a racing horse stud farm, this is one building seeped in Auckland history. Once the home of Sir Woolf and Lady Fisher, it was built with entertaining in mind and includes a grand lobby, a sweeping, curvy staircase, a billiards room and a stunning garden terrace. And, if high tea at Fisher House was good enough for the Queen Mother, chances are, it's good enough for you too. Served on a three-tiered stand, choose from high tea, royal high tea or even the majestic high tea. Each includes finger sandwiches, fresh homemade scones with jam and fresh cream, a hot savoury, a sweets selection and a collection of sweet pastries and slices. Opt for tea, Marquis de la Tour French bubbles or a flute of Mumm Cordon Rouge, depending on your tastes and extravagance. Fisher House also caters to sprogs with their kids' high tea—it includes fairy bread, butterfly cake, a hot savoury and a fluffy. So, head South now, and enjoy one of the best high teas in Auckland.

High Tea At Bluebells Cakery
One of the best high teas in Auckland is at Bluebells Cakery—given their talent for delicious and beautiful food, it's a must. Served at their Hillsborough, Kingsland and Commercial Bay venues, there are a number of high tea menus to choose from—standard, pregnancy friendly, vegetarian, gluten-free and kids. Is there anything they haven't thought of? There are no champers at this high tea, but there is Supreme coffee, tea, juice or other sparkling drinks to choose from. The savoury menu includes herbed chicken tea sandwich, a mini quiche Lorraine and even that Kiwi classic, the sausage roll. Onto the sweets menu, there's a mini cupcake, cheesecake, macaron, tart, coconut ice and a scone with jam and cream. 24-hours notice is needed for all bookings and is available any day of the week.
High Tea At Hotel DeBrett
If there's one venue for high tea in Auckland that's a must, it's Hotel DeBrett. These guys are taking things to the next level with their roaring 20's offering, held every Saturday and Sunday afternoon inside the hotel's gorgeous art-deco surrounds. Dress up flappers and dappers style (a pack of faux pearls, headbands, long gloves and bright feather boas is available for an extra $15) then enjoy 1920's-inspired eats and drinks, all to the sound of Gatsby-style tunes belted out from their restored gramophone. And that's not all—there's now a Tipsy Tea option, where you'll be treated to a flight of prohibition cocktails including the Bee's Knees, Mary Pickford and Strawberry Rickey, for the ultimate knees-up. We know where we'll be this weekend.
High Tea At Hotel Grand Windsor
A modern take on this afternoon classic, high tea at Hotel Grand Windsor is far from the simple English breakfast, biscuits and tea trolly. Serving your favourite sips in exclusive fine bone china by T2, the spread before you is just calling to be photographed. The high tea is served daily from two until four pm. There are three different options to choose from—tea, wine or champagne. The snacks at this high tea are both dainty and delicious. Every dish is crafted in-house, using only sustainable and locally sourced foods that sing with flavour. Start with the savoury specials of cured salmon with dill or arancini with aioli, then move onto the sandwiches—chicken and walnut, ham and cheese or a good old egg mayo. But save room for the sweet treats—isn't everything just better in mini form? We're talking buttermilk scones with strawberry and rose preserve, elderflower profiteroles, geranium truffle pops and much more to satisfy a sweet tooth.
High Tea At Eden Gardens
One of Auckland's best-kept secrets is the Eden Gardens. Here, you can truly take a step back in time as the cafe is like visiting your grandmother, with its aged decor and seating. It comes as no surprise then, that they also serve up high tea. Relax in the lush surrounding and indulge in chicken and cucumber club sandwiches and sundried tomato filo cups. Or, from the sweet side of Eden Gardens' high tea, you'll enjoy the likes of macarons and mini lemon meringue pie. Naturally, you'll enjoy tea and scones too and entry to the gardens is included so you can take a tour around the grounds afterwards like the genteel people you are.

High Tea At Sugar At Chelsea Bay
If you like your high teas pretty, super sweet and with a touch of whimsy, Sugar at Chelsea Bay has you covered. And we wouldn't expect anything less, considering this one's located in what is literally the sweetest spot on all the Shore—the Chelsea Sugar Factory—and is run by the team behind famously decadent cafés like Winona Forever, Major Tom and Rude Boy. Start with fluffy scones lathered in cream and assorted preserves, followed by a tower stacked sky-high with treats of both the savoury and sweet variety. We're talking mini crème pâtissière-filled donuts, cucumber and caviar bruschetta, and pretty little almond tarts topped with fairy floss. Oh, and did we mention you'll also enjoy what is possibly one of the city's best views of the Harbour Bridge? Currently available on weekdays for groups of 20 people or more, gather your crew (and everyone else you know) for an unforgettable afternoon gorging on the very best treats in town. Bookings essential.
High Tea At The Pie Piper
High tea may be a British tradition, but that isn't stopping our friends at The Pie Piper sprinkling it with some of their signature American flair. That's right, you'll be able to stuff your face with all the usual high tea suspects (think sammies, quiches and scones) alongside the exciting addition of miniature doughnuts, cheesecakes and of course, some of The Pie Piper's famous dessert pies (yeeha). Complete your meal with a cup of Harney & Sons' fine tea, and you're living the transatlantic dream. Available at The Pie Piper's East Ridge store between 2-4pm, Thursday through Sunday. Again, bookings are essential.
Why not keep your day classy and seek out Auckland's Best Rooftop Bars.
Image credit: Cordis, Ostro, Stamford Plaza, Hotel Grand Windsor, Bluebells Cakery, Sugar at Chelsea Bay by Wono Kim