There's nothing more serene than dozing off to the sound of crashing waves as you lie beneath a canopy of stars. When you trade your bathroom for a bush and your oven for fire, there'll be many liberating feels up for grabs as you rough it on nature's land.
We're talking beachfront camping, and we're sure West Australia remains unbeaten when it comes to coastal wonderlands.
Here's our picks of the best beachside camping spots in WA.
Parry Beach
Less than a half hour drive from Denmark, this campsite is just a hop, skip and jump away from Parry Beach. The campground costs $17 per night which includes the basic amenities like toilets, showers, and bbqs. It's also pooch-friendly which is what we love to hear.
LUCKY BAY CAMPGROUND
Scrolling through the 'gram on the daily, one thing's clear; we need to do more of what makes our soul happy. If that's our collective life goal then camping at Cape Le Grand should be headlining our to-do lists. The campground, Lucky Bay, complete with solar hot showers, sits on the edge of Australia's whitest sand beach back your swimmers and join the roos for a sunbake, take a dip in the ocean, or reverse last night's BBQ snags with a bushwalk through Frenchman Peak.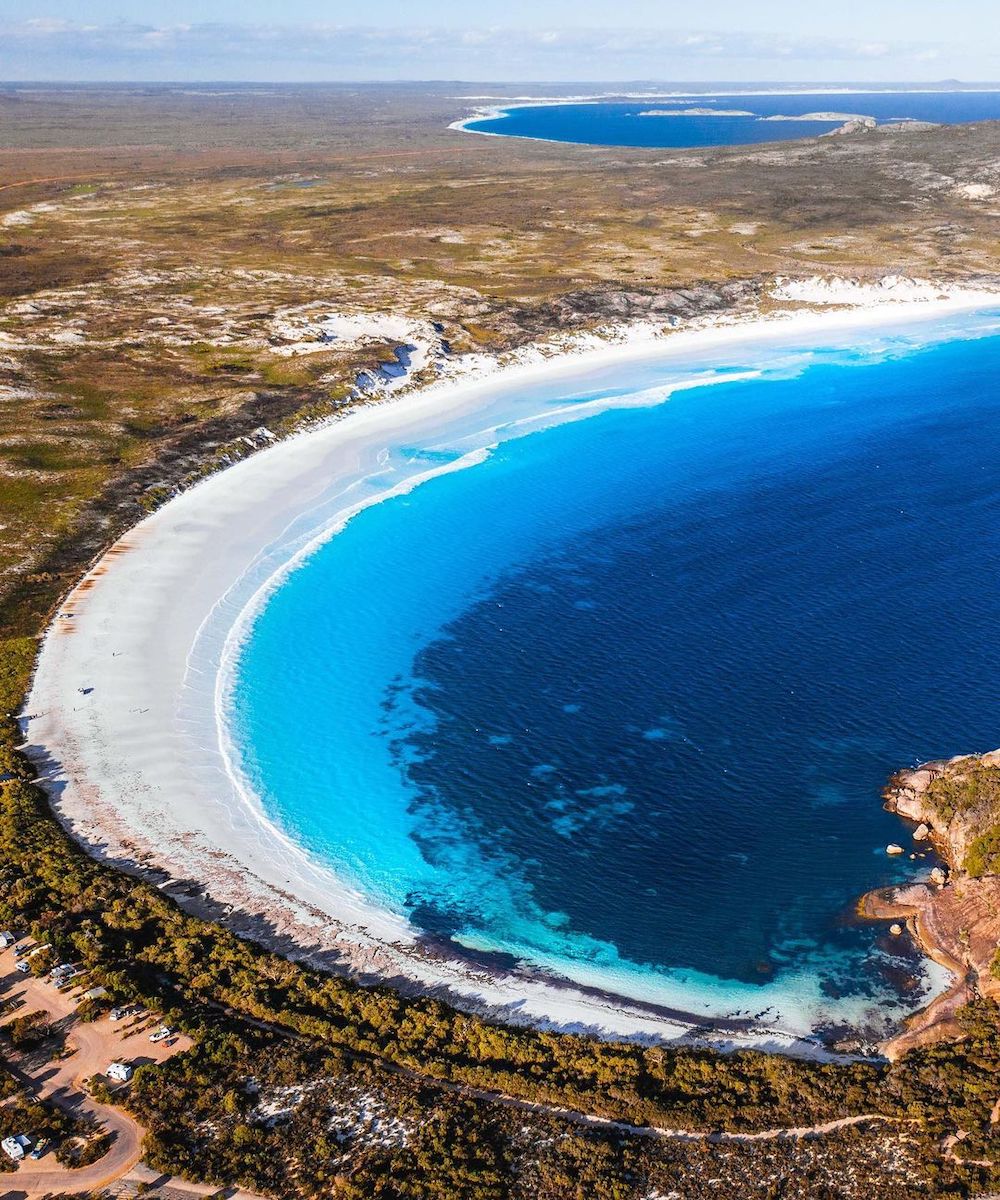 Shelley Beach
One of the most popular spots in the West Cape Howe National Park area, Shelley Beach can be reached with a two-wheel drive. This campsite costs only $11 per night allowing you to set up right by the beach which is bounded at both ends by two granite boulders.
Eighty Mile Beach Caravan Park
Just 50 metres from the beach amongst the sand dunes, Eighty Mile Beach Caravan Park is located between Port Hedland and Broome. Campsites are from $35 per night with over 100 powered sites available with fresh water taps. There's also a mini mart which stocks everything to ensure a comfortable stay. The site is the perfect coastal stopover on your trip along the Great Northern Highway.
Hamelin Bay Holiday Park
If you love stingrays then Hamelin Bay Holiday Park is a must visit on your WA road trip. With 95 powered sites and 25 unpowered, you'll be able to set up and head down to the beach to greet the friendly stingrays who often come up to the shallows. The cost of sites start at $26 per night and include shower and bathroom facilities.
Conto Campground
Located in Boranup, Conto campground is the perfect spot to set up shop in the coastal woodland. With 116 sites, the campground can cater to large camper vans and trailers, and those driving two wheelers. You'll also be happy to hear it includes toilets and allows easy access to the Cape to Cape track and Contos Springs beach. Prices begin at just $11 per night so it's an absolute steal.
Sal Salis
The word glamping gets thrown around a lot these days but Sal Salis is some serious A-grade camping bliss! About 70km from Exmouth, 16 wilderness tents lie in the dunes where the desert meets the reef, gifting you with endless opportunities to observe land and sea life. Swim with whale sharks by day and return to a soiree of chef-prepared meals in the communal lodge by night. The daily rate is a bummer in comparison to conventional campgrounds, but middle-of-nowhere luxe ain't free, right?
14 Mile
Located just over 40km south of Coral Bay, this site allows you to camp right on the beach. The site is best suited for the avid and prepared campers though, as there are no facilities available. Prices start from $16 depending on the season.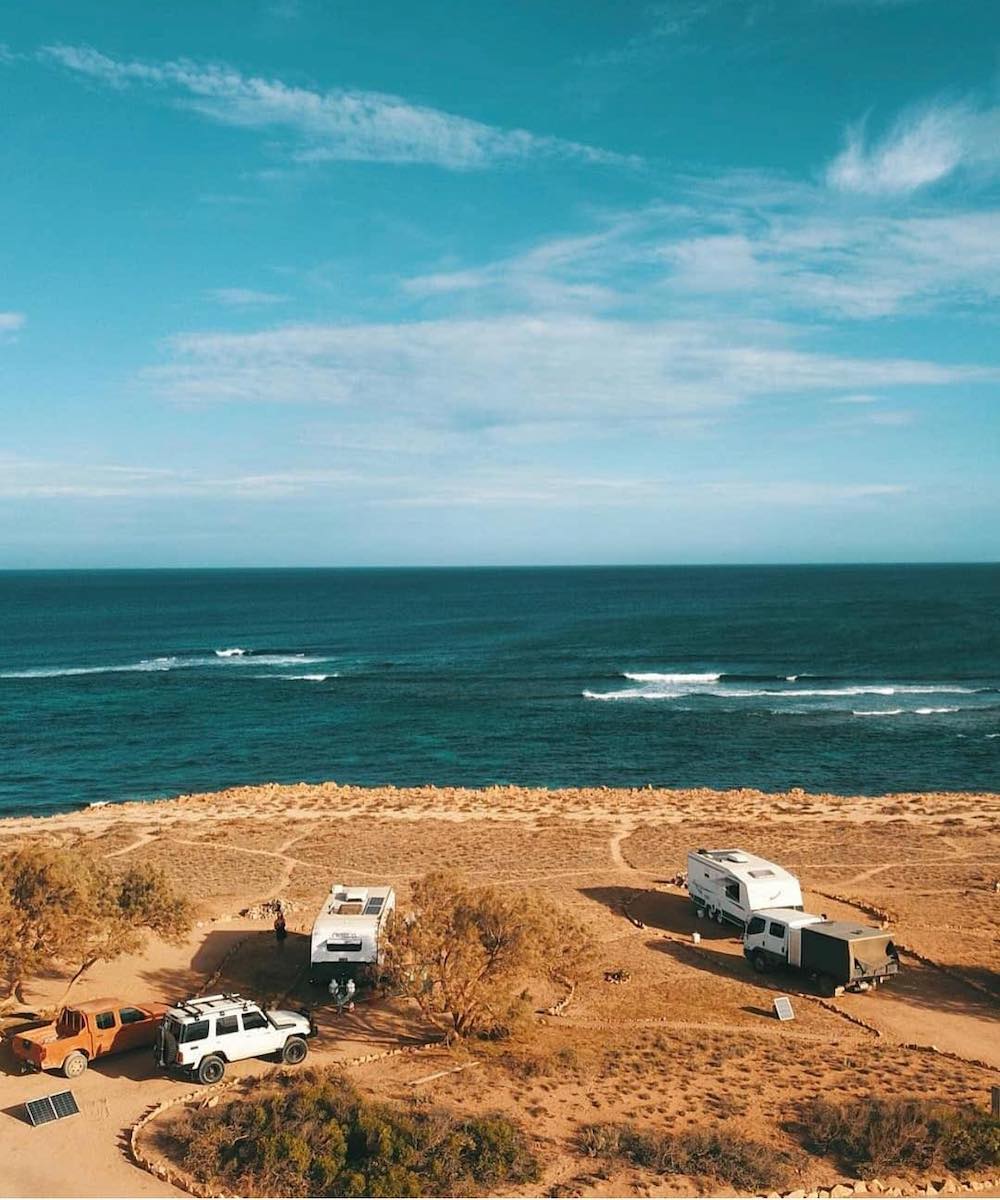 Shoal Cape
For four-wheel drivers only, Shoal Cape is an idyllic spot offering endless snorkelling, swimming, diving and fishing options. Located south of Perth, the campground is adjacent to Fanny Cove in Stokes National Park. The camping site is free, but there are only three sites available. If you snag a spot, you can get to the beach via the stairway or look out on the viewing platform.
Martins Tank
Just under an hour's drive drive from Mandurah is Martins Tank. Close to Preston beach, the ground offers 33 campsites from $22 a night. There are also gas BBQs, toilets and picnic tables available as well. This accessible campsite is an ideal spot for those who want to go camping for just a couple of nights.
3 MILE
Where the desert meets the sea, 3 Mile is Gnarloo's campground. Sitting pretty by a protected lagoon and some of the best waves in the world, this campground is essential for those who just can't get enough of the salt water. Prices begin at $20 per night, changing depending on which of the three campsites you choose from. 3 Mile includes toilets, hot showers, and sinks, and there's also a small shop on site stocking the camping essentials.
Need more travel inspo? Check out WA's best outdoor baths.
Image credit: Wei Pan, Dylan Alcock, Carnarvon Visitor Centre