It used to be pretty tricky to get a really good burger in Perth, but these days there are so many burger joints popping up that it can be hard to keep up.
While everyone has got their own personal favourite, we have hunted down 15 of the best burgers in Perth for you to get your greasy hands on.
Hoodburger
Northbridge And Inglewood
The cheeseburger kings at Hoodburger don't do things by halves. Get yourself a peanut butter and jelly cheeseburger or a triple burger with cheese. You probably won't be able to eat for a week after but it's important to try these things. They're also working on specials in the test kitchen each week, if you spot the nasi lemak burger on their social feeds run, don't walk.
Joey's Swan Valley Diner
Swan Valley
The Swan Valley's first drive-thru cafe also happens to be dishing up some of Perth's best burgers. If you're into pulled pork, you'll want to check out Joey's 3 Little Pigs burger, but our pick is the Chicken Parmi Burger. If you're a meat-lover at heart, the BBC with beef, bacon and chicken is the burger for you.
Short Order Burger Company
Fremantle And Perth
Oh sweet beefy goodness me, the buns are soft and the hand made beef patties are spiced and cooked to pink perfection at Perth burger joint Short Order. Run to your car now to sink your desperate burger-loving face into the BBQ bacon cheeseburger; beef patty, smoked mozzarella, American cheddar, caramelised onion, Short Order BBQ sauce, whole egg mayo, pickles and maple candied bacon.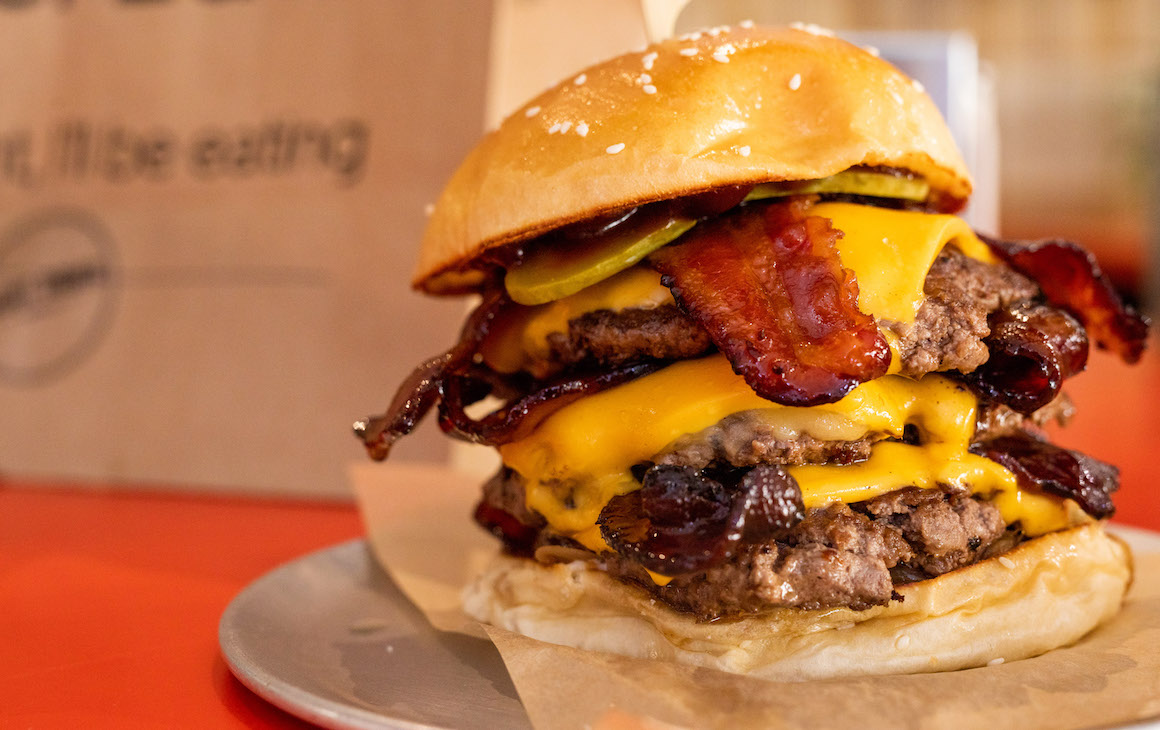 RoyAl's Chicken & Burgers
East Victoria Park, Northbridge And Wembley
Perth burger fans know that RoyAl's Chicken & Burgers is the place to go for a good American style burger. Whether you're after a good ol' meat pattie, buttermilk fried chicken, pulled pork or vego, the team here will sort you out. We like the El Diablo, partly because we like to spice things up, but also because it comes with tater tots inside.
Upperhand Burgers
Swanbourne
While there are plenty of American style burger joints in Perth, Upperhand is one of the only LA Burger spots we've come across, and we dig it. Using potato rolls for all their burgers instead of the brioche buns we've all become so fond of, you can expect something a bit different—but equally delicious—at Upperhand. The Taiwanese Snapper Burger is a must try and you'll want to get some peking duck fries on the side.
Brooklyn Lounge
Claremont
So. Many. Amazing. Burgers. It's impossible to choose just one from Claremont bar Brooklyn Lounge. If you're really in the mood for living you've got to have the Drunk Texan Burger. Two wagyu beef patties, cheese, bacon, Bourbon caramelised onion and BBQ sauce, all slammed into a brioche bun.
Charlie's BBQ
Currambine
Hardcore burger fans flock straight to Charlie's BBQ for their over-the-top, heart-attack-inducing American style burgs. No matter which burger you get, you can expect oozing sauce, loads of melty cheese and plenty of pickles. Top it off with a shake or soda and plenty of chips and you're in for a good night.
The Peach Pit
Scarborough
There's no denying that The Peach Pit is flipping some of Perth's best burgers. The Henny Penny—with its cornflake crumbed chicken and ranch sauce—is a thing of beauty and only gets better with a cold pint or a cheeky cocktail.
East Village
Perth CBD And Whitfords
An oldie but a goodie, East Village is still the way to go when you want to go to Burger-town. This New York style diner is where to head for some of the best burgers in Perth. They don't mess around with their New York cheeseburger; double beef patty, homemade relish, pickles, onion, lettuce, tomato, cheese and mustard mayo. No need to move to the Big Apple now.
Varsity Burgers
Various Locations
Arguably some of the best burgers in Perth are found at Varsity Burgers. American-style burgers on brioche buns are served here with scrumptious sides like the hot wings and chilli cheese fries. The Texan burger—a double cheeseburger, bacon, tobacco onions and smokey BBQ sauce—is hard to pass up, but there's plenty on offer if you're feeling adventurous. The Cluck Norris is a winner for the name alone and the Nada de Carne with corn chips and avo is a vegetarian's dream.
Meet & Bun
Perth, Mount Lawley And Fremantle
Serving Shake Shack style burgers to the people of Perth, Meet & Bun is on our favourite list for the names alone. Our top picks are the Ari Gold, made with a locally sourced organic beef patty, all the good stuff like pickles, ketchup and their famous chipotle mayo, and the Chilli Chilli Bang Bang. You'll also want to get one of their amazing shakes to wash it all down.
Greenhorns
Perth
After a successful launch at Freo Beer Fest back in 2016, Greenhorns popped up at Raine Square and their burgers quickly gained a reputation for being darn tasty. If you like things spicy, The Scorcher, is a winner. It's loaded with a beef patty, cheese, maple bacon, lettuce, tomato, crispy onion rings and the good ol' Shit The Bed hot sauce. They're currently teaming up with Feral to bring you burger and beer packs which you can enjoy at home, iso style.
Big Rigz Burger Co
South Fremantle
These guys have so many burger options you won't know what to do with yourself. Think grass-fed beef with streaky bacon, caramelised onions and chipotle mayo slaw. Or free-range chicken with kimchi, pickled daikon and Korean sauce. Of course, there's also vegan, vego and gluten free options too. But the best part of these burgers is the Big Rigz secret recipe buns which will have you coming back over and over again.
Flipside
Northbridge, North Fremantle And Wembley
One of the best things about Flipside is that they are connected to some of Perth's best small bars like Mrs Browns, Mechanics Institute and The Stanley. The other best thing is the chilli-ander chicken and the fact that you won't feel like a greasy mess after polishing one of these burgers off. Flipside does all their burgers in the mini size, meaning that even if you ate up a storm earlier in the day, you can still treat yourself to a baby burger while you're having a drink.
Johnny's Burger Joint
Canning Vale
Put your fat pants on and head out to Johnny's Burger Joint for some heart-stopping burger action. Old mate Johnny delivers American style burgers—big greasy monsters—that make you feel like you are being water-boarded with beef. There are man-versus-food-style challenges to be had here too. Try the cure burger ­with 200-grams of bacon, 200-gram bacon infused patty, American cheese, onion rings and special sauce. It's the cure to a healthy BMI.
Want more of the best burgers in Perth? Click here for Perth's best breakfast burgers.
Image credit: Louise Coghill, Nancy Hanna and Elle Borgward