There simply isn't an occasion that doesn't call for flowers. Saying thanks to a mate, telling your lover they're the bees knees or celebrating your bestie's new promotion. Whatever you need, a bunch of blooms will have you covered.
Whilst there's a myriad of some pretty great delivery services available, sometimes you just need to stroll past a pretty posy to make up your mind, or most likely, you've missed the delivery deadline.
From stems by the bunch to ridiculously good-looking arrangements, we've got you—here are the best same-day services in Perth.
The Flower Hound
Fremantle
We are head over heels for the bouquets coming out of The Flower Hound. Words don't do it justice, so we suggest you check out their Insta for a glimpse of the bright, beautiful and whimsical designs that will be thrown your way. These are next-level amazing and guaranteed to be on anyone's wish list.
Chatsworth Flowers
Highgate
If you're a lover of all things floral, chances are you'll know about Beaufort Street's deli style florists lined with pre-made arrangements as well as buckets of natives, greenery and seasonal blooms where you can choose your own stems and let your creativity flow. Chatsworth is our pick of the bunch (no pun intended) dishing out some seriously modern bouquets as well as a selection of pick and mix that will make your heart melt.
Fox And Rabbit
Perth
Housed inside the State Buildings, Fox and Rabbit is where you'll need to go when you're gifting to someone that's oh-so special. The modern bouquets wrapped in premium textured paper and ribbon scream 'I love you' and the vase arrangements take it to the next level.
Debra Hayes Floral
North Perth
Debra Hayes is considered one of the best in the biz and it's no wonder why. The seriously stunning shop on Angove Street belongs in a magazine and the bouquets, hampers and gifts ooze style. You can jump online and select pick-up then treat yourself to a coffee and pastry on one of our fave Perth strips.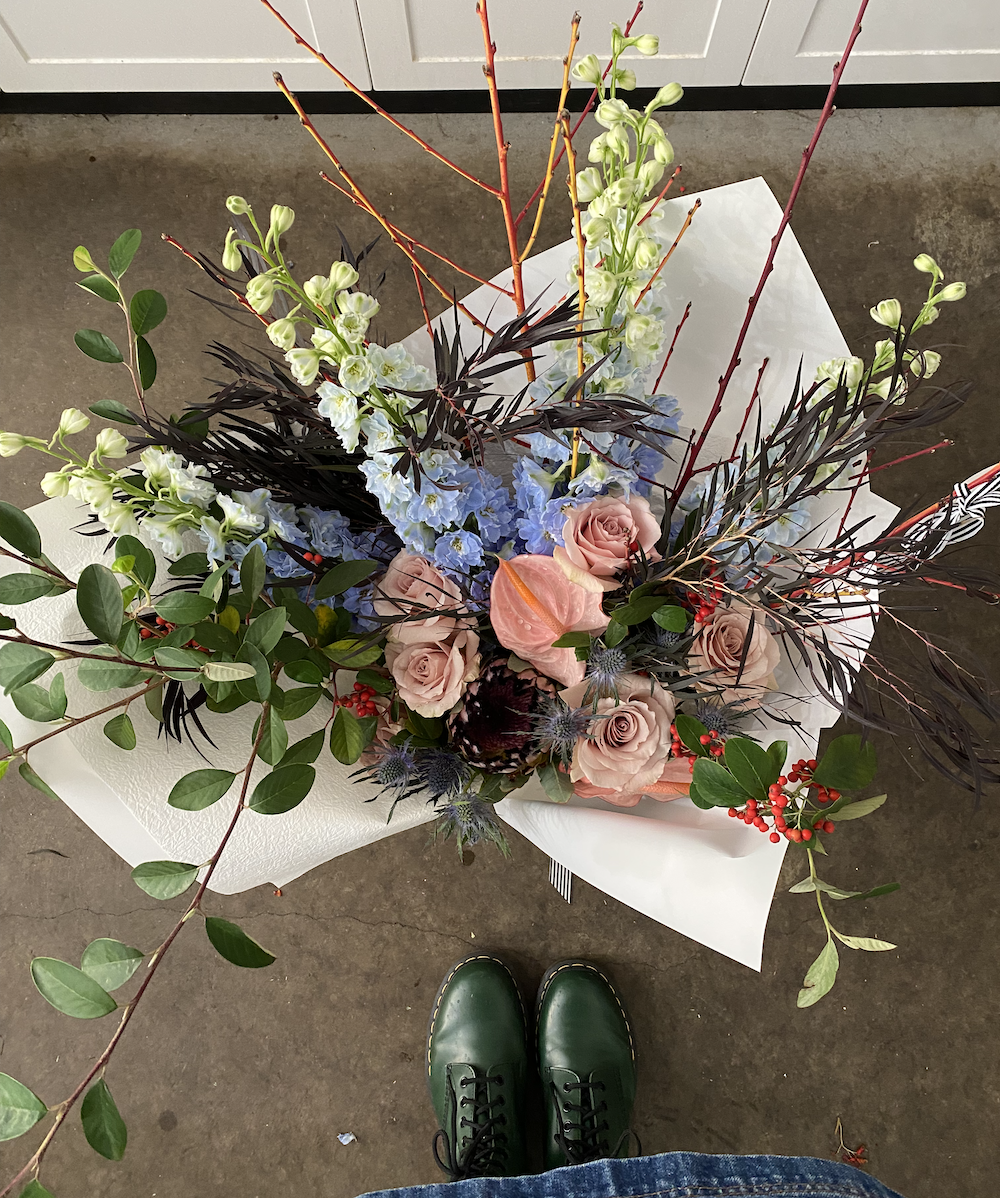 A Mano Florals
Duncraig, Karrinyup and Woodvale
The stylish arrangements from A Mano will blow your mind without burning a hole in your pocket. The bouquets are wrapped in luxe paper and ribbon whilst the huge range of vases and pots mean you can let the florist create something seriously unique that will fit the brief. The best part? You can pick up a bunch after a hard day of shopping at Karrinyup.
Floret Boutique
Perth
If you take up a desk in the CBD you'll be pleased to know you can race out to Floret Boutique on your lunch break and pick up a damn fine bunch of flowers. We're a sucker for any of the mixed bouquets featuring romantic roses—whatever your style, the good folks here will have you sorted.
The Herdsman
Churchlands
For anyone that knows the Herdy, you expect to walk out with far less pennies than you brought in. It's no joke that you'll want to fill your trolley with all sorts of goodies that lay here, and the flowers are no exception. The flower market has some of Perth's most beautiful blooms as well as home-decor worthy vases and the prettiest gift wrapping.
Petal Studio
Claremont
The Bridgerton-esque flowers in a paper briefcase were love at first sight. The crew behind Petal Studio have totally changed the way we want to carry flowers for the rest of our life. Bright roses, orchards, lilies and tulips—both you and the recipient will never look back.
2nd Ave IGA
Mount Lawley
If there was ever a suburb of flowers, it's Mount Lawley. From one end of Beaufort Street to the other, you're absolutely spoiled for choice. 2nd Ave IGA is up there with not only one of the world's greatest grocery stores (think homemade tortillas), the flowers are also set to rival some of the best. Flowers, gourmet choccies and homemade grocery supplies—this is some seriously good gift giving.
Manic Botanic
Wembley
The flowers from Manic Botanic are nothing short of divine. We love popping in to see what's on offer or calling in advance to let the team know who we're buying for and what we're looking for - a pop of colour, a romantic statement or a touch of creative flair. The good people here know how to deliver.
Lime Flowers
The Black Truffle, North Fremantle
The pretty little posies by Lime Flowers are enough to brighten anyone's day. Head to The Black Truffle, peruse the flowers while you wait for your coffee and you'll walk out one happy, caffeinated shopper.
Karrinyup Flower Shed
Gwelup
If you don't want to break the piggyback and are not willing to compromise on style, Karrinyup Flower Shed is where it's at. You can browse the freshly cut flowers in buckets or ask for an arrangement to be made up. You can even bring your own vase and the friendly team will whip up something to suit.
Code Bloom
Mount Hawthorn
After eating your way through Mount Hawthorn head on over to Code Bloom and get ready to have your socks knocked off with the incredible natives, posy jars and everlastings you can choose to spoil someone with. There's a beautiful range of gifts and you'll have a hard time walking out with just a bouquet in hand.
Boatshed Market
Cottesloe
Every single item from the Boatshed is pure perfection. Expect nothing less from the in-house floral market. You can order ahead of time or simply stroll past some of the prettiest flowers you'll ever lay eyes on and decide what fits the bill.
Fresh Provisions
Bicton and Mount Lawley
Last but not least, this gourmet grocer deserves a spot at the table. The flowers here are spectacular and on any given day you'll be greeted with bouquets that suit your taste and budget. Walk in for flowers, come out with some cheese. It's a win win.
Don't have time to get there yourself? Try Perth's best flower delivery services.
Image credit: Supplied (Debra Hayes Floral)