Who can resist the sizzling, smoky, tantalising goodness of teppanyaki? For those who are unfamiliar with the theatre of flavours that is teppanyaki, allow us. Teppanyaki isn't a food, it's a way of preparing and cooking food that is distinctly Japanese, but heavily influenced by ingredients loved by the west and our enjoyment of food stunts like flaming onion stacks. Seated around a hot iron plate at which a knife-wielding chef stands ready to thrill you, you'll enjoy all kinds of delicious morsels skilfully grilled right before your eyes. It's half cooking technique, half modern performance art.
Traditionally, teppanyaki is either done in the kitchen and brought out on a smaller hot plate to keep it warm, or on a large teppan grill in front of guests. We Perthlings are lucky to be able to enjoy everything from private chefs executing impressive teppanyaki routines complete with flames and knife juggling, right down to humble little eateries with a 'teppanyaki' section listed on the menu. Either way, the end result is glorious! So bookmark this list for the next time you're planning a fun night out: here is where to find the best teppanyaki in Perth.
Nobu
Burswood
Certainly on the pricier side, but well worth it, Nobu needs very little introduction to Perthlings. When it comes to teppanyaki, Nobu is delivering up the extremely hot goods. The restaurant holds two private-ish teppan tables, where you can enjoy a seriously exciting dining experience without being totally cut off from the atmosphere of the rest of the establishment. The yellowtail sashimi with jalapeño is indescribably good, as is the pork belly with miso caramel sauce. Need we say more?
Tsunami Ko
Mosman Park
So continues our love affair with great food that lies behind inconspicuous doors. Tsunami Ko is the epitome of exclusive dining, and could represent the peak of experiencing teppanyaki in Perth. The place only fits 16 people, all seated around the iron plates, so you've got pretty much full view of the teppanyaki theatrics from wherever you're seated. You can order straight from the teppanyaki menu, or go for the Omakase, which is a chef's selection. Make sure to accompany your meal with one of their fifty different sake varieties or a Japanese whisky, if you dare.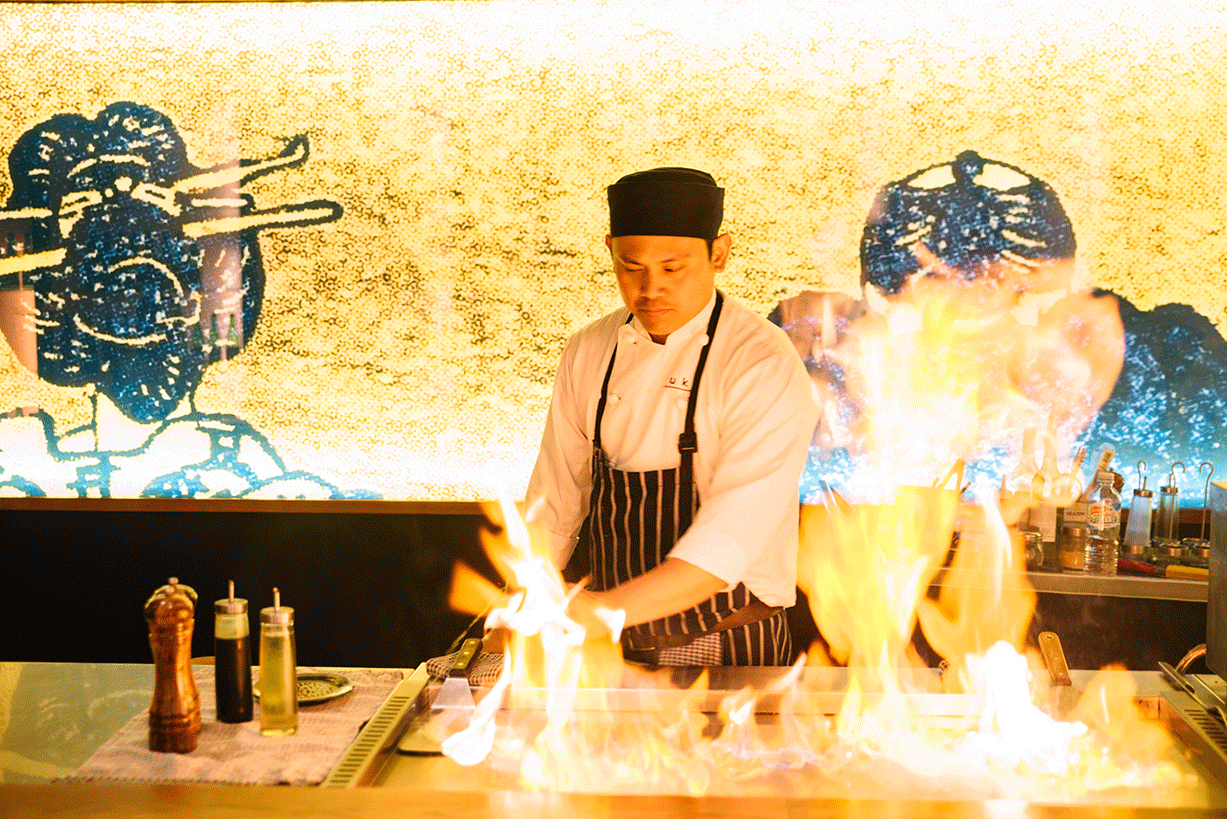 Midori Teppanyaki Bar
Northbridge
While you could be forgiven for walking past this place thinking it's another of James Street's classic dive bars: don't. Midori is lively and experimental, and their probably-circus-trained chefs dish up some of the best teppanyaki in Perth. Split over two floors, the vibe of the place falls somewhere between a grand old eatery and a nightclub. They offer teppanyaki for all downstairs, with private teppanyaki rooms upstairs boasting their very own private bars. If you're lucky, you might get some grilled shrimp flicked straight into your mouth from the hot plate! But the teppanyaki chefs won't be the only ones to dazzle you—the bartenders are equally as entertaining and inventive.
Nishi
Myaree
If you're looking for a place that's humble, but still really puts on a teppanyaki show—you've found it in Nishi. They have a specially designed teppanyaki menu, offering five unique sets, all theatrically prepared and cooked at your very own eight-seater teppan table. The chefs are entertaining—even funny, we've heard—and the prices are comparably low! Look out for their lunch specials—the $19/person teppanyaki lunch is surely the cheapest teppanyaki in Perth.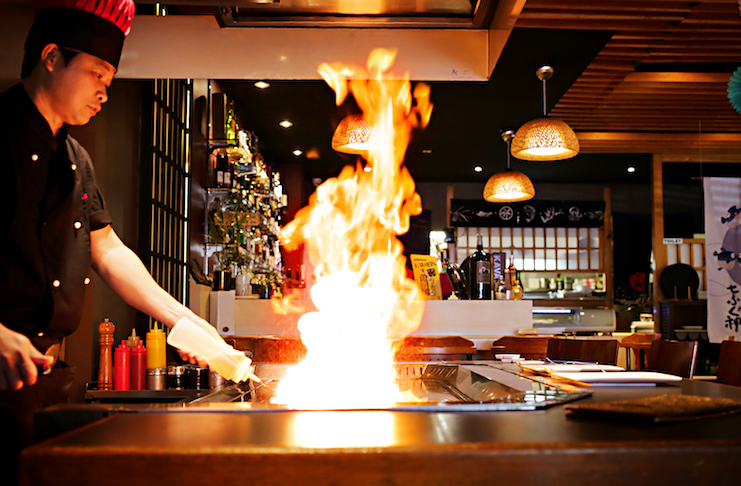 Sushia Izakaya
Perth
The stunning, modern fit out of Sushia is just the first thing that will impress you. Their menu is diverse and tantalising, and the quality of food served up is reliably high. Though the place doesn't centre itself on a teppanyaki experience, there is a teppanyaki section of the menu from where you can get your favourites: the yuzu soy marinated duck breast is divine.
Hanami
Mount Lawley
While they don't have teppan tables or the performance aspect, it felt wrong to devise a list of delicious teppanyaki in Perth and leave Hanami off it. Part of their menu is dedicated to teppanyaki and boy it's good: Wagyu beef, salmon, prawn and scallop (among others!) all cooked simply and to absolute perfection.
Find more Japanese restaurants in the directory.
Image credit: Nancy Hanna at Tsunami Ko | Elle Borgward at Nishi