There's something in the water in Perth and we're ready to fill our cups with it after being inspired by some incredibly boss babes. From an entrepreneur who grew her retail beauty brand into a $10 million dollar business practically overnight to a whole slew of women with smart ideas and amazing get-go. This International Women's Day we're celebrating them all, along with countless other amazing Perth ladies out there.
Get ready to be inspired, these are some of the impressive women making a name for themselves in our sunny state.
Helen Pow
The Little Posy Co
Helen Pow worked as a reported for The Sunday Telegraph before starting her small business. After learning the art of floristry as an intern at Brooklyn's Pretty Street Botanicals in New York, Pow returned to Perth and launched The Little Posy Co to great success in 2014. The idea was simple, deliver one style of bouquet to houses around the metro area for just over $30. In the early days, Pow would craft the beautiful bunches from her gran's house and call on friends and family to help with delivery. Now the business is flourishing with a warehouse in Fremantle, a team of florists, fleet of drivers and an expanded offering to service any occasion. The Original Posy still satisfies for 'just because' moments, but Pow has also added double and triple posies, as well as subscriptions and gift sets to honour any occasion.
Iris Smit
The Quick Flick & Beauty Fridge
While the rest of us were out partying and living a life free of responsibilities, at 21 Iris Smit was inventing The Quick Flick, a revolutionary beauty tool that's grown into a multi-million dollar business for the now 25-year-old. Winner of the 2019 Ernst & Young Emerging Female Entrepreneur of the Year, business boomed for Smit after appearing on Shark Tank and turning down a $300,000 deal from Andrew Banks, but she didn't stop there. Last year saw the launch of her latest endeavour, the Beauty Fridge, designed to prolong the life of your favourite cosmetics. With her business now valued at over $10 million, we predict even more greatness to come from this young Perth boss lady.
Chloe Sherrell
Olive & July
Chloe Sherrell is another badass Perth businesswoman making a name for herself in the beauty industry. Her Subiaco beauty salon and skin clinic Olive & July has become known for pumping out luscious lashes, full brows and glowing faces. Starting out as a one gal show in a shared space with Bruug an Babylon Coffee in Leederville, Sherrell, 26, now runs the Olive & July salon out of a beautiful, light and airy space on Hay Street with five employees under her wing. Most recently Sherrell has launched the Australian-made Olive & July Skin range which is organic, natural, vegan and cruelty-free. With plans to grow her business even more, Sherrell is one to watch.
Grace Armstrong
F Is For Dance
Grace Armstrong coined a winning idea in 2014 when she launched her dance events company F Is For Dance. Starting out as weekly underground Beyonce-style dance classes, F Is For Dance has expanded its offering to include burlesque, twerkshops, cabaret and even more dance styles, and it now exclusively services events from hens parties to team building and everything in between. Armstrong's background in small business development and social media have served her extremely well in her business ventures, having expanded F Is For Dance to Sydney several years ago. The now Harvard Business grad spends plenty of her jam-packed days offering up guidance to fellow small business owners through Business Station Inc. And she's done it all before 30.
Clara Hurst and Deb Cohen-Jones
The Secret
If you're wondering how to get the best skin of your life, Dr Clara Hurst and Dr Deb Cohen Jones are two boss ladies you'll want to familiarise yourself with. Both were working in the skin game and when they met a couple of years ago. "We realised we had both been prescribing similar products to our patients. Mine were similar to The Secret but never produced by me, so the results were always varied as they came from various chemists. Clara had been prescribing the same ingredients for over ten years with fantastic results but with a more complex multi-step process costing five times our current price," Deb says. Soon enough, Australia's first prescription skincare line was born. The Secret uses medical strength ingredients and every product is tailor-made for each patient.
​Gabby Ursino
Brow Hub
Responsible for some of Perth's most beautiful brows, Gabby Ursino launched Brow Hub in 2015 and it's been booked up ever since. A trained beauty therapist with over 10 years of experience, Ursino's philosophy for crafting the perfect brows comes down to enhancing the individual's natural brow structure. Widely revered in the Australian brow artist scene, Ursino trains other brow bosses in the Brow Hub method and also offers up brow lamination, lash lifts, IPL and Dermaplane facials. Her next venture, holistic beauty biz Face Apothecarium, is due to launch in 2020. We don't know how this beautiful young mumma does it.
Claire Chidgzey & Jaye Cuypers
LA Fit Studio
Since LA Fit burst onto the Perth scene five years ago, owners Claire Chidgzey and Jaye Cuypers have grown the fitness studio to two thriving locations. The pair, with backgrounds in marketing, business and finance, attained the exclusive WA license for Lagree Fitness in 2015 and now the studio offers Ride classes along with the calorie-blasting Megaformer classes, making it a one-stop-fitness shop. No doubt these ladies have more in the pipeline.
Kathryn Cizeika
Empire Rose
2020 marks the 22nd anniversary of local fashion label Empire Rose and we couldn't be more in awe of designer and owner Kathryn Cizeika. Stocked around Australia and New Zealand, with a studio in North Fremantle, the label has gone from strength to strength over the years thanks to Cizeika's uber-cool aesthetic that blends street style with high-end glamour. Always a hot runway show to watch at Perth Fashion Festival, the past WA Designer of the Year shows no signs of slowing down.
Paris Nesbit
Paris Rose Hair Artistry
A blonde and brunette hair colour specialist, Paris Nesbit launched Paris Rose Hair Artistry inside Gabriella Brow Studio in 2016 after several years spent honing her talents. The business quickly boomed and Nesbit opened her flagship Subiaco salon in 2017. Since then, Nesbit has brought a talented team of six into the fold and is about to jet off to New York Fashion Week to do hair for not one but three shows. She's also just been approached to be the prestige partner of Perth's newest five star hotel, The Ritz Carlton. It's no surprise the salon churns out some of the most beautiful locks in Perth.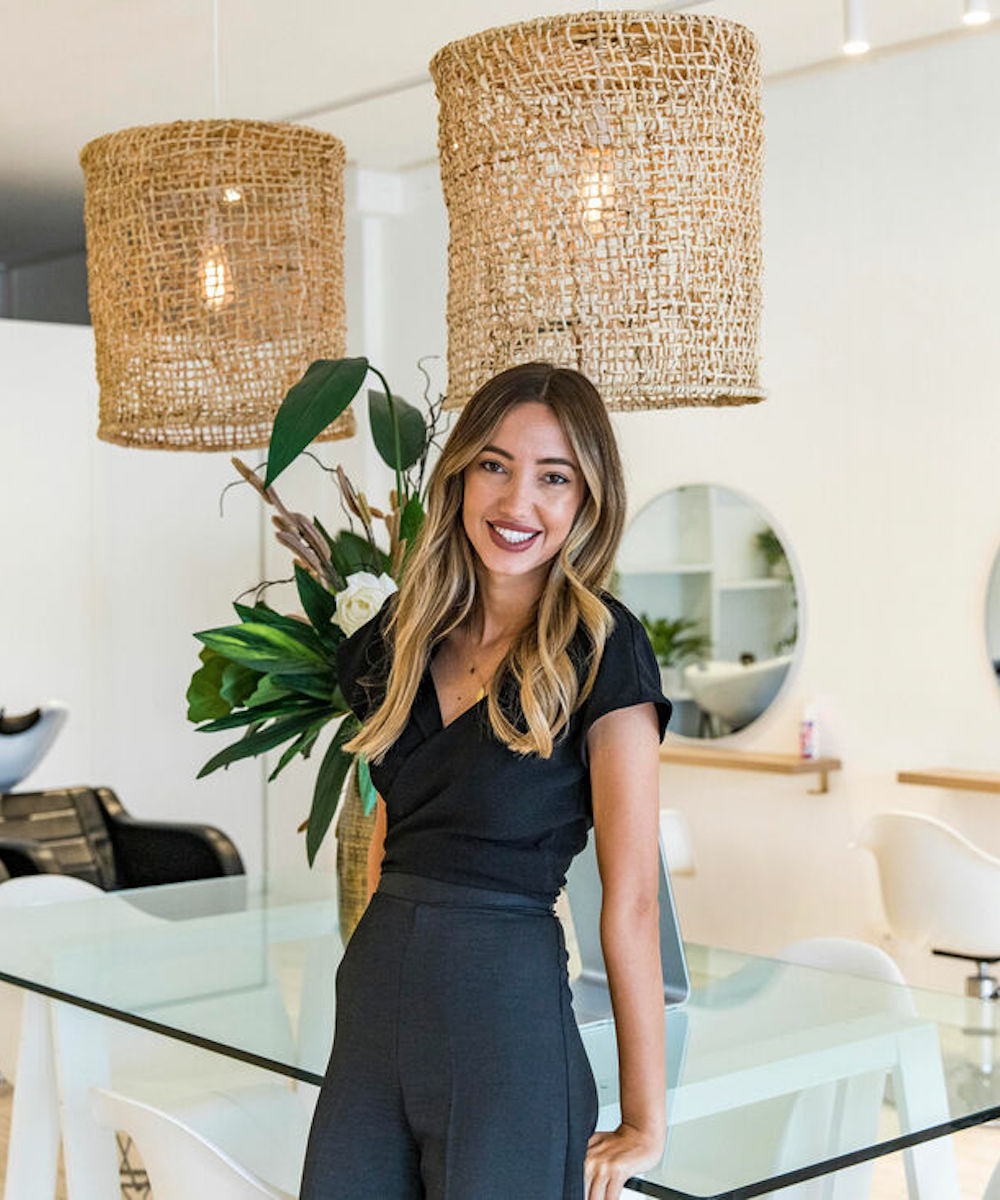 Emma & Leah Gilbert
Zero Store
Zero Store was a natural progression for sisters Emma and Leah Gilbert whose journey into the world of health started from a young age. A sister venture for The Raw Kitchen and Gypsy Elixirs kombucha, Zero Store couldn't have come at a better time with increased attention on climate change among the masses and the popularity of waste-free living on the rise. The sisters set out with the mission to make low-waste living more convenient and affordable and since launching almost two years ago they've scaled their brick and mortar business housed inside The Raw Kitchen warehouse into an online store bringing carefully curated environmentally friendly products to the masses.
Kim Tran
La Belle Peau Skincare Clinic
Kim Tran, AKA Perth's skin whisperer, opened La Belle Peau way back in 2007 when she was just 19 years old. Since then, the dermal therapist has won multiple awards, was named Telstra Young Business Woman of the Year in 2016, took out the West Australian Business News' 40 under 40 Awards and is hands-down our favourite person to see when our skin needs a pick-me-up. Offering skin treatments with a focus on cosmeceutical and dermal science, the clinic now employs a qualified team of beauty therapists, cosmetic physicians and dermal therapists and has performed over 100,000 treatments. Tran is so good at what she does that she regularly shares her skin knowledge with top magazines and newspapers.
Want more girl boss inspo? Check out these incredible Perth restaurants and cafes run by women.
Image credit: Elle Borgward, supplied