We love our bread, we love our butter, but most of all we love celebrating International Women's Day. Our femme foodies kill the game every day of the year with their talent, hard work and dedication, but we wanted to give them an extra-special shout out in recognition of IWD this Sunday to champion the incredible work that they're doing. It's a tough world out there, but these women are owning it, literally.
We dig the work of each and every female foodie business owner below, so we've got the inside scoop on them all. All you have to do is get out there and support them.
Melissa Palinkas And Susan Whelan
Young George, Ethos
While these two deserve their own entries, their stories and careers are so interwoven that it's hard to mention one without the other. Melissa Palinkas and Susan Whelan first met back in 2002 and their passion for good food and great wine had them dreaming of opening their own restaurant one day. Fast-forward 18 years and the power couple have made their dream a reality in the form of their sustainability-driven neighbourhood bar, Young George, and the soon to open, zero-waste deli and dining room, Ethos.
Palinkas' food is inventive, original and delicious, but it's her focus on sustainability that sets her apart. Her cooking follows a nose to tail and root to shoot approach to minimise waste, and she's always looking at areas where she can reduce the carbon footprint of Young George, using reusable glass jars and preserving just about anything that's leftover.
"As partners in business and also being married, we don't actually think too much about our gender when operating our business on a day to day level. We see everyone within our business as equals regardless of whether they are male or female," Palinkas says. Knowing that there is progressive brain power turning the cogs over at Young George is incredible, in our opinion, but Palinkas still notes that there are times where they encounter old-fashioned perspectives, causing them to be overlooked simply because they are female. "From a kitchen aspect, this is still a male-dominated profession but it inspires me to work harder and strive to be on top. I think if you are a strong, independent woman you can do anything you put your mind to!"
Georgina Terrana
Roho Bure
Georgina Terrana began her vegan ice cream mission in a humble garage in South Fremantle after she realised it was impossible to find seriously good vegan, gluten free and sugar free ice cream in Perth. She made it her duty to offer a decadent dessert experience and sprinkle it with her own flair, experimenting with different flavour combinations that were in keeping with her appreciation for green-eating.
From her initial concept, Roho Bure was born in 2017 and she wasted no time opening her second location in Leederville in 2018 after she realised the garage didn't have enough space to allow the business to grow.
She has since opened a stall at the Fremantle Markets and also has some pretty epic plans to expand even more over the next year, so watch this space.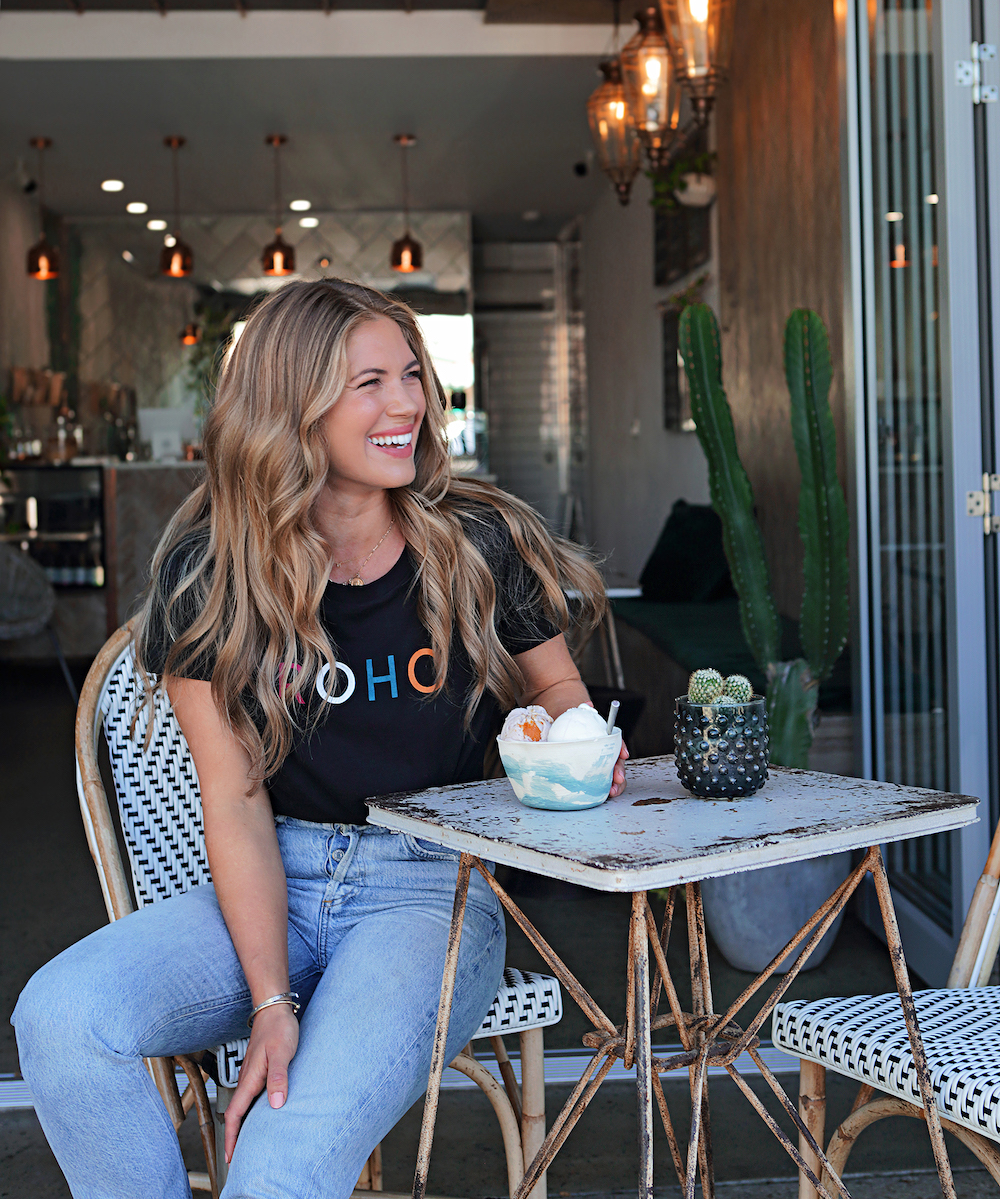 Jacquie Chan
Miss Chow's, Rice Baby, OMG, Small Talk Bar, Born & Bred
If you haven't heard of Jacquie Chan, you've almost certainly eaten one of her incredible dumplings around Perth. Jacquie founded Miss Chow's in Claremont five years ago and gained a cult following which has seen her open The Pantry by Miss Chow's in City Beach, another two Miss Chow's restaurants in Whitfords and South Perth and, of course, Rice Baby in Subiaco.
As if that wasn't enough, last year she opened Oriental Market & Grocer along with a bakery, Born & Bread, and a small bar and izakaya, Small Talk Bar, all on Stirling Street in Perth. Talk about an empire.
A diamond and pearl dealer by trade, Jacquie got involved in the food and beverage world as a bit of a hobby but the success of her dumpling empire was so great that it ended up becoming her full-time gig and boy are we glad it did.
Monika Cook
Shadow Wine Bar
Shadow is no stranger to female chefs, and their head chef Monika Cook brings over 15 years of experience to the kitchen. Cook, herself, has worked with many strong, female chefs who have encouraged her to question the expectations and culture of the industry, and now she's bringing awareness and equality to her own kitchen.
Cook believes it's about supporting each other. "It really is all about changing the culture and creating a more approachable environment in the kitchen," she says. "At Shadow, we work really hard to build a calm and respectful environment that everybody can feel safe working in. There's no yelling or screaming, it's all about the team helping each other and working together."
According to Cook, the industry is still heavily dominated by men, but it's balanced out over the last few years and that is especially evident at Shadow where they have a female-dominated kitchen, a female food and beverage manager and a female restaurant manager. Girl power for the win.
Nikki Grey
BOUCLA
Opening its doors nearly 20 years ago, Boucla was originally born by a family with Greek heritage and had a strong female-influence from the beginning, but Nikki Grey took over the iconic cafe a couple of years back and has been putting her own stamp on it since.
Nikki's background is in importing furniture and artefacts from around the world and she has always had a soft spot for the Mediterranean, so it's not surprising this Subiaco gem was her long time favourite before she stepped in as owner.
On being a female in the industry, Nikki says "I love having my business where I can foster equality amongst staff and create a positive culture". And foster equality she certainly does. Nikki has two females in the kitchen, one who is only 21 and whips up those delicious breakfasts we all know and love, while the other helps out with baking and the cakes Boucla is famous for.
Feeling hungry and wholesome? Check out the best Perth markets that are happening in March.
Image credit: Supplied