Remember when mini golf was a thing? Turns out it still is, and it's not just for kids. Mini golf has made a bit of a comeback recently, and quite frankly we're all for it. Indoor or outdoor, day or night, Perth has you covered with a great range of places to get your putt on.
Fancy a round? Here's where you can play mini golf in Perth.
Glowing Rooms
Hamilton Hill
Glowing Rooms brings brain-bending glow in the dark and 3D mini golf rooms to Perth, and even without the glasses, they look phenomenal. The rooms have been painted by local artists using glow in the dark paint, but once you put on your 3D glasses, they transform into an incredible display of special effects. You can golf in space, under the sea, next to superheroes and even in the familiar landscapes of Australia, but with a colourful twist.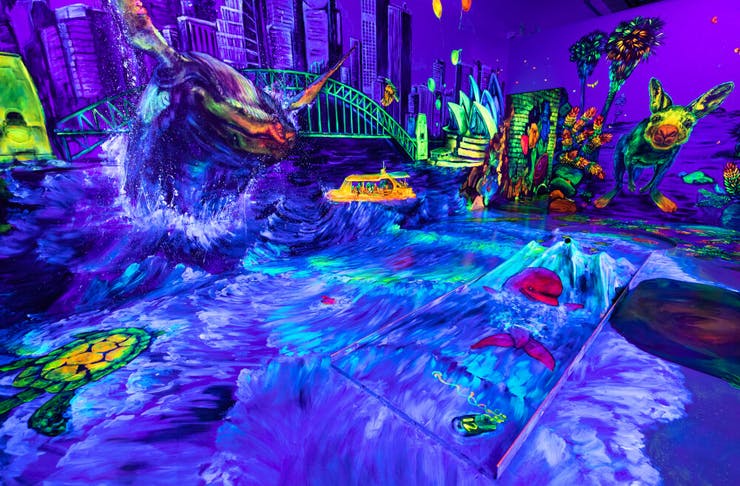 Holey Moley
Northbridge, Carousel, Karrinyup and Fremantle
Far from your average mini golf course, Holey Moley is an awesome bar and indoor golf course all wrapped up in a pop-culture package. Choose from 9, 18 or 27 holes, and work your way through a maze of themed courses, including iconic sets from the Simpsons and the Wizard of Oz. When you're done playing, head to the Caddyshack bar for a round of drinks (or two, or three).
Wembley Mini Golf
Wembley Downs
If you're really into golf you're going to love Wembley Mini Golf, which is pretty much a smaller version of a regular 18-hole golf course. This perfectly landscaped setting even includes mini sand bunkers and water hazards; best to be avoided, obviously. Tee off with your mates, then choose your difficulty level—red for beginners, blue for intermediate or black for advanced.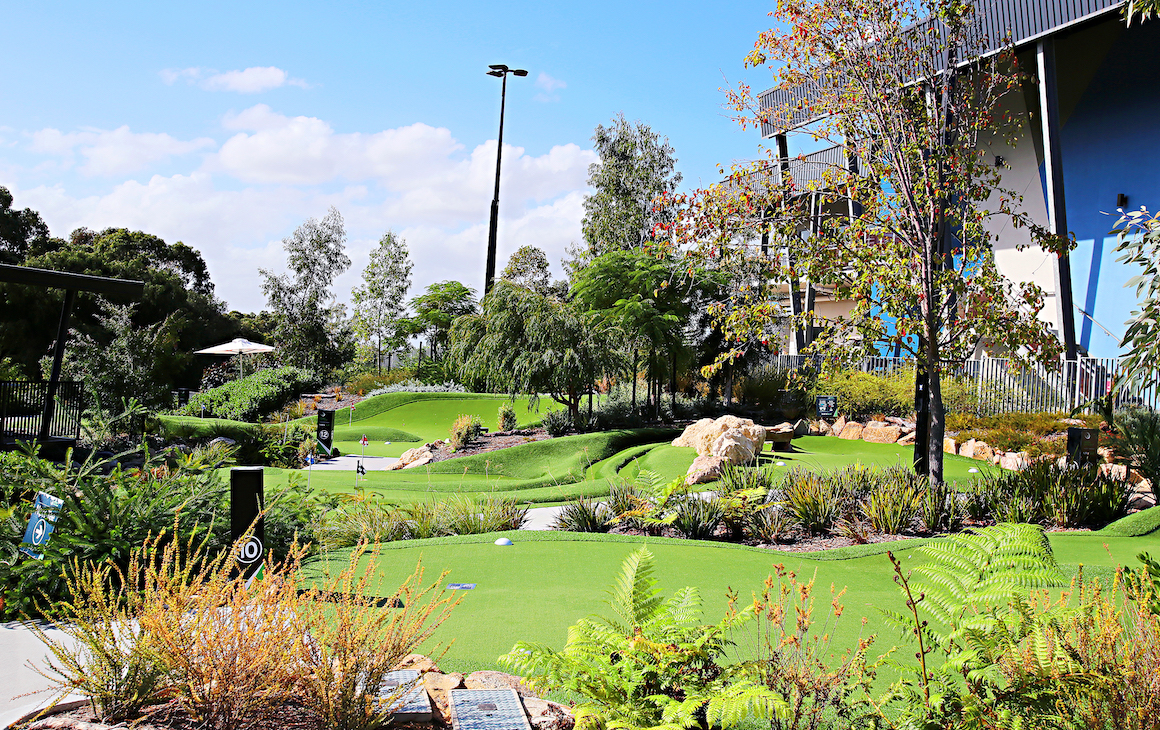 The Maze Mini Golf
Bullsbrook
Offering much more than just mini golf, The Maze is basically a giant playground for adults and kids alike. You'll probably do your head in navigating your way through their six mazes (the timber one is a killer), so finishing off with a round of mini golf on their not-quite-so-challenging nine-hole course is a great way to wrap things up.
Adventure Putt
Swan Valley
Set among a jungle oasis, the 18-hole course at Adventure Putt is pretty much a normal golf course, shrunk. The course spans approximately one acre of lush greenery and is designed to challenge your skills, taking a good hour to complete as you dodge sand bunkers, streams and water traps. The best part? You're literally surrounded by wineries just waiting to serve up some post-golfing refreshments.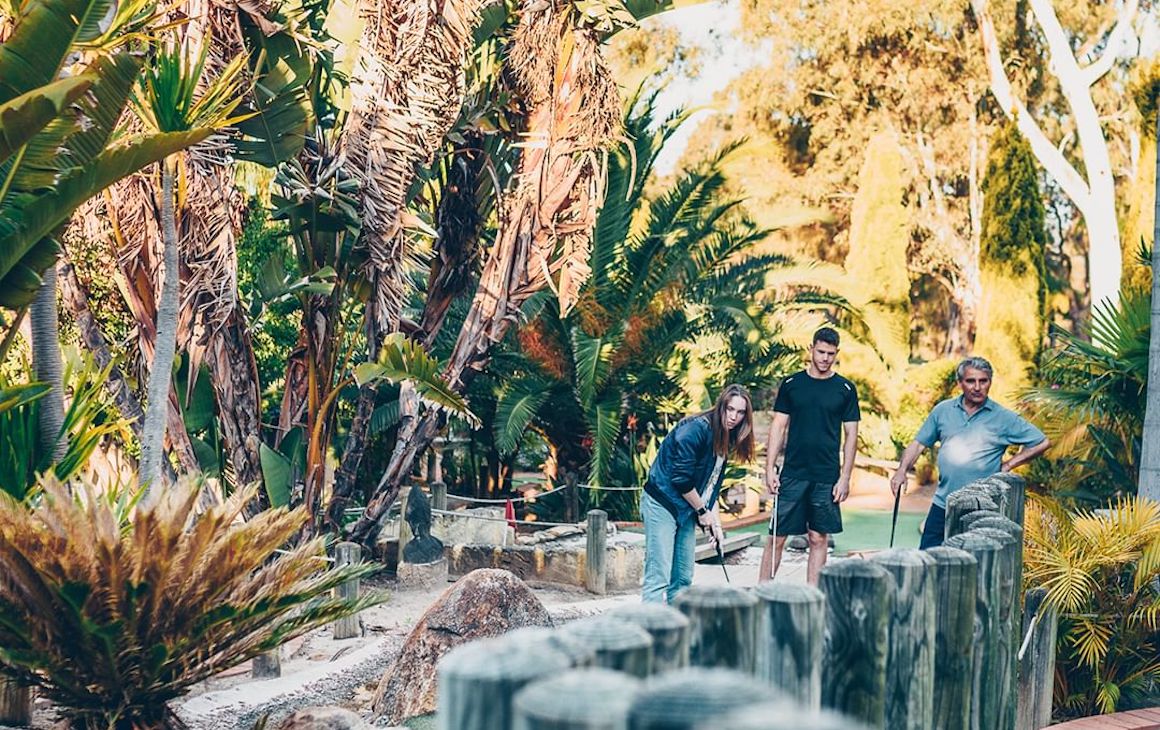 Amaze Miniature Park
Mandurah
Amaze Miniature Park is something straight out of a storybook, with mazes, mini golf and the cutest little miniature villages and trains hiding among the gardens. The mini golf course is included in the entry fee and features 12 holes that might seem simple at first but are actually surprisingly difficult.
Wanneroo Botanic Golf
Wanneroo
One of the biggest mini golf courses in Australia, Wanneroo Botanic Golf is home to 36 holes nestled in one of the largest privately-owned gardens in WA. Each mini golf track is around 12 metres long and features obstacles of varying difficulty. There's also a course for Billiard Golf, which, as the name suggests is played more like a game of pool and presents a whole new kind of challenge, if you're up for it.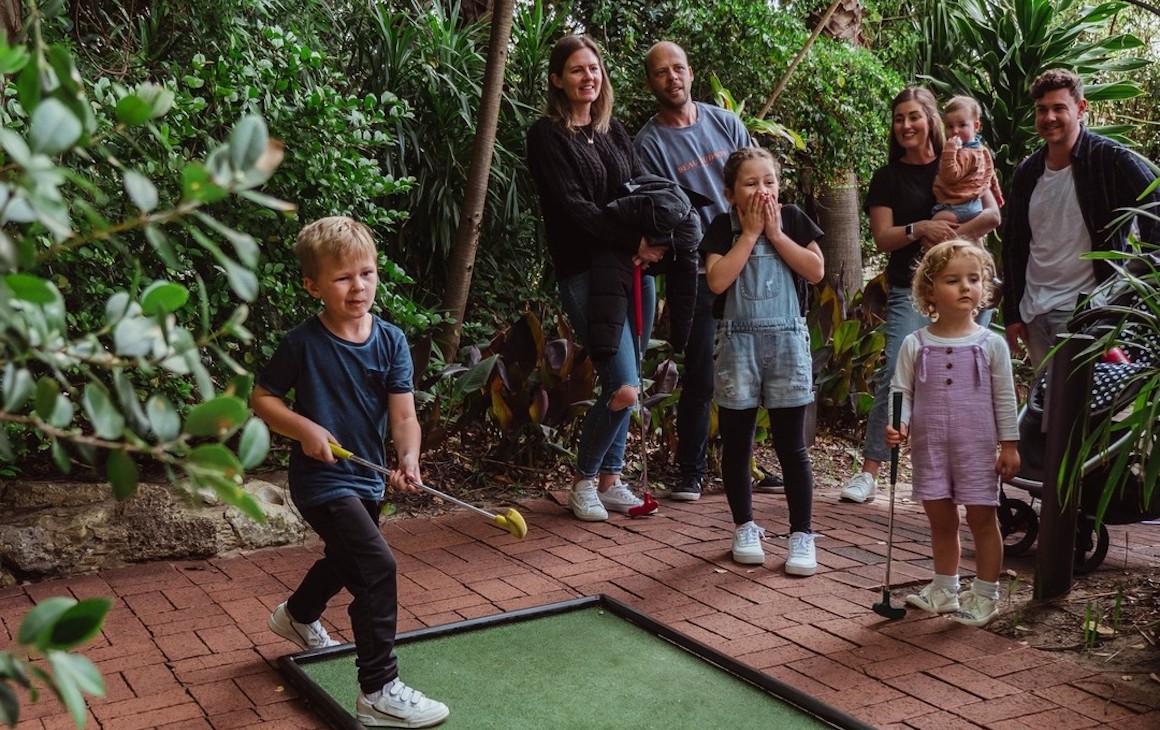 Masonmill Mini Golf
Carmel
Offering a terraced course of 18 holes, Masonmill Mini Golf is the perfect place for a quick round. The course isn't super difficult but still makes for a good time as you navigate logs, boulders, and sharp angles. Grab lunch in the restaurant when you're through, or better yet, head to the Irish Village for a few beers.
Adventure Golf @ King Carnival
Mandurah
One of Perth's oldest amusement parks, King Carnival is also home to Adventure Golf—an 18-hole course designed to challenge even the most experienced golfers. Along with mini golf, there's bumper cars, rides, slides, and all the tacky carnival prizes you could possibly want. Entry to the park has been free forever, and you just pay as you go once you're in. Come for the golf, leave with fairy floss.
Once you're done with mini golf, why not try rock climbing?
Image Credit: Emma Bryant (Holey Moley), Elle Borgward (Wembley Mini Golf), Adventure Putt, Wanneroo Botanic Gardens