Breathtaking family-friendly swimming beaches, loads of top eateries and easy access to all the good stuff Margaret River's food and wine region has to offer make Busselton a beaut spot for a cruisy weekend away this Summer.
Pack the car, queue the road trip playlist and brace yourself for the arbitrary pitstop at Bunbury's Farmers Market, we've rounded up all the best things to do in Busselton this summer.
Things To Do In Busselton
Stroll Along The Busselton Jetty And See The Underwater Observatory
Stretching 1.8km into the stunning Geographe Bay, visiting the iconic Busselton Jetty is an absolute must when exploring the sunny seaside town. The heritage-listed attraction holds the title of the longest timber-piled jetty in the southern hemisphere, making it the perfect place for an afternoon walk. Journey across on foot or hitch a ride on the solar-powered train where you can admire the whale murals, drop a line in, or take a snorkel tour. At the end, you'll find the Underwater Observatory, where you can descend under the waves and spot some cool marine life—hopefully not a shark.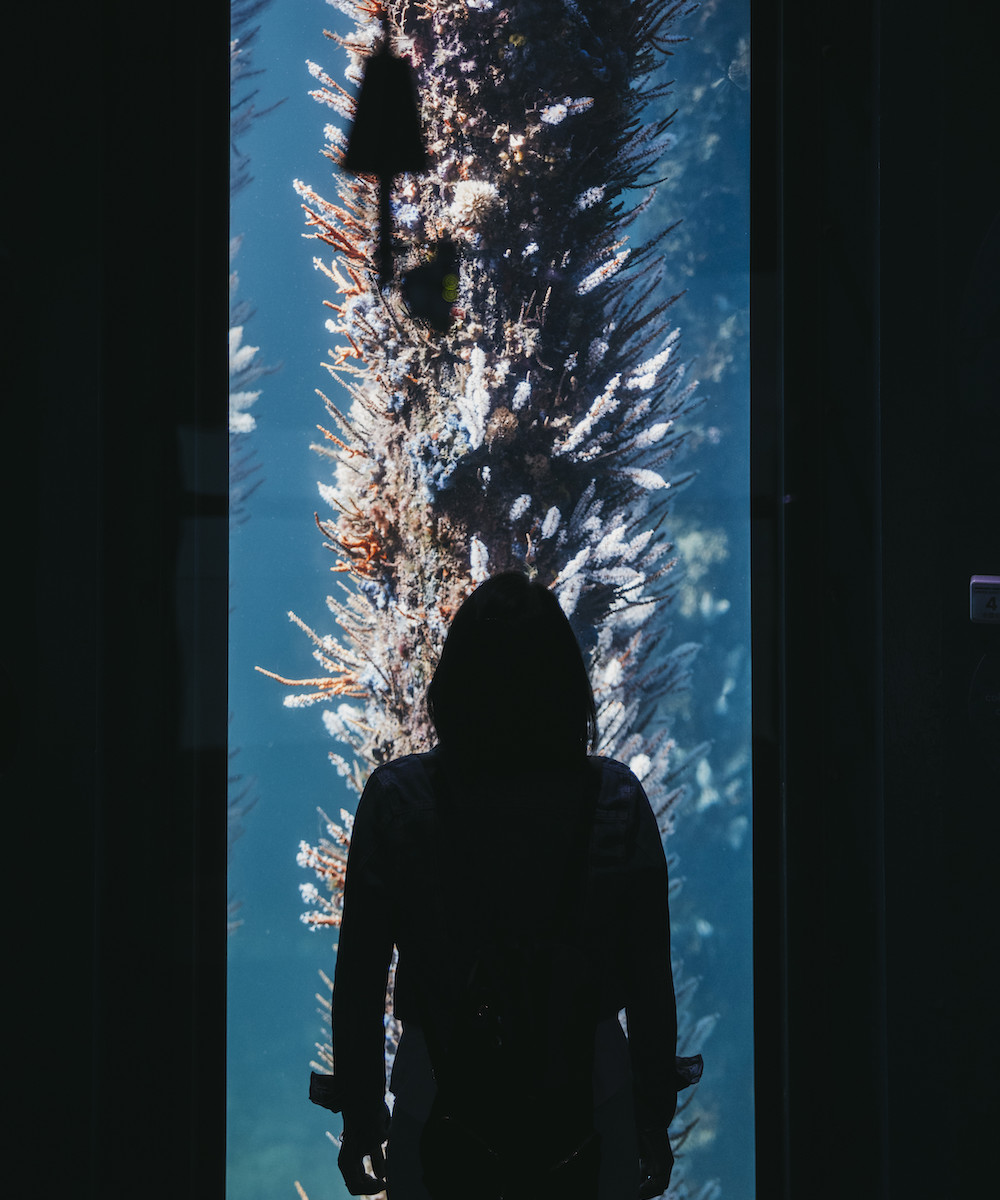 Hit The Beach
There's no shortage of amazing beaches in Western Australia, most of which can be found here in the southwest. When that weather heats up, you know we'll be heading down to Busselton Beach for a quick dip. Busselton is set against miles of pristine sand and crystal clear water in Geographe Bay, meaning there's plenty of excellent beach options. If you're up for an adventure, jump in the car and head up the coast past Dunsborough to explore Meelup Beach, Castle Rock Beach or Eagle Bay Beach. Some are dog friendly, so don't forget to pack a picnic for the whole crew to enjoy a beach day out.
Visit The Farmers Markets
If you're in Busselton on a Sunday morning, you need to pop down to the Farmers Market at Signal Park to scope out the best local produce, including handpicked fruit and veggies, fresh eggs, homemade honey, preserves, and baked bread. Local artisans will be parked alongside, meaning you can pick up some groceries and a gift or two while you're there. Journey over to the other side of Bussel Highway, and you'll find Origin Markets, one of Busselton's best-kept secrets. Open from Thursday through to Sunday, this vibrant community hub showcases the best the southwest has to offer from makers, growers and local creatives. With over 70 makers, it's a rabbit warren of cool stuff that will make you drop your credit card.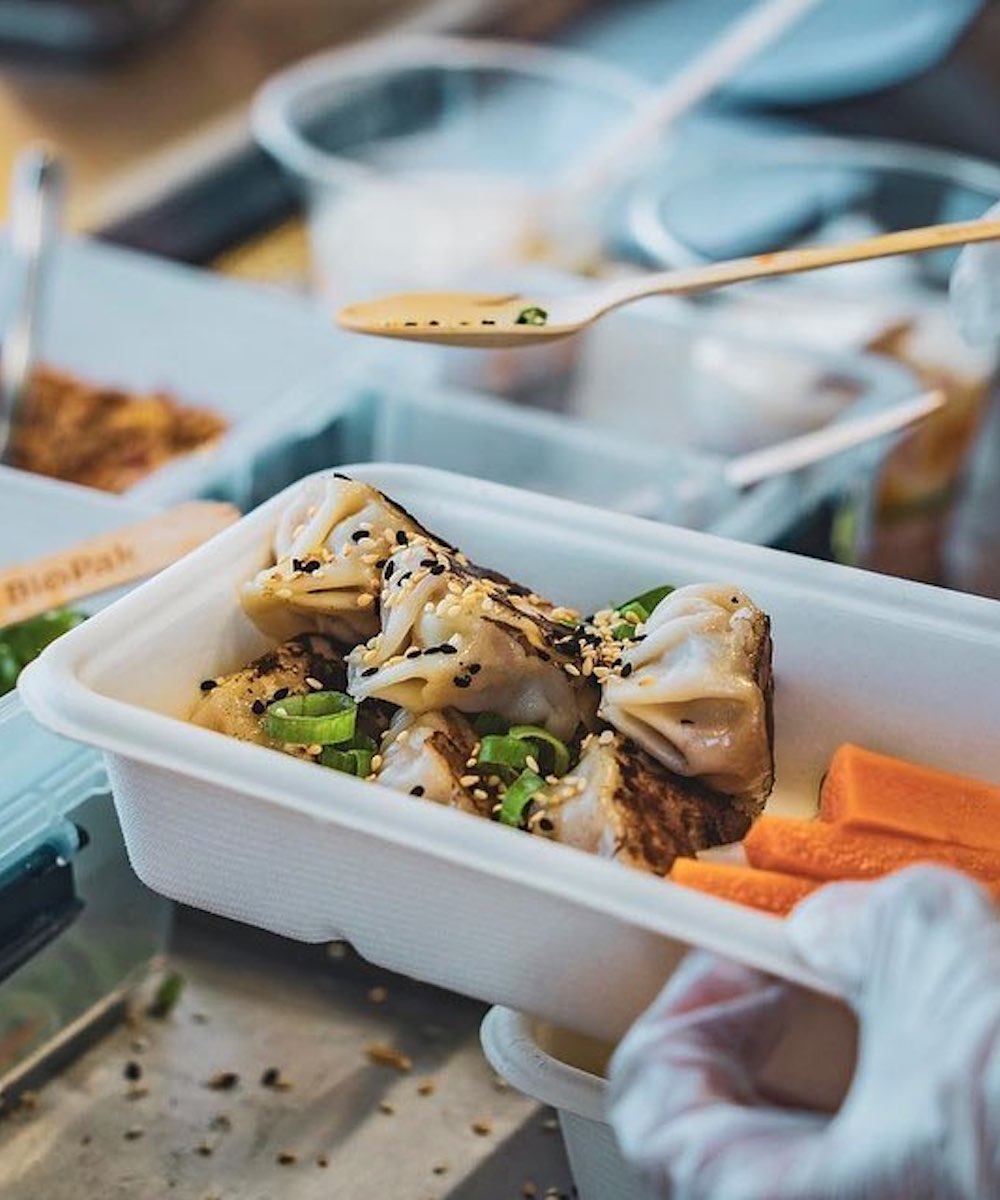 Browse The Best Boutiques
Busselton is home to some amazing artisans and boutiques, perfect for a potential shopping spree. Simply stroll down the main cafe strip on Queen Street for some epic window browsing. If you're after a new 'fit suited for the coastal life, then check out the much-loved Hillzeez, a family-run surf and skate shop that's been going strong down south for over 30 years. Just around the corner in Fig Tree Lane is Desert To Ocean Clothing, a stunning boho clothing brand focusing on sustainability. Looking for more boutiques? Check out Axel & Rose, Lust or Marine & Co for some gems. If you're shopping for a new beach read, pop into Viva Books—they have the most amazing window displays.
Keep An Eye Out For Whales
Busselton is a resting area for the southern migration of Humpback Whales and South Right Whales, making it the perfect spot to catch a glimpse of these big guys playing around and waving their tails. The whale watching season runs from late September till early November, so try your luck at spotting one of these majestic creatures on a whale-watching tour.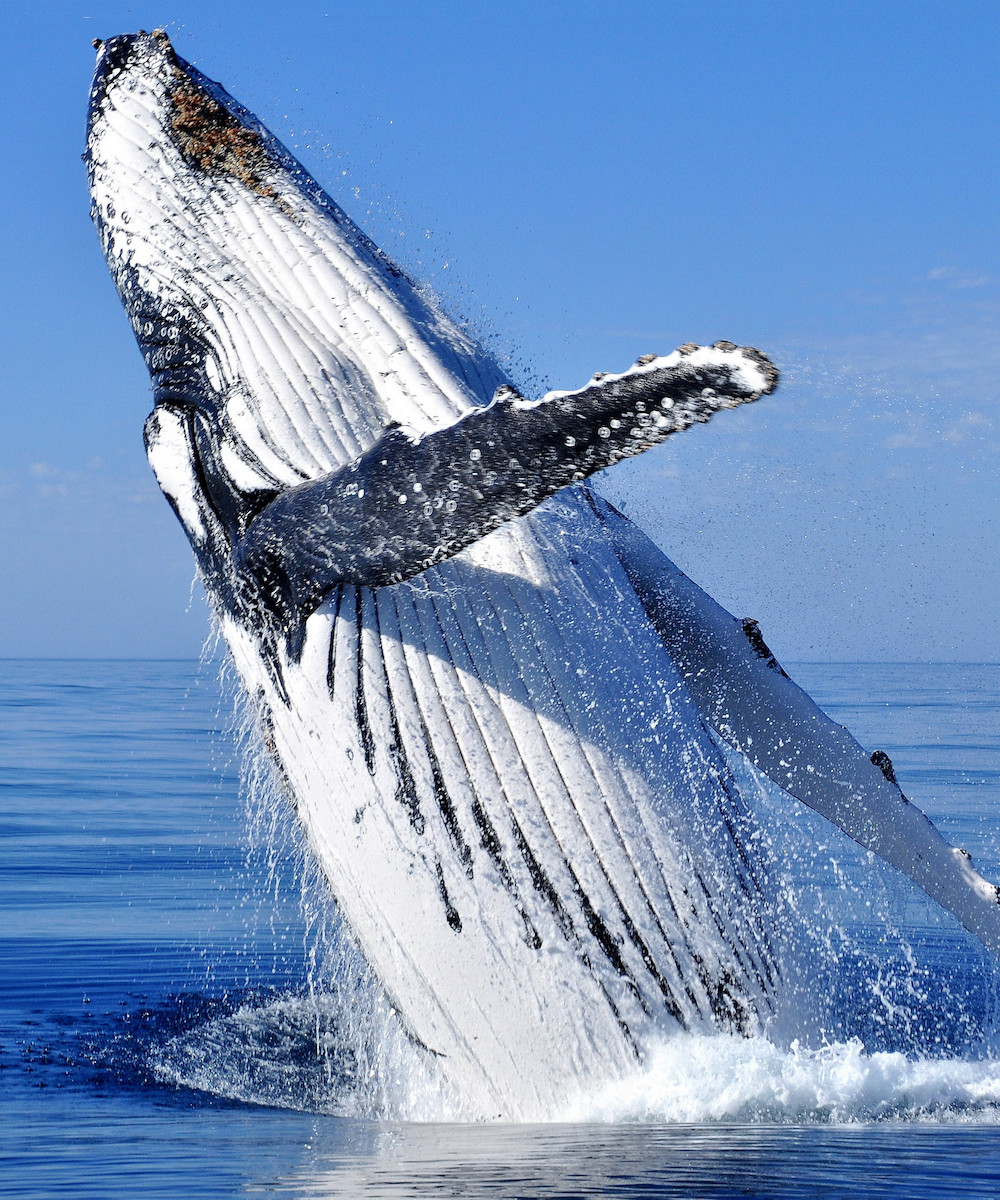 Learn Some History
It's so important to get to know the country your on whenever you're travelling around Australia, so we'd definitely recommend setting time aside to learn about the area's rich Indigenous history and cultural importance with an Aboriginal food, cave and didgeridoo tour with local Wadandi man, Josh, from Koomal Dreaming. If you're keen to learn more about the settler's history of Busselton afterwards, then follow the Busselton Heritage Trail run by the local Rotary Club. Starting off at the Busselton Museum in the old heritage Butter Factory, you will be transported to the past with their collection of photos and memorabilia.
Explore The Tuart Forest National Park
Reconnect with nature by going for a peaceful walk amongst the towering trees at the Tuart Forest National Park, just east of Busselton. These majestic trees make for the perfect place to host a picnic, nature walk or bird-watching expedition. The park is the last remaining forest of pure Tuart trees in the world, with some trees clocking in at a crazy 33m high. If you head over at night, you can follow the Possum Night Spotlighting Trail to catch a glimpse of the endangered western ringtail possum.
Where To Eat In Busselton
Shelter Brewing Co.
Born and brewed in Busso, the Shelter team have good vibes, good beers and great views on lock. Perched on the foreshore overlooking Geographe Bay, there's no better way to unwind after a day exploring the region than with a cold beer and a big feed at Shelter Brewing. They're big on community spirit, so the menu is best shared amongst family and friends. Alongside beer on tap, they have a southwest-inspired drinks menu, classic pub meals, and some delicious pizzas. With a giant playground right outside for the kids, it's perfect for dinner and drinks watching the sunset.
Alberta's Kitchen & Store
We almost packed our bags and moved straight to Busselton when we heard about the opening of Alberta's. The cosy kitchen and store is run by a former head chef and head gardener from Noma (you know, that three-Michelin-starred Copenhagen joint that's often dubbed the world's best restaurant). But while the light and airy fit-out has loads of Scandi beauty, Alberta's is nothing like Noma. Instead you'll find a laidback brunch spot serving top coffee and seasonal dishes loaded with the freshest local produce.
Fire Station
Metropolitan small bar meets local hospitality at the Fire Station. Built in 1936, the heritage Fire Station is now serving up organic, natural wines and craft beer from the finest local and Australian producers. It's a lively hub on the weekend, drawing in everyone looking for delicious drops and simple fare. We recommend polishing off your evening with pork bao buns, a mushroom pizza and chilli sambal lamb ribs with bang bang salad.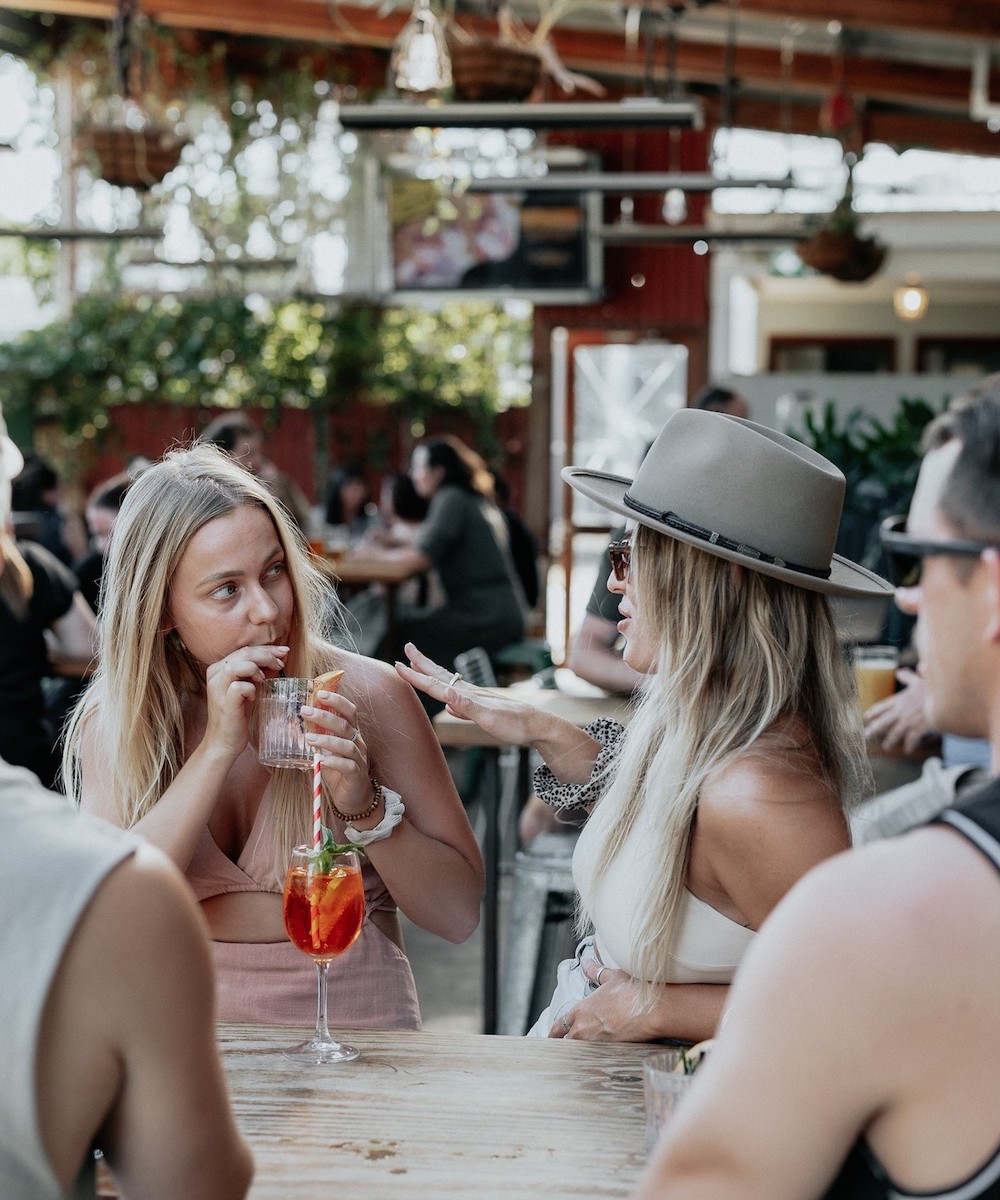 Hally's Bar
If you miss the rooftop vibes of the CBD, then check out Busso's first rooftop beer garden at Hally's. This multi-level venue has an intimate restaurant, beer garden, spacious rooftop bar and alfresco area perfect for relaxing and soaking up some sunshine. With live music, open mic nights and some of the southwest's best BBQ, put this on your list.
Al Forno
Al Forno is serving up the best hearty, homestyle Mediterranean food in Busso, hands down. Served straight from the oven with love, expect to leave with full bellies and happy faces. No need to fret if you can't peel yourself off the couch after a long day, order their gourmet pizzas as a takeaway.
Burger Bones
The burgs are back in Busso town with Burger Bones. These guys are grilling some seriously good burgers using the freshest local ingredients that you'll be dreaming of the entire trip. Their menu options are always a winner, but check back in each week for their special—usually featuring whatever awesome ingredient the owners picked up at the market.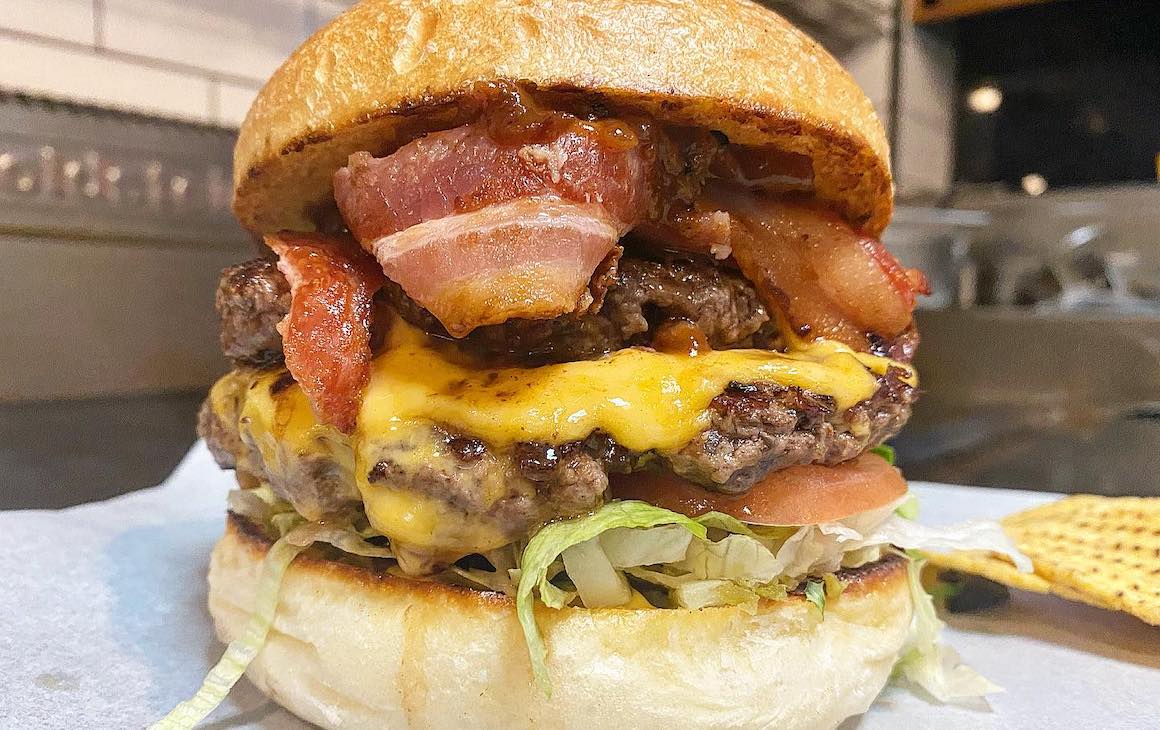 The Equinox
Head down to The Equinox at any time of day to enjoy a nice meal with the best view in Busso. The picturesque Geographe Bay is a hop, skip and a jump away, so you can sip on a rose and chow down on some delicious grazing before or after a salty sea dip.
Navratna
For authentic Indian dining, Navratna is a hidden gem worth seeking out. Packed full of flavour and spices that will tingle your nose, you'll need to be rolled out after chowing down on their onion bhaji, lamb vindaloo, and fish curry Malabari with a healthy side of garlic naan.
Baked
Baked has you sorted for mouth-watering eclairs, jam doughnuts, cakes, lamingtons and all the baked goodies in between. After standing in awe, staring at their fridge for a solid 15 minutes, grab a box of their three-time gold medal-winning lamingtons and then walk the sugar spike off down the main street in Busso.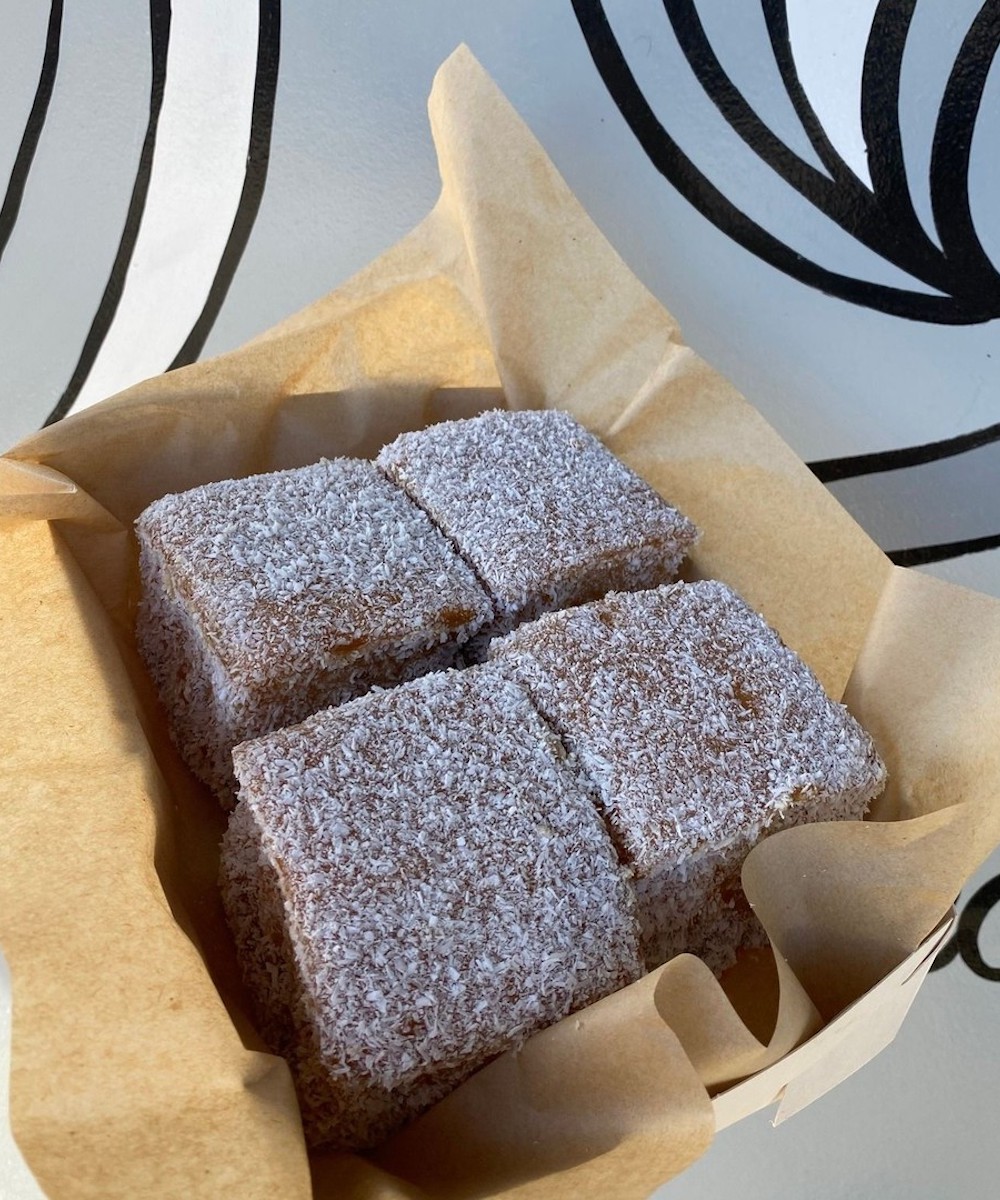 The Urban Coffee House
If brekkie is more your style, stroll on over to Urban Coffee House just off Bussel Highway. This cosy, lush cafe is the perfect pit stop to fuel up on coffee, homemade pastries, and freshly squeezed juices before you set off.
Rise & Co Bakery
We sure love our carbs, and Rise & Co has us sorted on holiday with their artisanal bread, french pastries and mouth-watering pies. Each room in the home-turned-bakery is filled with warmth, the smell of baking treats and the cutest eclectic decor, perfect for enjoying your brekkie. Get down here early—especially on the weekend—as you'll have to queue with the locals to snag your coffee to go.
Where To Stay In Busselton
Beachside 880
We can already picture sunset drinks and BBQs on the balcony at Beachside 880. It's directly across from the beach so you'll get uninterrupted views over Geographe Bay whether you're chilling outside or lounging on the large couch inside under the aircon. It doesn't hurt that the rest of this two bedroom apartment is luxe throughout and within walking distance to shops, bars and restaurants too.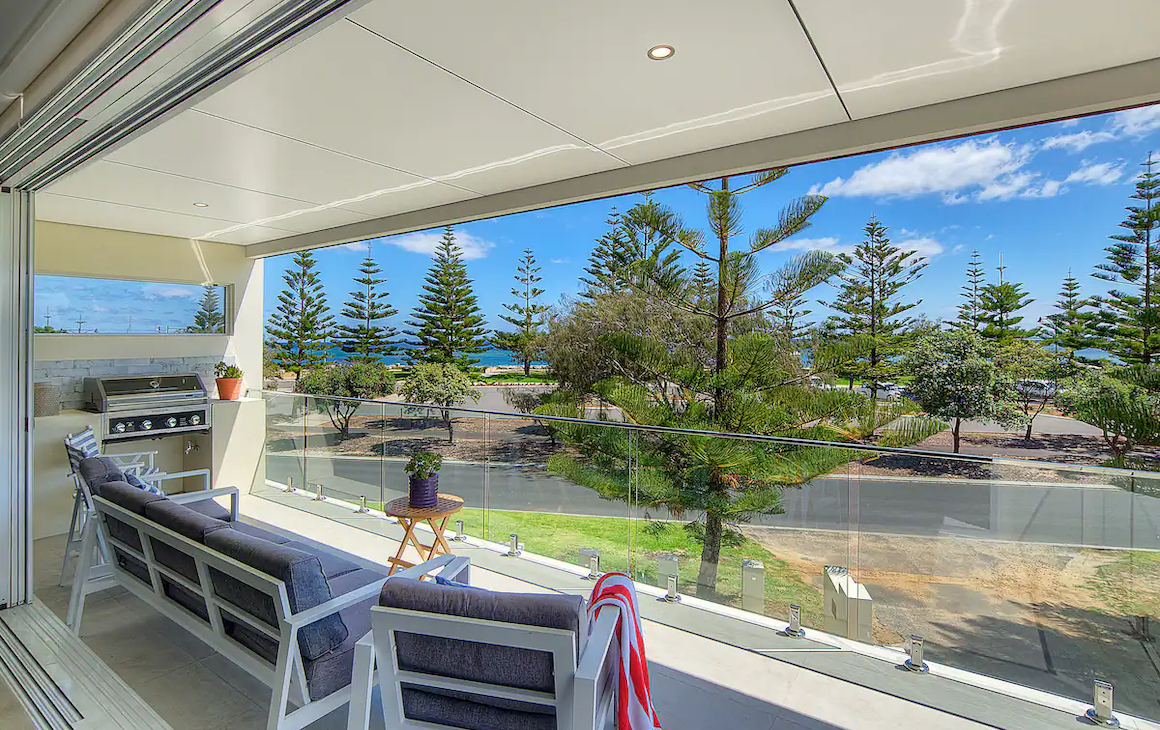 Beachgrove
If you've ever fancied a stay in an English-style country estate straight outta the Victorian era, Beachgrove is a must. The four bedroom heritage house is situated on beautifully manicured grounds with well maintained lawns, gardens galore, a shaded gazebo for afternoon tea (or sunset cocktails), an ivy greenhouse and large outdoor chess board if you wanna give the queen's gambit a whirl. Indoors, every room is furnished in true period fashion, so we suggest you pack your best Bridgerton looks to match.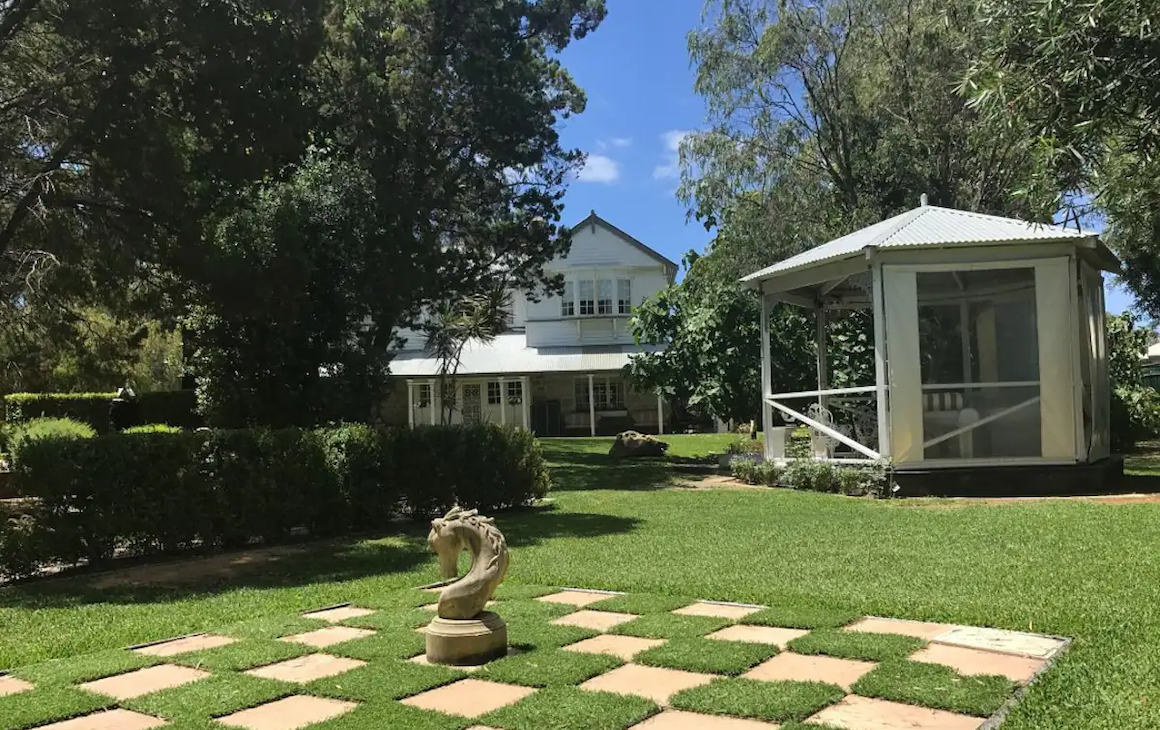 The Bach
This unique Airbnb is a designer's delight, with large soaring windows that allow views of the surrounding peppermint trees to sneak inside along with loads of natural light, exposed timber beams and recycled jarrah from the lot's old cottage. There's a cool art-filled lounge area and relaxed courtyard space to hang out in, but you'll likely find us hiding out in the beautiful bath.
100 Year Old Cottage
This 100 Year Old Cottage may look deceptively simple from the outside, but we're kinda obsessed with the old-school charm and laidback surf shack vibes. It's perfectly located between the main strip and Busselton Jetty and has a cute backyard to hang out in after a day at the beach. Sleeping six, we reckon it's great for a summer getaway with mates.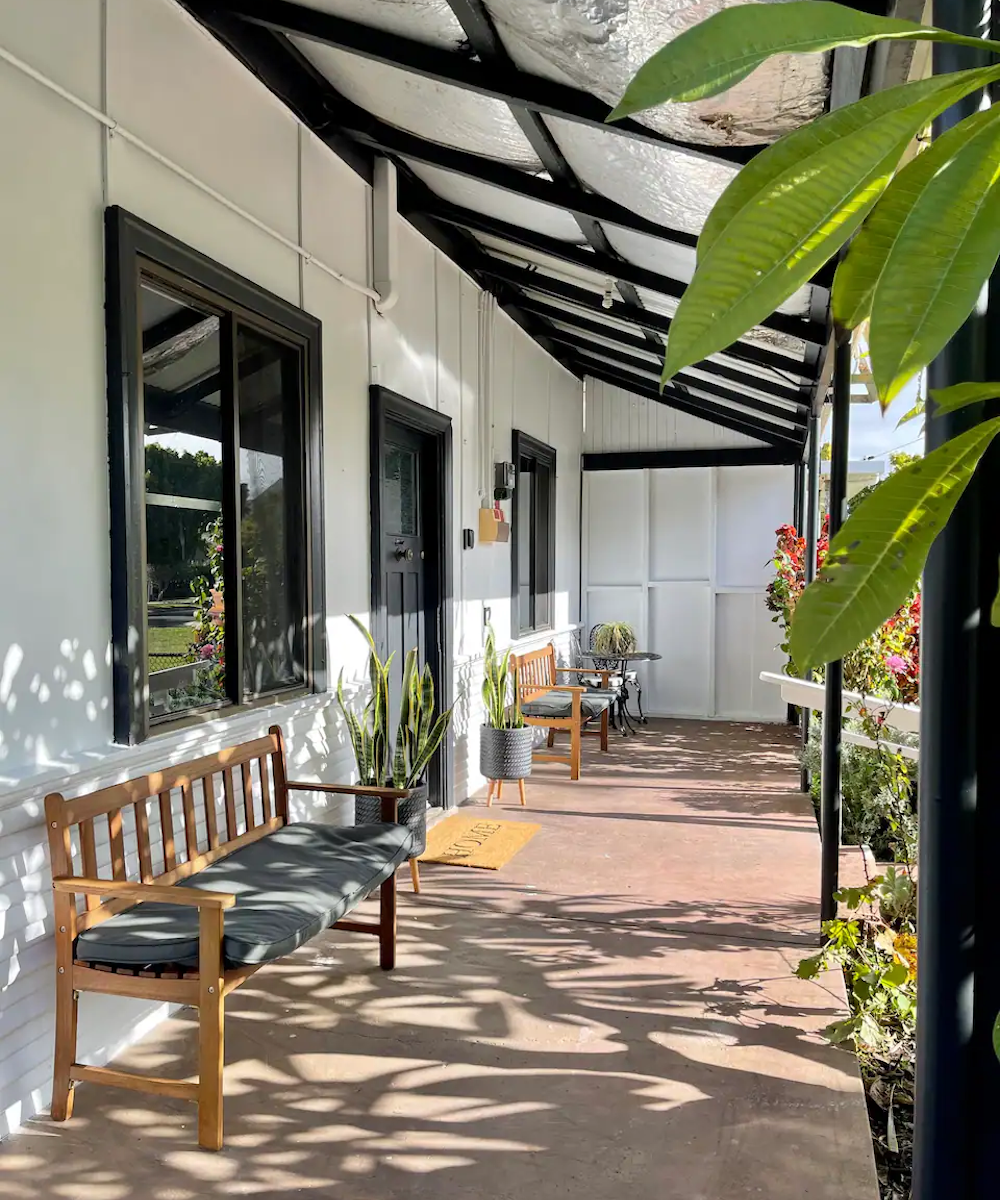 Esplanade Hotel
Since 1898 the iconic Esplanade Hotel has been one of the mainstays of Busselton. A stone's throw from pristine beaches and a quick stroll into the heart of town, staying at the Esplanade is a fantastic way to see the region.
Tree Chalet's
Dial the romance right up and relax amongst the trees at this luxury, sustainable accommodation just south of Busselton. Surrounded by Rosegum trees, each secluded chalet is beautifully furnished with everything you need for a weekend away, including a Smart TV, Free Netflix and Wifi, walk-in rainfall showers, luxe 100% natural bedding, and a stellar view from every window. Relax, soak in the indulgent outdoor baths, and just lay back and look at the stars.
Image credit: Tourism Western Australia, David Ashley (Whale Watching), The Firestation, Burger Bones, Baked