If you're looking for the full Noosa experience, beyond the beachfront tanning and Hastings Street window shopping, it's best to eat and drink like a local. The always steamy, always packed northern Queen of the Sunshine Coast is home to a plethora of the region's best booze venues, but sometimes it can be difficult to know where to start.
To make sure you never drink a subpar cocktail around here, we've rounded up best bars in Noosa, where the wine is plentiful, the beer is crisp and it's not frowned upon to have a mimosa with brunch.
Rickys River Bar
Rickys super plush and chic River Bar offers stunning water views, stylish atmosphere, and an extensive cocktail and award-winning wine list. The River Bar is an one of our favourite spots for a casual drink with friends, a spot to unwind after work, or an elegant setting to unwind after a full day of exploring Noosa. It's a little bit fancy, so ditch the salt-stained denim cut-offs for a crinkle-free dress and whack on a bit of lippy, and you're all set. Bonus points for booking a table at sunset and getting some stunning waterfront cocktail shots.
Village Bicycle
Village Bicycle delivers on its promise to be a favourite bar for the locals, and with one of the latest closing times in Noosa, why wouldn't it be? Located in Noosa Junction, Village Bicycle is, put simply, just a cool place to hang out and crack a coldie with your mates. It could be the fit-out or the graffiti-heavy beer garden, but it all adds up to create an unpretentious, welcome-all ambience. Better still, these guys have a delicious snacks menu, where you can grab wings, tacos, hotdogs and belly-warming poutine.
Paradise Arcade
One of the best bars in Noosa, Paradise Arcade is a little Sydney enclave in this coastal town. Pull up a stool inside this lofted Mexican restaurant and bar, and dine on mouth-watering beef tostadas and ceviche, followed by swigs of quality tequila. Or, sit outside under festoon lights and palm trees, and while away the day's last light with icy-cold frozen margaritas.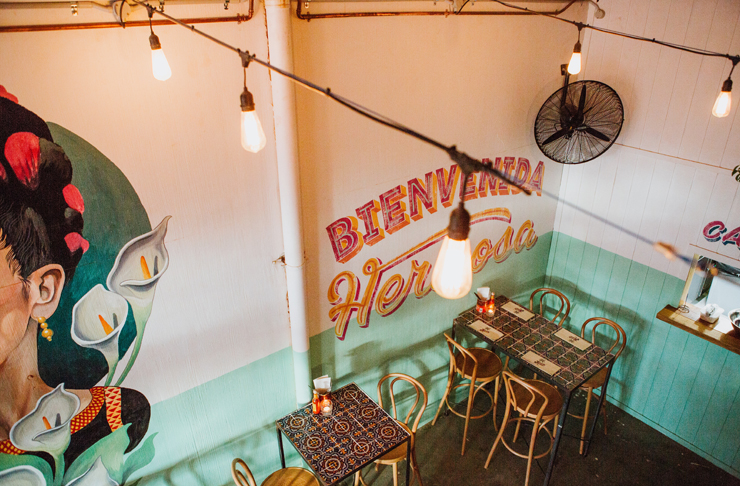 Moonstruck
Once you step inside Moonstruck's snug interior, you're immediately enveloped in the warm lighting and glinting mosaic marble floors that emanate old-school European cafe vibes. Besides amazing boutique roasted coffee and an unique range of gin, Moonstruck's menu will not let you down when it comes to food. If you're after a quick breakfast or lunch you can dip in and grab a coffee, a pastry, a toastie or even a classic Reuben sandwich. If you're looking to stay a bit longer, you can indulge in one of Moonstruck's cheese and charcuterie platters.
Locale
We all know a list wouldn't be complete without something for the cocktail lovers.. With one of the largest cocktail lists in town and a wine list to die for, Locale is one of the best bars in Noosa, if you're willing to give anything a go. Get those taste buds zinging for more with the La Padrona—Tanqueray London Dry Gin, lime, elderflower liqueur, cucumber and mint all stirred up with an ice-cold soda water and served in a tall glass. It's a little bit fancy, and a whole lot delectable. And don't even get us started on their bar menu, particularly the gnocchi.
Land & Sea And Fortune
If you say you enjoy craft beer and haven't yet experienced the bliss that is Land & Sea Brewery, then you need to check it out now. We love the beachy aesthetic, smooth craft beer (try the tasting paddle), epic noms and good for the soul vibes. This spot is perfect for a lazy day of drinking with the crew or family, and if you hit your beer quota early, you can rest easy knowing Fortune distillery is also housed in the same building—so there'll be plenty of house made gin, whisky and vodka waiting for you.
Heads Of Noosa Brewing Co.
One of our favourite breweries on the Sunshine Coast, Heads of Noosa Brewing Co. is tucked away in the industrial estate. But hunting it down is only half the fun. Once you've arrived, you'll down beers that embody the flavours, sights, sounds and colours of Noosa, and are brewed, filtered, kegged and bottled on site. The interior features high ceilings, feature lighting, massive wooden doors, bar stools, dark timber tables and textured cement walls adding to the industrial-chic vibe. And because no beer session is complete without food, the brewery houses a kitchen, serving up delicious eats made from locally-sourced, fresh ingredients that are designed to be washed down with a lager.
Sunset Bar At Noosa Boathouse
If sunset views are a priority when looking through the list of the best bars in Noosa, then you can stop the search. Aptly named Sunset Bar, this top floor bar is part of Noosa Boathouse and floats on Noosa River. Literally. Opening its doors at 4pm daily, grab a cocktail, zone out to the relaxed tunes and mosey through the delicious bar menu, starting with the salt and pepper calamari. And don't forget your phone, you're going to want Instagram proof of the stunning golden hour.
Embassy XO
You may need to hop in a car for this one, unless you live in Sunshine Beach, but Embassy XO is totally worth the short trip. Tucked upstairs along Duke Street, the lounge bar that stems off the city-sleek restaurant, is the perfect place to grab a knock-off drink sans pub vibe. With a cheap bar menu and an extended happy hour, once you've dropped in, you'll be rallying your friends to make it a regular thing.
Miss Moneypenny's
Another drinking hub on Hastings Street, Miss Moneypenny's will pull you in off the street with their awesome theme nights. Don't believe us? Well, between Monday and Friday you're taken care of with After Work Wine Down, where you can nab half price bar bites. And if you're tied up during the week and want to start your drinking session early on a Sunday, try their bottomless brunch where you'll feast on mounds of seafood, pastries, waffles, pizzas and cocktails.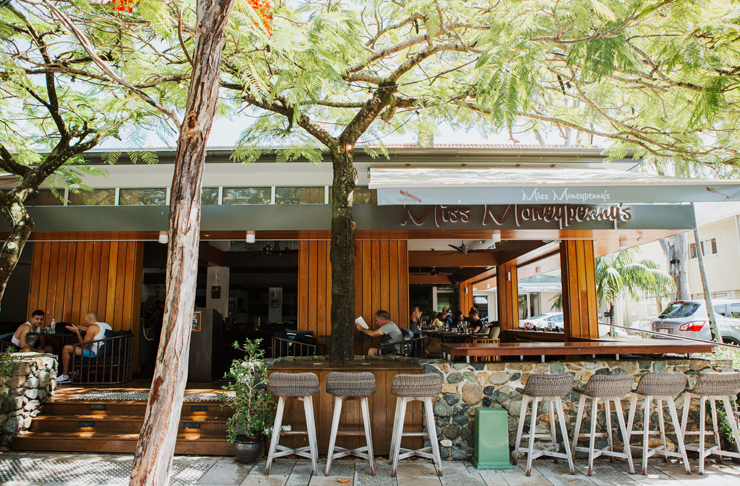 Flux Lounge
With uninterrupted views of the Noosa River and a heap of local beers cooling in the fridge, it's hard to go past Flux for a night of relaxed drinking. Sitting pretty on Gympie Terrace, Flux does a range of specialty cocktails and craft beers—including some French and vintage finds (on tap, no less)—that can be served alongside a smorgasbord of delicious nibbles that will help to line the stomach.
Whisky Boy
Whisky Boy is one of the hottest bars in Noosa; known for its booze, as well as its food. More of a laid-back drink spot than party central, this sophisticated restaurant and bar is the perfect in-betweener when you've spent the day by the river, and the thought of going home and cooking dinner does your head in. Stay here long enough, and you'll no doubt be tempted by the delectable menu on offer. One, two, three Whisky Sours will do that to you.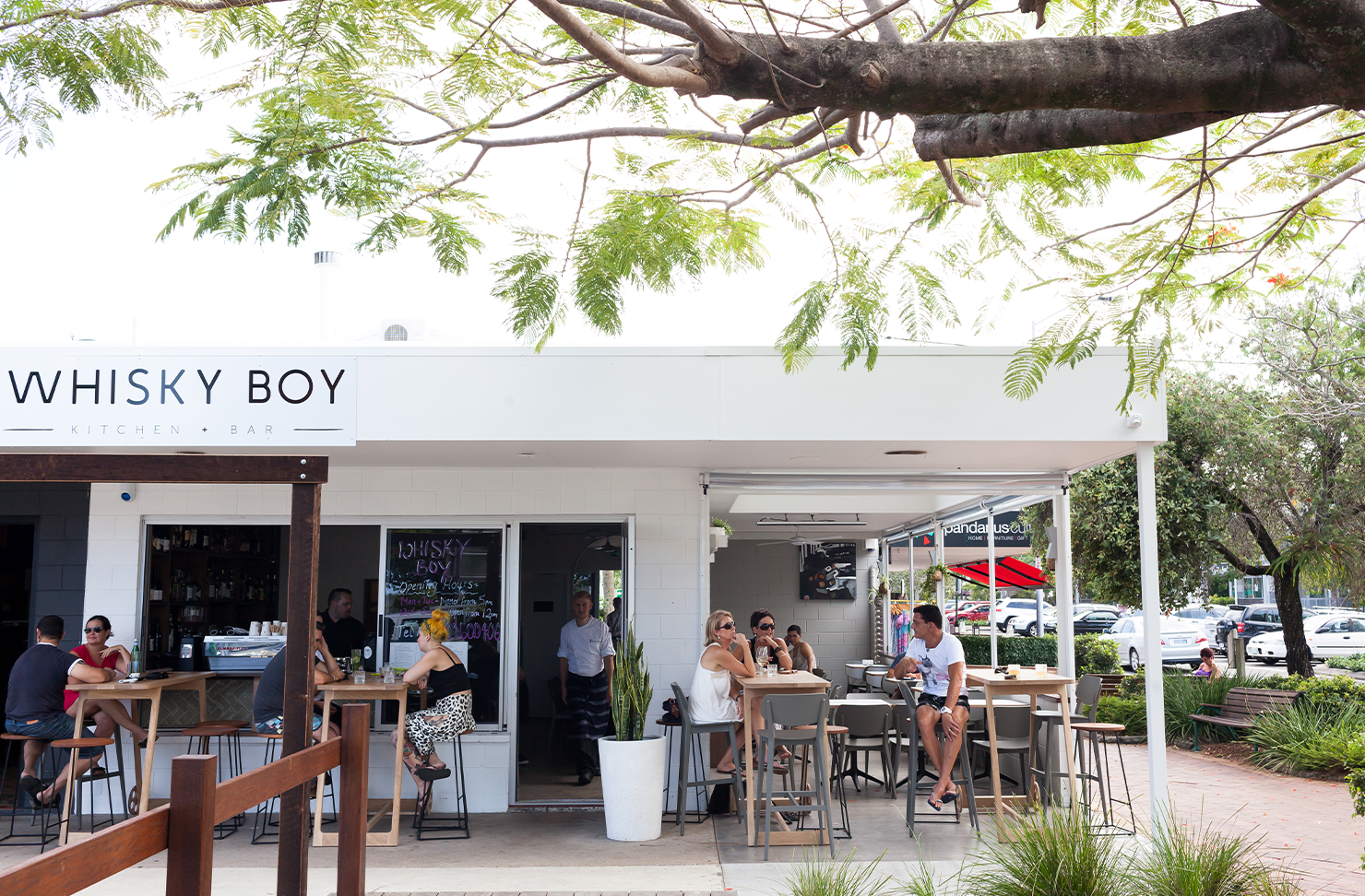 Cafe Le Monde
Cafe Le Monde is the kind of place you can either wear Havaianas or full nighttime Sunshine Coast attire to (aka a T-shirt, jeans and Toms). Trust us, the young, surfy bartenders won't discriminate. Set across from the surf club, Le Monde is the area's late-night hotspot that manages to incorporate the coastal nightlife sentiment without a whiff of closed-in, smelly club air. If you're not after a big night, head here early in the evening for tapas—the food is reasonably priced and the drinks are bound to get you buzzing.
Noosa Surf Club
It may not be what you'd expect to find in our hit list of the best bars in Noosa, but if you like your beer with a side of incredible beachfront views over Noosa Main Beach, you can't get any better than Noosa Surf Club. Easy, loads of space and a vista you won't tire of, if you're stuck on where to head for a simple cold beverage, this is it.
So you've hit up the best bars on Noosa and now you've woken up with a raging headache? Ahhh yes we've all been there. Recover with the hair of the dog and hit up the best bottomless boozy brunches on the Sunshine Coast.
Image credit: Amy Higg and Hayley Williamson for Urban List