We're about to make a HUGE declaration of love. Okay, here we go. Our fave Noosa restaurants list has just grown by one, and it's all because of a good-lookin' chap who goes by the name of Whisky Boy.
There, we said it! And we couldn't be more over the moon about our future together, and all the candle-lit nights, and long lazy lunches ahead of us. Now, if you could please put $100 in the wishing well on your way out, that'll help us foot the bill of our latest obsession. Ta-ta!
Seriously, though, as soon as we heard the whispers high-pitched squeals that there was a newcomer on Noosa River, AND that it happened to be a whiskey bar, we couldn't help but heel click our way off Hastings Street and over to Noosaville.
Sitting on the corner of Gympie Terrace and Thomas Street, it took us mere hours to head over and check out what all the buzz was about surrounding the just-opened Whisky Boy.
What we found impressed us so much, that one drink turned into two drinks, which turned into an order of incredible share plates to ruthlessly demolish nibble on daintily. Because, basically, while we obviously wanted to taste our way through the menu, we also wanted to linger on the sunlit terrace (and apparently hanging at a table for a couple of hours sipping on tap water, just isn't kosher).
Opened by three Noosa hospitality geniuses–Geoffroy Marq, Jason Cox (of street food institution Jimmy Fox) and Jimmy Talve–this sleek new bar slash restaurant is the ultimate combination of premium drinks, an innovative dish list (where ordering one thing will never be enough), and an enviable location.
Let's start with the space. If you want water views without compromising taste or tipples, as far as new Noosa restaurants go, Whisky Boy is sitting among the top rungs of the ladder. Bar tables spill onto the front pavement, and a side terrace area in a mixed palette of timber, grey concrete and white accents, offers casual seating complete with handmade benches—covered in cowhides, no less.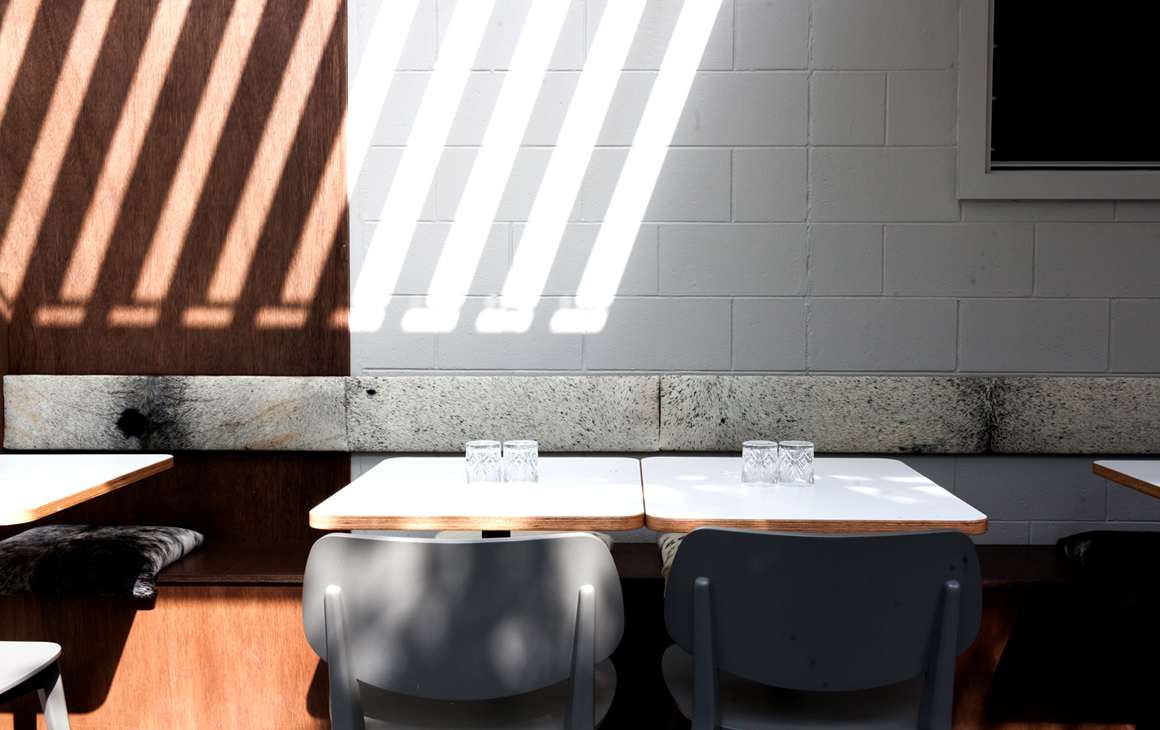 Inside, the ambience is slightly different—a bit darker, moodier and sexier. It must be because, Jack lives here—alongside about 40 other whiskeys from Australia, India, Japan, Taiwan, Canada and a few other far flung places. We'll show you a photo, but we'll also tell you that these guys have a whisky list that will whet the thirst of any serious (or relaxed) drinker.
If haven't reached the "on the rocks" level (shame on you!), like us (surprise, you're not alone!) try the Whisky Sour, made on Nikka whisky from the barrel and served in an old fashioned glass. Another tried and tested favourite is the trusty Old Fashioned, mixed with real rye whiskey aka James + Pepper 1776. A bit sharper and spicier in taste, downing one of these Don-Draper-esque drinks will help you move away from the soft stuff and closer to the rocks. When you're ready. No pressure!
Now, onto the menu—where local ingredients (you may see the head chef scouring Noosa Farmers Market on a Sunday morning for the freshest herbs around) and creativity come together in a pool of dishes where everything sounds good, and then looks and tastes even better. Is that even possible, you ask? 'Tis.
Let's start with the entrees, because that's the realm where we spent all of our chewing time, and it was an experience that we'd love to reminisce about. First there was the golden calamari, fried to perfection and served with chermoula and a smoked garlic Aioli (note to self: learn how to make said aioli). Visually it was seafood heaven on a black plate! Then along came chorizo, who stole the show in its 10-hour slow-cooked, spreadable form, sitting in a jar alongside flatbread and pickled vegetables. Any further explanation of the piece of food art that it was, would do no justice, so we'll mark it as a must-try and leave it at that.
Dishes that we didn't get to try, but are on our Noosa bucket list (and all alcohol-infused, because we're booze hags) include the whisky cured fish, Tomahawk steak with whisky jus, and the restaurant's very own house-made whiskey ice-cream. Say whaaat?!
There's a saying that goes something like "Not hard work, nor money, nor a pretty face, can replace the power of people who are passionate". And regardless of whether or not we just made that up, the guys behind Whisky Boy are proof that passion prevails, and great service, an awesome drinks list, and a tantalising menu, will win you some pretty happy customers and rave reviews (just like this).
Not necessarily the cheapest of eats (or drinks) in Noosa, but if you're after somewhere to go that's a bit different to the norm (and where staff are excited about what they do), then the experience is totally worth the bill at the end.
Just a word of warning though. Whisky Boy isn't going to be your "thanks, see ya later" one-off fling. Believe us! Even if it means you're making toothpaste out of baking soda to scrape together the pennies, you'll find a way to include Whisky Boy into your monthly fun budget.
Where: Corner of Thomas Street and Gympie Terrace, Noosaville
Contact: 0403 600 406
Image Credit: Claire Plush