The Sunshine Coast's first distillery is officially opening its doors tomorrow, so it's time we get you up to speed with what to expect.
Fortune is everything we didn't know the Sunshine Coast was missing. One of only a handful of distilleries in Queensland, this is a new opening that deserves a serious shout out.
Tucked in the industrial estate in Noosa, inside Land & Sea Brewery but completely separate in its offerings, Fortune has been in the works for the better part of 12 months.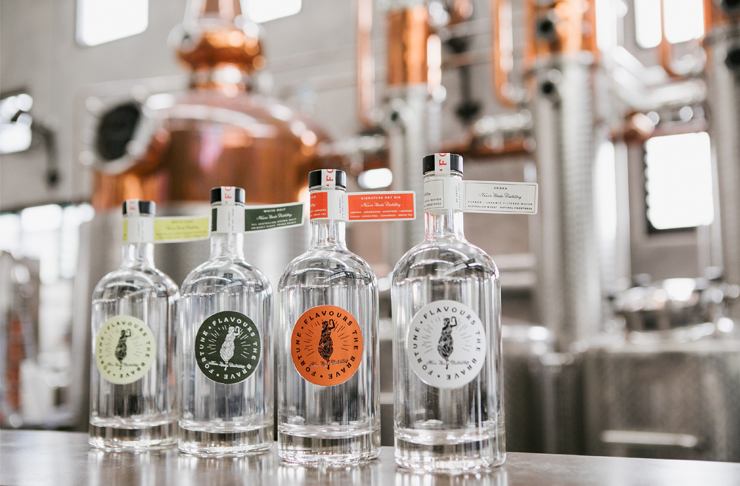 Launching with three super clean spirits; a dry gin, vodka and white malt, Fortune's distillery tasting area is commanded by the incredibly stunning copper distilling equipment. Mammoth in size and mesmerising in appearance, the copper pot reflux still—that's distillery talk for the large vessel where the alcohol is made—is one of the largest in Australia.
It's decisions like using these kind of high-end tools, that aren't easy or cheap, which are giving Fortune an edge over its competitors from the very beginning.
And while an awesome space to taste Fortune's offerings is a bonus, what's most important, are the three launching spirits themselves. And trust us, they're divine.
Starting with the Fortune dry gin—infused with a bunch of botanicals including juniper, lemongrass, honeydew, lavender, cassia, lemon peel coriander and green tea—we try it in their signature long drink with a light tonic and slice of honeydew melon. It's also used in the Fortune Fizz, a skollable cocktail that'll have you ordering another round on first sip.
The Fortune range also stars a naturally sweet vodka—made with carbon, ceramic filtered water and Australian wheat—and perhaps, our favourite and the most laborious, a white malt whisky.
Unlike many whisky companies who have to buy in a wash to make the spirit, Fortune hold the golden key to a very unique selling point, working alongside brother-company Land & Sea brewery. This close relationship means that rather than sourcing a wash to create the whisky, the head distiller at Fortune was able to collaborate with the head brewer at Land & Sea to create their very own high-quality wash in-house. A very rare opportunity in the spirit world, that allowed Fortune to be in charge of the complete process, from start to finish.
They ventured to a craft malter in NSW to select a single origin premium grain that was brought into the brewery where the team could take full control over how much it was ground and the mash temperature. The decision to do a pro-longed mash and pro-longed ferment, means that they were able to achieve slightly less of those unusual flavours you can get in unaged whiskies and instead, keep it really clean. It's not super harsh and has still a residual malt sweetness.
There's also talk of creating an older whisky, that will age over the years in barrels that make up the tables in the Fortune tasting room.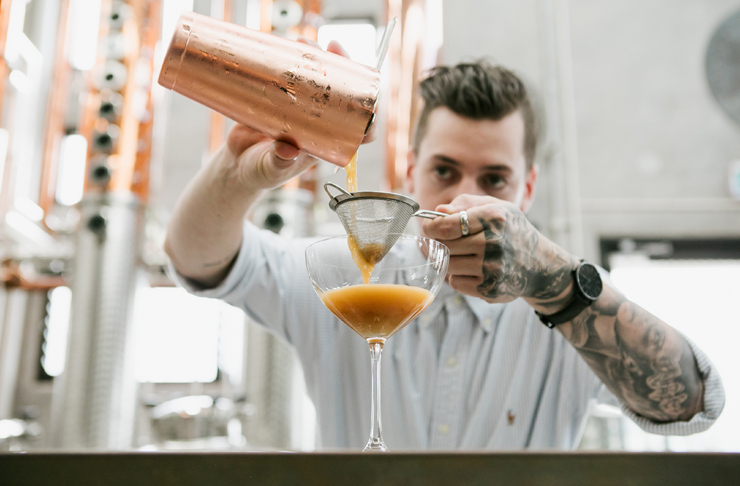 We know it's a lot to take in, but things are only getting started for the Fortune crew. With top-secret collaborations in the works—yep, these guys will be teaming up with some of our fave local restaurants to create epic bottled spirits—we know we can expect big things.
But for now, the Fortune tasting room is where it's at. Rock up and try their selection of cocktails, using their own spirits (hot tip: the White Malt Espresso Martini with housemade walnut bitters is worth its weight in whisky), or opt for a tasting paddle, where you can sip on all three Fortune spirits or pick and choose.
And, if you love what you wrap your lips around at the bar, then you'll be pleased to know that you can take a little slice of Fortune home with each spirit sold in 700ml and 200ml bottles.
Refined, yet approachable, the Fortune brand is already hitting the high notes, changing our social and drinking life on the Sunshine Coast as we know it. They say fortune favours the brave, and a visit to this brand spanking new distillery, is proof that some risks are worth taking. This is one grand adventure we can't wait to be a part of.
Fortune will officially open its doors to the public on Friday 15 March and 5pm, and from 1pm this coming Saturday and Sunday, so pop in and give them a big welcome.
The Details
What: Fortune Distillery
Where: 19 Venture Drive, Noosaville
Post-afternoon of drinking gin cocktails, grab a table at one of the best restaurants in Noosa.
Image credit: Amy Higg for Urban List