Our impressive Sunshine Coast beaches get a pretty good wrap, but they often overshadow our gorgeous hinterland sprinkled with dazzling waterfalls and sensational swimming holes.
We reckon chasing waterfalls is exactly what you should do. And the best Sunshine Coast waterfalls are only a short drive and hike away. Scroll on for 10 of the best Sunshine Coast watefalls you can actually swim in this summer.
Buderim Falls
Buderim
Buderim's best but not-so-well-kept secret swimming spot has got to be Buderim Falls, also known as Serenity Falls. Explore Buderim Forest Park—make sure you wear swimmers under that activewear—and finish off with a laidback dip in the rock pool.
Gheerulla Falls
Mapleton
Breathtaking eucalypt forest and rainforest biomes surround the Sunshine Coast Great Walk in the hinterland, and just 1.3km from Mapleton, you will find yourself at the Gheerulla Falls. After a good rainfall, the swimming hole fills up and is a great little spot to cool down before hiking back. If that walk isn't far enough, there's a 16km walk between Gheerulla and Mapleton falls. You can't swim in the Mapleton Falls (they drop 120-metres), but there are three observation decks on the walk and the view is one you don't want to miss.
Gardners Falls
Maleny
This little hinterland hideout is a favourite among Sunshine Coast locals, so be warned: you're not going to have this waterfall to yourself. But if you weigh up the easy stroll from the car, the beautiful bush setting, the gentle waterfall, and the rock pools below complete with rope swings, it's worth battling a little crowd to enjoy a dip at this Maleny swimming hole.
Booloumba Falls
Conondale National Park
This hunt will take you a little further afield from the bustling coastline of the Sunshine Coast and into the Conondale National Park. Pull up your car, tie up your laces (yep, ditch the thongs unless you want to make friends with leeches), and hike a short 1.5km to the picnic area. Just before the falls lookout head down the stairs where you'll find the main pool, perfect for a dip or waterfall shower. Loving the scenery? Back up, and set up a tent at the Booloumba Creek campsite.
Artists Cascades
Conondale National Park
Doesn't it just sound secret? And creative? And like it totally cascades down some rocks? So much meaning in one little name. Hidden in the lush Conondale National Park near Kenilworth, Artists Cascades deep-in-nature location means that to reach it you've got to trek a total of about 5km each way. Which means a whole lot of people just bailed out of ever seeing this one, but it is without a doubt one of the best secret swimming spots on the Sunshine Coast. For those who are still keen for a mission, park up at Booloumba Creek Day Use Area and get your walk on—the picturesque waterhole that awaits you is worth the slog.
Kondalilla Falls
Montville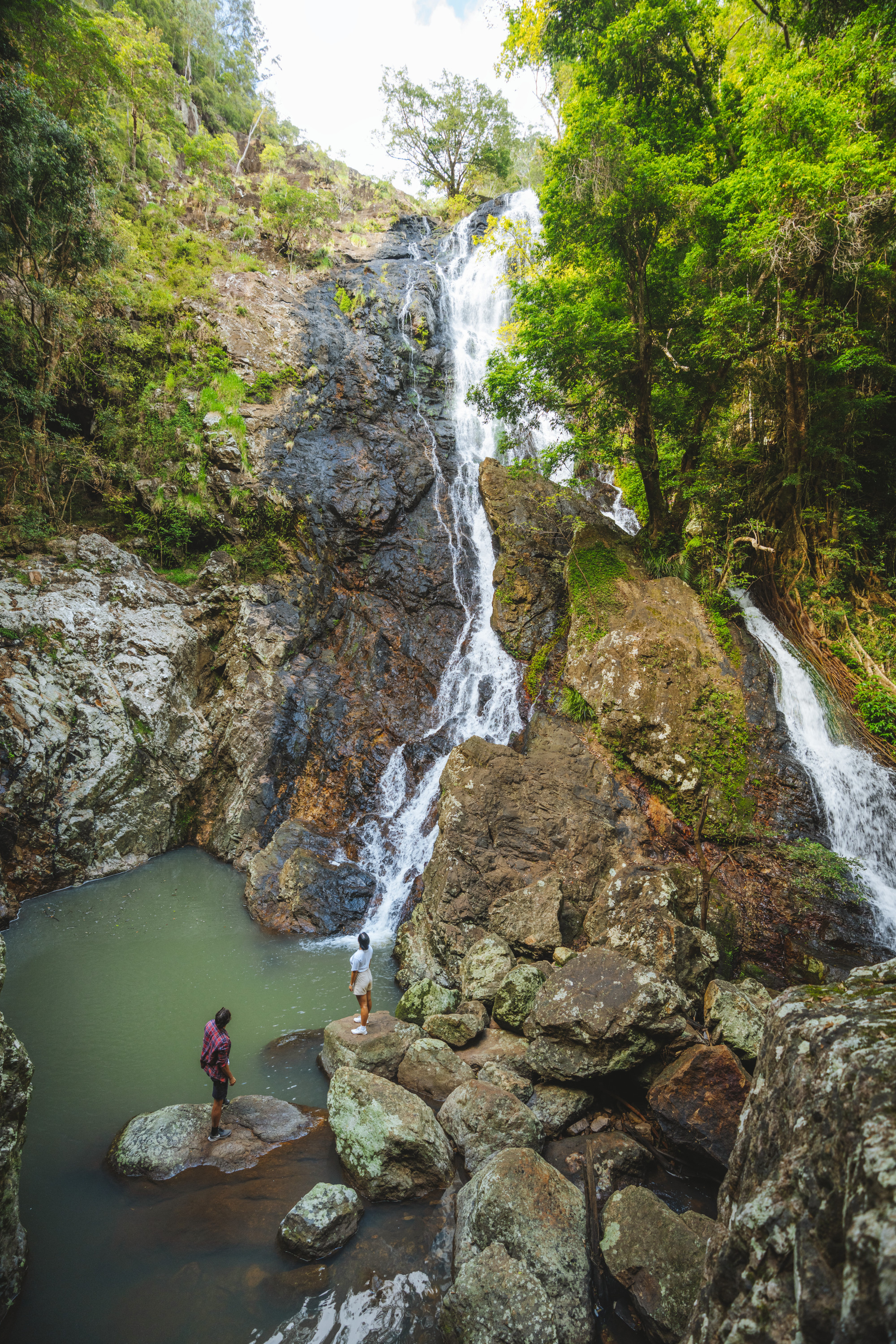 So you like your waterfall chase to involve working up a sweat? We get it. After a bit of a bush walk there's nothing like seeing a stunning four-metre waterfall surrounded by lush greenery and knowing that you can jump right in for an instant refresh. Skip the beach and hit this waterfall in summer, aka the wet season, to see its real power and discover first hand the reason behind its name "Kondalilla".
Baxter Falls
Flaxton
You've done Kondalilla Falls and Serenity Falls is old news to you too, but have you checked out Baxter Falls in the hinterland? Not only is there a suspension bridge over Baxter Creek—perfect for that "weekend adventure" Insta pic—but it's not that tough. Totalling up to just over 6kms, start and end at Flaxton Mill Road in Flaxton, before hopping back in the car and bee-lining straight to Little May Espresso's in Montville for a smoothie.
Wappa Falls
Yandina
If you're not too keen on the idea of a hike and you're not all that crazy about jumping from heights, Wappa Falls is the perfect spot for you. You can park up right next to the falls, set up your picnic blanket and plunge into the pools. These ones are a little slippery and definitely can't be jumped into, but they are perfect for the relaxed individual.
Robinson Falls
Nambour
Technically a waterfall, Robinson Falls in Nambour are the perfect spot for a refreshing dip. The small water hole has nearby BBQ facilities and a playground if you want to bring the kids. The track is only a 1km loop, so it's family friendly and a bit of a hidden gem on the Coast.
Kureelpa Falls
Mapleton
Mapleton National Park is the gift that keeps on giving. An 8.7km circuit, the Kureelpa Falls are found just before halfway through the loop, so either stop off, cool off, then head on back, or challenge yourself and finish the hike. For another test, the neighbouring 6.7km Piccabeen Circuit is a beautiful walk that also starts and finishes in the Mapleton Day Use area and explores rainforest, plantations and a piccabeen palm grove.
If you've chased all the waterfalls, stay on the road and check out these amazing road trips you can take from the Sunshine Coast.
Image Credit: Lumea Photo for Urban List & Tourism & Events QLD