Sydney rules the roost when it comes to surf beaches, secret beaches, and cliffside ocean pools. But we're also a city rich with incredibly stunning outdoor swimming pools. So, in the spirit of springtime—here we bring you Sydney's most scenic spots to swim some laps, from harbourside pools to inner-city ones in picturesque parks to massive new aquatic centres with outdoor Olympic pools.
Before you head out, we recommend checking the pool's website to see whether they have reopened yet, as some are open year-round while others reopen in spring.
Ready? Check out Sydney's best swimming pools.
Andrew (Boy) Charlton Pool
Domain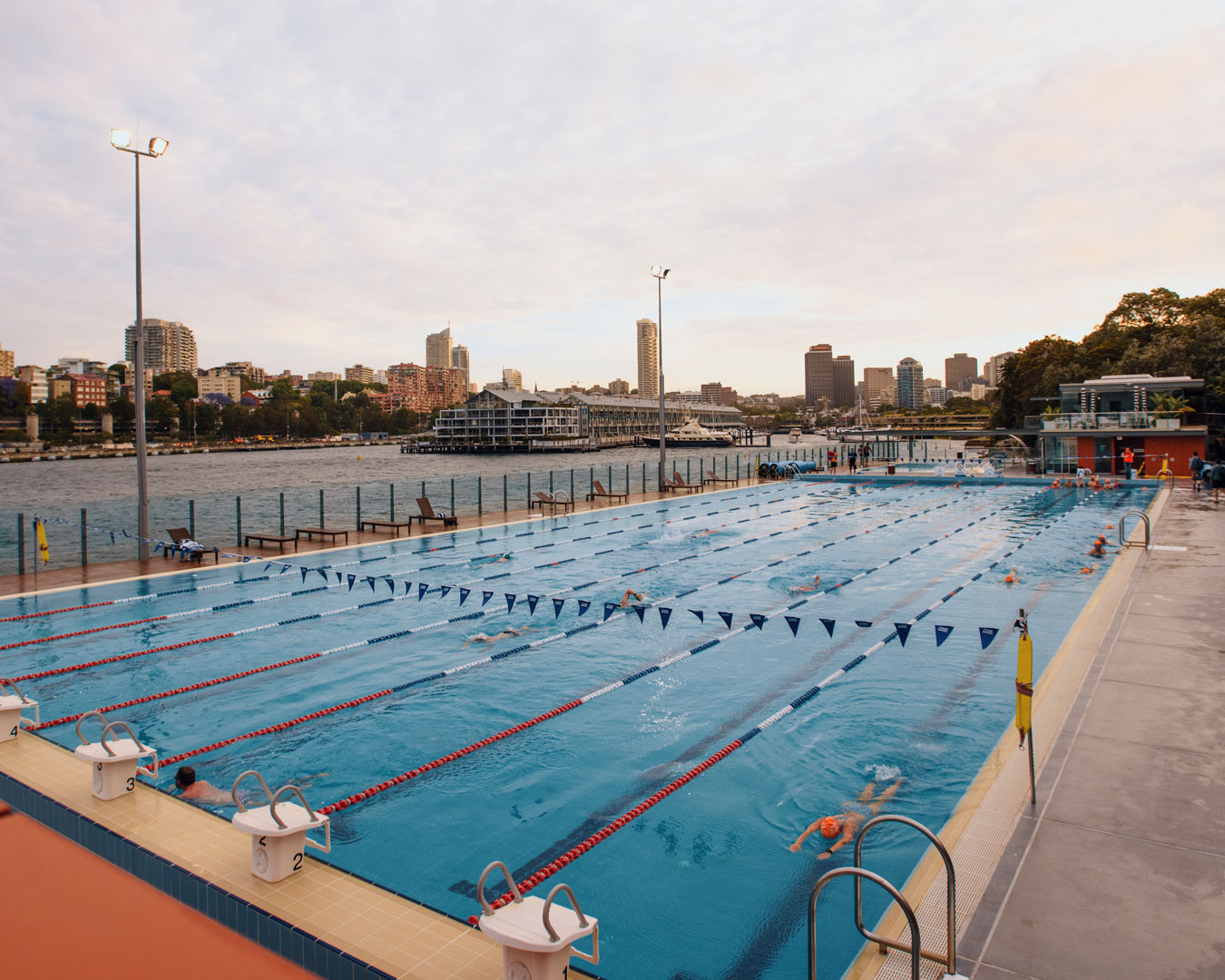 It doesn't get much better than doing a couple of laps harbourside on a sunny day. The piece de resistance at Andrew (Boy) Charlton is the eight-lane 50m outdoor swimming pool which gets heated to a glorious 25-degrees and treated with a touch of seawater (kisses fingers). You'll find a flurry of sunbeds around the pool deck, perfect for a post-swim dry-off and the grandstand also offers up a recluse from the sun with shaded protection. The pool is also wheelchair accessible and individual entry for a swim is $7.20. Andrew (Boy) Charlton pool reopens on the first day of spring, Thursday 1 September 2022.
Gunyama Park Aquatic And Recreation Centre
Zetland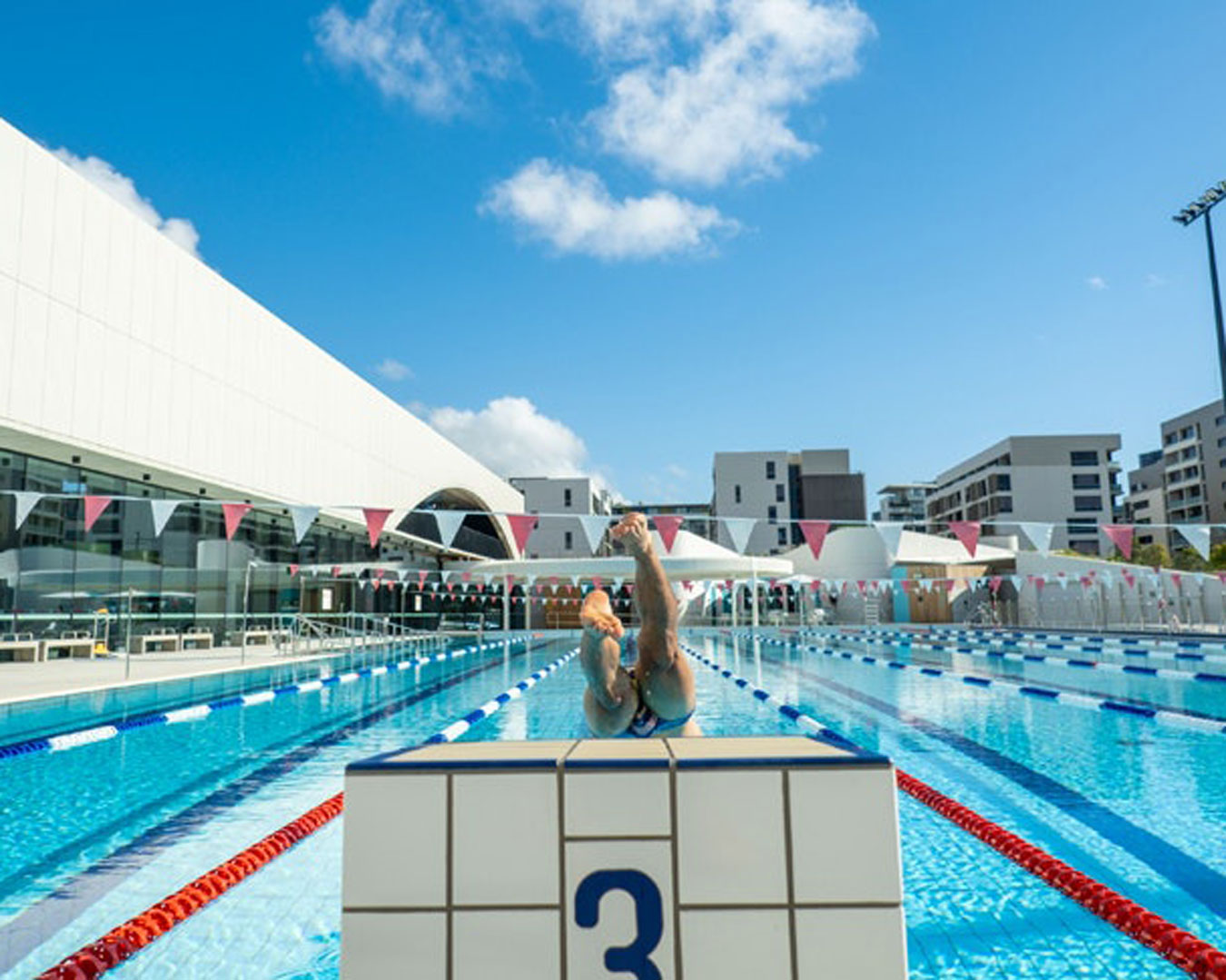 ​​Located in Sydney's Green Square development, Gunyama Park Aquatic And Recreation Centre is the largest built in Sydney since the 2000 Olympics. Opening in 2021, the pool is the result of over three years of design and construction and it takes its inspiration from Sydney's famed ocean pools. The kicker? It's also one of the most accessible and sustainable pools in Australia.
The outdoor pool here spans an Olympic 50-metres and sits within a larger beach pool. There's also an indoor leisure pool, a 25-metre pool, and a heated hydrotherapy pool. Alongside all the water fun, Gunyama Park also includes picnic facilities, training circuits, a health and fitness centre, an outdoor yoga deck, and even a multipurpose sports field—just casually. Gunyama Park Aquatic And Recreation Centre is open year-round (except Christmas Day and Good Friday) and costs $8.30 entry.
Dawn Fraser Baths
Balmain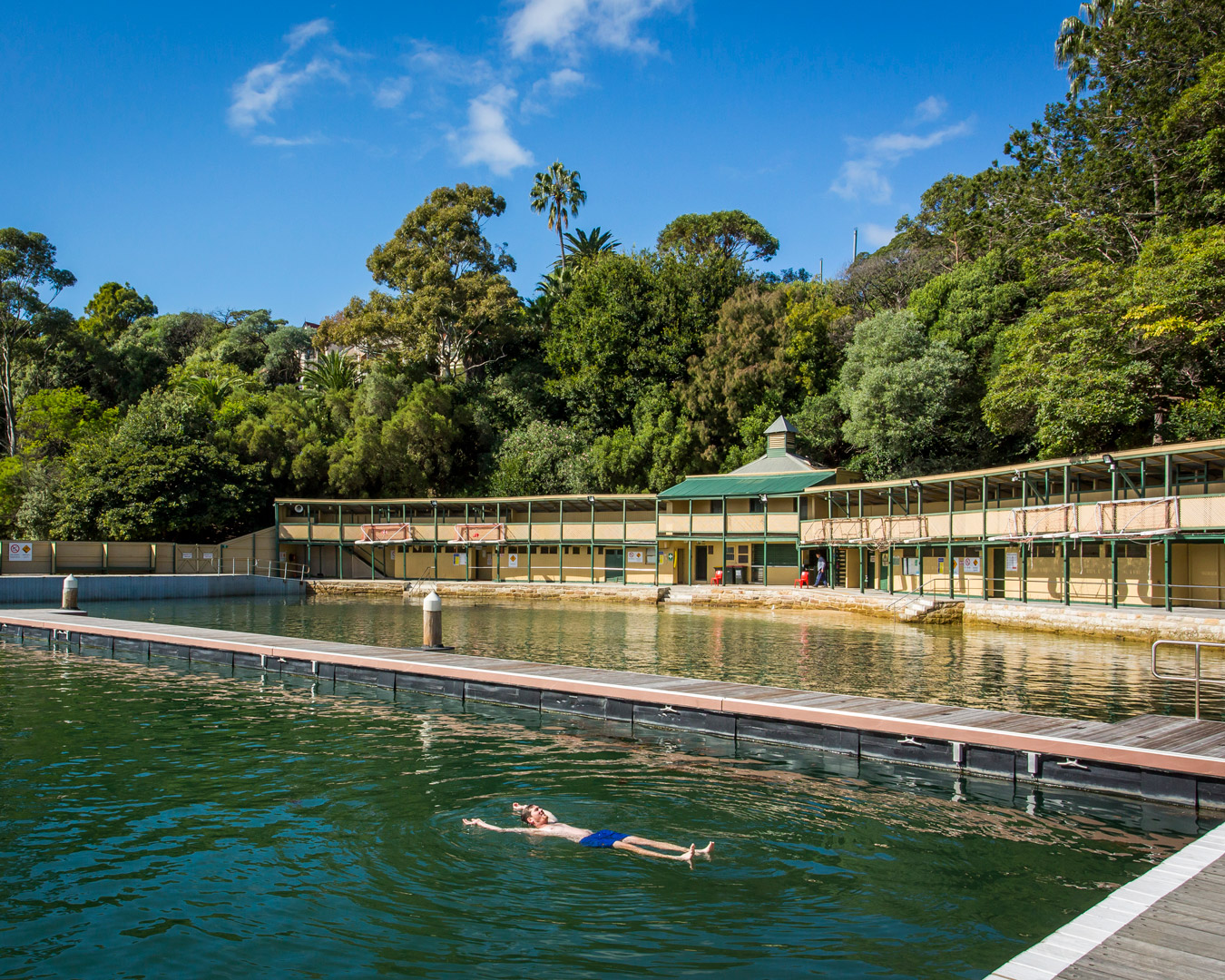 Contemplating your first dip of the season? Even if you're one of those Sydneysiders who swims year-round, if you live in the Inner West you'll be pleased to know Balmain's iconic swimming hole, the Dawn Fraser Baths, has reopened to the public after a massive refurb. The heritage-listed public harbour pool was first built in 1880 and is the oldest pool and swimming club in Australia. It reopens in October 2022.
Mount Druitt Swimming Centre
Mount Druitt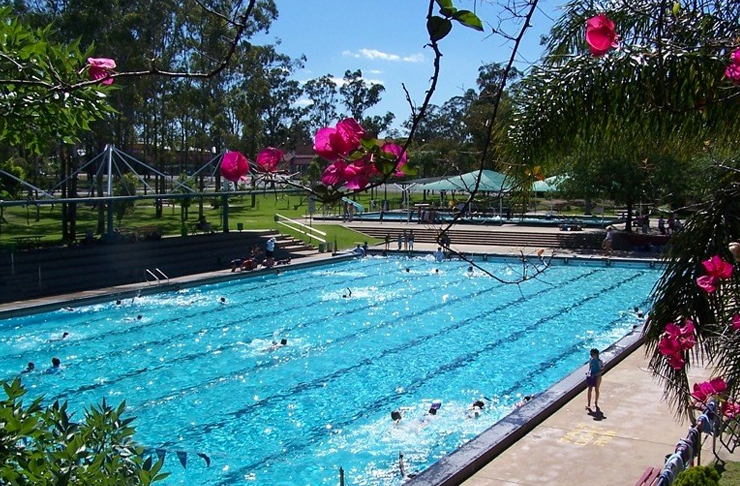 Having opened back in 1975, Mount Druitt Swimming Centre easily sports one of the most beautiful outdoor pools in Sydney. Unsurprisingly, this local swimming haven is the place to be in summer with its large sprawling grass areas, picnic tables, sun shelters and natural shade for a bit of respite from the sun too. Still bearing its 70s pool vibe, the eight-lane outdoor pool (Olympic-size) is the main attraction here, perfect for a few laps any time of the day. It reopens 24 September 2022.
Victoria Park Pool
Camperdown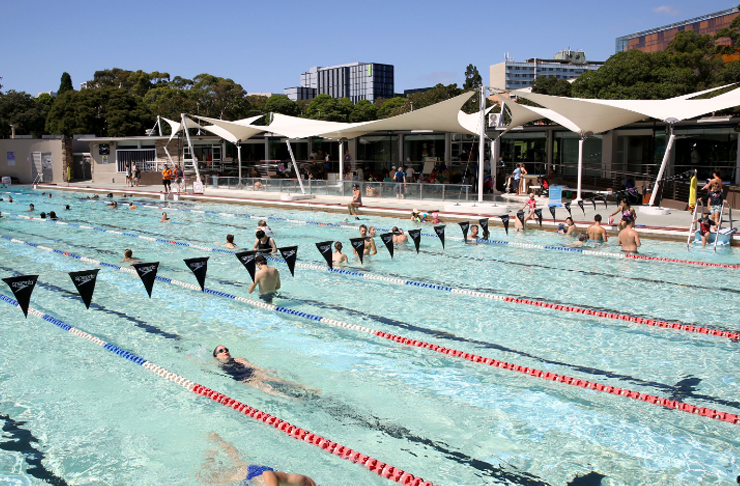 Victoria Park Pool may be in one of the unlikeliest locations in Sydney. The inner-city pool rests in the apex of Victoria Park just opposite The Lansdowne. The main outdoor swimming pool here is an eight-lane, 50m heated pool (sitting around 26 degrees). There's also a range of facilities to assist anyone with additional needs or rehabilitation needs and a lane space available at all times with a pool access hoist for full support on entry and exiting the water. It is now open and for a casual swim will set you back $7.20.
Prince Alfred Park Pool
Surry Hills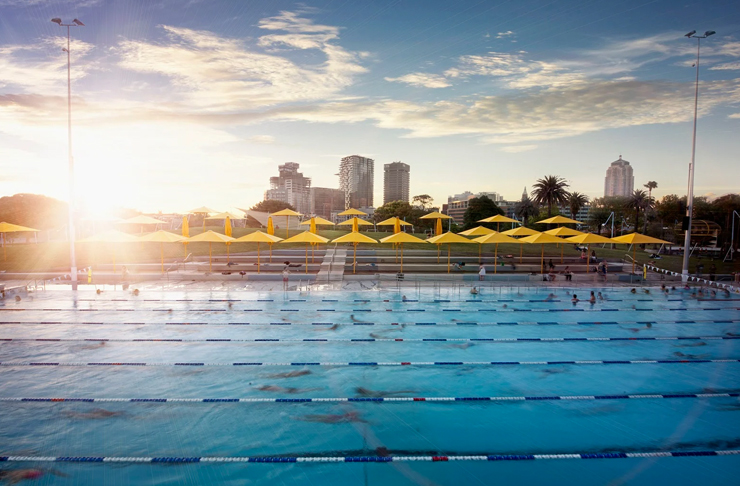 Also known as "Redfern Beach", Prince Alfred Park Pool is the swimming hole of choice for inner-city and Inner West locals keen to skip the traffic and the crowds at Bondi. Beneath bright yellow sunshades, Prince Alfred Park Pool has a fully accessible heated outdoor pool that features a green roof of native grass to regulate temperature. Keep an eye out for the park's permanent rainbow path, too, which was created to commemorate the legalisation of same-sex marriage in Australia. The pool reopened in August and entry costs $7.20.
Des Renford Aquatic Centre
Maroubra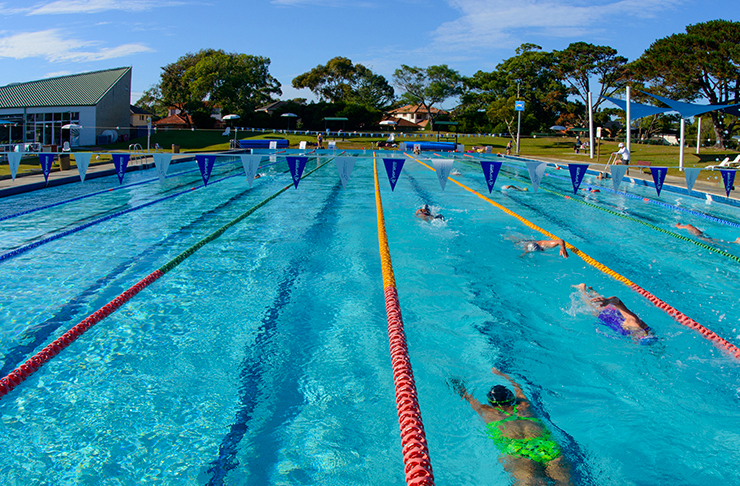 Locals will still remember this Sydney swimming pool as Heffron Pool but it was renamed Des Renford Aquatic Centre just before the 2000 Olympics in honour of Aussie long-distance swimmer Desmond Renford. Des held the impressive title of King of the Channel, having swum the English Channel 19 times through his life (with 19 attempts). The aquatic centre has long been a place for long-distance swimmers to train and holds a rich history of young competitive athletes, too.
The Des Renford Aquatic Centre has undergone huge revamps over the years and you'll find five different pools here to make the most of. The 50m outdoor pool is the most famous (and it's the pool of choice for many a school swimming carnival at the start of each year too). A casual swim here will cost you $7.20.
Leichhardt Park Aquatic Centre
Leichhardt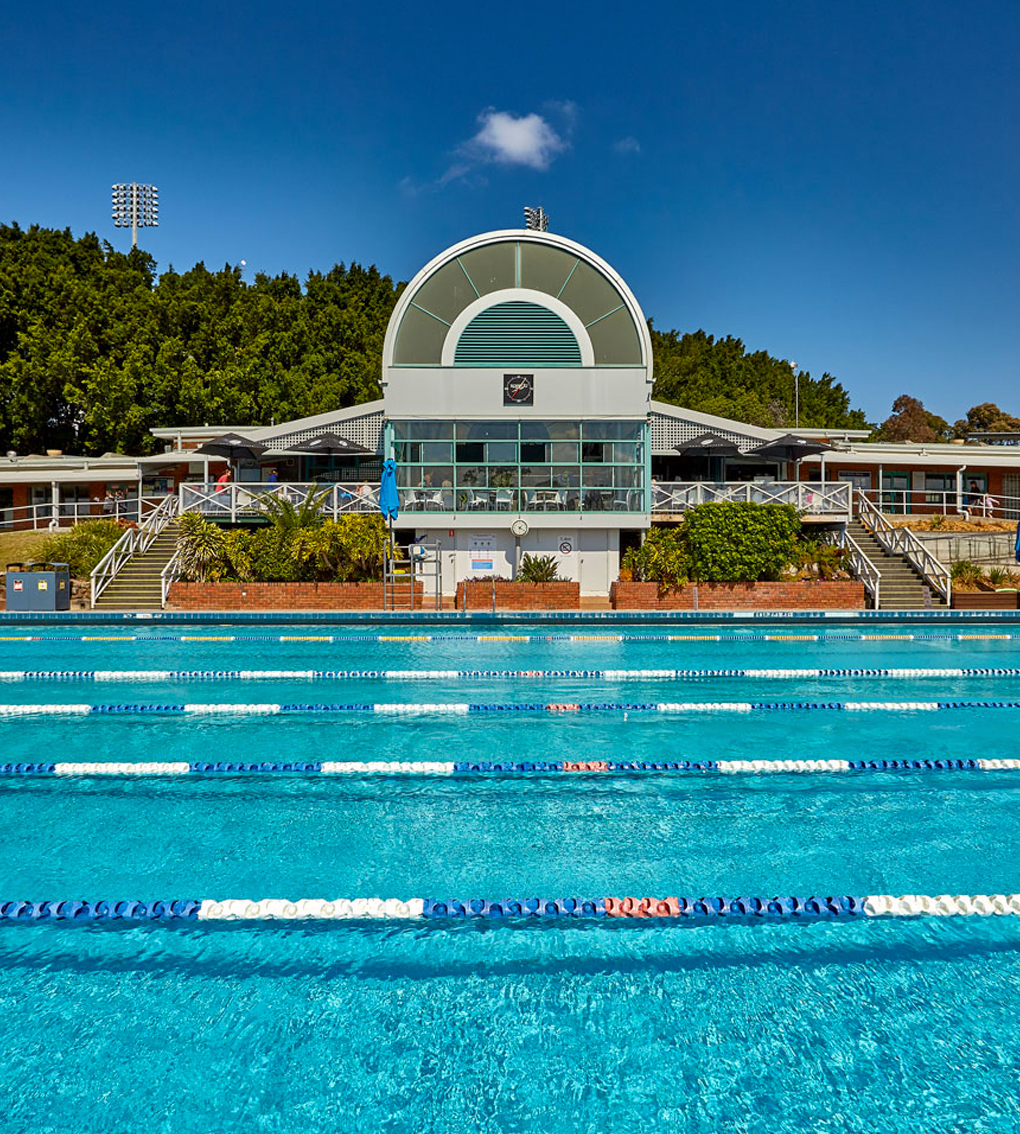 Leichhardt Park Aquatic Centre is the ultimate place to be on a hot summer's day in Sydney and yes, that's a pastel pink dive tower bringing an old-school Olympic aesthetic. The outdoor Olympic-size pool features seven lanes and a pool hoist and big wide-open views of the Parramatta River. And good news, if you're here to crawl your way through a few laps on the weekend, you can always hit the epic Rozelle Markets for a post-swim feed. All pools, except the "Outdoor Mushroom Pool", are open and entry costs $9.20.
North Sydney Olympic Pool
North Sydney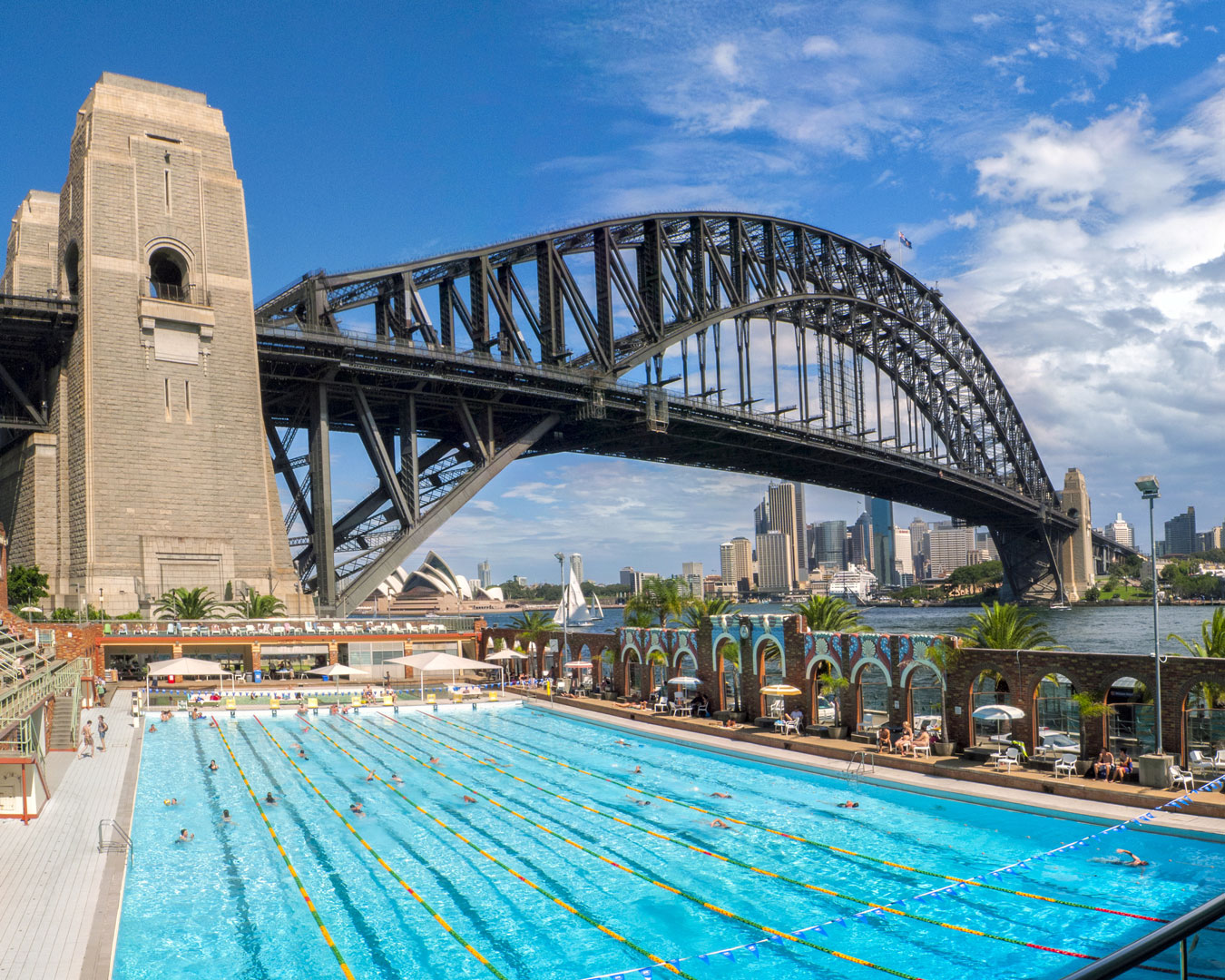 If doing a couple of laps with Australia's most iconic landmark as your backdrop is hot on your to-do list, you're going to want to make a splash at North Sydney Olympic Pool. Fun fact: 86 world records were set at this pool by legends of the sport including Shane Gould and Lorraine Crapp (plus, it's also been the pool of choice for Dawn Fraser, Murray Rose, and other Aussie swimming greats).
This open-air pool is Olympic-size and, with the Harbour Bridge's arches stretching into the sky behind it, it truly is one of the most beautiful swimming spots in Sydney. On the harbourside, you'll find remnants of the pool's 1930s architecture with a series of multi-coloured brick arches with various keystones shaping into parrots, scallop shells, and fish.
North Sydney Olympic Pool is currently closed due to a two-year construction. It will reopen once complete.
Coming Soon: Parramatta Aquatic Centre
Parramatta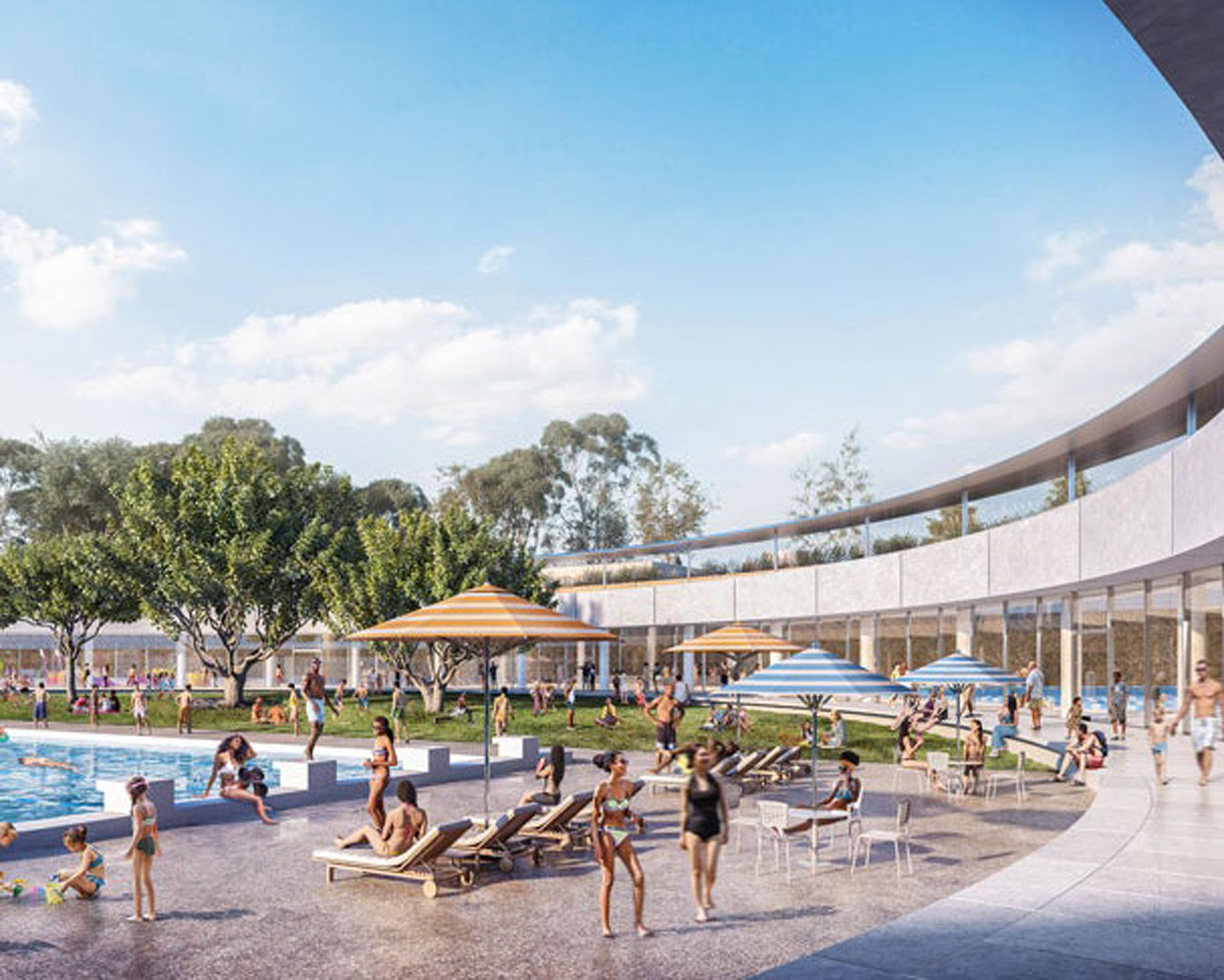 Western Sydney's notoriously sweltering summers are about to get a whole lot cooler because construction of the Parramatta Aquatic Centre is underway. The epic $88.6 million space will sit within Parramatta Park's scenic garden surrounds, backing onto Park Parade and the nearby train line. With its ultra-sleek, circular design, complete with a sun-soaked pool lawn and state-of-the-art facilities, it's sure to become your new favourite spot to take a casual dip or get your regular strokes in. Budding Thorpies can practice their cannonball in the 50m, 10-lane heated outdoor pool or the 25m indoor recreational pool, while littlies and big kids alike can enjoy the indoor Learn to Swim pool and splash play area. Plus, the centre will have a gym and fitness rooms as well as spa and sauna facilities.
The much-anticipated project is slated to open in 2023. More info on the pool is here.
Now check out the best ocean pools in Sydney.
Image credit: Destination NSW, Destination NSW, Gunyama Park Aquatic Centre, Destination NSW, Blacktown Council, Victoria Park Pool, Prince Alfred Pool, Randwick Council, Leichhardt Park Aquatic Centre, Destination NSW, City Of Parramatta