Bottomless feasts are unholy at the best of times but slap on a budget-friendly price tag and you really have a winning combo.
We scoured the highs and lows of Sydney to bring you some banging all-you-can-eat feasts that won't break the bank but may break your belts. From endless pizza and vegan pasta to three-hour sittings where you're required to knock back as many mussels and fries as you can physically handle, this is one challenge you're going to want to start as soon as possible.
Check out Sydney's best bottomless feeds under $40.
Salt Meats Cheese
Various locations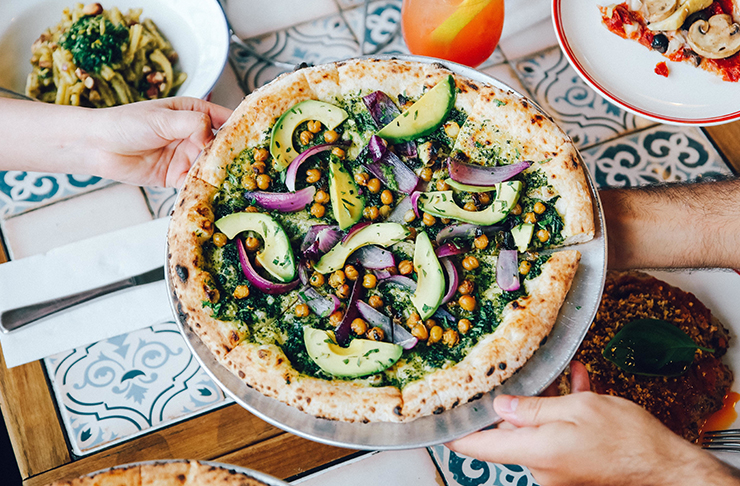 Don your stretchiest pants, stretch your limbs and brace yourself for an all-you-can-eat affair like no other. Salt Meats Cheese (SMC) is basically throwing down an all-you-can-eat feast pumped with vegan pizza and vegan pasta that will really send you to foodie heaven. The deal is that you'll sit down at your table and be served an eight-dish strong menu focused on plant-based twists of SMC's signature dishes, and you're more than welcome to grab as many slices and bowls as you damn well desire.
The menu will include vegan takes on SMC's ragu lasagne with slow-braised shiitake mushrooms and bechamel sauce; the cacio e pepe with gnocchi and cracked pepper, the caserecce pesto, the rigatoni puttanesca with tomatoes and eggplant, a three pumpkin pizza with vegan ricotta, a crispy chickpea, and avo pizza and more. If your mouth is already salivating just reading, this is the feast for you.
What you get: Bottomless vegan pizza and pasta
When: Tuesday 20 April
Price: $35 per person
Chama Brazilian Style BBQ
CARINGBAH
The all-you-can-eat deal at Chama Brazilian Style BBQ sits as low as $39 per person, but in no way do these guys skimp out on big feasting and flavours. You'll have everything including salt rubbed BBQ picanha, parmesan beef, chaman churry beef, honey soy fillet, chicken hearts (be brave), smoked pork belly, pork chorizo sausages, and a whole heap more. These guys also plate up a solid sides menu so make sure to tick off the traditional Brazilian cheese bread and the baked creamy potatoes.
What you get: Bottomless Brazilian feast
When: Tuesdays through to Sundays
Price: $39 per person
Garcon
Lane Cove
Taking place at Lane Cove's classic French-inspired bistro Garçon, you'll want to save your belly space for the endless feeds, because we're talking about all-you-can-eat mussels and fries (or moules frites) every Wednesday.
While this in itself already sounds like the perfect night out, the bottomless antics at Garçon only get better from here. Mussels basically come with your choice between three sauces: cream and white wine sauce, a blue cheese concoction, or a chef's special, which changes up each week. You'll quite literally be able to keep ordering until you're completely stuffed to the brim with chips and mussels.
What you get: Bottomless mussels and fries
When: Every Wednesday
Price: $36 per person
Okami
Various Locations
Sometimes, all you need to do is knockback as much sushi as humanly possible and then sit and revel in your food-induced coma. That's where Okami comes in. This guy is a big deal in Melbourne and now the team has decided to set up shop in the likes of Marrickville, Penrith, Silverwater, and Cronulla, plating up over 30 different Japanese dishes and a bottomless deal that's almost too good to be true.
The all-you-can-eat option will only set you back a cruisy $34.80 per person. You'll be able to chow down plates full of edamame, prawn gyoza, veggie spring rolls, chicken skewers, miso steak, soba noodles, curry chicken, and even green tea and black sesame ice cream. You'll get two hours to sample as much as you physically can—so make the most of it.
What you get: Bottomless Japanese cuisine
When: Every day
Price: $34.80
Loluk Bistro
SURRY HILLS
There's no denying Loluk Bistro is a veritable king of a bottomless feed. If you've been across its all-you-can-eat raclette nights then you're going to want to hit up their equally insane bottomless mussel nights which sit at a lower price point (and we are all about that)
Whether you're wanting an epic feast that'll transport you straight to the beaches of the Mediterranean Sea, or you're looking for your next brownie-point-winning date spot, Thursdays at Loluk Bistro are your best bet for a sure-fire good time.
The basic premise is, for an easy $29 you get to eat as many pots of mussels and plates of fries as you want, no strings attached. Choose from mussels in a provençal sauce with tomatoes, garlic and black olives, or marinière with shallots and white wine, or for something a little richer, try bleu with Roquefort cheese and cream.
What you get: Bottomless mussels and fries
When: Every Thursday
Price: $29 per person
CicciaBella
Bondi, Parramatta
Not much beats an entire night dedicated to endless slices of pizza inspired by the great garages of Italian migrants of the 60s and 70s in Melbourne. Every Tuesday night, the team at CicciaBella will be throwing down endless pizza antics so you can really dig in like the foodie juggernaut you really are. Hot on the pizza menu are the likes of margherita, quattro formaggi, pepperoni, eggplant and pecorino, prosciutto and broccoli and sausage. The all-you-can-eat feast will only set you back $30 so while you're at it, you may as well make the most of the one-litre wine carafes too (going for $40 a pop).
What you get: bottomless pizza
When: Every Tuesday
Price: $30 per person
Churrasco Coogee
Coogee
Listen, not much beats Brazilian BBQ right by the ocean. Along with a famed happy hour that takes place weekdays from 5pm - 6pm and Saturdays from 3pm - 5pm, Churrasco Coogee is a buzzing mecca for some of the best Brazilian BBQ in Sydney. The all-you-can-eat-style meat antics here sit at the $50 per person mark, which of course is above our price point right now, however, the silver lining is that the team here actually throws down an equally delicious bottomless vegetarian feast for a cruisy $35. The veggie feasting here looks like creamy baked potatoes with mozzarella, rice, BBQ'd haloumi, cheese bread, BBQ'd pineapple, fried banana, shoestring fries and even BBQ'd zucchini.
What you get: Bottomless vegetarian feast
When: Mondays through to Saturdays
Price: $35 per person
Now, soak up the best bottomless brunches in Sydney.
Image credit: Salt Meats Cheese, Salt Meats Cheese, Garcon, Okami, CicciaBella