Weekends can only mean one thing: markets. And luckily for us, Sydney is brimming with options, from farmers markets offering the freshest local produce to collector's markets stacked with stellar antiques and vintage finds. That's without even mentioning the slate of food and drink that stalls are slinging. After all, nothing kicks off a Saturday morning like a warm and freshly baked Nutella doughnut.
So, ready your fridges, grab your reusable bags, put on your bargain hunting hat, come hungry and adventure into the fabulous world of market mayhem.
Check out the best markets Sydney has to offer.
The Finders Keepers
Barangaroo
This month, our favourite conscious shopping market is back at The Cutaway, Barangaroo. If you're not familiar, Finders Keepers is a hub of creativity, where you can shop and explore the latest from local NSW and interstate designers, makers and entrepreneurs. Expect to discover ceramics from Bea Bellingham to transform your space, fashion pieces to add to the weekly rotation—including Deadly Denim garments, unique accessories to complete your look, drool-worthy bites and more. A must for all culture-seekers, this is not one you want to miss.
When: Friday 29th July—Sunday 31st July
Where: The Cutaway, Barangaroo
Get your tickets here.
Northside Produce Market
North Sydney
Only resting for one January fortnight per year, the Northside Produce Market is otherwise in full swing. This one kicks off on the first and third Saturday of every month, packed to the rafters with a stellar line-up of vendors and producers, both local and from regional NSW. You'll find Australian Honey Cellars bearing all the mead, The Baked Box with some deliciously moreish cookies (famous for their chewy centres), local Cheese On Wheels cheesemongers making your French dreams a reality, and a whole heap more.
When: The first and third Saturday of the month, 8am - 12pm
Where: Ted Mack Civic Park, North Sydney
Carriageworks Farmers Markets
Eveleigh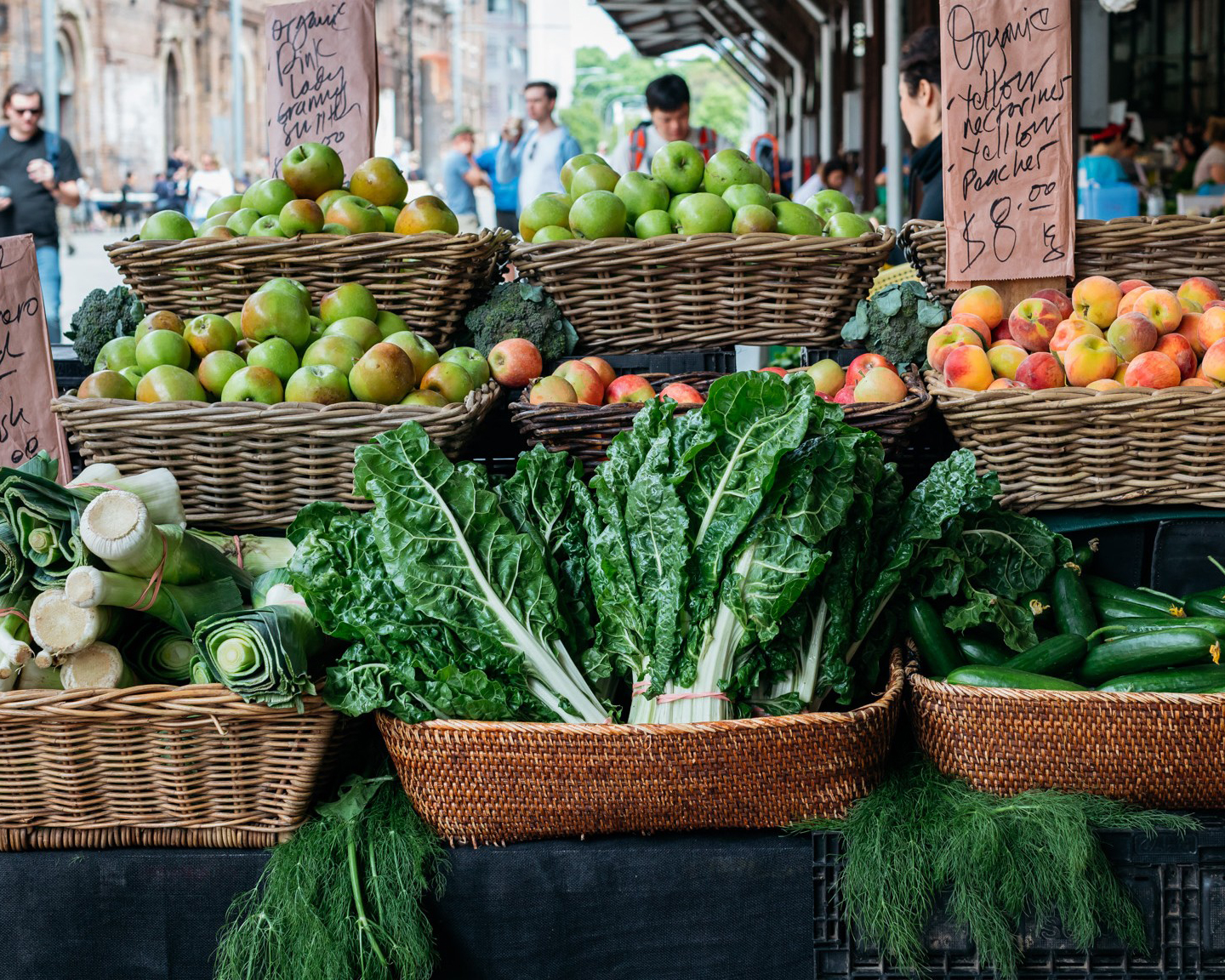 The iconic Carriageworks Farmers Markets set the weekly standard for farmers markets thanks to its top-notch vendor lineup and in no small part due to its Eveleigh location. When it's not hosting a lineup of artists, live shows, or festivals, Carriageworks is putting on one hell of a Saturday market, with more food and goodies than you could dream of. Creative director and chef Mike McEnearny is back at the helm, and so are weekly highlights like cultured butter and lemon curd from Pepe Saya, dangerously good pastries from All Purpose Bakery, vegan charcuterie from Suzie Spoon's Vegan Butcher, and coffee from the legends at Single O.
When: Saturdays, 8am - 1pm
Where: Wilson Street, Eveleigh
Rozelle Collectors Market
Rozelle
Adventuring through the Rozelle Collectors Market can sometimes feel like taking a trip back in time. It's no surprise that the market is one of Sydney's favourite outdoor antique, collectable, and second-hand shopping destinations. Whether you're searching for a gift for that person who already has everything, or you're looking for something special to add to your own collection, these Rozelle markets have your back. Browse through their huge range of pre-loved antiques, collectables, fashion, jewellery, art, and music, all while being entertained with live tunes from top-notch local talent. And when your bags start to feel a bit heavy, take a break and enjoy the local artisanal providores and international food stalls offering a range of delicious food. Come back the next day for Sunday's Rozelle Farmers Market as well.
When: Saturdays, 9am - 3pm
Where: Rozelle Public School, Rozelle
Manly Markets 2095
Manly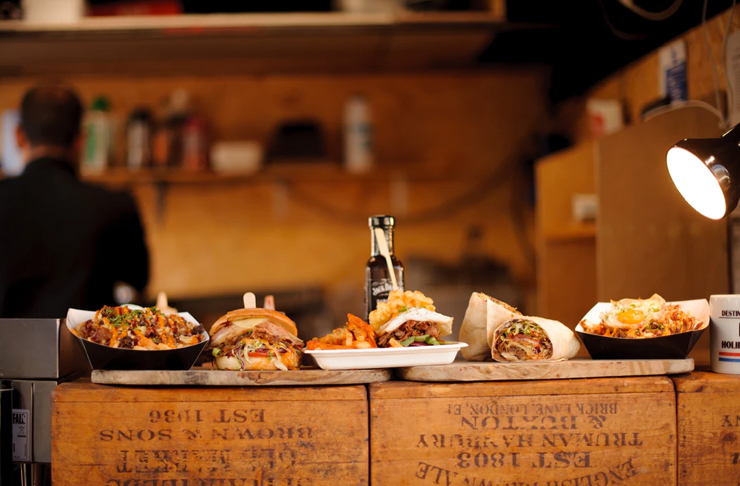 Come one, come all to the beautiful and lively Manly Markets 2095 open-air markets. Situated right in the heart of sunny Manly, these bustling markets are a little slice of beachy paradise. What sets these guys apart is their passionate stallholders stocking a huge variety of awesome goods. Shop artisanal produce, vintage apparel, unique imports, gifts, handcrafted jewellery, eco-friendly items, local art, and more. Once you've had a decent stroll, make sure to reward those hungry bellies by visiting one of the fantastic bars or restaurants that surround the Corso. You can even round out the day with a quick dip in one of Australia's best beaches, located only 100m away. If you can't make it, be sure to check out stallholder products online with the convenient Virtual Markets.
When: Saturdays and Sundays, 9am - 5pm
Where: Manly Corso, Sydney Road, Manly
Marrickville Organic Food Markets
Marrickville
They say the Inner West is best. Well, you can be sure to find the best of the best at the Marrickville Organic Food Markets. Rain, hail or shine these guys are serving up the freshest organic produce every Sunday. Start your morning with a warm, stringy cheese toastie, before stocking up on your weekly goods, including seasonal fruit and veggies, fresh seafood, and the purest honey in Australia. Why not make your weekend a little brighter by also picking up some beautiful flowers, a new indoor succulent, some sustainable goodies, or even a fun bargain book.
When: Sundays, 9am - 3pm
Where: Addison Road, Marrickville
The Rocks Markets
The Rocks
The Rocks is one of Sydney's most charming suburbs, peppered with historic pubs and enviable Sydney Harbour views. But head to the cobblestone laneways on Saturdays and Sundays and you'll find vibrant markets right on the Sydney foreshore. Expect tonnes of stallholders selling new and much-loved goodies, from quality artisan goods to crowd favourite gozleme and handmade sweet treats. Adding to the good vibes are things like live musicians and even free yoga in the nearby park every Saturday at 9.30am.
When: Saturdays and Sundays, 10am - 5pm
Where: George Street, The Rocks
Bondi Markets
Bondi Beach
Whatever your eastern suburbs Sunday plans might be, make sure you add the Bondi Markets to your itinerary. You might pick up a custom surfboard, some locally-made skincare products, retro homeware, vintage couture or an organic brekkie bowl. It also helps that these particular markets take place across the road from a very famous 1km stretch of white sand. So, always pack your swimmers for a post trawl Bondi Beach swim. You can pick up your fresh produce every Saturday at the same spot at the Bondi Farmers Market.
When: Sundays, 10am - 4pm
Where: Bondi Beach Public School
The Beaches Market
Warriewood
If you're looking for the best place to do a one-stop quality food shop, then be sure to hit up The Beaches Markets. An absolute fan favourite of the Northern Beaches faithful, these markets offer an alternative for those looking to shop for fresh produce for the weekend, but not on the weekend. This means you'll have more time to kick back, relax, and enjoy your days off to the max. Find everything from artisan bread and organic honey, to fine jewellery and vintage fashion. Of course, the entire experience is enhanced by that Northern Beaches sea breeze and relaxed aura.
When: Fridays, 8am - 12.30pm
Where: Pittwater Rugby Park, Warriewood
Tramsheds Growers Markets
Forest Lodge
If you're not already familiar with the Tramsheds, the collection of shops, cafes, bars, and restaurants is in itself much like a set of permanent markets. You can pop through for anything from a haircut to a dinner date. But make your way to the Artisan Lane every Sunday for a showcase of Greater Sydney's best providores, chefs, and producers at the Tramsheds Growers Markets. Come for a bottle of locally distilled Newtown gin, Argentinian BBQ sauce, prunes from a third-generation grower or monofloral honey from Western Lake Macquarie.
When: Sundays, 9am - 3pm
Where: Tramsheds, Glebe
Sydney Vegan Market
Sydney Olympic Park & Moore Park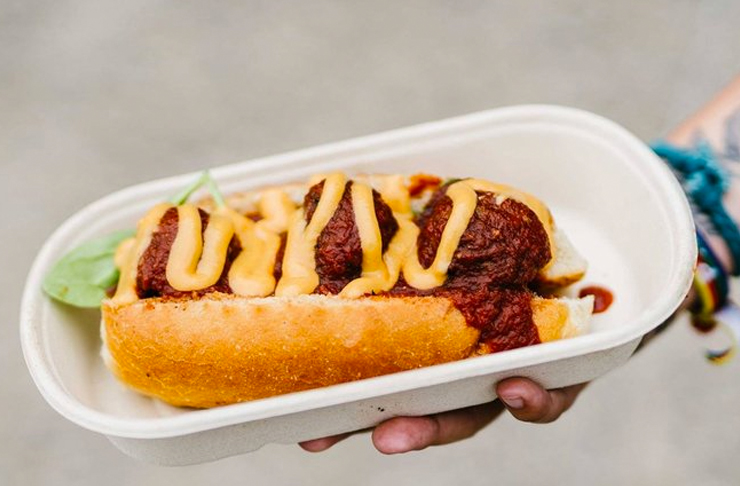 The Sydney Vegan Market is a hot spot not only for earth-loving, animal-caring, and health-conscious individuals but for basically anyone who enjoys innovative food and quality goods. We're talking vegan everything and of the absolute highest quality. Wander through for smoothies, pastries, sandwiches, quiches, beauty goods, clothes, goodies for your pooch pals, and so much more. The markets look to be bouncing in between their more permanent home at Moore Park's Entertainment Quarter and Sydney Olympic Park. So, keep your eyes peeled on their Instagram to not miss out.
When: The third Sunday the month, 9am - 4pm
Where: Sydney Olympic Park or The Entertainment Quarter
Orange Grove Market
Lilyfield
Every Saturday, the backstreets of Lilyfield are filled with locals walking in one direction: towards the Orange Grove Market. Stalls flood the Inner West primary school with some of the freshest produce around town, with colours and smells overwhelming the senses in the best possible way. You'll find fruit, veggies, flowers, meat, pastries, juices–rain, hail, or shine. If you see a long line stretching out of a particular bacon and egg roll stall, trust us and join it for one of the best hangover cures ever created.
When: Saturdays, 9am - 1pm
Where: Orange Grove Primary School
Now you're done shopping, plan your next weekend getaway with the best hotels in NSW.
Image credit: Carriageworks, Northside Produce Markets, Carriageworks, Paula Vermeulen, Bondi Farmers Market, The Locals Market, Sydney Vegan Market