Excitingly, we're a week closer to spring—so stop scoffing UberEats on the couch, watching an unimaginable amount of TikToks, and shivering in your not-so-well insulated home. Instead, it's time to get out and enjoy those two precious days off.
Not enough to coax you? City2Surf returns this weekend, which is always a good indicator of when to put down the remote and, for some, lace up the running shoes.
And that's not all that's going down around town. Along with the popular fun run, you can get your 10k steps in at the return of former party haunt Della Hyde—for one night only. You can also indulge with a spectacular drag brunch, or walk along a new 6km art trail right by the harbour.
Need more inspo? Here are the best things to do in Sydney this weekend.
Thursday 11 August
Snow-In Cinema
The Newport | Thursdays in August, 7pm
Sydney winter might not be all that extreme, but why not really lean into the season with The Newport's new Snow-In Cinema? Kicking off at 7pm every Thursday this month, the event is geared to skiers, snowboarders and general snow lovers who can huddle together for an evening of winter sports documentaries on the big screen. Drink specials such as Mucho Margaritas and vodka Red Bulls will be just $14, which will put you into the running to win a snowboard signed by snowsports legend Scotty James. This Thursday, catch the 2018 flick A Land Shaped By Women set in the icy scapes of Iceland—BYO Oodies and cosy blankets. For more info, head over here.
Friday 12 August
MOULD Cheese Festival
Carriageworks | Friday 12 – Saturday 13 August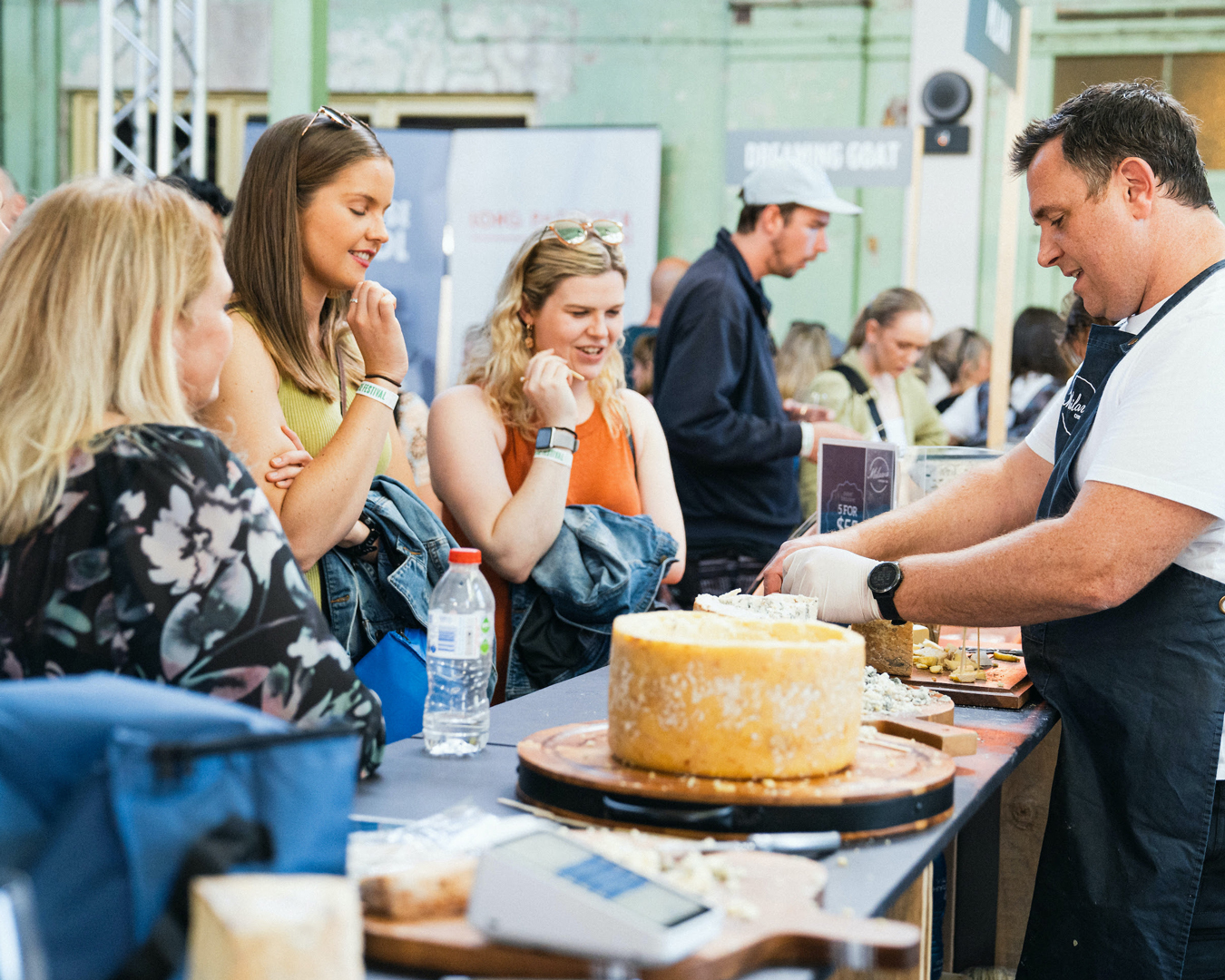 Connecting with the very best cheesemakers from all over Australia and bringing them to one centralised location is what MOULD—Sydney's biggest cheese festival—is all about. So thank the cheese lords it's headed back to Carriageworks this weekend. A collaborative effort between Pinot Palooza's REVEL and Dairy Australia, MOULD is so much more than just a bunch of stalls selling the finest cheeses: their aim is to provide an in-depth cheese experience. As well as tastings, MOULD also promises a full food menu of dishes from local cheesemongers. And, naturally, where there is cheese there is wine, so there will also be a fully stocked bar for tasting a broad range of wines, whiskies, beers, ciders, and sakes. Tickets are still available—head over here to grab yours.
Saturday 13 August
Blak Markets
Tallawoladah Lawn, The Rocks | Saturday 13 – Sunday 14 August, 10am – 4pm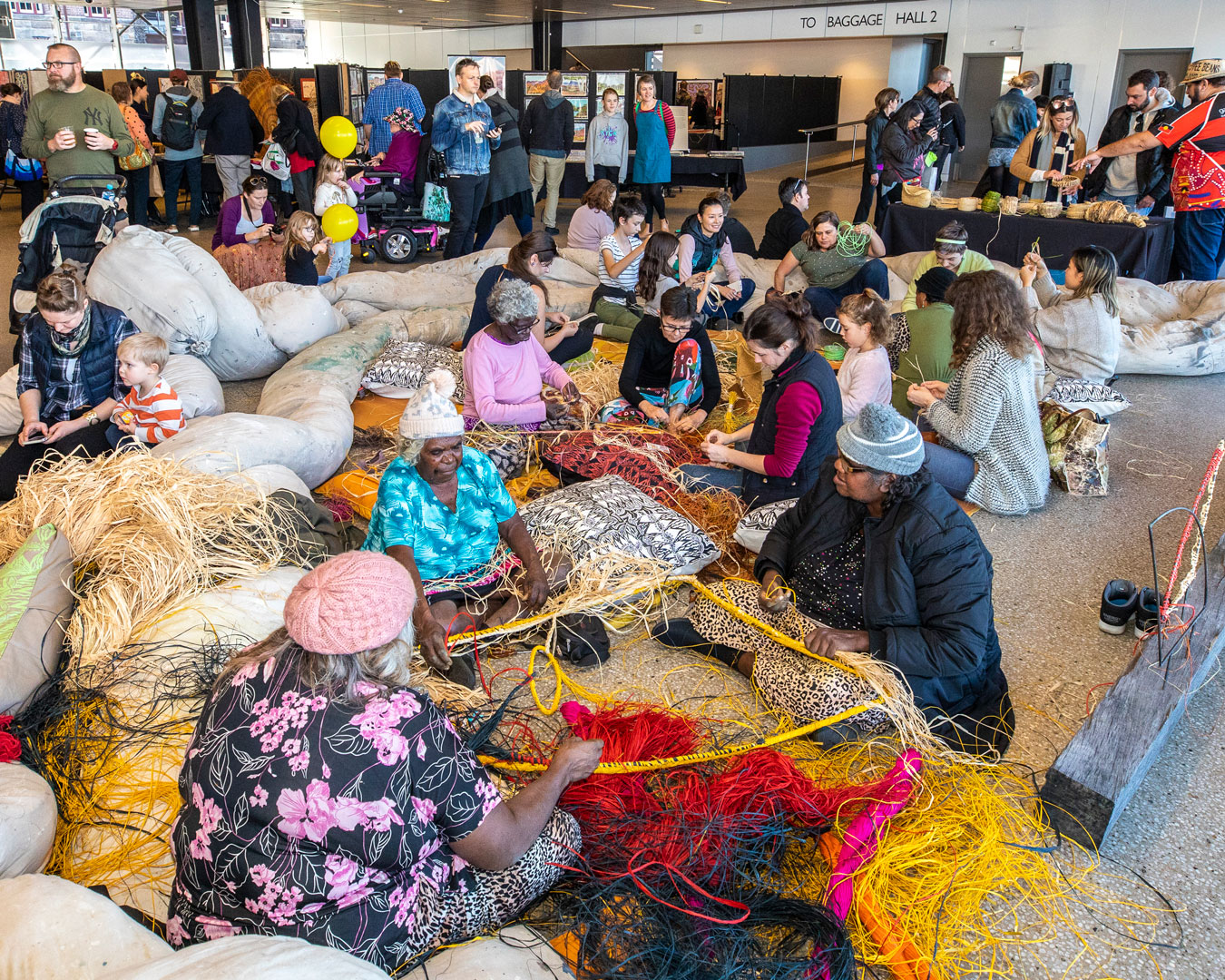 The renowned Blak Markets have officially found a home in The Rocks—and they're kicking off this weekend. From 10am on Saturday and Sunday, you can peruse and shop an array of unique gifts and goodies, with the confidence that all profits go back to First Nations communities. The stalls will be peddling everything from original artworks and handmade jewellery to fun homewares and beauty products, so you're basically guaranteed you'll find something you love. Both days will also feature a range of First Nations dances, singing performances, and weaving workshops, too. For more information, head over here.
Della Hyde Pop-Up
Forrester's | Saturday 13 August, from 6pm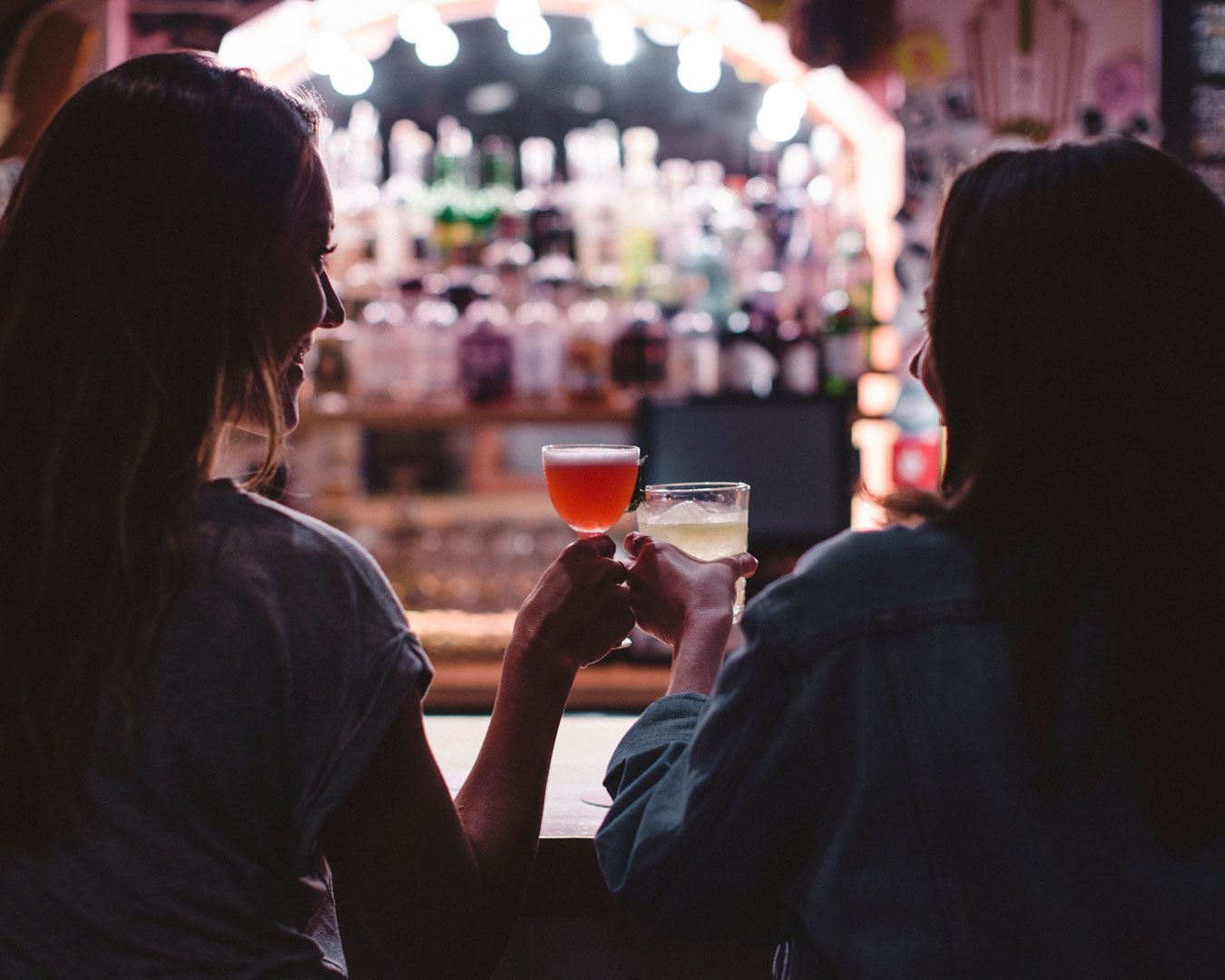 It may have closed its digs on Oxford Street over four years ago now, but go-to Darlinghurst dance spot Della Hyde still intends on providing one helluva party. This weekend, Della Hyde is popping up in the upstairs area of Forrester's for a night that's sure to send you right back to the good old days. Better yet, it's becoming a monthly pop-up series, so put on those dancing shoes. From 6pm this Saturday, the party will be serving up popcorn espresso martinis, disco balls, and a mega-mix playlist that's bound to get everyone cutting shapes in no time. Sydney DJ Mrs Worldwide will be taking over the decks, too, so expect lots of R&B and classic pop anthems. Entry is free all night.
Supercharged Drag Spectacular
Marquee | Saturday 13 August, 3 – 6pm
It's time to grab the glitter and put on some obscenely high heels because a fabulous drag lunch is going down at Marquee. Kicking off at 3pm, the Supercharged Drag Spectacular is perfect for those who love a sleep-in (or need a few hours to nurse their hangover before going at it again). Tickets start at $75, which will score you a two-hour bottomless booze and canape package, access to glitter stations, and the chance to catch RuPaul's Drag Race stars Art Simone and Anita Wigl'it in the ultimate drag battle. For more information and to nab your seat, head over here.
Sleeplessness
Carriageworks | Thursdays – Saturdays, 4 – 13 August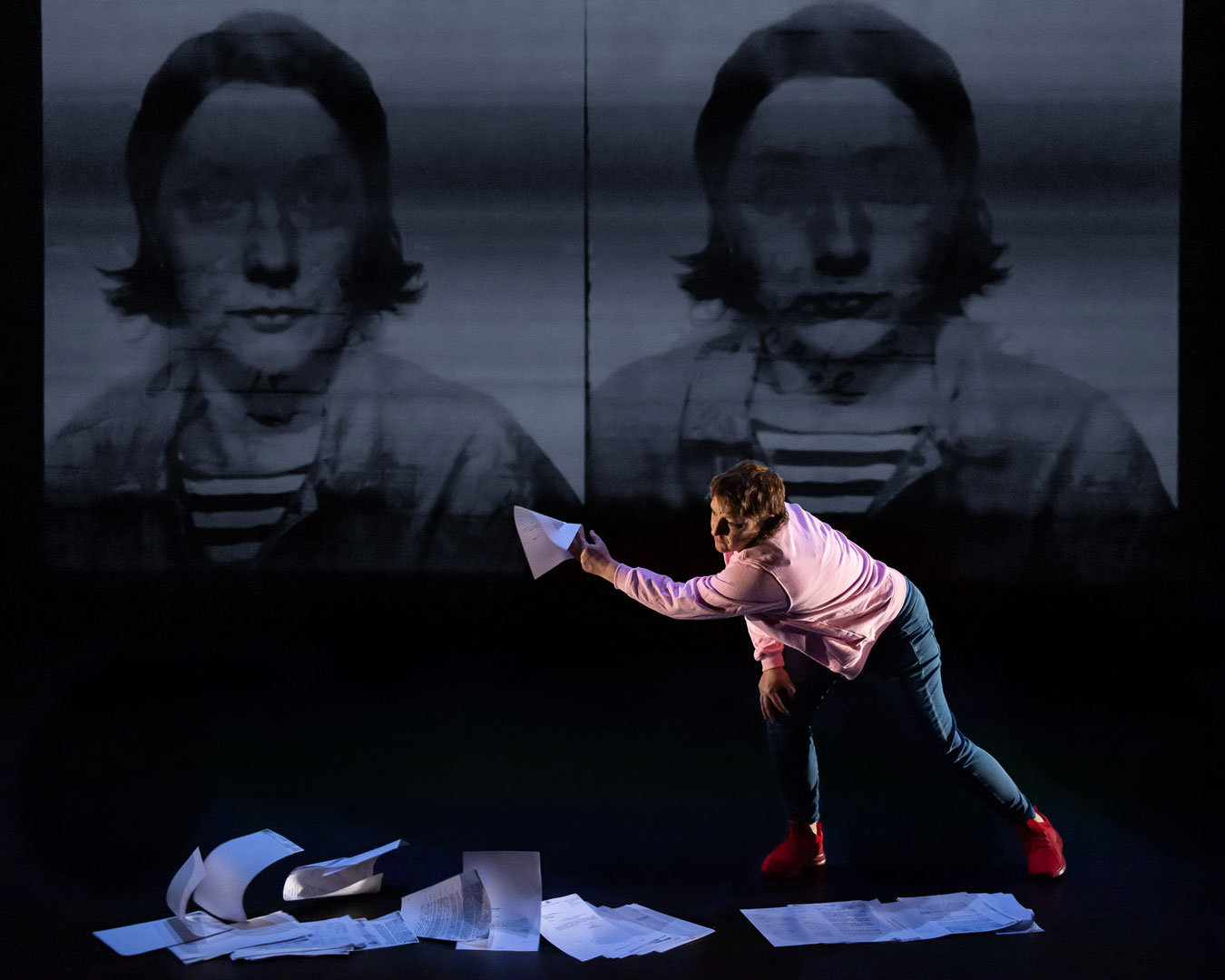 This weekend, performative art piece Sleeplessness makes its debut at Carriageworks. Australian artist Kaz Therese directs and stars in the one-person docu-drama that explores the intergenerational impacts of institutionalism and migration. After taking two decades to develop the piece, Therese forensically deconstructs their family archives going back three generations. Expect an intriguing and deeply emotional tale of mystery that is quintessentially Aussie. Head over here to book your tickets.
Sunday 14 August
City2Surf
Across Sydney | Sunday 14 August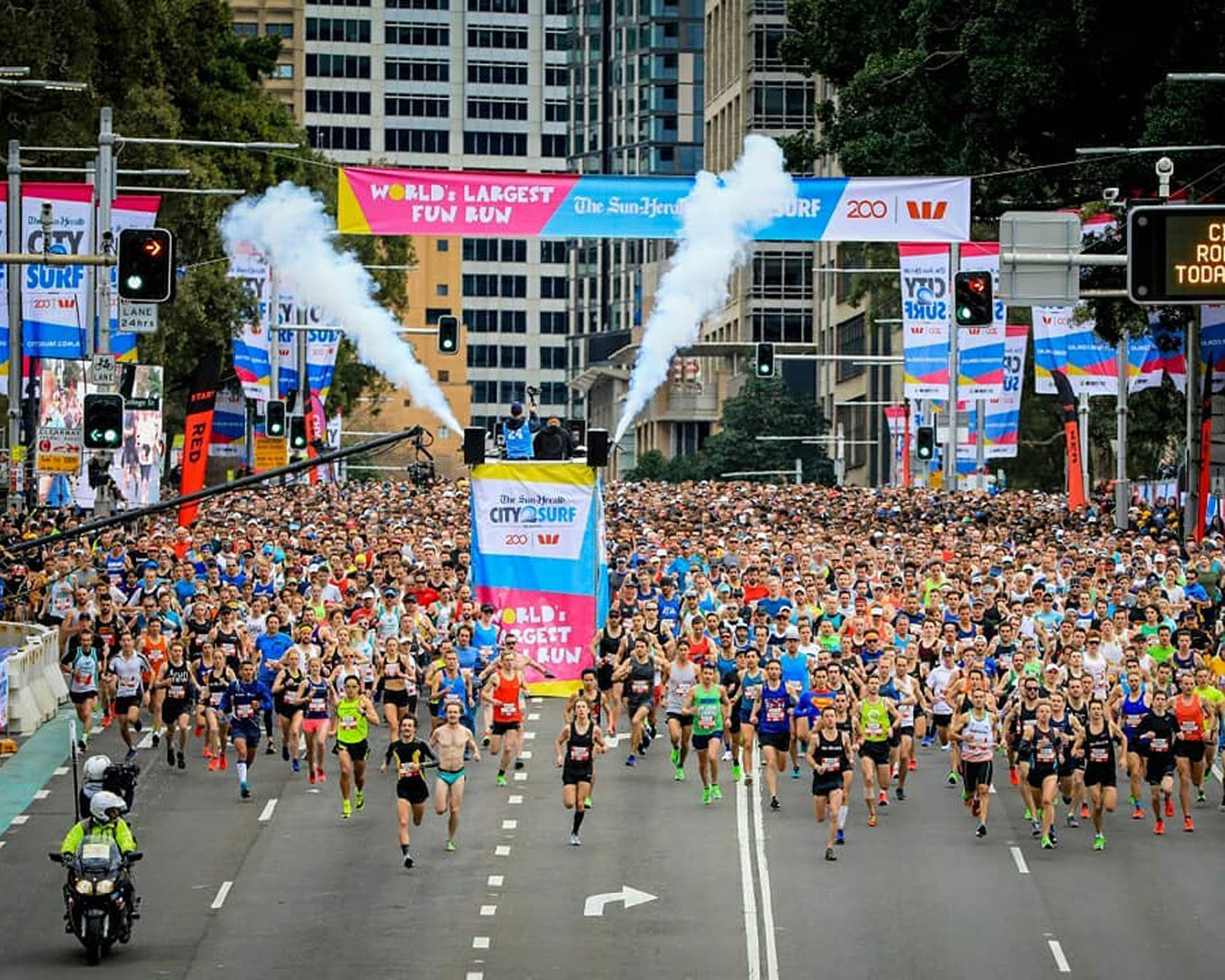 After taking a two-year hiatus thanks to the pandemic, Sydney's iconic City2Surf is back in action this weekend. Recognised as "the world's largest fun run", the famous 14km course has seen Sydneysiders race from Hyde Park, up Heartbreak Hill and over to Bondi Beach for 51 years now. Keen to get involved? There's still time to enter, which you can do over here.
If you'd rather just join the post-run celebrations, we've also got you covered. From 8am, Double Bay institution The Sheaf is hosting a rooftop party with live sets from Retrosweat and Yolanda Be Cool kick off at 11am. And for those who actually run (or walk), you can even score a free massage to soothe those tired feet. Closer to the finish line, North Bondi Kepos (the North Bondi Fish and Kepos Street Kitchen collab happening this season) is open from 8am till 6pm and has rounded up some DJs for the occasion. The Royal Bondi is also throwing an after party, and there'll be enough bacon and egg rolls, live music, and drinks to help forget even the worst of those cramps. Or, drop into seaside Greek restaurant Topikós for an $80 brunch banquet from 8.30am–2pm, followed by a "rehydration party" from 3pm.
Sunday Jazz
Bennelong | Sundays 31 July – 28 August, 12 – 4.30pm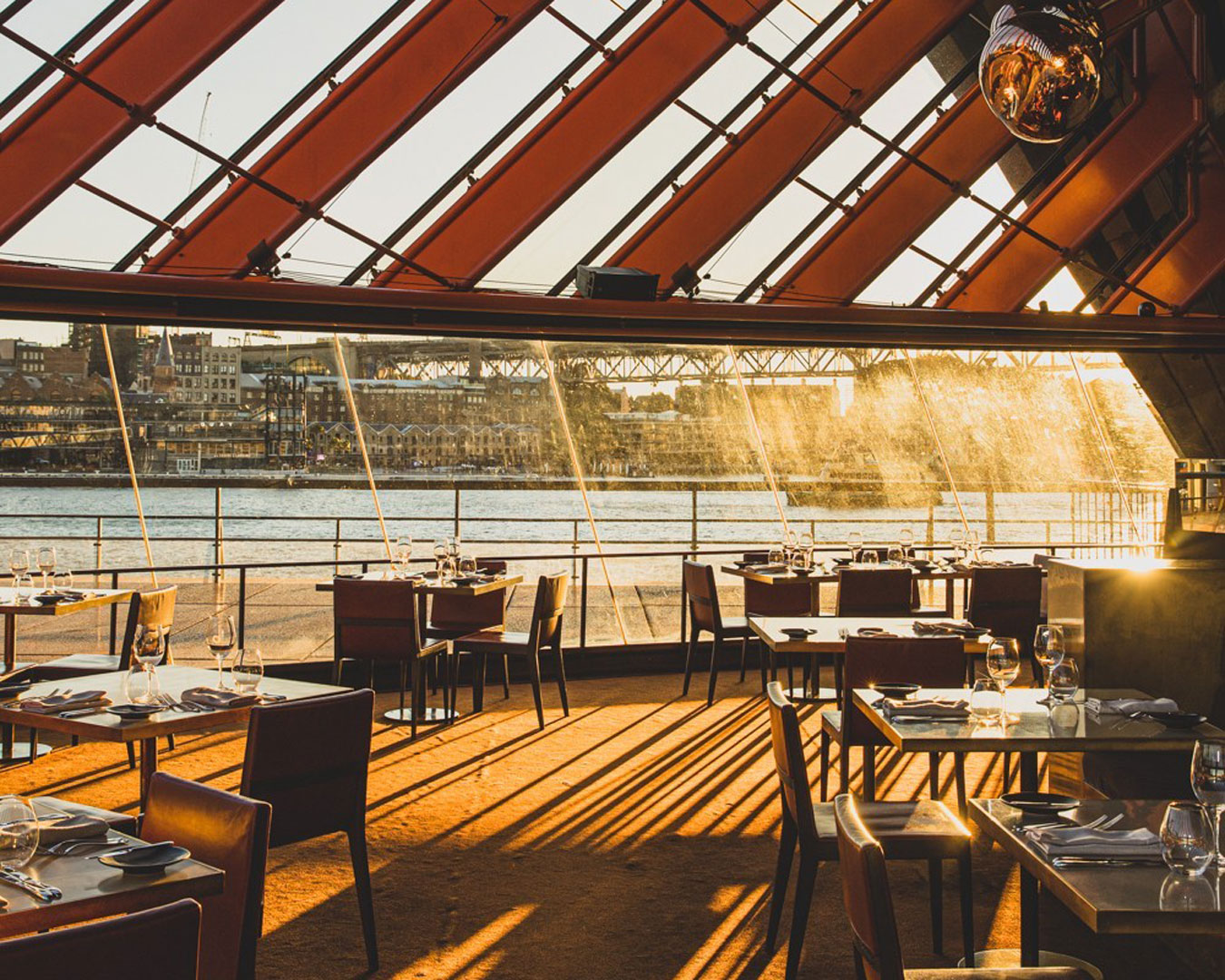 Let's be honest, there's not a more fabulous way to wrap up the weekend than with an afternoon at Bennelong. What's more, the stunning fine diner has brought back its popular Sunday jazz afternoons. Kicking off at noon each Sunday, the jazzy feasts will see you savour on next-level bites and sip bubbles as you listen to the tunes of Daryl Pratt, Lauren White, Phillip Johnston, and Lloyd Swanton. Those wanting to up the ante can also splash out on the $180 three-course menu, which sounds pretty damn tempting if you ask us. Make your way over here to check out the program and snap up tix quick. As we said, these fancy Sunday sessions are mighty popular.
Shaken To His Core: The Untold Story Of Nolan's Auschwitz
Sydney Jewish Museum | Thursday 21 July – Sunday 23 October
For the first time ever, acclaimed Australian artist Sidney Nolan's collection Shaken To His Core: The Untold Story of Nolan's Auschwitz will be on display. Typically known for his artistic depictions of infamous bushranger Ned Kelly, Nolan is one of the country's most celebrated artists—so to see never-seen-before works is a big deal. The new exhibition consists of 50 works on Auschwitz that have previously been hidden from the public eye. Painted in late 1961, the artworks are inspired by Nolan's observations of both the Adolf Eichmann criminal trial, as well as the Auschwitz prisoner victims of the Holocaust. The exhibition is bound to form part of art history that takes a distinctively Australian perspective, so make sure to catch it at the Sydney Jewish Museum, stat. Entry to the Museum costs $15 and you can book a time over here. The Museum is closed on Saturdays.
All Weekend
Darling Harbour Winter Festival
Tumbalong Park | Thursday 11 – Sunday 14 August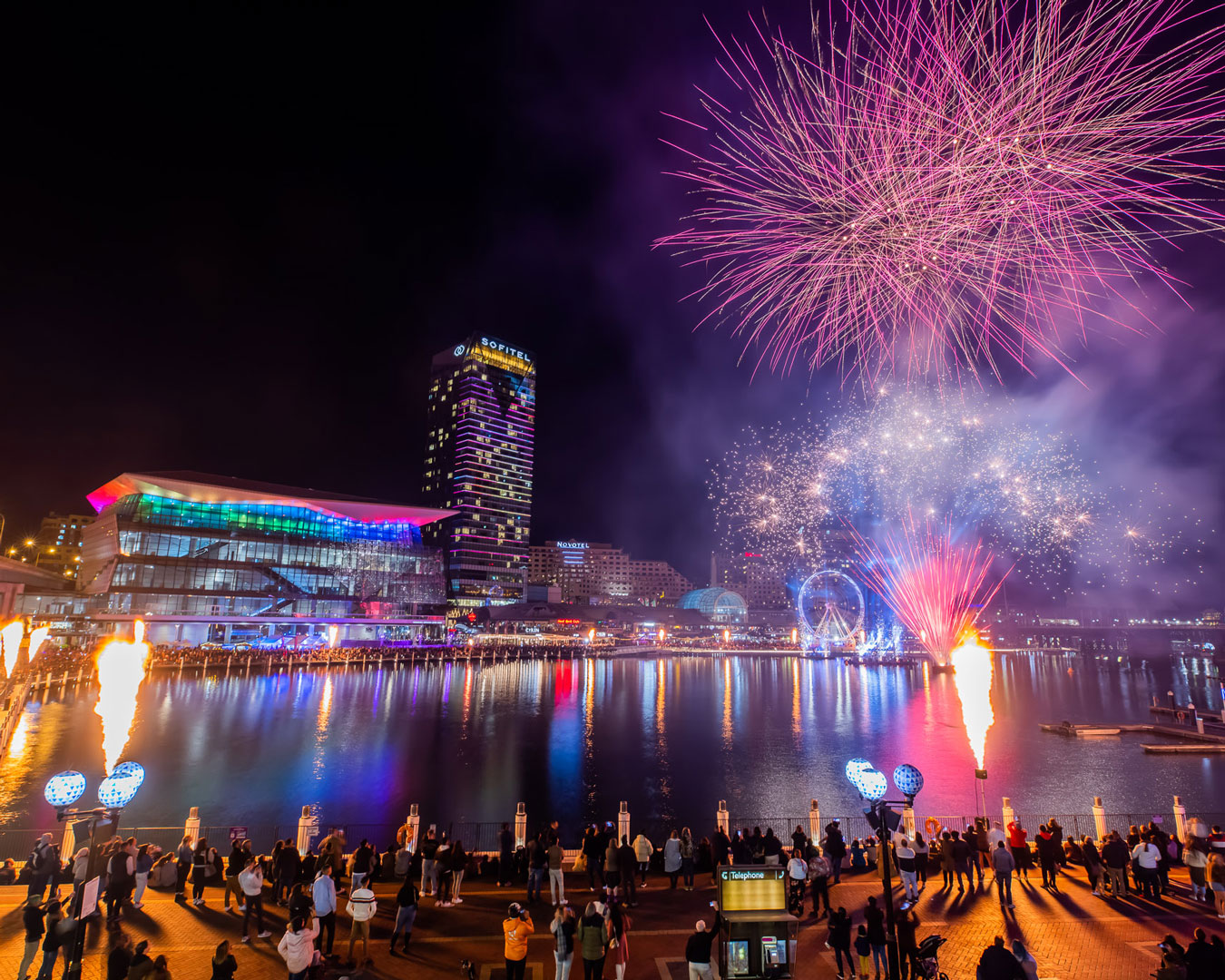 If you thought that Sydney's street festivals were reserved for the warmer months, think again. Kicking off this Thursday is the Darling Harbour Winter Festival, which is taking over Tumbalong Park for two weeks of food stalls, music, six pop-up igloos, and fireworks. Catch live acts from the likes of Furnace & The Fundamentals, Bermuda Social Club, and Hot Potato Band all while chowing down on treats from Firepop, Burgerhead, Toastiesmith, and the Urban Gypsy Café. You can also hire a pop-up igloo for $65 with five of your mates for mulled wine and Baileys-spiked hot choccies. And make sure to catch the 8.30pm fireworks happening on Friday and Saturday. Head over here for the full program.
The Crowd & I
City Recital Hall and Sydney Opera House | Until Sunday 14 August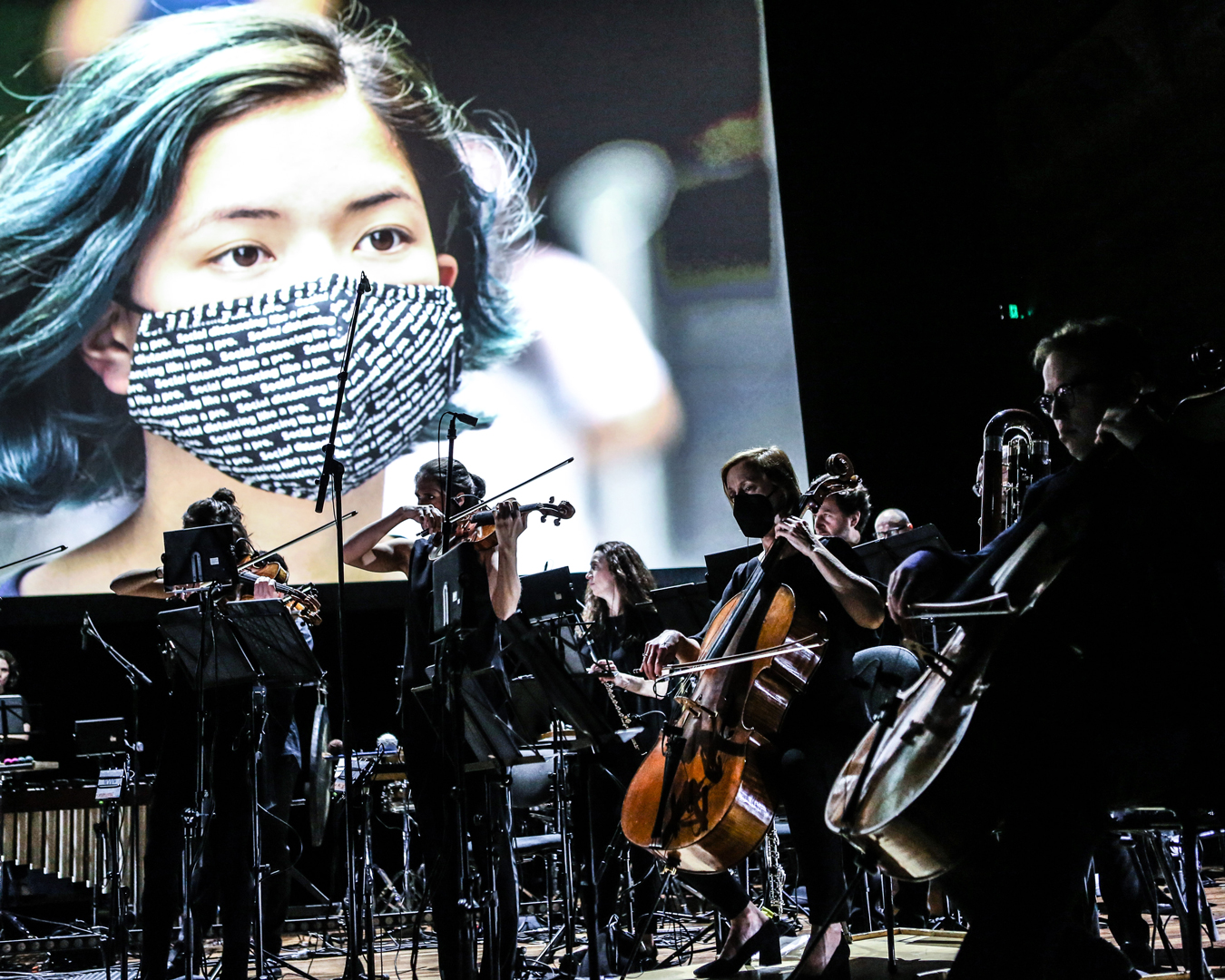 From the ultra-talented Australian Chamber Orchestra, The Crowd & I explores humanity's most populous period—from the crowds of Coachella to the densely-packed banks of the Ganges. As the orchestra plays, images and film sourced from artists all over the world fill the room. Faces of the pandemic offer a moment to grieve and reflect on the very recent past, while mind-bending people-packed footage of crowded cities, protests, and parties feel both chaotic and euphoric. This new piece is a collab from ACO artistic director Richard Tognetti, director Nigel Jamieson, and cinematographer Jon Frank—and is a truly meditative and mesmerising experience. Tickets are available here.
Whale Tales
Sydney Western Harbour | Thursday 11 August – Saturday 24 September
Forget the Opera House, Sydney's Western Harbour is where it's at for the next six weeks. The impressive outdoor art trail Whale Tales kicks off this Thursday, transforming Barangaroo, King Street Wharf, Darling Quarter, and the Sydney Fish Market into one huge outdoor gallery. Presented as a 6km waterfront trail, the exhibition features 30 two-metre-high whale tail sculptural installations, decorated by prominent local artists. You can catch works by this year's Archibald Prize Winner Blak Douglas, illustrator and animator Chris Yee, artist and author Sha'an d'Anthes (AKA Furry Little Peach) and proud Wiradjuri/Wongaibon artist Uncle Graham Toomey. Half a million Sydneysiders and tourists are expected to turn up this year, so best to get in early before the flocks. Find more information over here.
Front & Centre
YCK Laneways Precinct | Monday 1 – Wednesday 31 August
There's nothing we Sydneysiders love more than a street party—and this month the CBD is putting on one helluva shindig. Having kicked off earlier this week, Front & Centre will dominate the buzzing YCK Laneways precinct, spanning York, Clarence and Kent Streets, for the whole of August. The festival aims to showcase the amazing and undiscovered talents of local female, female-identifying, and non-binary artists, musicians, and creatives across a whopping 50 events. From pickling masterclasses to a music three-day fest, the event will enliven the CBD more than usual this winter. For the full month-long program, head over here.
Oracle—The Myth
The Studio, Sydney Opera House | Wednesday 3 – Sunday 14 August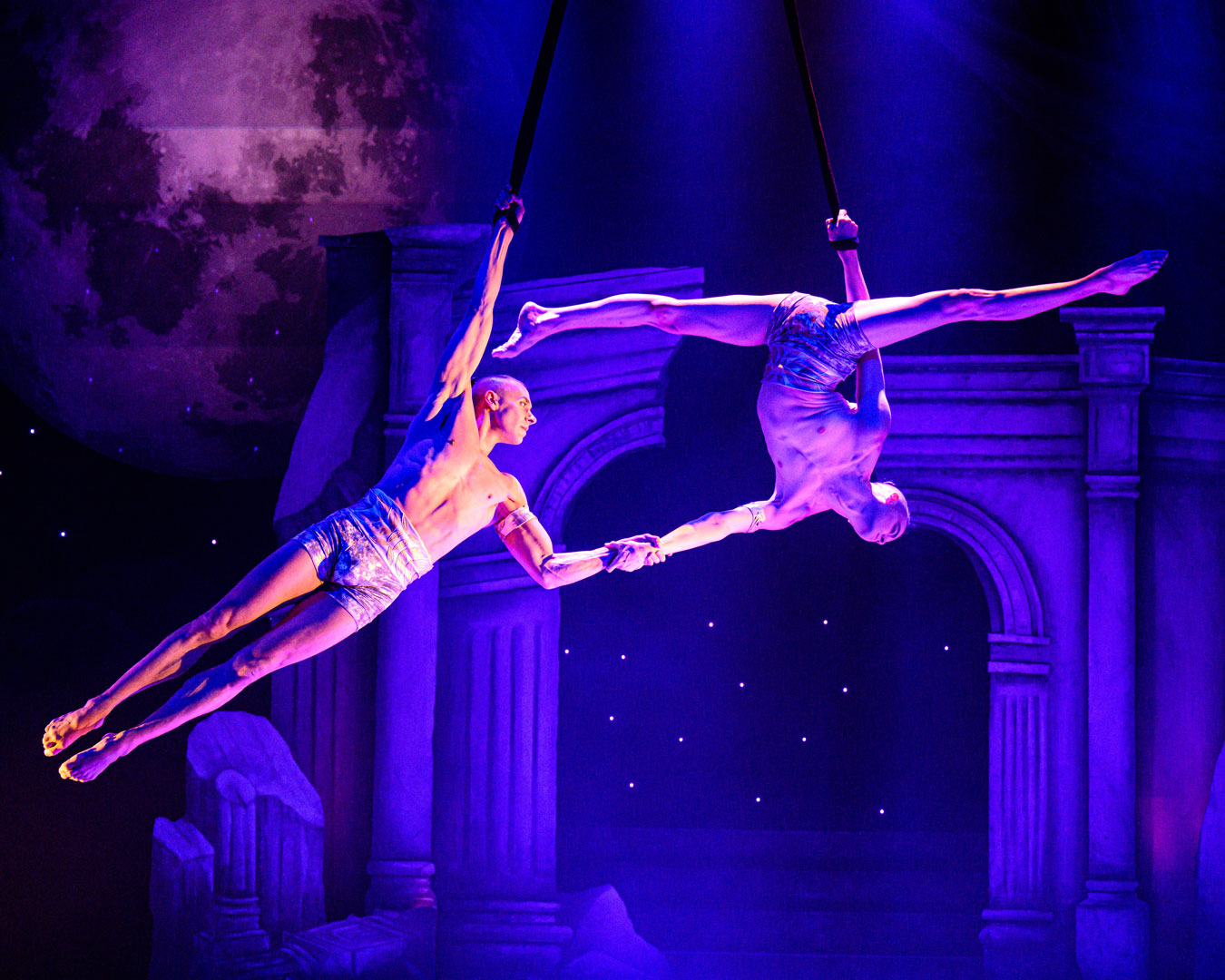 If you thought circus, burlesque, dance, and contemporary storytelling couldn't be combined into one show, think again. After selling out tours in Melbourne, Brisbane, and Adelaide, Oracle—The Myth is finally hitting Sydney shores for a limited season. The uber-futuristic and simultaneously mythical show will take you on a journey across the 12 zodiac signs and their legends, alongside some serious vocals and steamy performances. If that wasn't enough, expect incredibly talented choreography, aerial performances, and costuming to transport you out of this world. Tickets cost $89–139 (plus booking fee) and you can nab yours over here.
Northern Beaches Environment Art And Design Prize
Various Northern Beaches Locations | Friday 5 – Sunday 28 August
With our climate emergency mounting, it's no secret that artists and designers are taking the lead in becoming advocates for change. This month, the Northern Beaches Environment Art and Design Prize is celebrating its second year of raising awareness for the planet. In total, 212 artists and designers from nine categories of discipline are showcasing their works interpreting Australian landscapes. Catch the pieces across the Manly Art Gallery & Museum, Curl Curl Creative Space, and the Mona Vale Pop-Up Gallery. Expect art that will not only impress, but spark some more serious discourse on the environment. More information is available here.
85 Films In 85 Days
Ritz Cinemas, Randwick | Sunday 24 July – Sunday 16 October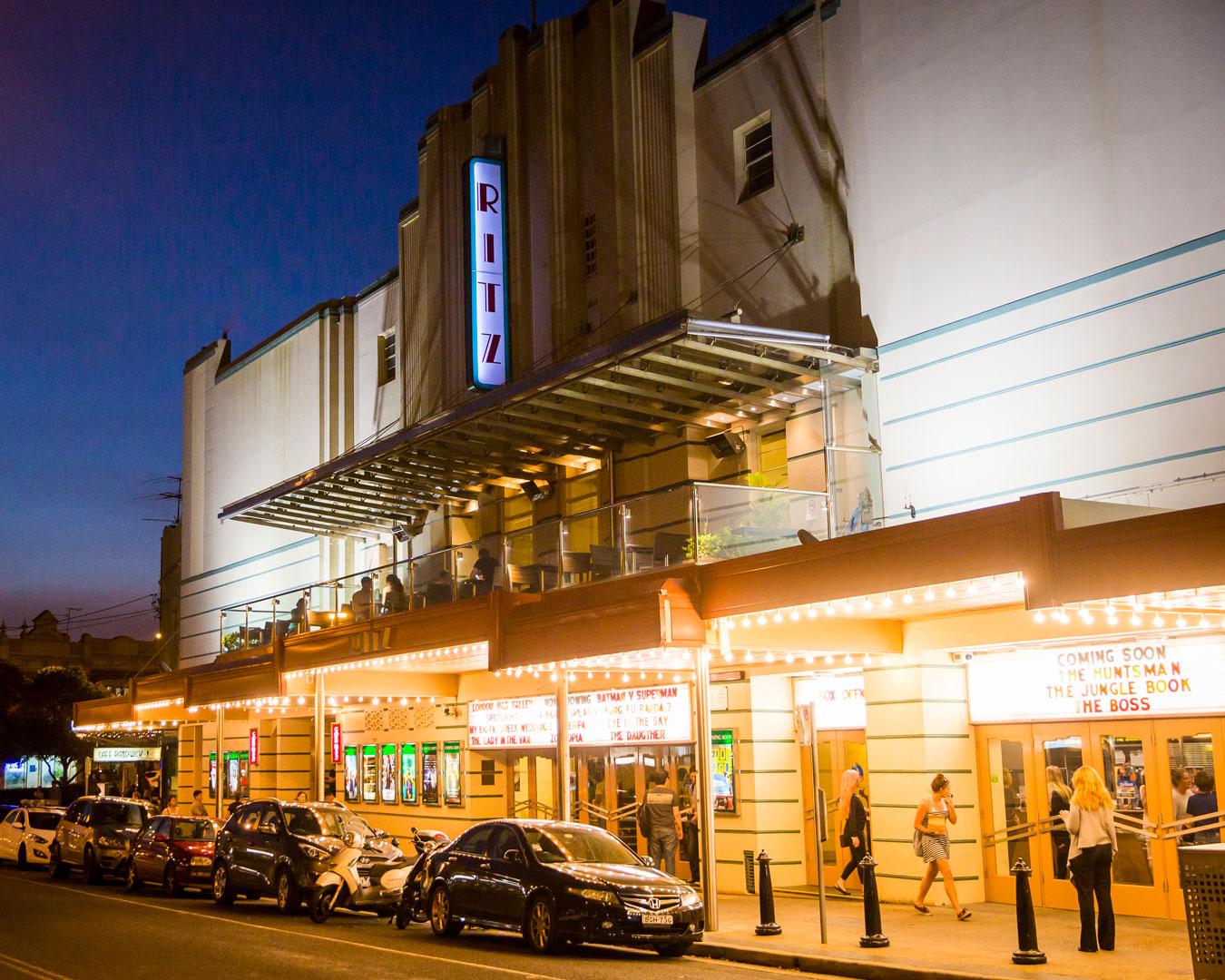 Good news for everyone trying to escape the wet weather this weekend—Randwick's Ritz Cinema is officially kicking off its 85 Films in 85 Days celebration this Sunday. In commemoration of its 85th birthday, the much-loved cinema is screening one iconic film each day for each year it's been running. Make sure to stay on top of the program for the next two months, there are awesome retro films, as well as Australian premieres, that you won't want to miss. Book tickets over here.
The One
Ensemble Theatre | Friday 22 July – Saturday 27 August
Feeling like dinner and a show this weekend? We've got you covered. Playwright Vanessa Bates and Director Darren Yap have combined forces at Kirribilli's Ensemble Theatre to deliver the world premiere of The One. The quirky comedy follows the story of Mel, who craves the "simple life" in a world filled with returning mothers, brothers living double lives, and prized poodles (yes, you heard us right). Award-winning Bates delivers a show that humorously unravels the complexities of being Eurasian in Australia today. Buy tickets here.
Vivienne Binns: On And Through The Surface
Museum of Contemporary Art | Daily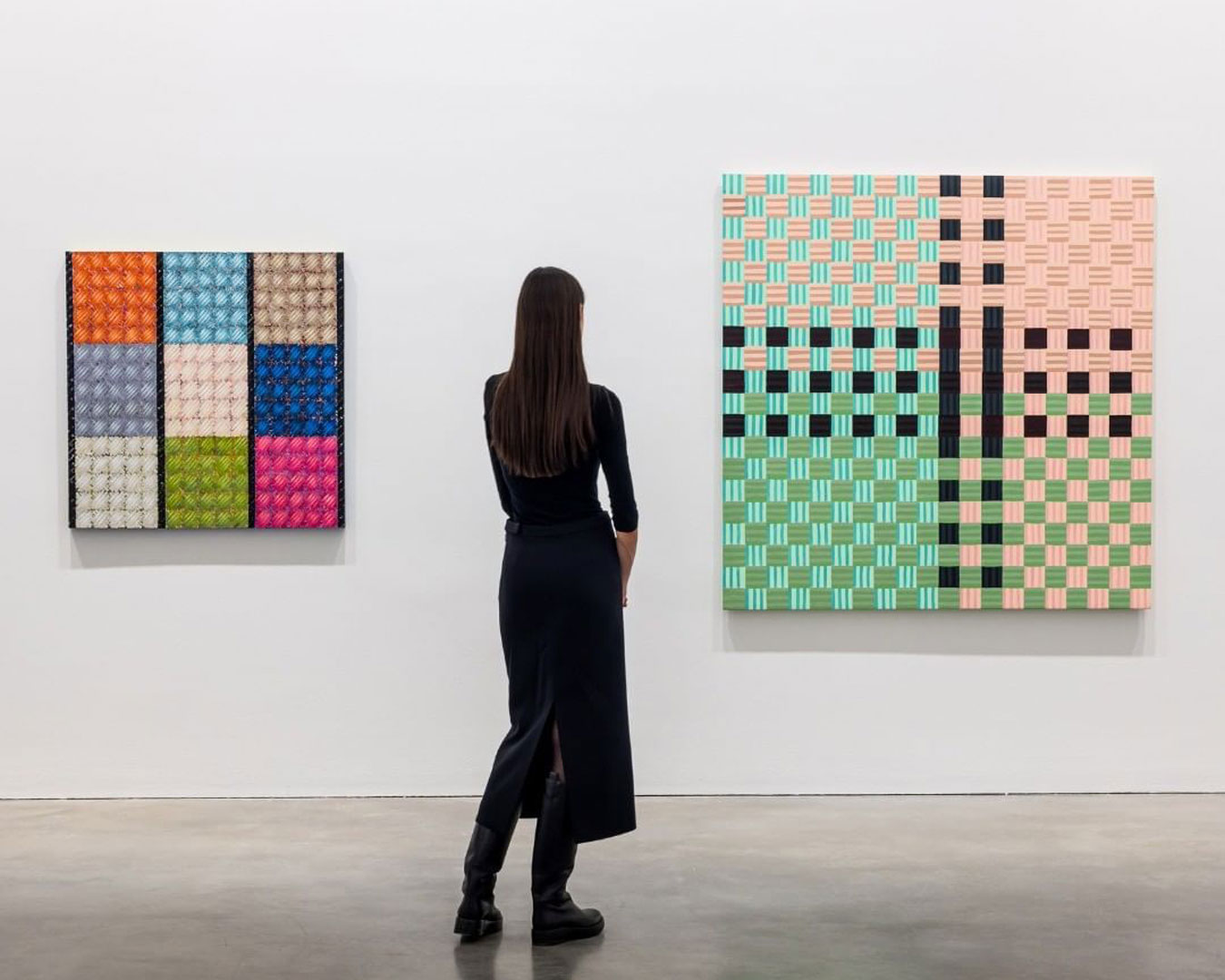 The MCA is now officially showing over 100 works by renowned feminist artist Vivienne Binns. Heralded as a significant figure in the Australian visual art scene, Binn's new exhibition On and through the Surface showcases her best works spanning a 60-year career. The exhibition journeys through some of Binns' key periods, ideas, and techniques—including some seriously psychedelic, sexual and evocative imagery. Located on Level 3 of the MCA, the exhibition is free and is a must for anyone with an interest in art. Also, a free rainy day activity—win!
Need more ideas for your weekend? We got you!
Image credit: Darling Harbour Winter Festival, MOULD, Destination NSW, Yasmin Mund, Anna Kucera, City2Surf, Bennelong, Darling Harbour Winter Festival, Bass Fam Creative, Destination NSW, Jacqui Manning