Let's be honest, the first two weeks of January have been a bit of a dampener with all the Omicron and iso going on. But there's no need to fret because Sydney has stacks of great things to do, see and explore this weekend. So, what are you waiting for? It's time to strap on your shoes and prep yourself for this weekend's action. Whether you're keen to track down some seriously good food, catch an X-rated drag show or grab a $1 slice of pizza at a CBD dive bar, we've got you covered with this list of epic events.
And if you're out and about, just remember to go easy on your favourite (and likely short-staffed) retail and restaurant businesses. Keen to hit the pavement and have a ball? Here are 10 awesome things to do this weekend. You're welcome.
Friday 21 January
Get Your Dinner With A Side Of Daring Drag At The Imperial
Erskineville's party pub The Imperial has brought back its oh-so-fun "Rood Food" event, so you can dine with a side of dazzling, daring drag shows. Running every Friday and Saturday night till February 26, the event lets you choose from two X-Rated drag and dine seatings in the pub's dining room, Priscilla's. Aside from a lineup of jaw-dropping shows, you'll tuck into a three-course menu featuring crowd favourites such as the Panna Knockers. Bookings start at $89 per person, with the option to add on free-flowing drinks for an extra $45 (it'd be rude not to, really). Book yourself a table stat over here.
Sunday 23 January
Worship Tunes At The Lord Gladstone's (AKA The Gladsong's) "Sunday Service"
The Lord Gladstone is one of Chippendale's most loved institutions, where both students and locals have historically flocked for trivia and cheeseburgers over the years. Now, the local pub is cheekily protesting current NSW Health regulations by rebranding as The Gladsong and holding a one-off Sunday Service party this weekend. While the venue will still comply with the current COVID restrictions, the event is sure as hell going to shine a light on the current inequities between church and state when it comes to singing and dancing—plus, it promises to be a lot of fun. From 12pm onwards this Sunday, The Gladsong will be open and serving $15 jugs of Holy Water (Gladdy Lager) and $10 Bloody Lords. The courtyard will also have DJs spinning tracks all afternoon, and there's even talk of a singer-less cover band. For more details, check out The Lord Gladstone's Facebook event.
End The Weekend With A White Claw And A DJ Set By The Water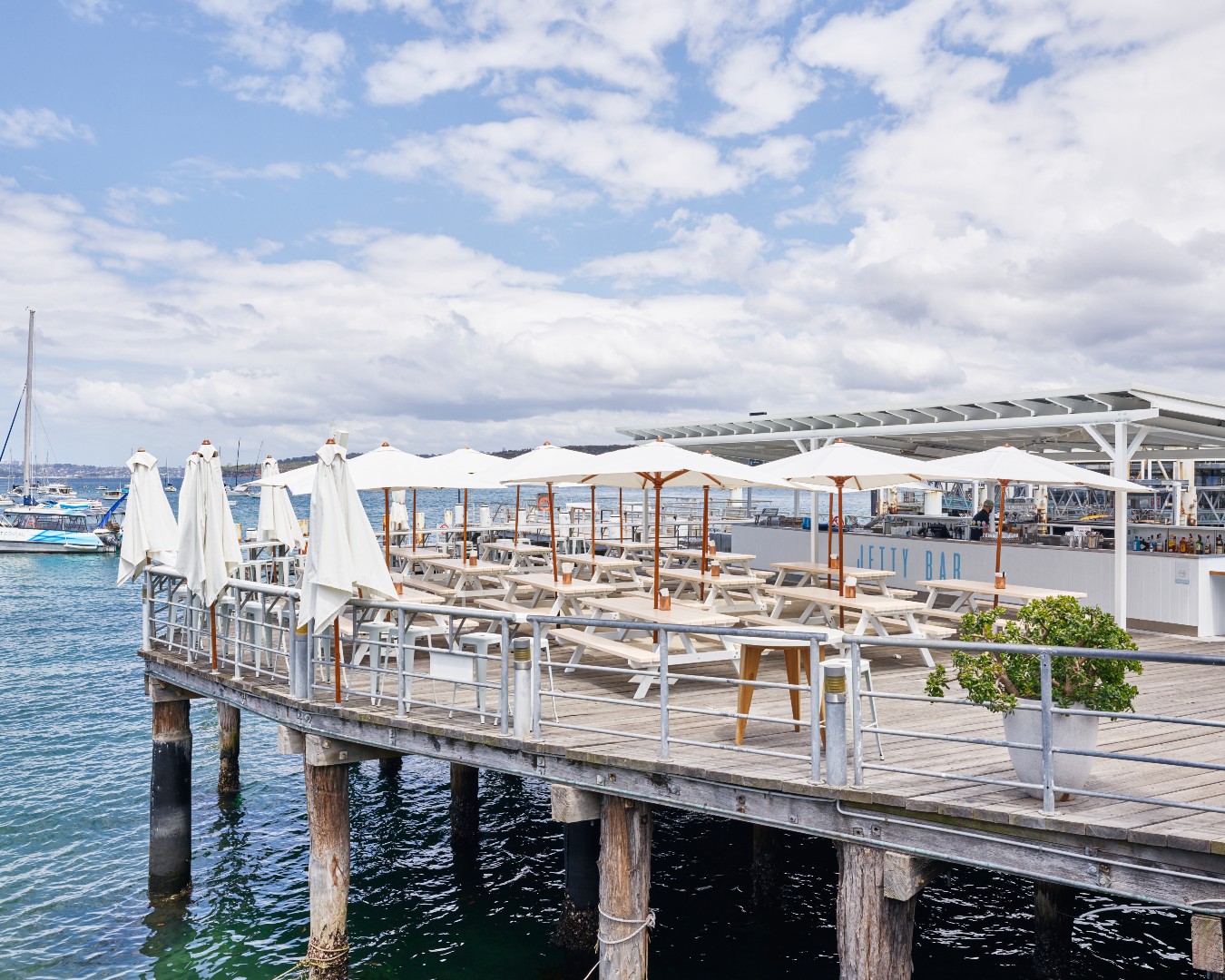 What's better than an ice-cold seltzer by the water on a sticky summer's afternoon? This Sunday, Manly Wharf Bar is hosting one of its White Claw Weekend sessions, filled with DJ beats and seltzers, naturally. From 7pm onwards, Sydney DJ duo Barely Passable will be providing some vibey French disco tunes guaranteed to help you savour the last few moments of the weekend. And did we mention the event is free to attend? Yep, it's the perfect post-beach pitstop for meeting a mate, grabbing a drink and catching a gig. For more information, check out the event over here.
All Weekend
Get Into The Spirit Of Merivale's Gin Season With A Boozy Slushie
Gin lovers rejoice! Merivale's brought back its annual "Gin Season" festival of gin, so you can sip all the juniper-loaded spirits your heart desires. Throughout January and February, a host of the hospitality behemoth's Sydney locations will be serving up a limited-edition, gin-fuelled drinks menu, including pink G&Ts and gin slushies galore. Yep, boozy slushies are on the menu at The Newport, The Collaroy, The Beresford, and The Vic on the Park. At other Merivale venues, including Coogee Pavilion, The Alex, Charlie Parker's, and Bar Totti's, you and your date (or mate) can score two top-quality G&Ts for just $17 every Monday through Friday from 5 – 6pm. For more information, head to the Merivale website.
Feast Yourself Silly At Sydney's Good Food Month
Presented by Citi, Good Food Month is running throughout the entire month of January—so expect a stack of unbeatable masterclasses, culinary collaborations, and restaurant showcases. As for what's on this weekend, if you're up for a road trip you can head to Saddles at Mount White on the Central Coast for a one-off lunch with well-renowned First Nations chef Mark Olive. For the event, Olive has curated an all-Australian, three-course menu inspired by native ingredients and Indigenous cooking techniques.
Or, you can drop into fun-loving izakaya Kid Kyoto for a specialty tasting menu and endless Yama Yama cocktails for $85 per person, which is available every Saturday this month from 12 – 4pm. Or, test your trivia skills at a live, food-focused version of the Good Weekend Quiz at Rockpool Bar & Grill. There are a heap of other events running throughout the festival—head over here to suss out the full program.
Tune Into Triple J's Hottest 100 Countdown
Australia's much-loved radio station is back this weekend with its Hottest 100 Countdown. It's no secret the annual event is a source of friendly competition amongst both voters and listeners. In light of the current Omicron outbreak, it's also a great way of passing the hours at home if you're in iso—or at the beach, if the sun ever comes out. For those looking to head to a venue, it's pretty well guaranteed that many Sydney bars and pubs will be honouring the countdown by blaring it loud n' proud, including Newtown's Bank Hotel which is hosting a Hottest 100 listening party. Want more tunes? This Friday, Triple J will also be playing the Hottest 200–101 hits, as well as the 2001's Hottest 100 on Double J this Sunday, which will undoubtedly include plenty of throwback bangers.
Eat All The $1 Pizza Slices You Can Handle At Frankie's
Yes, you heard us right—Sydney's beloved institution Frankie's is back with its $1 pizza happy hour special. The grungy, rock-and-roll institution on Hunter Street may be under the impending threat of demolition, but the bar is coming back and going hard (as usual) with the continuation of its $1 pizza deal, running from 4 – 6pm daily. Make a beeline for Frankie's this weekend and savour its finite glorious days with a slice of that sweet, sweet pie. And while you're there, be sure to grab yourself a whisky apple. If you're a die-hard fan, sign the Save Frankie's petition over here.
Be Amazed By "Nature Illuminated" At The Chinese Garden Of Friendship
It's astonishing how many Sydneysiders have never visited the Chinese Garden of Friendship. It's easily up there as one of Sydney's best inner-city gems, offering a slice of nature and zen right in the middle of the CBD's hustle. However, no longer is there an excuse to skip this attraction—from Tuesday 12 January, leading entertainment discovery platform Fever is bringing an augmented reality light and music show to the gardens.
Called "Nature Illuminated", not only does the experience feature cutting-edge light activations and installations, but guests will have the opportunity to explore the gardens with the soothing backdrop of a string quartet. For those who have a weakness for dumplings and duck pancakes, you can even opt for a Chinese banquet at The Gardens by Lotus prior to the show. Tickets for both the show and banquet are booking out fast, you can find yours here. Let's not kid ourselves, who doesn't want to see a giant illuminated koi fish?
Tuck Into "The Big Yorkie" At The Forrester's
If you haven't ever had the opportunity to try England's much loved Yorkshire pudding, look no further than The Forrester's this weekend. Head Chef Laura Tello has collaborated with some of Sydney's best chefs to curate the restaurant's new menu, taking inspiration from the rolling hills of farmland that we now call Surry Hills. Aside from the all-around killer menu, the Forrester's is now home to "The Big Yorkie". Make no mistake, this is no ordinary roast dinner—yes you get the roast of the week, crispy spuds, peas, carrots, and enough gravy to drown in. However, this time Forrester's has combined all the goods into the actual Yorkshire pudding. It's hearty, it's indulgent, it's available every day, and it's selling out quick. For more information and for reservations, head over here.
Catch The Sunset By The Harbour At The Garden Social
There's no denying Sydney has one of the prettiest harbours in the world—and finding a spot to sit harbourside and soak up that spectacular view is one of our favourite past times, especially on balmy summer nights with a cocktail in hand. It seems the good people at the Royal Botanic Garden and the Domain feel the same way, as they've brought back their ultra-popular sunset garden party, The Garden Social, for the second year running.
Running across Thursday and Friday evenings, and Saturday, and Sunday all day until mid-February, The Garden Social is free to attend and makes the most of those breezy views across the garden's green lawns and over to the Harbour Bridge and Opera House. This vibey outdoor event features a solid roster of live music acts covering everything from jazz, soul, electronic and more, and this year, there's an immersive custom floral installation to make your way through, a dome bar pouring G&Ts and yuzu and blood orange sodas, and alfresco themed snacks to tuck into too. More info is here.
Need more ideas for your weekend? We got you!
Image credit: Royal Botanic Garden,Manly Wharf Bar, Steven Woodburn, Frankie's Pizza, Nature Illuminated