With a slightly chilly weekend up ahead—we won't blame you for staying warm at home with Netflix's July line-up keeping you entertained.

However, if it's feasting and adventures you're after, we've got you. We've chosen some of the best events around town to end your workweek on a high note, including 90s-themed cocktails at Chin Chin, vegan yum cha at Yulli's Brews, an inspiring virtual powwow with former Prime Minister Julia Gillard and a (very) drool-worthy winter dinner collab from The Old Fitz and Messina.
Here are 8 epic things to do this weekend.
All Weekend
TUCK INTO YUM CHA AND 90S COCKTAILS AT CHIN CHIN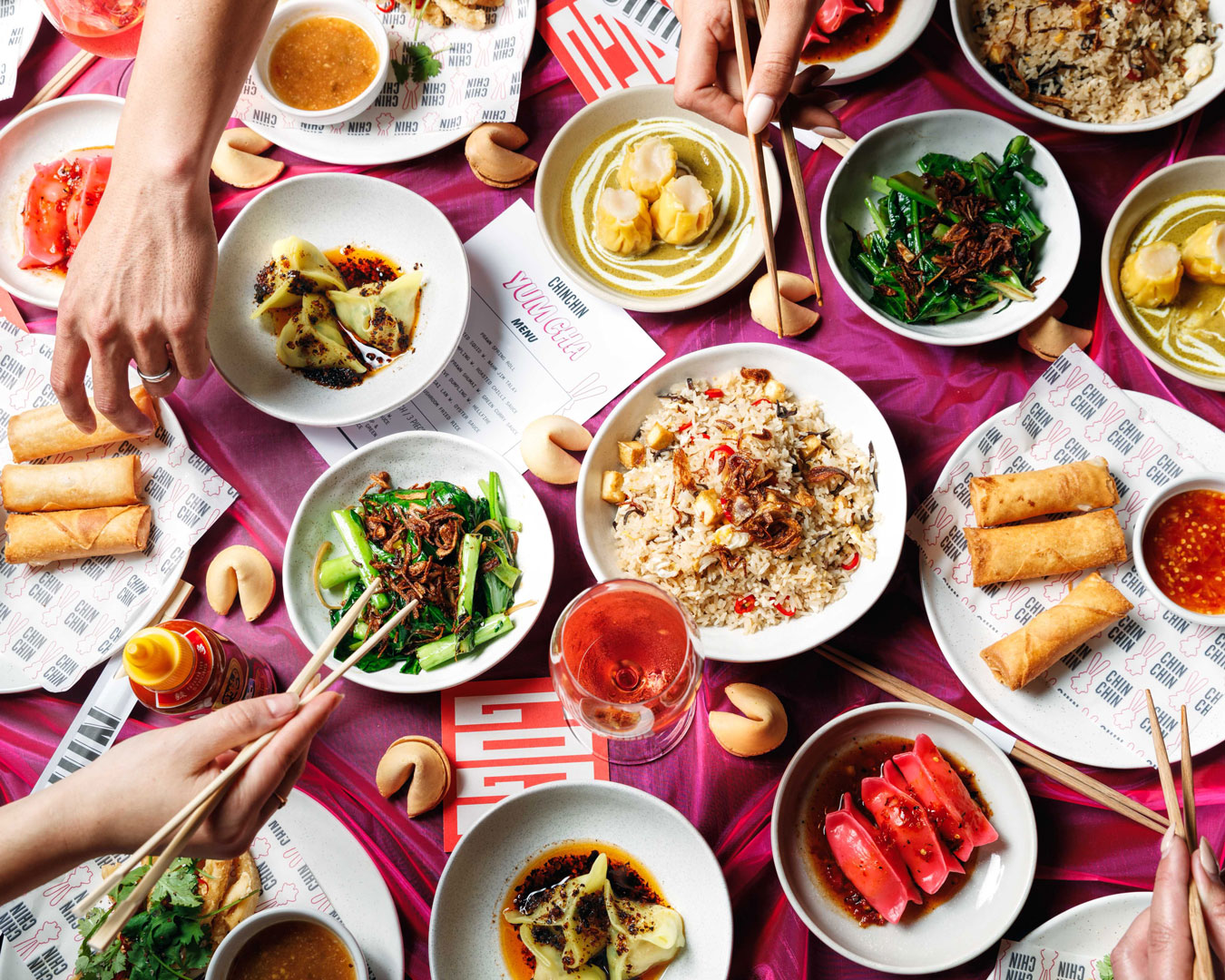 If you're bored of your usual salad and poke bowl lunches and are looking for an exciting way to celebrate the weekend, you've come to the right place. Chin Chin's spin on classic yum cha is back. Starting at $55 per person, you can enjoy 90-minutes of deliciousness in the form of dumplings, mud crab scallops with kaffir lime and chilli, fried squid with Nahm Jim dressing and prawn spring rolls.
We recommend taking the extra step of ordering one of the 90s pop song-themed cocktails to round out your afternoon. The "Tainted Love" is a hit with vodka, Massenez Peach, Monin strawberry, Thai basil, cranberry and lime, and the "Don't You Want Me" is a tequila and watermelon concoction that serves four. Available from Friday to Sunday, from 11am to 4pm, bookings can be made here.
IMMERSE YOURSELF IN SPELLBINDING CONTEMPORARY CHINESE ART
Featuring artists like Liu Jianhua, Ju Anqi, Liang Shaoji and Zhao Zhao, who work across a variety of mediums from canvas, video, bamboo and silk embroidery, White Rabbit Gallery's current exhibition And Now portrays more than just the transformation of China. Their pieces showcase their interpretation of government crackdowns, eco-anxiety, digital imprisonment and the new challenges we all face
Open Wednesday to Sunday from 10am - 5 pm, the exhibition runs until Sunday 2 August. Strict social distancing rules are being followed, so plan ahead here. For more galleries to explore, jump over here.
DANCE LIKE NO-ONE'S WATCHING WITH SYDNEY DANCE COMPANY'S VIRTUAL WORKOUTS
If Melbourne's lockdown has you worried about going back to the gym and other classes in closed spaces, Sydney Dance Company's virtual studio is a great way to get your body moving from the comfort of home.
Taught by company dancers and world-class teachers, the classes are available whether you're a beginner or seasoned dancer. Choose from ballet, jazz, Pilates, body conditioning and more to ensure everyone can shake their worries away. There are over 50 classes available, you can have your pick of the lot here.
Friday 10 July
TAKE HOME MESSINA'S LIMITED EDITION TOFFEE PUDDING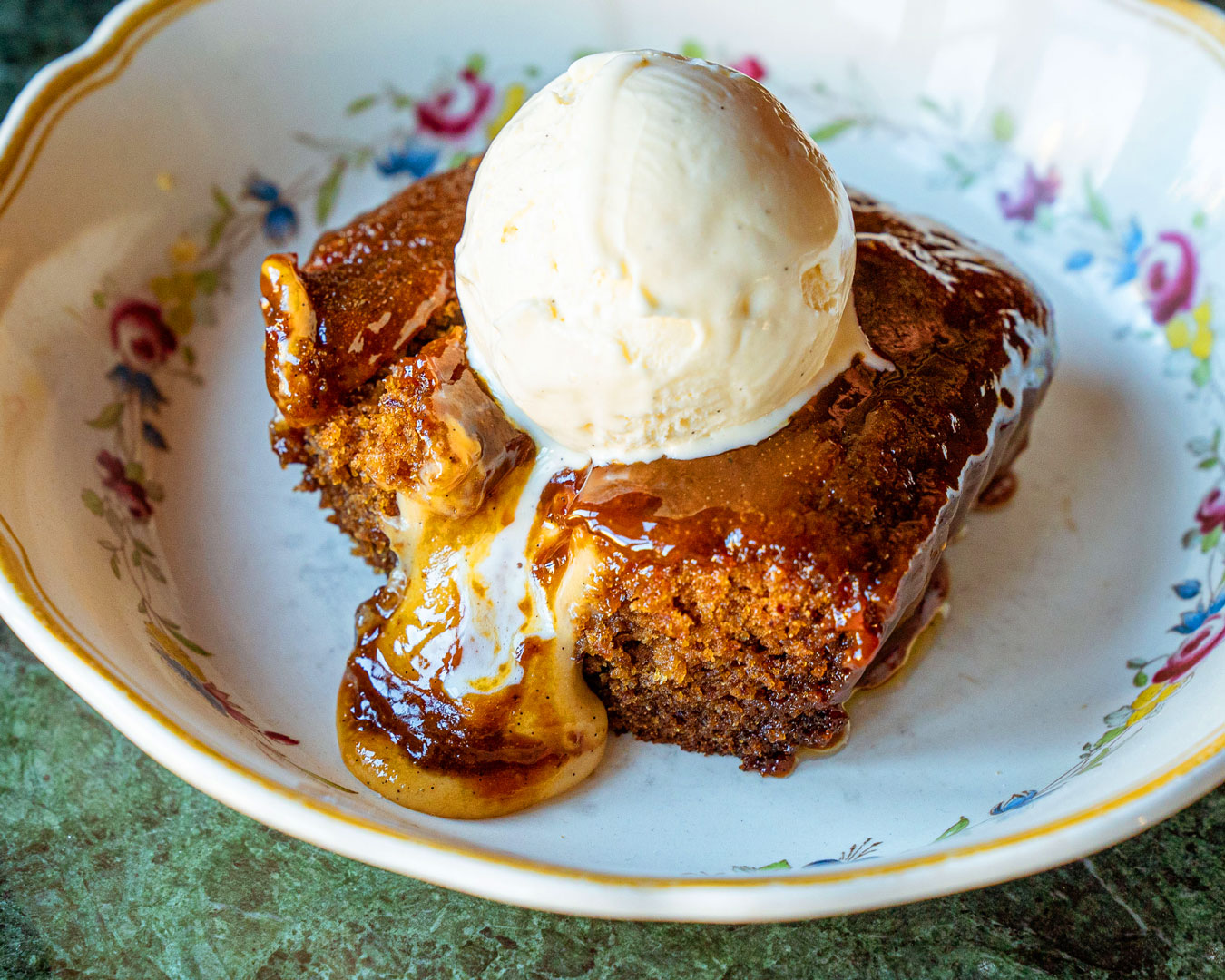 Messina is really owning the take-home treats right now. First there was the cookie pie. Then there was that bake-at-home sticky snail. They even did a limited edition Iced VoVo gelato with Firedoor. This week, however, the gelato geniuses have partnered with Woolloomooloo pub The Old Fitz for a very dreamy winter dinner collab.
The Old Fitz head chef Nick Hill's resume includes time at fine diners like Sepia and Quay, and his approach to classic British pub grub is, well, impressive. His collab with Messina is a take-home dinner pack, made for lounging on the couch in your comfiest attire.
Serving two (very hungry) people, the take-home dinner pack includes a pork pie tart, a roast chicken pie and beetroot salad and, the ultimate finisher—the stickiest, ooziest toffee pudding with a vanilla crème brûlée custard heart crafted by Messina. Don't fret, you'll also get a 500ml gelato tub of your choice to pair with your dessert.
The take-home packs are available to order Friday 10 July, for pickup on Friday 17th to Sunday 19th July, from four locations across Sydney. Order's close this Sunday at 8 pm. More information is here.
Saturday 11 July
GET THOSE CHOPSTICKS READY, YULLI'S BREWS IS BRINGING YOU PLANT-BASED YUM CHA
This Alexandria-based brewery is known for its craft beers and delicious plant-based food. They've very recently expanded on their relaxed, "sharing is caring" outlook, with a plant-based dumpling party to enjoy all weekend, launching as of this Saturday.
Starting at 11.30 am and raging on until 3pm, you can be a lady or lad of leisure and enjoy a lie-in before stuffing yourself with warm, delicious parcels of joy. Bookings are essential and can be made via [email protected] or by calling 02 9519 0161.
GIVE BROKEN CROCKERY YOUR GOLDEN TOUCH WITH KINTSUGI CLASSES
Literally meaning "golden joinery" in Japanese, Kintsugi is the ancient art of repairing broken items with an adhesive paste with a gold finish and realising the cracks are a part of the story of the object, giving it character. This is a great technique to learn at a time when sustainability is of such importance and you might just end up saving something which is of significance to you.
The beginner's course will teach you enough to repair things in your homes using products found in local stores.
Classes are $120 per person and include a broken plate which you can take home after repairing, a textbook teaching you about the ancient art, one on one knowledge from the skilled teachers and morning or afternoon tea. Private classes can be held for 5 people.
More information and bookings can be made here.
Sunday 12 July
TUNE INTO A LIVE STREAM ON LEADERSHIP BY FORMER AUSTRALIAN PRIME MINISTER JULIA GILLARD
For a book titled Women in Leadership, Australia's first female Prime Minister Julia Gillard partnered with development economist Dr. Ngozi Okonko-Iweala, bringing us the thoughts of some of the most acclaimed female leaders including Jacinda Ardern, Hillary Clinton, Michelle Bachelet and more.
To celebrate the release of the book, you can tune into a virtual conversation between Gillard and Sydney Morning Herald columnist Jacqueline Maley, where the former PM will delve into her book and tackle topics like the influence of gender on women's access to leadership roles, their perceptions as leaders, the shift required to close the gender gap and her agenda for change.
Brought to us as part of the Sydney Writer's Festival, you can stream the event on their website from 7pm on Sunday 12 July.
SUPPORT LOCAL BUSINESS AND GET THE BEST OF ART, DESIGN AND FASHION AT THE KIRRIBILLI MARKETS
Held just twice a month, Kirribilli's Art, Design, and Fashion markets are finally reopening this weekend, returning to their home in the Burton street tunnel. The markets feature over 200 stalls selling artisan products made by local businesses and shoppers have the chance to browse from a plethora of offerings, including recycled fashion, accessories, stalls from emerging local designers, home and giftwares, gourmet food and more.
Open from 8.30am to 3pm, head there early to enjoy a sunny Sunday stroll along Milsons Point with your morning coffee. If you're all about staying home, browse through Kirribilli's virtual market here.
Love markets? We've got a full list of open markets right here.
Editor's note: Urban List editors independently select and write about stuff we love and think you'll like too. Urban List has affiliate partnerships, so we get revenue from your purchase.
Image credit: Messina, Chin Chin, Messina