You know the deal with this weekly article—Sydney brings the goods, we find them and pass the best ones onto you, you have yourself a bloody great weekend. Simple and effective. But when you go out and support Sydney venues, they can put on more wonderful events, and the cycle begins all over again. Well, our great city has done it again, and we've managed to line up a bunch of awesome ideas to help you celebrate the end of the week.
There's an incredibly eclectic range of culinary experiences around Sydney this weekend, including a limited release fried chicken burger, a Japanese-inspired lunch, and a one-off American deep south degustation. We've found you the best sports bars for Grand Final weekend, and a house music harbour cruise to spice up your Sundays.
As you can always expect, we're also helping you have a boozy weekend, with a couple of our favourite happy hours and a new comedy night at a Newtown arcade bar.
Sit back and relax, because the workweek is almost at an end. Here are 10 epic things to do in Sydney this weekend.
All Weekend
Sip $10 Frozen Margaritas At This Stand-Out Surry Hills Mexican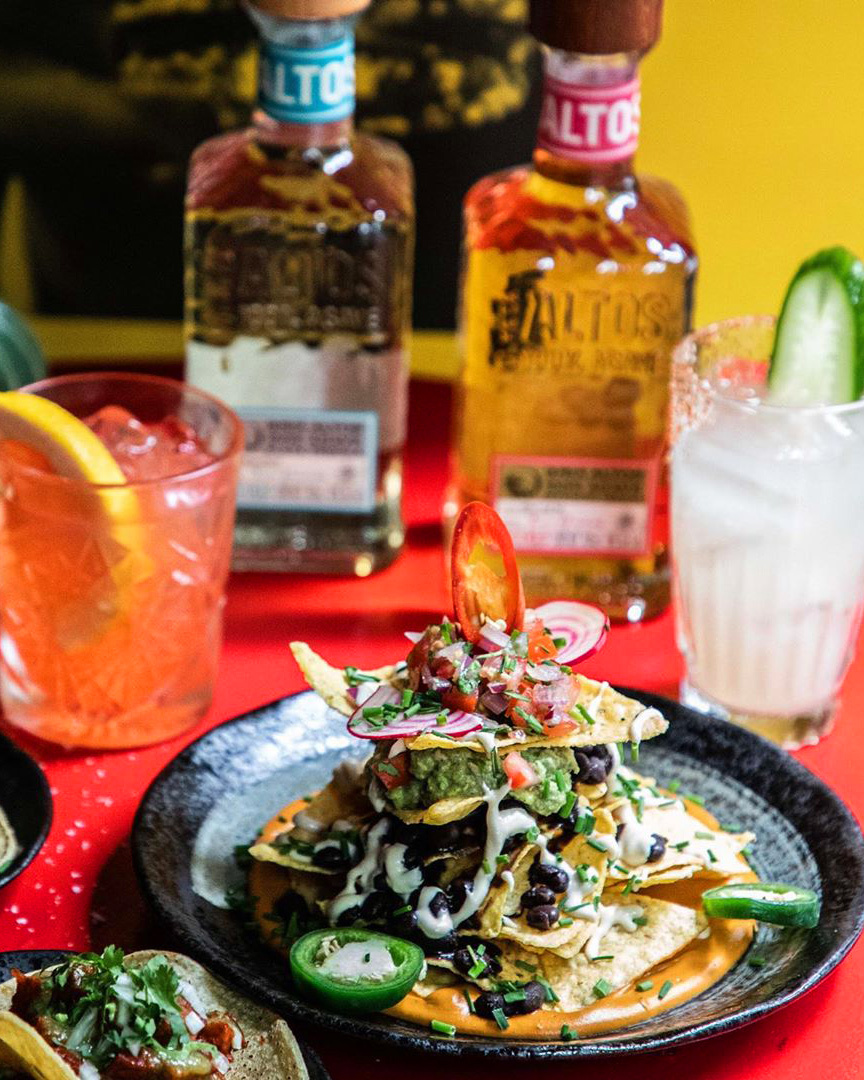 "Just when I thought I was out. They pull me back in." The beautiful legends at Bad Hombres have done it again and pulled us back into their Surry Hills joint with the return of "Tequila Thursdays". Let's be clear—we never tried to get out, and we'll always be returning to fulfil our margarita and vegan Mexican dreams. We just wanted you to visualise the gravitational pull Bad Hombres has on hungry and thirsty Sydneysiders through a Godfather 3 reference.
You can grab any signature cocktail for $12 every Thursday, and because, why not, you can slurp down their new frozen margarita for just $10 all day, every day. They'll be served alongside the usual line up of plant-based Mexican delights, and minimal intervention, natural and vegan wines. Book a table here.
Forget That Diet and Get Down to Butter for Their New A$AP Ferg-Inspired Burg
It's always pretty special to hear some love for our country from some of our favourite filmmakers or songwriters. Well, A$AP Ferg's latest album, Floor Seats II, features a track called Aussie Freaks–with an extra special shoutout for one of Sydney's best fried chicken joints, Butter. The song also name drops Aussie NBA all-star, Ben Simmons, and the Western Sydney suburb of Mount Druitt. The Harlem rapper had such a good time passing through Butter earlier this year, we're now blessed with a brand-new collaboration (or homage) burger.
The Ferg Burg, stamped with "Aussie Freaks", consists of Butter's insanely good fried chicken (or field mushroom), spiced pumpkin, maple syrup and crispy bacon. And what's the best way to wash down that beautiful, crispy creation? With a Henny Shimmer–made with Hennessy BS, bubble ginger and gold dust. You never know how long it'll stick around for, so get down there and try it now!
Start Your Surry Hills Date Night the Right Way With One of the Best Happy Hours Around
Shady Pines Saloon, in all its candlelight and peanut-serving glory, is well known as one of the best places in the inner city to finish up a date night. It's got a secretive entrance, cocktails, darkness and amazing vibes to really cap off a one-on-one night of bonding (aka dating). But we're going to suggest you flip the script and start your night with their outrageously generous daily happy hour. Because we're all friends here, let's be frank–2020 has been a tough year, and we could all use cheaper nights out.
From 4 - 6 pm every day, you can head down into Shady Pines for $4.50 house spirits, $4.50 lager tinnies, $4.50 house wines and, wait for it, $10 margaritas and negronis. Now, that's the right way to get to know someone. Our only warning is you might not want to leave for your dinner reservation somewhere else. They don't take bookings, so just head on over and check it out.
Thursday 22 October
Lock In This New Comedy Showcase At An Inner West Arcade Bar
Although we're not sure who decided Thursdays were for comedy, we're 100% all about it. If you're looking for a slightly different and more exciting way to begin your weekend, then this new comedy night might be just right. The endlessly nostalgic and yet ever-evolving 1989 Arcade Bar will now be home to a fortnightly comedy night called New Bit Comedy. The Newtown home of all things arcade games will be showcasing a bunch of Sydney comedians, both seasoned and emerging–working on their routines and trying out new material on a somewhat suspecting and willing audience. It's the kind of night that could go in any direction.
You might see the makings of a soon-to-be world-known comedy bit, for just $15 a ticket! And because comedy's best friend is alcohol, that price also includes a drink. Affordable hilarity is a big double tick from us. Plus, before or after the show, as if you're not going to have the best time ever playing pinball, Street Fighter or Super Smash Bros downstairs. Tickets are limited, so make sure you don't miss out and get yourself one here!
Friday 23 October
Support Aussie Farmers and Get Around the Mighty Barramundi With This Virtual Masterclass
We might typically recommend national days as a good excuse to eat or drink a lot of something, i.e. National Dumpling Day or International IPA Day. This Friday, however, is a little different. At the moment, the Australian Barramundi Farmers Association are fighting for the naming rights to the fish, whose name has Aboriginal origins, and seeking greater transparency for consumers. Currently, 60% of barramundi consumed in Australia is imported and sold at a price our farmers struggle to compete with. The campaign is seeking appellation status previously afforded to products like Champagne.
As a part of this effort, Lennox Hastie, the co-owner of Firedoor recently featured on Netflix's Chef's Table, is hosting a free virtual "barramundi and fire" masterclass. Hastie is offering you a front-row seat into some of his favourite ways to cook Australian barramundi on an open flame. You'll also have the chance to ask him any questions after the masterclass in a rare live Q&A. Restaurants, cafes and pubs all around Australia are getting around National Barramundi Day, serving up specials showcasing sustainably farmed barramundi from the Northern Territory, Far North Queensland and Victoria. Have a look at participating venues right here.
You can register for the masterclass here, and you can check out the Australian Barramundi Farmers Association campaign change.org petition here.
Saturday 24 October
Experience Sicilian Cuisine Al Fresco, As It Was Always Intended
If you haven't already experienced the culinary world tour that is Chippendale's Kensington Street, you're in for a delicious surprise. Home to Spice Alley, Mekong Restaurant, KOI Dessert Bar and Gin Lane, to name just a few, Kensington Street has recently been allowed to close itself off Thursday-Sunday to allow restaurants the full use of street space for al fresco dining.
As part of Good Food Month, Sicilian restaurant, Olio Kensington Street, is celebrating the "pedestrianisation of Kensington Street" with a seafood-inspired al fresco party. The "Olio on the Street" lunch will feature an oyster bar, seafood station and food truck, showcasing fresh, cooked to order seafood bought straight from local Mannetas Seafood Market. A drink cart will also find its way around to you with all the drinks you desire, including something that completes any good Sicilian lunch, a spritz. Olio on the Street will take place from 12 - 3 pm, for $90 per person. Book here.
Secure the Best Seat in the House for Grand Final Weekend
Despite the absolute insanity that has been 2020, we somehow made it through the AFL and NRL seasons, and Grand Final weekend is finally upon us! Big shout out to our Victorian cousins who sadly won't be hosting the AFL's final game at the sport's spiritual home, the MCG, but who are at least still getting their yearly public holiday to celebrate it.
Whether your team has made it to either final, Grand Final weekend is about as good as it gets in the Australian sporting calendar. In the NRL, it'll be Sydney's own Penrith Panthers led by the Dally M red-hot favourite, Nathan Cleary, against the (annoyingly always relevant) Melbourne Storm. The AFL sees two star-studded teams lining up with the Geelong Cats taking on last year's champions, the Richmond Tigers. Sydney pubs and bars are ready to host you, so consider this article a friendly reminder not to leave getting a table up to chance. Call up and book yourself a spot under the big screen! To help you, we've compiled a list of Sydney's best sports bars.
But if you prefer to host the game at your place instead, then check out our favourite sports streaming service—Kayo.
Escape Sydney With This Culinary Tour of Japan
Every week we try and bring you at least one way to experience travel and those cancelled holiday plans of yours. Well, if you were planning a trip through beautiful Japan, then you might find some small solace in No. 5 Restaurant and Bar's "Taste of Japan" degustation lunch this weekend. As part of Good Food Month, head chef, Emrys Jones is plating up an exclusive five-course dining experience to celebrate some of Japan's finest flavours. We know the community-oriented Alexandria restaurant best for its use of sustainable and fresh produce–we expect nothing less for this one-off showing.
For $59pp, you can experience traditional favourites, including Chawanmushi, Tataki and Yakitori. If you're looking to make a proper session of it, why not add on a two-hour bottomless Sakura cocktail package for just $35pp. And of course, you can also order from a list of Japanese whiskies, gins and sakes. Don't wait to book because this one is going to fill up fast, book yourself a table here.
Sunday 25 October
Experience Deep South Cuisine Fine Dining With This One-Off American Pop-Up
After a sold-out inaugural event at The Herring Room in Manly, Blue Door Sundays are back with another exclusive pop-up. Chef Dylan Cashman (formerly Vendôme, Sean's Panorama and Paper Dasiy) is back to take over another kitchen for one night only. This time, at The Private Kitchen in Chippendale, diners will take a journey through America's deep south. Cashman will serve up a five-course degustation inspired by his culinary tour of the US southern states.
The exclusive menu, with pairing wines, will feature locally sourced produce and include dishes like andouille chicken sausage roll, Fraser isle spanner crab cake, game farm southern fried quail and smoked Aquna Murray cod gumbo. To really help you get in the spirit of the vibrant south and to re-create Bourbon Street vibes, Sam Weiss will be turning up the ambience with the sweet sounds of the saxophone.
This is looking to be an incredible one-off experience, overlooking Chippendale's restaurant hot-spot, Kensington Street. But places are minimal, so go grab yourself one here. Tickets are $250pp, with a booking fee being directly donated to Humantix to support education programs for girls.
Take in Sydney Harbour With Your Favourite 2000's Aussie Dance Music Group
Sneaky Sundays are back. Australian chart-topping favourites, Sneaky Sound System, are once again hosting their musical Sundays on Glass Island—and suddenly 2020 feels a little more normal. To help you rejoice in the weekend, Sneaky Sound System's Miss Connie and Black Angus will be playing the live house tunes while Sydney Harbour provides the magnificent backdrop.
The pair are no strangers to putting on parties for Sydneysiders, with Sneaky Sundays celebrating all things house music in our city for over 15 years. This time around will be a little different and much more socially distanced, due to current restrictions, but what's a chair if not a dancefloor for your butt? You can book tables for you and your mates on the boat's top deck to soak up the sunshine or sit in the open-plan middle deck. If you're feeling extra boujee, there's even a VIP bottle service option. These are the kind of events helping us all enjoy ourselves, and Sneaky Sundays will now be cruising out every Sunday in spring–so get around it! Book a table for you and your mates right here.
Need more ideas for your weekend? No worries:
Image credit: Glass Island, Bad Hombres, Butter, Shady Pines, Firedoor, Glass Island