Status update: there are officially only three weeks left of winter. So it's time to make the most of all of the best, piping-hot winter-style feasting. Ramen, pho, truffle-laced goods, and winter pies are on the top of our list right now.
This week, pimp out your Shin Ramyun noodles with Belles Fried Chicken, test your Simpsons know-how or dial-up your social distancing dining in an extra special wintertime igloo.
And while you are out there, keep up that all-important social distancing. If you want to mask-up, and it is now recommended that you do, we've got a list of local legends selling masks right here.
Here are five awesome things to do this week in Sydney.
All Week
Pimp Out Your Instant Noodles With Belles' Epic New NONGSHIM SHIN RAMYUN Collab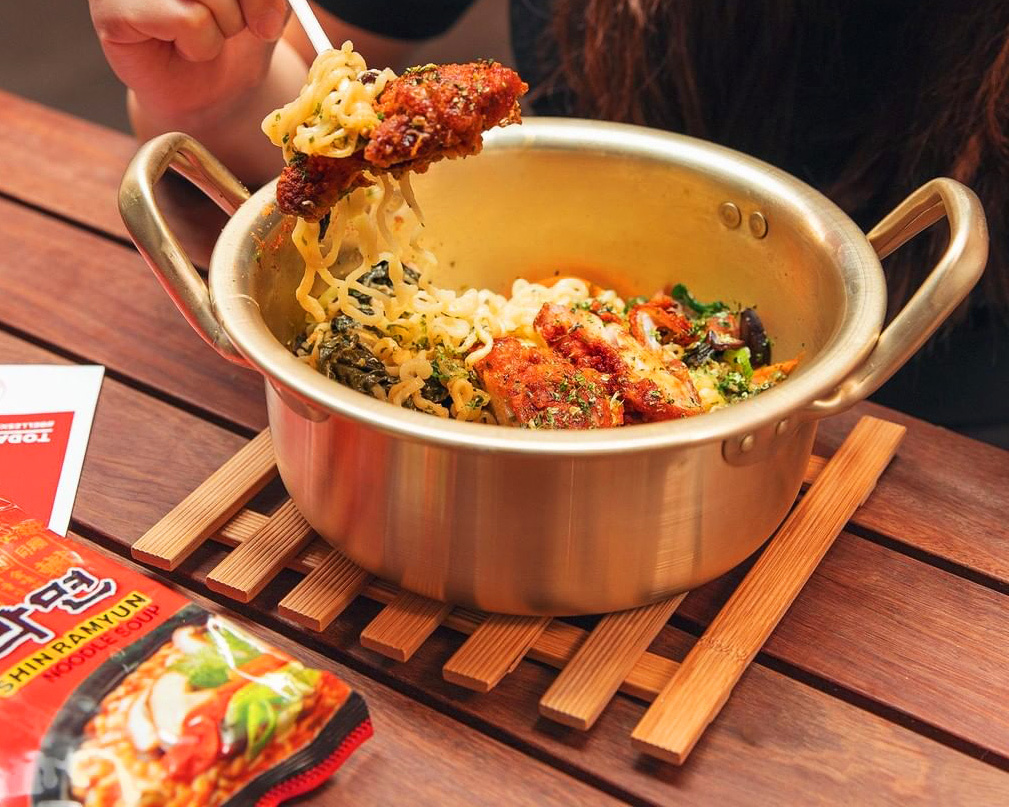 Belles Hot Chicken chef Morgan McGlone is no stranger to a spicy collab. Last year he buddied up with Cheetos Flamin Hot (watch that in all its glory here). He also paired up with Nongshim Shin Ramyun Noodles—the iconic slurp-worthy red packet Korean-style instant noodles most of us lived off (happily) during uni.
Well, McGlone and Nongshim are back at it, this time with a limited-edition take-home fried chicken pack. And we kind of love this idea—it's the best of Belles (a slab of pre-cooked fried chicken thigh fillet) and all the convenience and comfort of Shin Ramyun Noodles, cooked super-simply at home. Each take-home pack comes with a packet of Shin Ramyun Noodles, Belles braised greens, fried garlic and nori powder. Order yours via the Belles app and pick up in-store at Tramsheds, Barangaroo or Darling Square. And if you need a little instruction, McGlone has you sorted here.
Dial Up Your Social Distancing Dining With A Night In These Magical Winter Igloos
That's right, now you can embrace the chill of Sydney inside your very own private igloo, underneath a canopy of twinkling fairy lights, beside the sparkly waters of Darling Harbour, or within The Winery's pretty Surry Hills wine garden.
Available to book for lunch or dinner for two - eight guests (a minimum of six at peak times on Fridays and Saturdays), igloos at Cargo include a bespoke "igloo menu" and two hours of bottomless house beer or wine (red, white or sparkling) for $59 per person. At The Winery, it's more of a feasting affair. For $69, your igloo comes with a three-course set menu and a cocktail on arrival (mulled wine or an Adams Apple). Want bottomless drinks? You can add on a standard drinks package for just $39 per person.
Book an igloo at Cargo right here. Prefer The Winery? Jump over here.
Tuesday 11 August
Take A Trip To Springfield With The Ultimate Simpsons Trivia Night
Can you tell your Selmas from your Pattys? Do you know how many kids Apu has? What about the name of the Simpsons' next-door neighbour? If your answers are yes, eight, and Ned Flanders then you must sign up for Side Bar's Tuesday night Simpsons trivia.
Taking us back through the golden years, the whole evening will be dedicated to singing The Monorail Song, drinking "Flaming Moe's" and getting more competitive than Bart and Lisa. Entry is free with $10 pizzas and $5 drinks until 8pm. Bookings are recommended.
Tuck Into Betty's Burgers' Brand New Philly CHeesesteak-Inspired Steak Sanga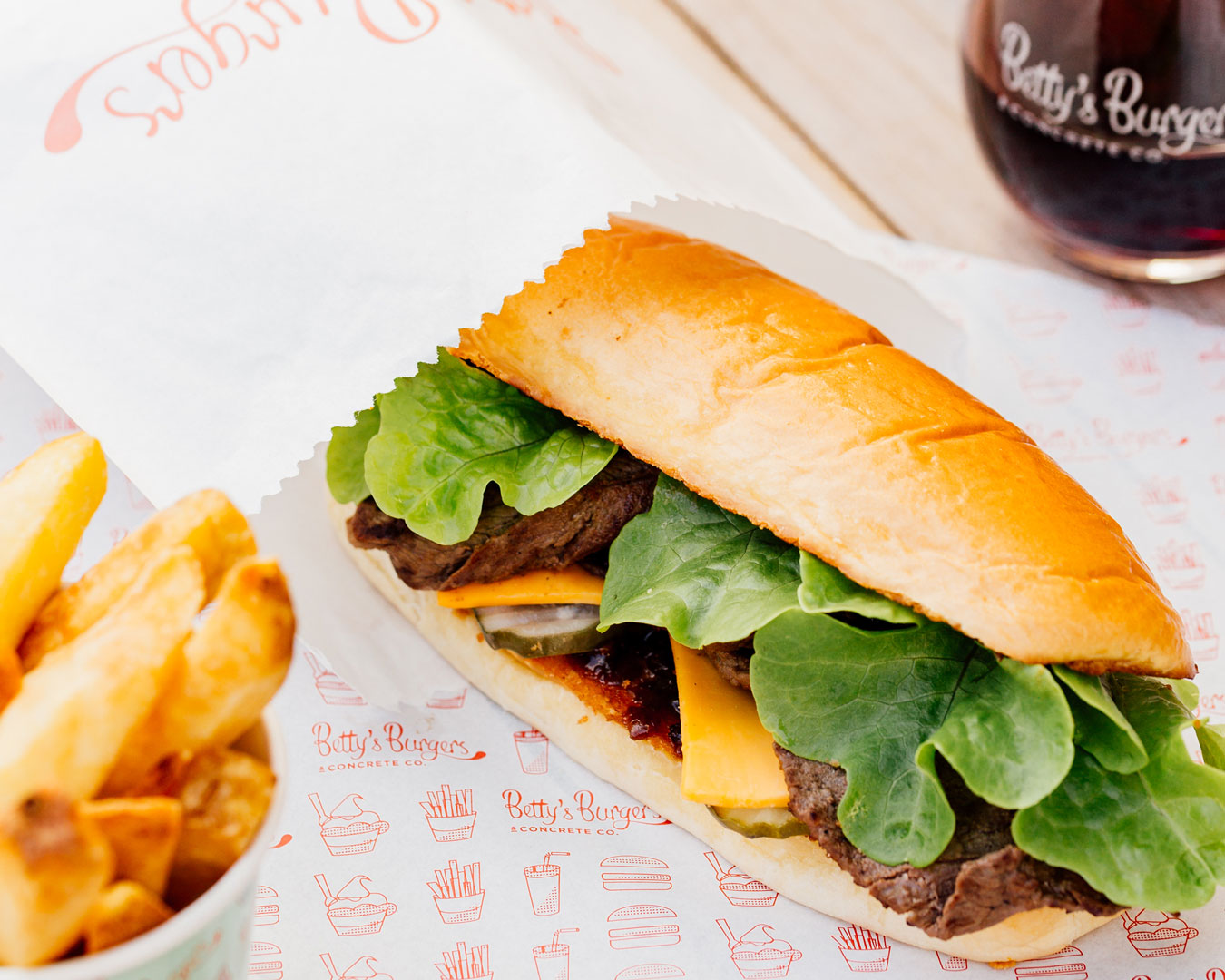 Because 2020 is a year to try new things, the legends at Betty's Burgers is breaking out from burgers and doing a limited-edition steak sanga that's also a riff on a Philly cheesesteak. Interested? We bet you are. It's made with premium Australian Wagyu steak, cheese, oak lettuce, onions and pickles, doused in a secret onion relish meets siracha mayo sauce and served on a buttery bun.
You can pick it up in-store ($16), or if staying home is more your thing right now, try Betty's super affordable "Steak Night" pack. Available to order on the Betty's app and pick up in-store, you'll get two steak sangas, a serve of Betty's new thrice cooked thick fries and Saltram 1859 Shiraz for the very nice price of $55.
Wednesday 12 August
Gather Your Clan And Hit Goros For $1 Dumplings And Wu-Tang Era Hip-Hop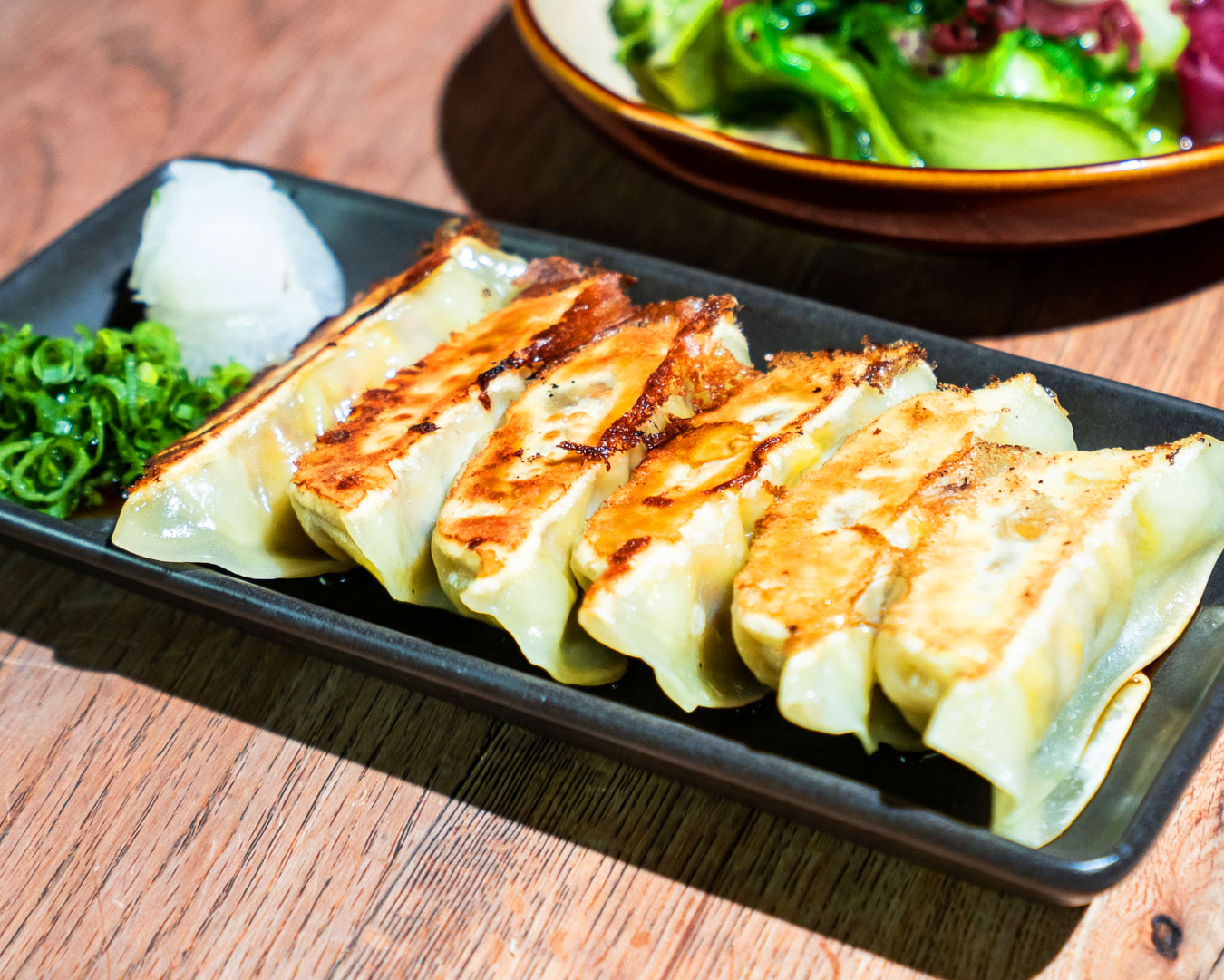 If $1 dumplings and beers and Wu-Tang Clan hits sounds like your kind of Wednesday, then Goros is your sort of joint. From 5pm every Wednesday, Surry Hills' much-loved karaoke kidult heaven is hosting "Wu Wednesdays" and it's as simple as cheap dumplings, iconic hip-hop beats, beers and good times. More info and booking details are here.
Plan your weekend hikes and bushwalks—here are the most beautiful national parks near Sydney.
Image credit: Belles Hot Chicken, Belles Hot Chicken, Betty's Burgers, Goros