Uluru is undoubtedly the most iconic landmark in Australia. Rooted in the nation's rich history and culture and home to the traditional custodians, the Anangu people, seeing this beauty in real life is something every Aussie should do in their lifetime—and more than once if you can swing it.
We know times are tough and annual leave is always tight, but right now with overseas tourists non-existent, it's the perfect time to finally visit this bucket list worthy destination.
Because there are so many amazing experiences to be had in and around Uluru, we've created the ultimate first timers guide to get you started on your journey.
How To Get To Uluru
The town of Yulara is just an 18km drive from Uluru and is where most travellers will base themselves when visiting. It's about a five-hour drive from Alice Springs, which can be done via hire car or coach—sure, it will take a while but honestly, the views are worth it. Warning: you will likely shed a tear when you first lock your eyes on Uluru or spot your first wild kangaroo.
Alternatively you can also fly directly into Yulara airport, also known as Ayers Rock airport. Both Virgin and Qantas fly in and out of here from most major cities, with a direct flight from Brisbane taking just over three hours. Hot tip: if you choose this option ask for a window seat, the views of the rocky, red ranges from above is a serious pinch me moment.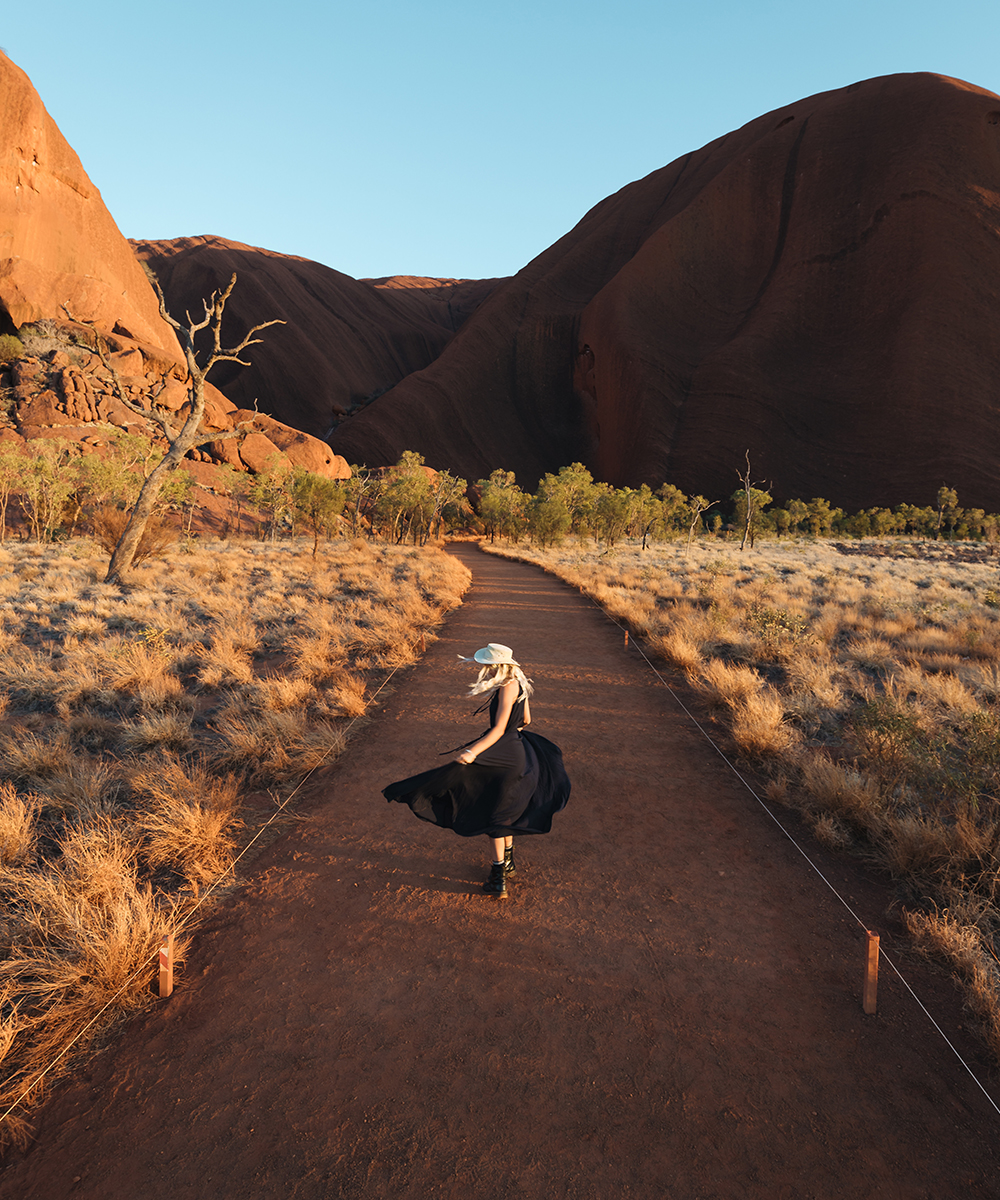 The Best Time To Visit Uluru
While Uluru-Kata Tjuta National Park is stunning all year round, the desert temperatures vary greatly between seasons so you'll want to pick the right month for you if you struggle with extreme heat or cold.
The sweet spot, if you will, lies between May to September, when the maximum temperature during the days sits between 20 to 30 degrees and little to no rain is expected. Remember, it's a dry heat in the desert, so it's a lot more bearable than 30 degrees up north in the tropics. Overnight, especially around July, it can get as low as four degrees, so pack layers. Tip: if you want to see the park's gorgeous wildflowers in bloom, aim for August and September.
From October to March, daytime temps will hover around 35 to 38 degrees. The positive? It's the rainy season so expect downpours that will fill waterholes and ignite Uluru's waterfalls—it's the most incredible sight to see.
The Best Things To Do In Uluru
The first thing you need to do is purchase a permit to enter Uluru-Kata Tjuta National Park. They're currently free and you can get yours here.
Uluru
Let's start with the obvious and the reason you're even here—Uluru. This stunning rock formation, which is taller than the Eiffel Tower in Paris or, closer to home, the Eureka Tower in Melbourne, is an absolute beauty to behold. The first time you see it IRL, don't be surprised if you get a little misty-eyed. We get goosebumps just thinking about it.
One of the coolest things about Uluru is how it changes appearance throughout the day. From shades of burnt orange in the morning to a bruised purple in the evening, it's incredible how it transforms hour to hour. We loved getting there early to catch the sunrise. If you're of the same vibe, and want to cover the 12km base before the flies and heat really kick in, you'll want to book in with Uluru Segway Tours. They'll load you up with a tasty brekky and ample coffee before taking a small group on an interactive tour around Uluru's base and Mutitjulu Waterhole. It's a great way to take in Uluru from every angle up close. Hot tip: there are loads of helpful signs explaining which parts of Uluru you can and can't take photos of, but if in doubt, just take a mental snapshot to ensure you're respecting the Anangu people.
Kata Tjuta (The Olgas)
Located around 35km from Uluru lies Kata Tjuta, a cluster of soaring rock domes that will absolutely take your breath away. Kata Tjuta is a Pitjantjatjara word meaning 'many heads' which makes sense seeing as there are thought to be around 36 of them spread over the 20km site. Rising up out of the red dirt, the domes are thought to be around 500 million years old so don't be surprised if you find yourself breaking out into goosebumps around here.
The extraordinary phenomena, with their chameleon-like shape-shifting changes that occur throughout the day, is home to several walks that you can undertake. Our favourite is the Valley Of The Winds walk. Over the course of the three-hour walk, there are two special outlooks offering amazing views over Kata Tjuta. If you head here in summer, it's recommended you do this walk early in the morning.
Finally, for the Anang people, Kata Tjuta is an extremely important site for men's business so always remember, first and foremost you're a guest here.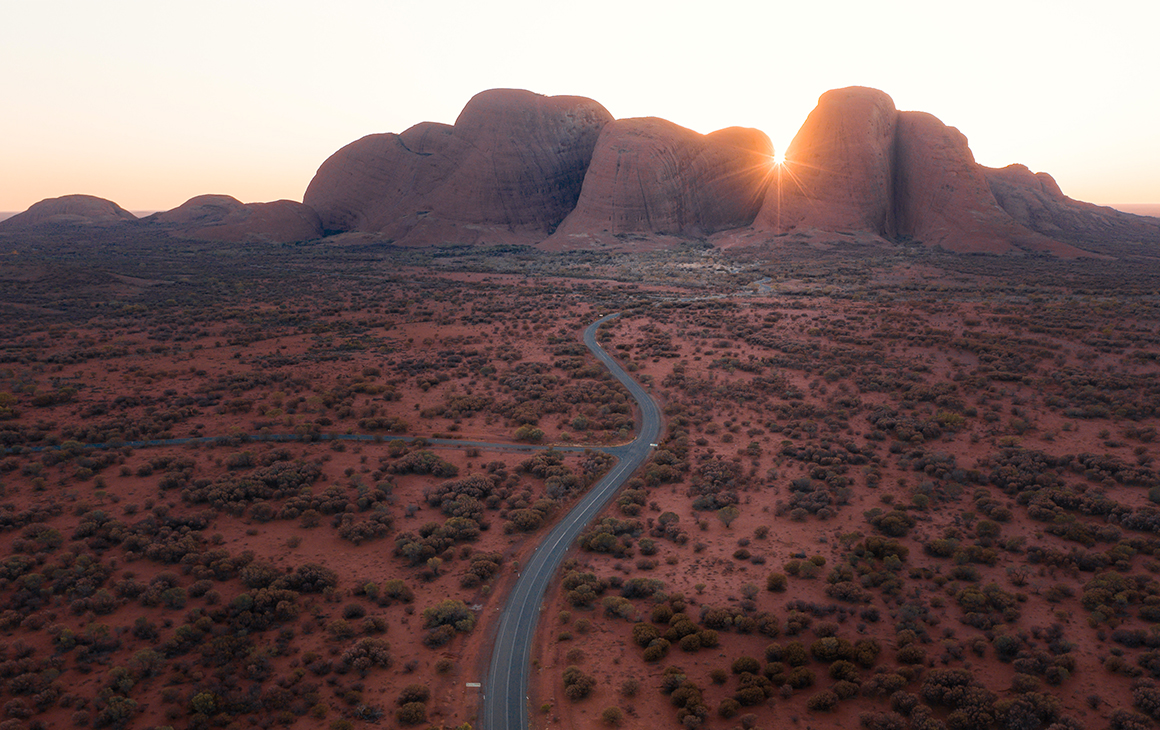 Walpa Gorge
Perhaps the lesser-known rock counterpart to Uluru, but no less stunning, a trip to nearby Walpa Gorge is a must-do when visiting Uluru. Part of Kata Tjuta, Walpa gorge boasts towering walls, rocky terrain and surprising clusters of colourful greenery and pink daisies. Walk the rocky track into the centre of the gorge and look out for potential wallabies along the way. The silence out here is pure magic. The round trip is about 2.6km and will take about an hour of your time. It's also important to note that this particular spot is very special to the Anangu people so when taking pics for the 'Gram, they kindly request you keep both sides of the gorge in frame to avoid revealing any sacred spots.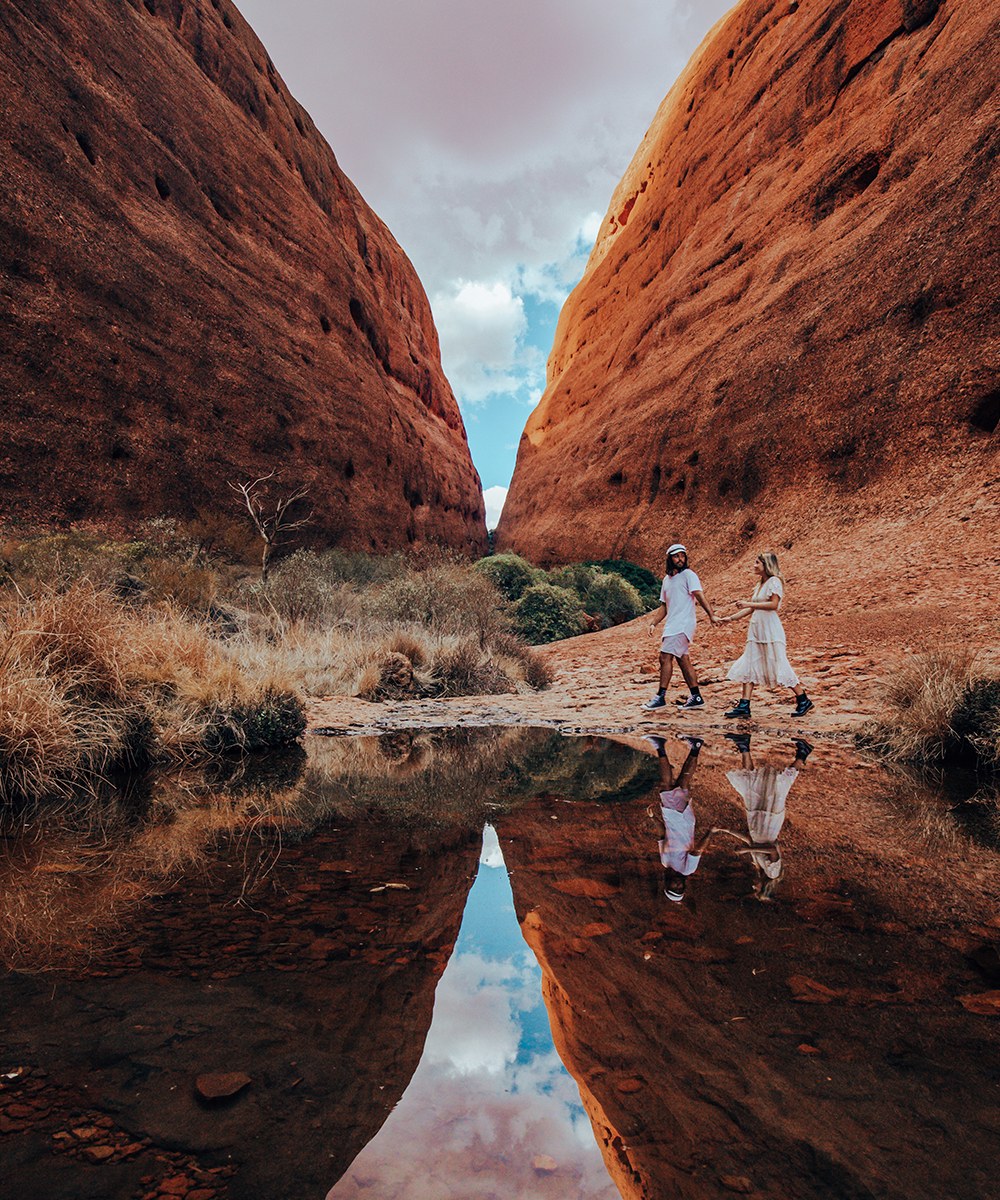 Sound Of Silence Dinner
When we said Uluru was gorgeous from sunrise to sunset, we meant it. To capture it as the sun sinks, book yourself in for a once-in-a-lifetime feast at the Sound Of Silence Dinner. Your evening will go like this: after being picked up from your accommodation, you'll cross beautiful sand dunes with the sound of the didgeridoo playing in the distance. On a special viewing platform you'll sip (bottomless) champagne and nibble on canapes as you watch Uluru, in spectacular fashion, drift off for the night.
When darkness hits, you'll be lead to your table further in the desert, where you'll tuck into a drool-worthy three-course meal celebrating local ingredients (think: lemon myrtle barramundi, native dukkah crusted kangaroo, pepperberry roasted cauliflower and desert lime cheesecake). The night is capped off by a talk from a resident astronomer who will help you locate everything from the signs of the zodiac to the Milky Way above.
Field Of Light
Another after-dark activity that needs to sit high on your to-do list, is the jaw-dropping Field of Light. Created by world-renowned artist Bruce Munro back in 2016, it has been so popular (in recent years attracting around 450,000 annually) it's been extended indefinitely. The exhibition, aptly named Tili Wiru Tjuta Nyakutjaku or 'looking at lots of beautiful lights' in local Pitjantjatjara is a fantasy garden of 50,000 spindles of light, glittering in a rainbow of colours. It spans a whopping 49,000 square metres of desert, which is around seven footy fields. The Field of Light is immersive, meaning after you've thrown back some canapes and champagne from the viewing platform nearby, you get to walk amongst the art. Now that's pretty special.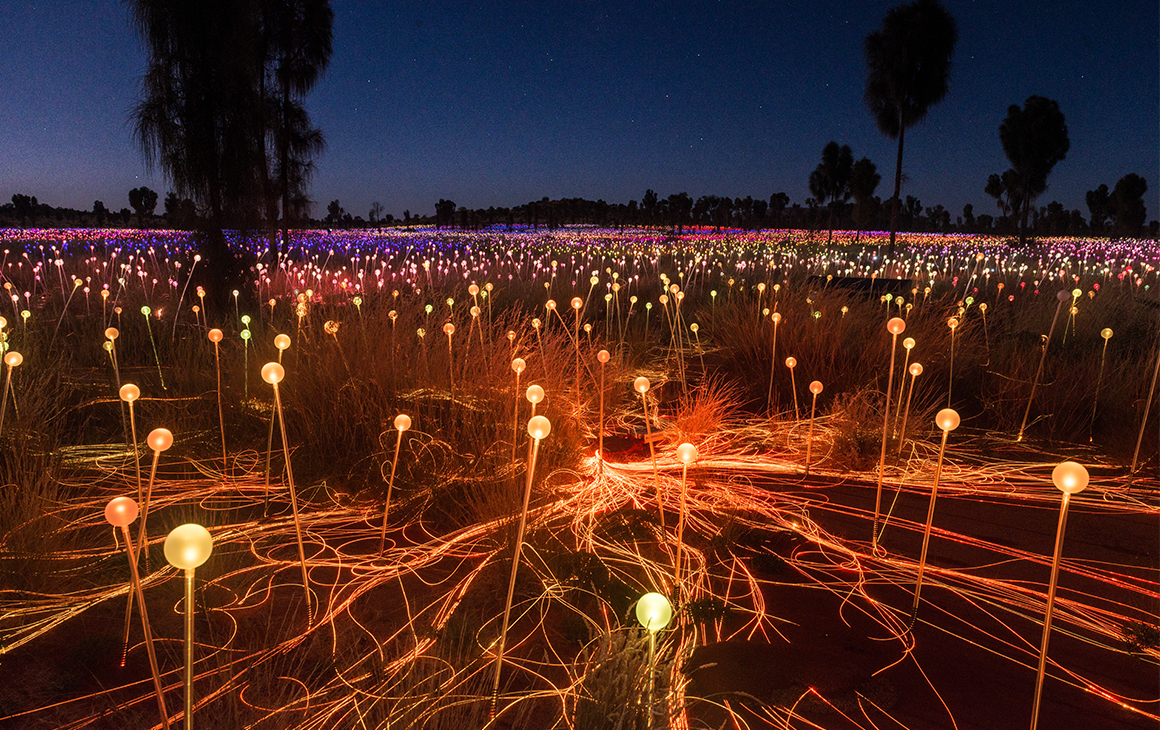 Cultural Centre
While the Cultural Centre is currently closed to COVID, we wanted to make a special mention of it because when it does eventually re-open you need to check it out. Housed within the Cultural Centre are two Aboriginal-owned and operated galleries, with all profits made getting invested back into the local community. First up is Maruku Arts who sell and exhibit traditionally crafted punu (wooden carvings) as well as paintings and jewellery. The incredible art here is crafted by Anangu artists from the Central Western Desert region. While they're closed right now, you can still support and shop their designs online here.
The second gallery is Walkatjara Art, Mutitjulu community's art centre. At Walkatjara, artists from Mutitjulu create vibrant paintings that depict local Tjukurpa stories. Pre COVID visitors could see the talented artists at work and learn about Anangu culture and explore the stories behind the paintings. A not-for-profit community enterprise artists at Walkatjara receive 50% of a painting's sale price, and the rest is reinvested into the running costs of the art centre.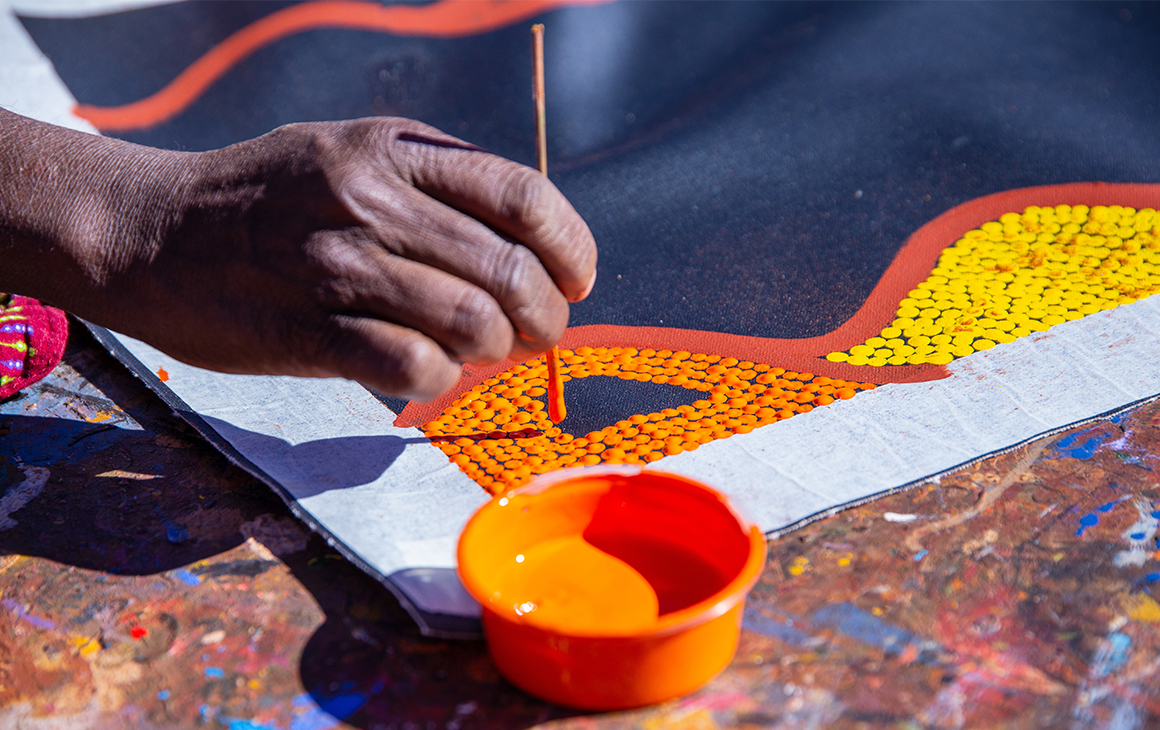 Where To Stay In Uluru
Within Yulara there are a handful of accommodation options to choose from, all varying in cost to suit everyone's budget.
Camping
Budget-conscious folks or those wanting to really immerse themselves in nature can pitch a tent at Ayers Rock Campground. There's a range of options depending on your style and your level of roughing it. There are air-conditioned cabins plus powered and unpowered sites for your tent or caravan. The grounds are surprisingly lush considering you're in the middle of the desert and provide a range of facilities including a swimming pool, playground, outdoor kitchen and a self-service laundry.
Glamping
For something pretty special, try glamping at Longitude 131˚, a luxury camp boasting views direct to Uluru and across the desert to Kata Tjuta. Dotted among the dunes are sixteen tented pavilions, offering all the mod cons you'd expect at a five-star resort like comfy beds, rain showers, a fireplace, and private balcony with a daybed. There's also an on-site restaurant and bar for you to enjoy.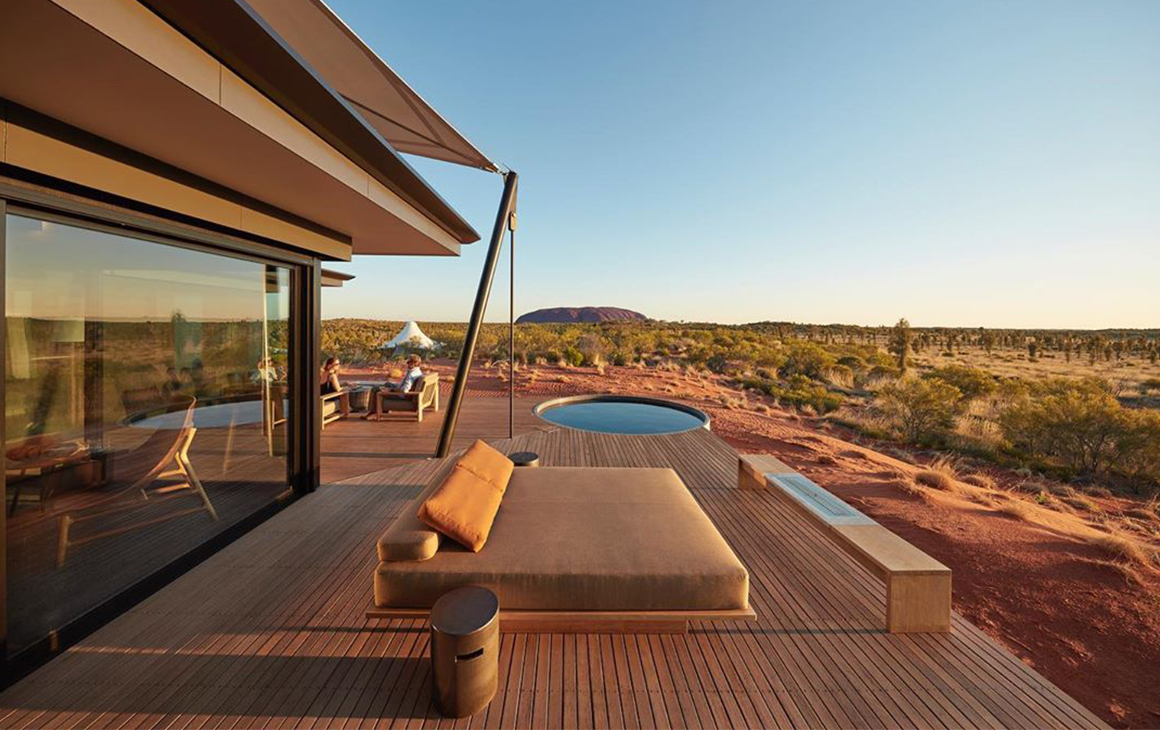 Apartment
Travelling in a group or family? In that case you might prefer the Emu Walk Apartments. The self-contained digs here are just 20km from Uluru and come complete with a fully-equipped separate kitchen, living room and bedrooms. It's also just a short walk to the town centre where you'll find a supermarket, restaurant, post office and a few gift shops.
Resort
If you want to treat yourself (you do), check out Sails In The Desert. The five-star resort boasts spacious rooms with dreamy marble bathrooms. There's a tasty restaurant and a large pool perfect for a dip after a long day of exploring.
Inspired to see more of the stunning NT? Check out this guide of all the best things to see and do.
Image Credit: Tourism NT/Felix Baker/Luke Tscharke/Nic Morley/Cameron Vaughn